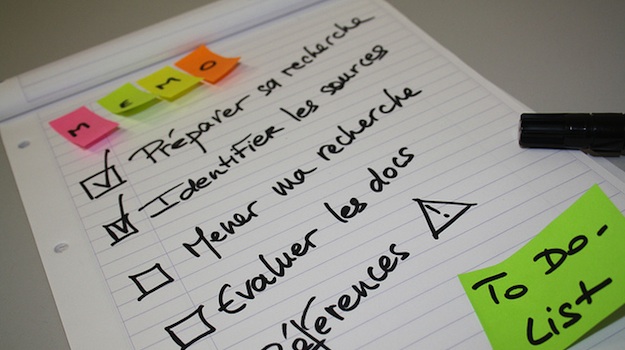 SEO has been done to death.
You seemingly can't turn a corner in the blogosphere without reading something about how SEO is dead, or has changed forever, or how ranking is easy if you just follow just a few simple steps.
However, the fundamentals of SEO haven't changed for a long time, SEO certainly isn't dead, and ranking is never easy. In this day and age, we feel that if you focus on solid onsite SEO and promote your blog naturally, good rankings will follow. With that thinking, our DIY SEO strategy has served us well to date.
With that in mind, we thought this would be a good opportunity to offer you the step by step checklist we use in order to optimize our posts for search engines.
Keeping it Simple
The problem with SEO for many bloggers is that they get too embroiled in the minutiae. At its heart, SEO is an extremely straightforward two step process:
You demonstrate that your content is relevant to a particular keyword or keywords
You attract links to your content with effective organic blog promotion (networking, guest posting, etc)
As search engines become better and better at returning top quality results, SEO becomes far less about trying to manipulate rankings, and more about producing the highest quality, most relevant content. These two factors serve to benefit search engine users, which should be the end goal anyway.
Having said that, you can write content whilst not giving yourself the best possible chance of ranking. Following the checklist below is not done in an effort to game the system – we're simply following the rules.
1. Produce a Keyword List
Your most valuable SEO asset is keyword research. Getting such a list is easy and free. Head over to the Google AdWords Keyword Tool and type in the keyword that best represents your niche.
Say I had a blog on cars. The obvious keyword in that case is of course "cars". Make sure that the filters are set appropriately:
Once you hit search, Google will go to work and return a huge list of related keywords. You can then download this list into CSV format, which will look something like this: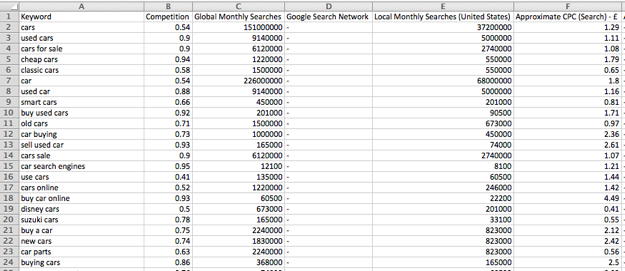 The only columns you need to worry about are "Keyword" and "Searches" (whether you choose global or local searches depends upon the demographic you are trying to reach).
2. Choose Keywords
Whenever you come to write a blog post, you will refer to the keyword list you now have. Using our "cars" example, let's say I was planning on writing about the common pitfalls you should avoid when purchasing a second hand car. A quick look at the keyword list shows me that "second hand car" and "second hand cars" are two popular keywords.
Now you may be ready to scream that these keywords are far too competitive to rank for, and you're almost definitely right. But long tail keywords (e.g. "second hand car buying tips") will account for far more visitors than the "short tail" keywords ever will. So don't worry too much about focusing on highly competitive keywords – the rankings will come in time, and from many different related keywords.
Once you have completed this process, you should have a primary keyword at the least, but ideally one or more secondary keywords that are also relevant to your chosen topic.
3. Your Title
Your post's title should be short (ideally less than 65 characters) and descriptive. Because search engines typically lend more weight to words at the beginning of title tags, your primary keyword should be at the front of the headline (e.g. "Second Hand Cars: 10 Common Pitfalls to Avoid").
The key is to ensure that your title is written for the reader – not for the search engines. Lean more towards readability rather than SEO. The example above is perfect for both search engines and readers, but that will not always be possible.
4. Your Permalink
First of all, your permalink should be set to post name in your WordPress blog's general settings: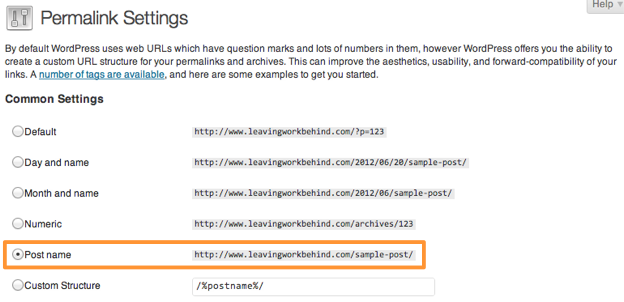 Once you have chosen a keyword, you can set your post's permalink to contain only that. So in our cars example, the permalink would be "second-hand-cars". If you have a secondary keyword, you may want to include that also (e.g. "second-hand-cars-buying-tips").
5. Links
Each of your posts should include plenty of relevant links – to other posts on your site, and to external sites.
Not only is this great for the reader, it also provides context for search engines to work with. For instance, if your second hand car blog post links out to Autotrader, that sends a clear message as to what your post is about.
6. Formatting
Use plenty of subheaders, bold and italics (where appropriate), and lists. Create a dynamic and interesting blog post. Where appropriate, include your primary and secondary keywords. Never try to shoehorn a keyword into your content – keep it natural and readable.
7. Images and Other Media
In the same way that the permalink of your post should reflect your primary/secondary keywords, so should your images. An image filename of "second-hand-car.jpg" offers far more relevance than "1247.jpg" or something similarly random.
Also, don't forget to use the alt and title tags to provide your image with a relevant description (that ideally includes a keyword).
Including relevant embedded video and audio is another way of enriching the user experience and giving search engines more context with which to rank your site accordingly.
Want to read more about optimizing images? Check out these articles:
– How to use images in blog posts
– Image sourcing & editing tools for WordPress
The Waiting Game
Bloggers are often far too eager to rank in search engines. What they don't appreciate is that it is difficult to force high rankings in the short term. Producing well-optimized content of a high quality will offer positive returns in the long run, but it does take time for rankings to develop.
The above are what we consider to be the seven key steps for good onsite SEO. Our opinion is that it is all too easy to get embroiled in complicated tactics – we feel following the above simple steps will set you up nicely for good rankings.
With that in mind, do you have any additional simple tips to add to this list? Let us know in the comments section!
Creative Commons image courtesy of Artois Bibliothèques