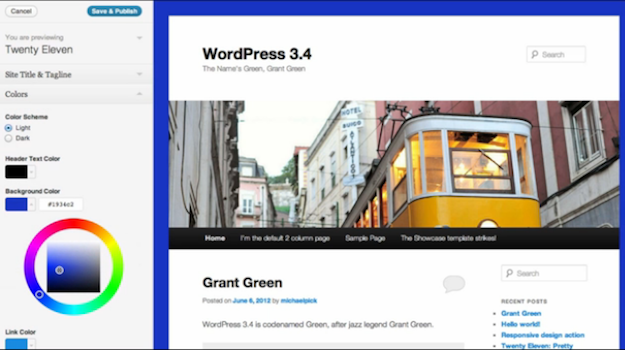 A lot of people are talking about the new theme customizer that was released with WordPress 3.4.
I was curious about its inclusion. It is certainly an ambitious undertaking, but there are smaller fixes to everyday WordPress issues that I felt could have been addressed in a fraction of the time it must have taken to develop it.
Regardless of that, the theme customizer is here to stay, and there is little doubt in my mind that the WordPress development team will be dedicating a lot of resources to improving it for future versions.
With that in mind, I thought it would be interesting to find out what some of the top premium theme developers make of it.
What is the Theme Customizer?
In case you haven't yet checked out what is one of the biggest new WordPress features in recent times, here is a great introduction, courtesy of lynda.com:
Having seen the video, you no doubt have an opinion on the theme customizer. Well, so did the premium theme developers who were kind enough to come back to me with answers to my questions.
Here's what they had to say!
Do They Like It?
In a word – yes.
"We're really excited about the Theme Customizer. Props to the WordPress team on a job well done." – Brian Gardner (Studiopress).
Brian's sentiments were shared by all of the developers we heard from. It was however interesting to note that Bhavesh Radadiya, founder of Templatic, was "surprised" at its inclusion in the WordPress core.
Reading between the lines, you might think that Bhavesh feels the customizer isn't quite ready for mainstream adoption:
"As theme designers, of course we like it but I guess this is still in early stage and further improvements will be there as practical adaption happens."
Why Do They Like It?
As far as I can tell, our developers recognize one clear benefit for the end user – the ability to make changes, and preview those changes in realtime, before going live.
Bhavesh made a fitting comparison to Firebug, the popular web app that allows you to inspect and modify source code in real time, without the changes being made to the actual code. Pavel Ciorici, founder of WPZOOM, essentially echoed Bhavesh's statement:
"The main benefit is that you can tweak and test many features and styles even before you activate the theme."
Endusers typically rely on custom theme user interfaces, or get their hands dirty with HTML and CSS. The purpose of the theme customizer is to make such necessities a thing of the past, by providing a single tool that all theme developers can utilize to add various customization options.
That leads directly onto the last (and perhaps most important) question.
Will Theme Developers Utilize It?
"Very likely. We make an effort to utilize WordPress core code and this would be a good case for doing so. We currently do not have many options for look and feel. The theme customizer will help us add this capability. Overall, I think it's a good addition and hope that theme shops will take advantage of it. I know we will." Shannon Dunn – AppThemes.
So long as the theme customizer is developed and improved upon on a continual basis, it would only seem sensible (in terms of offering a consistent user experience) for theme developers to adapt to it.
Although Shannon certainly seems enthusiastic about utilizing the theme customizer, he raises an interesting concern:
"It appears to be something that many themes already have as a feature. I think that many theme producers will continue to use their own since there is a tendency to use and implement branded admin panels and features over leveraging WordPress features and admin."
It is certainly true that most premium themes already have their own settings pages, and one might argue that it would make sense for theme developers to continue to use their own solutions, as it would afford greater flexibility and branding options.
Only time will tell, but if the responses from the developers we spoke to are anything to judge by, Shannon's prediction may be proven wrong:
"While it is still early in development, we already have ideas on how we can utilize it's interface to pull in some of our options to make a better user experience." – Brian Gardner
And running perhaps contrary to Shannon's opinion that premium theme developers will continue to use their own custom settings pages, Pavel Ciorici feels that integrating with the theme customizer will ultimately provide a better user experience:
"Our themes already include some easy customization options and switches, but we will see in the future how to make it even easier and better with the new Theme Customizer, because the Live Preview feature is more helpful."
It may well be the live preview feature that gives the theme customizer the attraction it needs to tear theme developers away from their own custom settings page.
As far as I am aware, no theme in production offers its own bespoke live preview feature, so now that the WordPress core development team have set the benchmark, it would make sense for theme developers to utilize what is likely to be a permanent feature, rather than build their own.
Want to customize even more? Check out our custom login page creation guide and consider using WordPress frameworks
Over to You
What do you think? Was the theme customizer worthy of its planning and development time? Could the WordPress development team have used their time in other areas? Do you think that the theme customizer will be adopted for mainstream use by theme developers? Let us know in the comments section!