Season 4 of AMA has been eventful as always. Thanks to all of you who participated, and created a lively and warm atmosphere on ManageWP.org for the previous 13 Wednesdays. This season we had a great line-up of influencers from all over the world, who shared with us both their personal and business ideas. Here are some of the best bits.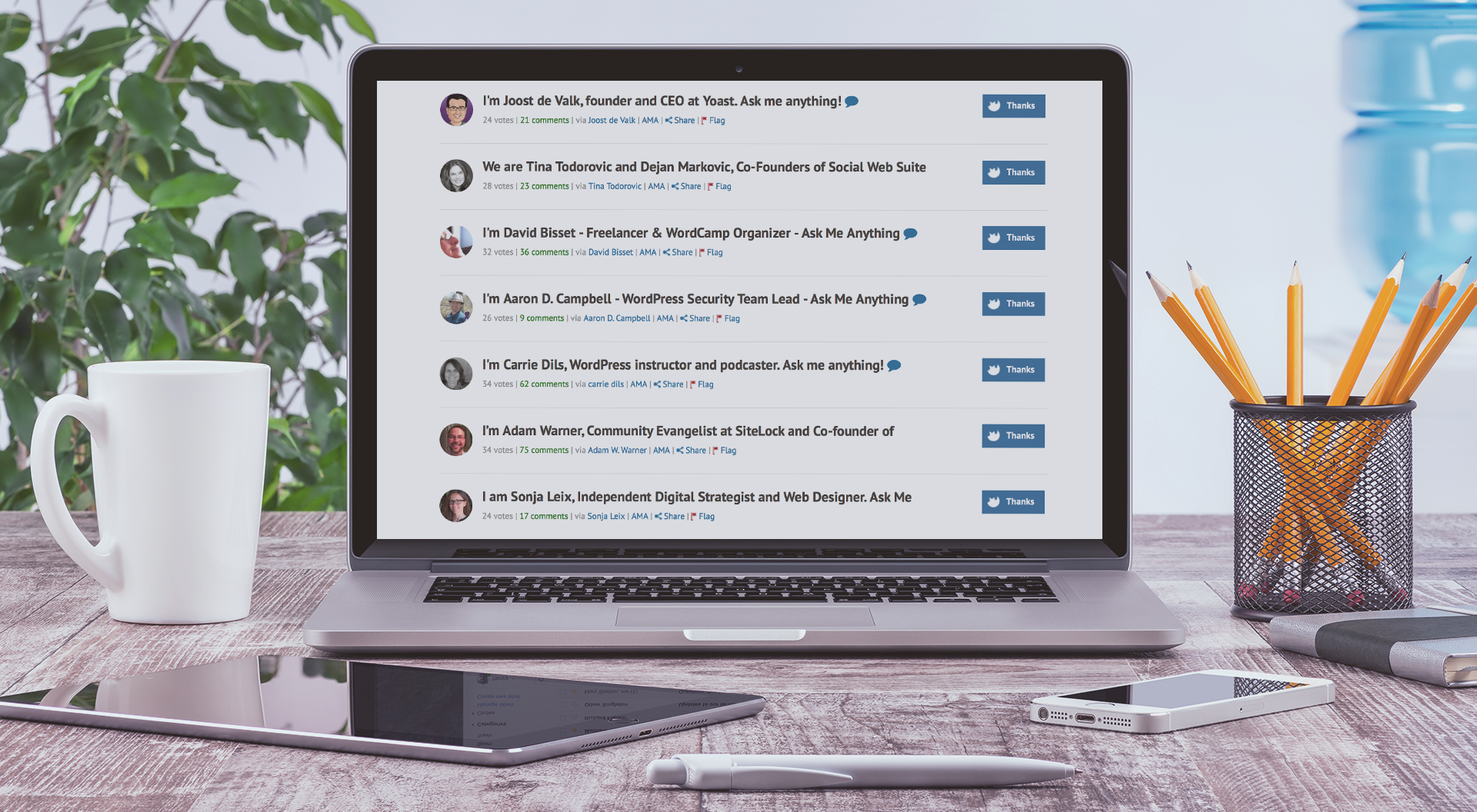 Most comments on season 4
Right at the top are Carrie Dils with 62 comments and Adam Warner with 75. Both Carrie and Adam did a great job keeping up with all of your questions.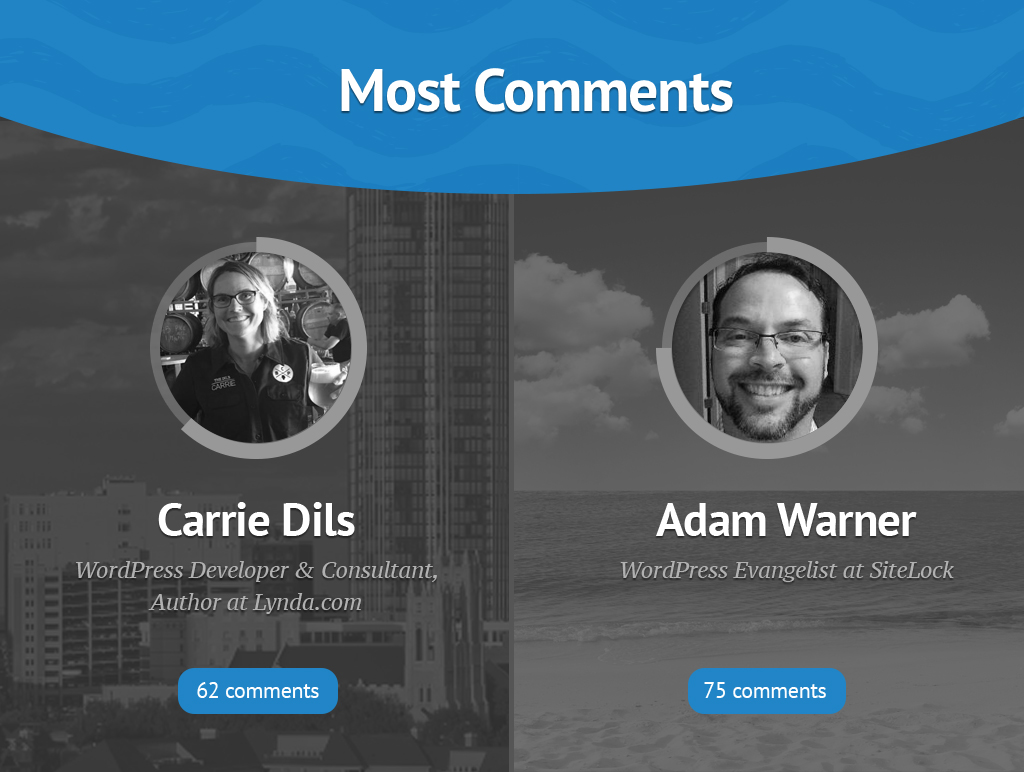 Here are a few interesting things we found out about them.
Carrie spends a lot (like a lot) of time on Google Drive, she loves English period dramas like Downton Abbey, the best part about podcasting is talking to smart people (the worse editing), and she finds teaching the most effortless.
Adam has been on the road almost every weekend (apart from 3) since January. When asked between Star Wars and Star Trek, he said "Star Wars would be my choice. The reason is because I also believe we're all connected universally and "The Force" makes complete sense to me". And he believes that the biggest threat to WordPress is also its biggest benefit, and that's the shear size of the WordPress user base and community.
But, it doesn't take over 60 comments to get great answers from our influencers, so here is what we found out about some of our AMAers.
Did you know?
David Bisset is happily married for 15 years and he claims that the key to a great relationship is setting aside time for communication, especially at times that aren't particularly the best for you. His best advice when asked how to set yourself apart in the WordPress community "learn to know when to be humble and reach out to those who can truly give you advice".
Aaron Campbell believes that a quality machine makes a huge difference for an espresso, and he talks more about extending the security team in the near future to cover most popular plugins. His first contribution to WordPress came as a result of a bug that he found while working on a client site. From then on he was hooked.
Tina and Dejan from Social Web Suite joined us together. Tina tells us that they live, breathe and eat WordPress with some chocolates on the side. The biggest challenge when starting out for them was finding the right team. For them it's important to find people who share your vision and fit into your company culture.
Kim Lipari talks about what work life balance means to her. "Balancing is an act that requires continuing concentration and adjustment, Some days it's more kids than work, some it's more work than kids. The key, for me, was to stop beating myself up about it, no matter which kind of day it is." When asked between Gumbo or Jambalaya, she said Gumbo, Cajun not Creole, with potato salad!
Mendel Kurland says that his biggest professional challenge was being able to work on his terms to do great things for the company. He is most excited about all the work GoDaddy has been doing to contribute more to the community. In particular, more presence at WordCamps in Europe. And, of course we talk about his sandal obsession, not even he knows when or how it started, but "[He] can't keep [his] toes in any sorta shoe for too long. They're meant to be liberated!"
Sonja Leix tells us that what took some time to figure out while living a nomad lifestyle is finding her flow. Her secret is being in one place at least 3-4 weeks, so she can settle in, explore the place, and be productive at the same time. Top tip for finding more work is "finding people with a complementary skill set ". Why is WordPress so great for designers? Sonja says, "it gives you a great base. It's easy to build a responsive, SEO-friendly website, that can later be evolved and extended."
Did you know that WordCamp Europe has probably been the greatest challenge Petya Rayakovska faced so far – both on a professional and personal level. The most important thing for her to stay motivated is to do things that matter to her. And as far as WordCamps go she thinks that, "as long as the end goal remains the same – get people together to make connections, share knowledge, empower growth in the spirit of free software [she thinks] allowing organizers a bit more freedom would be best."
Tammie Lister thinks the biggest danger in WordPress is the bias of experience. She iterates, "we are not our only users, yet we create often like we are." If you remember one thing from Tammie that should be that you can't design without humans being at the heart of what you do.
Kristina Romero points out that the biggest mistake people make when it comes to website maintenance for their clients is not seeing it's a relationship. She would rather fight a horse-sized duck. In fact she says, "I would win him over with love, no fight would ensue. My kids would name him Scooch, take turns riding him and he would be family." For her, the beauty of the WordPress platform is that you can take an idea and mission, work on it, complete it and launch it to the world all by yourself.
Luis Rull explains that the perfect project is the one that solves the user problems they did not know they had. Looking for exceptional people? Luis says they "are not in regular places, they are in spots where experimental and little known things are discussed and tested (… and abandoned)."
Joost De Valk doesn't believe in remote work, he likes his team working together in one location on projects. Joost explains that Yoast much prefers to focus on content marketing, and they don't look at marketing in terms of percentages, but rather it's a part of who they are. His biggest business regret is that he didn't start earlier.
Is that all?
Okay that was a lot of "did you know's", but that's not all. Each AMA is full of great advice; what to avoid, what to do better, what to focus more on. Each AMAer comes from a different background, has a different skill set, and if you read more about them you will find that you can learn something new from each person.
AMA will be back in fall again, so if you have been shy so far, don't be next time round, and ask some questions. Before you get to ask something, answer this. Who do you want to see on next season of AMA?