I've got a nice selection of free WordPress themes for you this month that span from minimal to more complicated. But an attribute they all share is an attempt to make the process of managing a WordPress site just a little bit easier. Hopefully, you'll agree with that assessment.
Okay, no more stalling, here are your 5 free themes for the month of August. Enjoy!
5. Gumbo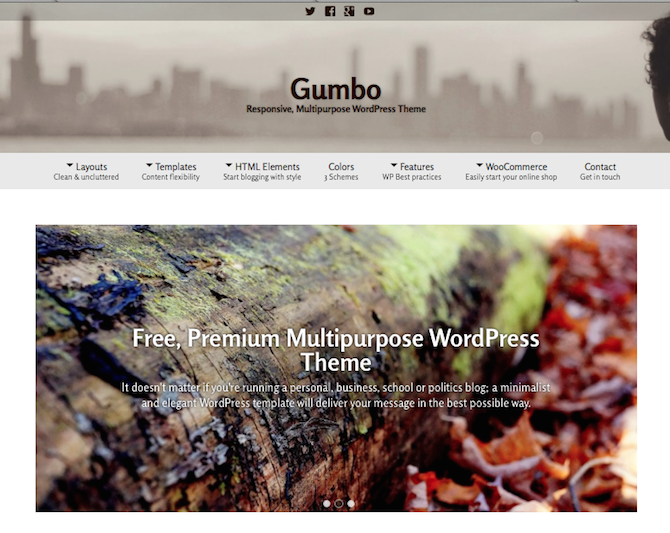 Gumbo takes the idea of minimalism to heart but does so in such a way that you don't feel like you're missing out on anything. It's flexible, easy to customize, and responsive, plus it's compatible with WooCommerce, so if you want to set up a simple online store, this might be a good option for you. Gumbo puts your content front and center and comes with ample customer support so you'll never be left stranded.
Useful For: 
Simple blogs and online stores. But it can suit just about any type of site.
About the Developer: 
The Gumbo theme was created by Slobodan Manic of ThematoSoup. He's responsible for several plugins as well, including the hugely popular, Fancier Author Box. Learn more @slobodanmanic.
4. Accesspress Lite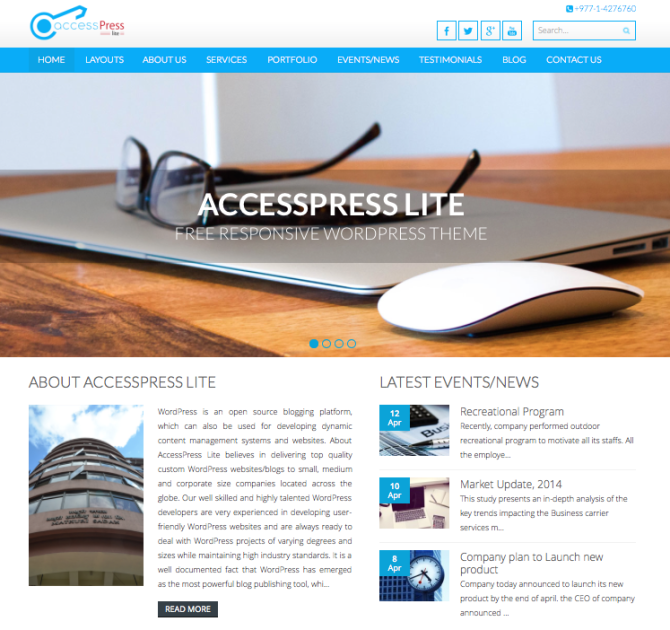 If you've been on the hunt for a clean and simple business theme, Accesspress Lite might suit your needs quite nicely. It's based on HTML5 and CSS3. It's responsive and designed to be professional yet still interesting. Some of its features include different business-specific sections like event, portfolio, testimonial. Plus, it has many different sidebar layouts to choose from. It's also compatible with Contact Form 7. The options panel is also intuitive, making the site easy to customize.
Useful For: 
Business sites and professional portfolios.
About the Developer: 
This theme was developed by AccessPress Themes, who also created AccessPress Pro. Keep up to date with their latest projects @apthemes.
3. Eighties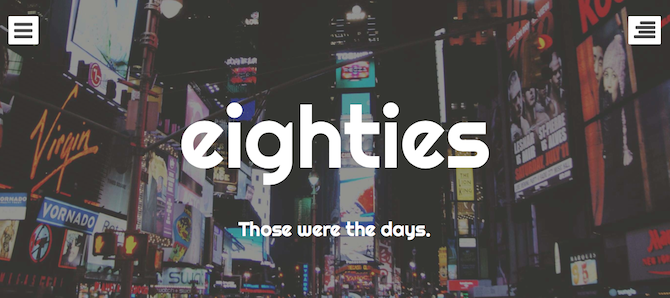 Don't we all need a little retro flair in our lives? But despite its moniker, the Eighties theme is decidedly modern. It features a bold header that lets your main imagery stand front and center. The menu and sidebar are tucked out of the way until you click. As you scroll, the content is displayed in prominent way that's really eye-catching and designed to keep people on the page. It's a pretty theme that's well-built and multi-functional.
Useful For: 
Blogs primarily, but I could see this being adapted to a more modern business site.
About the Developer: 
This theme was developed by Justin Kopepasah, a front end developer from Seoul, South Korea. You can learn more about him and his work @kopepasah.
2. Hathor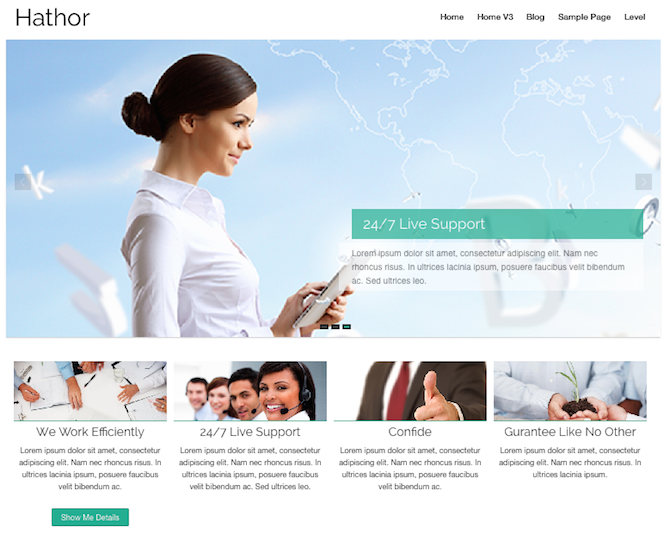 Can you say lovely? The Hathor theme is just plain nice to look at and offers all the customization options you'd expect from a premium theme. Change the layout, colors, and style. Upload a custom logo and select from a variety of layout options. There are two header styles, two latest posts layouts, two service block layouts, and a full-width and box option. It's flexible, stylish, and useful. Oh, and it's responsive, too, it case you need more convincing to check it out.
Useful For: 
A wide variety of site types from blogs to portfolios to magazines. It can even be adapted for business use.
About the Developer:
Imon Themes created Hathor along with several other themes like Isis and Osiris. It's owned and operated by Imon Hasan, who is a developer based in Bangladesh. Follow him on Twitter @ImonHasan2.
1. Invert Lite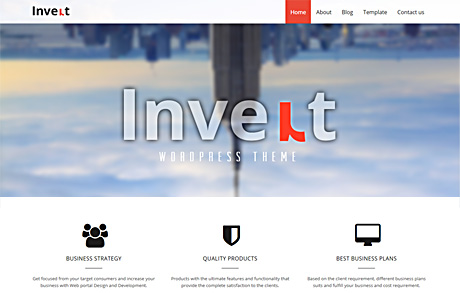 The Invert Lite theme tops my list this month because it's a business theme with a clear personality. It's clean, stylish, and responsive. It's easy to customize and easy to set up. It comes with three custom page templates and a parallax section for the dynamic display of your content. Invert Lite also lets you set a custom logo and favicon, a call-to-action, and establish featured text. There's even a spot for your social links. Truly, this one's a great option for any business.
Useful For: 
Businesses of all kinds who want to convey a bit of fun.
About the Developer: 
SketchThemes offers free and premium themes, including Foodeez Lite, Biznez Lite, and BizStudio Lite. Be sure to follow them @SketchThemes.