I'm really pleased with this month's select of themes. Truly.
Each brings something a little bit different to the table. But I did notice a trend: images. Photography – and high-quality photography, at that – is really dominating the best themes as of late. So build a business site or keep a photo journal. Create your own magazine or document the latest style trends.
Whatever your passion, these themes are flexible enough to suit your needs quite nicely. Enjoy!
5. Waterlily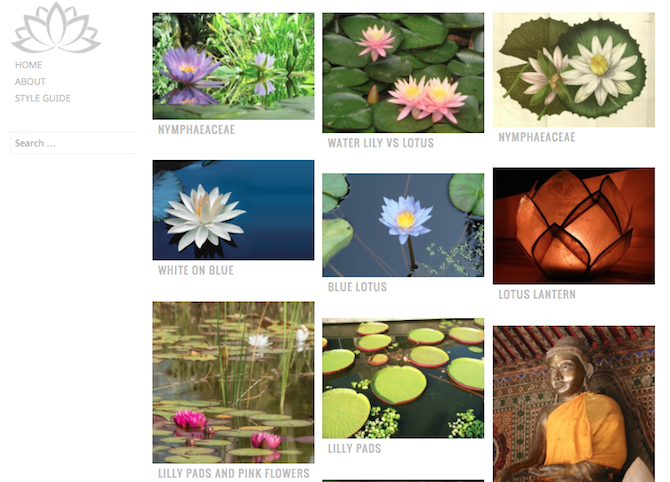 Waterlily combines minimalism with an image-centric site, and the result is eye-catching.
The theme uses Masonry and is easy to customize and configure, even if you're new to WordPress. The photography (or artwork) stands front and center, and a small sidebar presents navigation options in a nonintrusive way. The background color and logo can be modified, too.
Useful For: Displaying art or photography within a responsive layout.
About the Developer: Bluelime Media is owned and operated by Christine Rondeau, a WordPress and theme developer. She frequently speaks at WordCamps and teaches classes about WordPress. Follow her on Twitter @bluelimemedia.
4. Pictorico
You can't get much more official than this. Pictorico was developed by Automattic, so it's got an air of legitimacy not too many other themes can claim.
It's described as a "single-column, grid-based portfolio theme," and it's a real standout thanks to very large featured images. It also comes equipped with a post slider, custom menus, four widget areas, sticky posts, and more.
Useful For: Portfolios. Photojournalism. Photoblogs.
About the Developer: As I already mentioned, the developer of Pictorico is Automattic, the people who brought us WordPress itself. The company was founded by Matt Mullenweg. Follow along with the company's latest shenanigans @automattic.
3. Ignite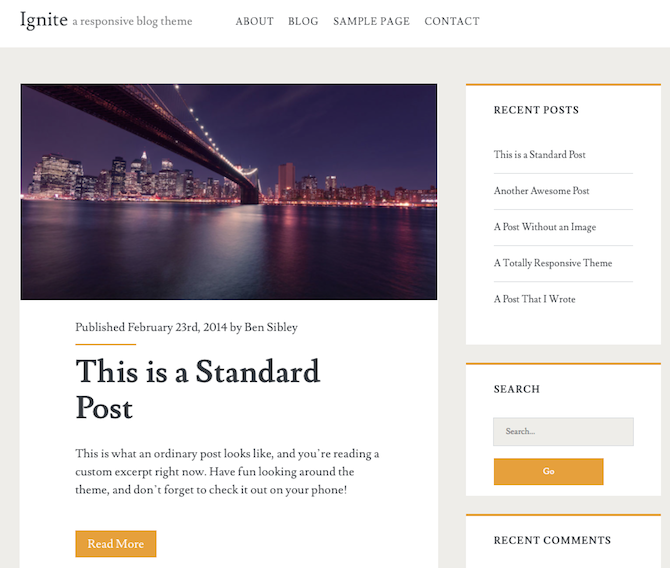 If you're looking for a simple, responsive blog theme, Ignite might be a good option for you. You can upload your own logo for a nice level of customization. But what's really nice is the theme comes with logo size and positioning tools. No more awkwardly fitting logos! And you can configure the social media icons to point to your accounts.
The theme also features a sidebar, widgets, and bold featured images. More features are available in Ignite Plus.
Useful For: Anything having to do with blogging.
About the Developer: Compete Themes was founded by Ben Sibley. This company is also responsible for themes like Tracks and Drop. He also made the WP Image Borders plugin.
2. Semicolon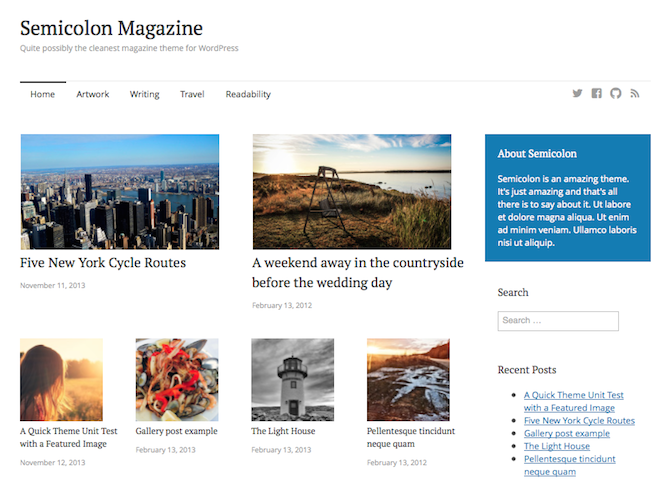 Semicolon is a clean, responsive, and easy-to-use magazine style theme that makes publishing on the web a snap.
It includes large featured images, related posts, author bios, widgets, and a social media menu. It's designed to be read, making it a theme that's quite pleasing to the eye.
Useful For: Publishing. Blogging.
About the Developer: Konstantin Kovshenin is the developer behind Semicolon and works for Automattic. He lives in Moscow and also created the Expound theme as well as the plugins Quick Flickr Widget and Zendesk for WordPress.  You can follow him on Twitter @kovshenin.
1. Make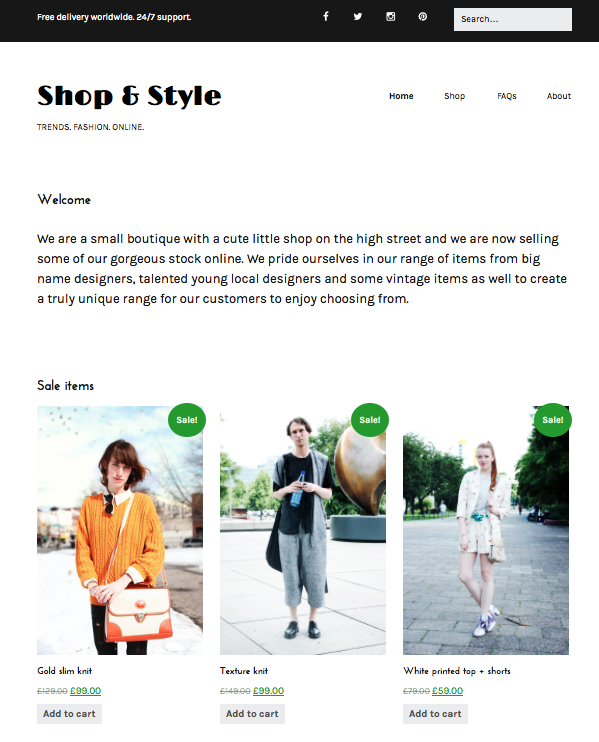 Make is a drag-and-drop page builder and theme in one. It's super flexible and free, which is sort of amazing, if you ask me. Yes, there is a paid version but you get a whole lot of features without having to pay a dime.
What's really great here is you can create just about any kind of site you want, from a portfolio, to a blog, to a photoblog, to a business site, or even an online publication. Drag-and-drop content around wherever you'd like. It's responsive and works with a bunch of cool stuff like WooCommerce and Gravity Forms, too.
Useful For: Just about anything.
About the Developer: Make was created by The Theme Foundry, a company with a reputation for quality. A few other themes they have under their belt include Oxford, Watson, and Collections. Keep up to date with the Foundry's latest developments @thethemefoundry.