Whether you're thinking about starting a brand new WordPress site or you just want to give your current one an update, you should find the list I've compiled for you this month extremely helpful.
All of these themes are multi-purpose and can be utilized for just about any type of site. They're highly functional but not all are feature-rich. And I'm totally cool with that. Because you don't always need every bell and whistle to make a compelling site.
Okay, enough chit-chat. Here are this month's themes for you to browse. Enjoy!
5. Weblizar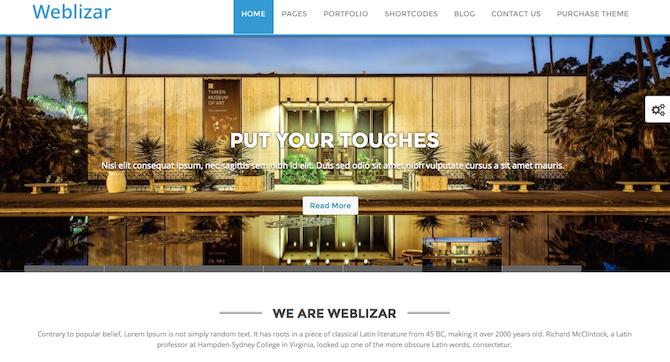 If you're looking for a simple theme for your business site, Weblizar is a good choice. It's fully responsive and includes a fullscreen featured image slideshow to highlight your most compelling content. It includes support for featured images throughout and can even be used for a personal blog, if you're so inclined. It's based on Bootstrap, allowing for optimal viewing on any device and includes 4 page layouts, 2 page templates, 5 widget areas, custom menu support, social media links, and more. If you give the demo a whirl, you'll quickly see you have many customization options to play with here.
Useful For: 
Business sites and blogs.
About the Developer: 
Weblizar was created by none other than Weblizar, a web development team dedicated to making minimalist WordPress themes. They've made quite a few plugins, too, and you can keep up with their latest work on Twitter @weblizar.
4. Adventurous
What a beautiful theme this is. Adventurous is a lightweight, responsive theme that is full-width and box-shaped so your site will always look clean, organized, and stylish. It uses HTML5 and CSS3 and includes a theme options panel for easy customization. The slider at the top lets your feature high-resolution full-width images that can take your site visitors' breath away. It also includes custom widgets and short codes and plenty of support documentation to answer your every question.
Useful For: 
Can be customized to suit just about any need from the personal blog to the corporate website to the photography portfolio.
About the Developer: 
This theme was developed by Catch Themes, who are also responsible for very popular themes, Catch Box and Simple Catch. Keep up to date with them @catchthemes.
3. Tracks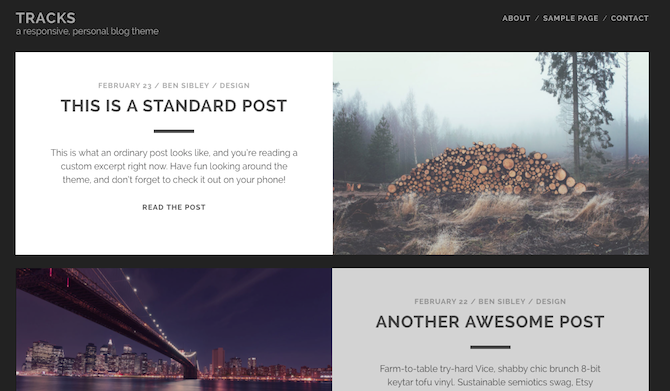 Tracks is an incredibly simple theme that shows you don't need to include every feature under the sun to be effective. Add your site logo at the top and main navigation appears in the upper right corner. The blog page features custom excerpts that make for great visitor eye candy and encourage a click-through like no one's business. Each excerpt also includes a high-quality photo. Posts are bold and in-your-face (in the best possible way). This theme also includes a nice author box to feature your bio and social links at the end of your posts.
Useful For: 
Ideal for a personal blog, travel journal, or photography site.
About the Developer: 
Tracks was developed by Compete Themes. Founded by Ben Sibley, his development company also made the Ignite theme.
2. GeneratePress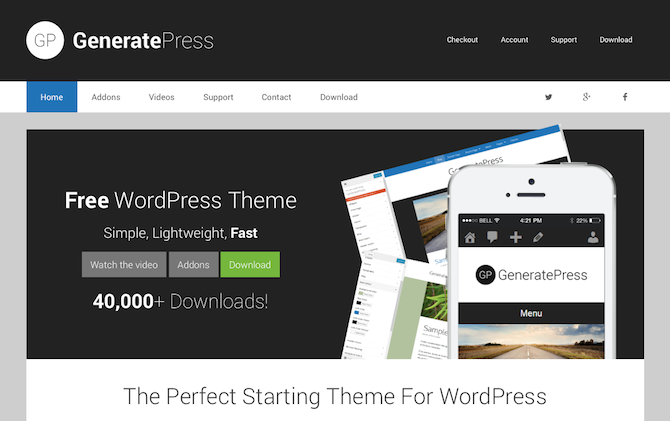 This theme is lightweight and built on HTML5 and CSS3, so it's totally responsive and built for customization. You can use the theme options panel to change the layout, site colors, and more. The live preview makes it easy to see what your changes will look like when the site is published. It's SEO-friendly, translation-ready, and compliant with W3C and Schema.org. And about customization: GeneratePress includes 5 spots for navigation, 5 sidebar layouts, and 8 widget areas so you can truly make this site your own.
Useful For: 
Whether you have a personal site or a corporate site, this theme has you covered.
About the Developer: 
WordPress user edge22 is the man behind GeneratePress. He also created the Forefront and Mantle themes. Keep up with his latest @generatepress.
1. Editor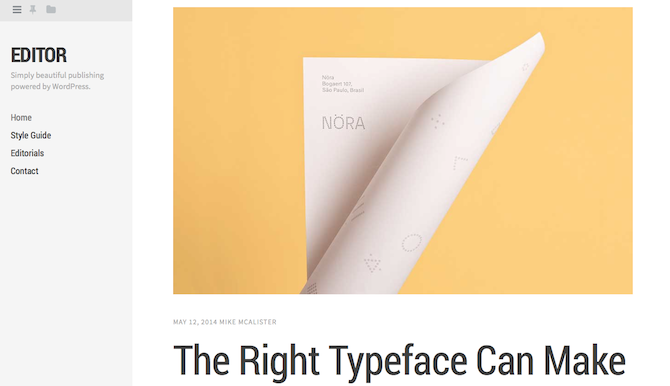 This theme appeals to my not-so-inner word nerd. Editor is the perfect theme for publishing, hands down. It lets you set large featured images at the top of each post, large headers for post titles that evoke a magazine style, and legible text that's a breeze to read. One thing I really love here is the featured posts setting. Set a post as featured and it'll appear in the lefthand sidebar for easy clicking. This one's a thing of beauty and I sort of want to start a magazine just so I can use it. Seriously.
Useful For: 
Publishing, plain and simple.
About the Developer: 
Editor was created by Array, which according to its websites is, "an ongoing experiment in research and design by Mike McAlister." Follow him on Twitter @mikemcalister.