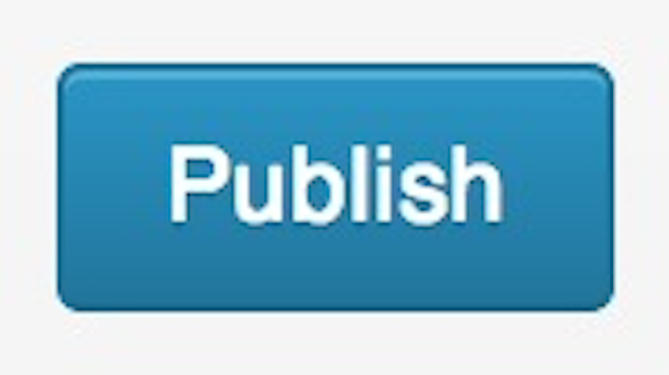 We've made it to the final checklist in my three part series for making the most of your blog posts. So far we have covered planning and writing and now it is time to cover what is arguably the most neglected part of blogging.
Let me begin by asking you a question: how many times have you been guilty of writing a blog post, hitting Publish then simply getting on with your day? This post is for you, because each post that doesn't get a little post-publishing TLC will never live up its full potential. If you build it the people will not come — you need to build it and then take it to them.
That is essentially what I am going to cover in this post — a post-publishing checklist that will put your content in front of more eyes. Let's take a look at each step in turn.
1. Check That Everything is in Order
The first thing you should do is double check that the post is displaying correctly and that you haven't missed any glaring errors.
One mistake I often used to make (before I started regularly using a checklist) was to forget to include an excerpt which meant that my blog posts would have a pretty crappy looking automatically truncated excerpt on my home page. With that in mind, make sure that you check out the post both in its single page format (i.e. the entire post) and in excerpt format (e.g. on your home page).
2. Publish to Facebook
According to Shareaholic, Facebook is the second biggest referrer of traffic on the web (behind Google). As such, it pays to add a little bit of thought to the status update you publish to promote your post. Don't just paste the link and hit "Okay" — put a little thought into it.
Here's an example of one of my recent Facebook status updates: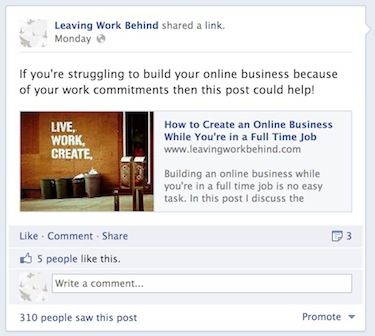 First of all I've included a little intro blurb to let people know what the post is about. You might also take this opportunity to ask for Likes (don't overdo this) or comments.
You should make sure that the post preview renders properly with the appropriate thumbnail. If you took the advice in my previous checklist and included a meta description this will be duplicated with the preview, which generally looks far better than a truncated excerpt from the post (although it may still be truncated).
3. Publish to Twitter
Facebook is great for traffic but Twitter is no slouch. Not only that but it is an effective tool for drawing attention to your post from the right people. If you have mentioned someone in a post you should always add that to the tweet you send out. Your post might look something like this: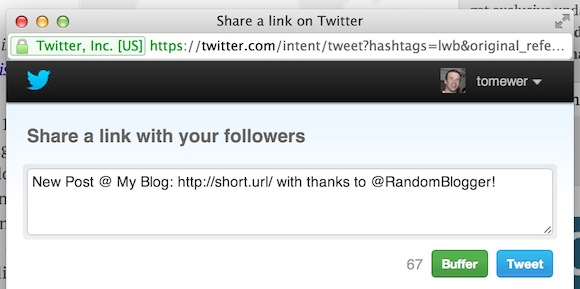 The more personal the message, the more likely the person in question is going to notice.
Don't be afraid to send out more than one tweet for each post — I tend to send out three with a six hour gap between each one. In this way you can hit different timezones (and therefore different people).
I use WordTwit Pro to automate the post tweeting process and would recommend it heartily — read my review here.
4. Publish to Google+
I'm not a huge fan of Google+ but there are certainly enough people hanging around to make submitting your post worthwhile. My advice for Google is a blend of the above tips for Facebook and Twitter — while the interface is certainly more like Facebook, you can also easily mention people like with Twitter and I certainly recommend that you do so. Also, make sure that your update is made publicly available to all and not just those within your circles.
5. Pin, Stumble, Digg and More
I don't tend to take my social media promotion efforts any further than the three steps above but you may be inclined to submit your post to Pinterest, StumbleUpon, Digg, Hacker News and any other relevant social media/bookmarking sites. Do this at your discretion.
6. Promote to People in Your Network
One of the best ways to increase the exposure of your post is to contact people in your network and ask them to share it amongst their followers and/or mention it in their blog.
It is not within the scope of this email to go over tactics for doing this but my overriding piece of advice would be to keep it natural and refrain from harassing people. Generally speaking you shouldn't be reaching out to people you've never spoken to before and asking them to share — try to build up organic relationships over time so that people will be happy to help if you ask for it.
7. Send to Your Email List
Finally, if you're a blogger then you should be building an email list, and if you have an email list you should keep them up to date with the goings-on at your blog.
I know that quite a few bloggers don't do this and use their email list for an autoresponder series only, but I think that they are missing out on a trick. The fact is that many people sign up to your list in the expectation that they will be kept up to date and as such do not go back to your blog. Don't miss the opportunity to send an extra wave of traffic to your blog by informing them of key new blog posts.
There's Always More To Do…
The above checklist is what I would consider a broad overview and covers most of the things you would typically seek to do having published a blog post. Having said that, I do not want to limit or restrict you in your marketing efforts because application in this area can make all the difference. For instance, you might want to try contacting journalists or getting the article linked to in relevant spots on the web. The key is to remember that the post is not going to market itself — you need to put the hard yards in to ensure that the time spent writing it is worthwhile.
If you have any comments or questions regarding my checklist then please fire away in the comments section below!