Though English may be considered the "global" language of business and e-commerce, research shows otherwise. In fact, almost three-quarters of the internet communicate (and spend) in other languages. So, with only around a quarter of the world's online communication actually in English, if you're a monolingual, English WordPress site or business-owner you could be leaving money on the table.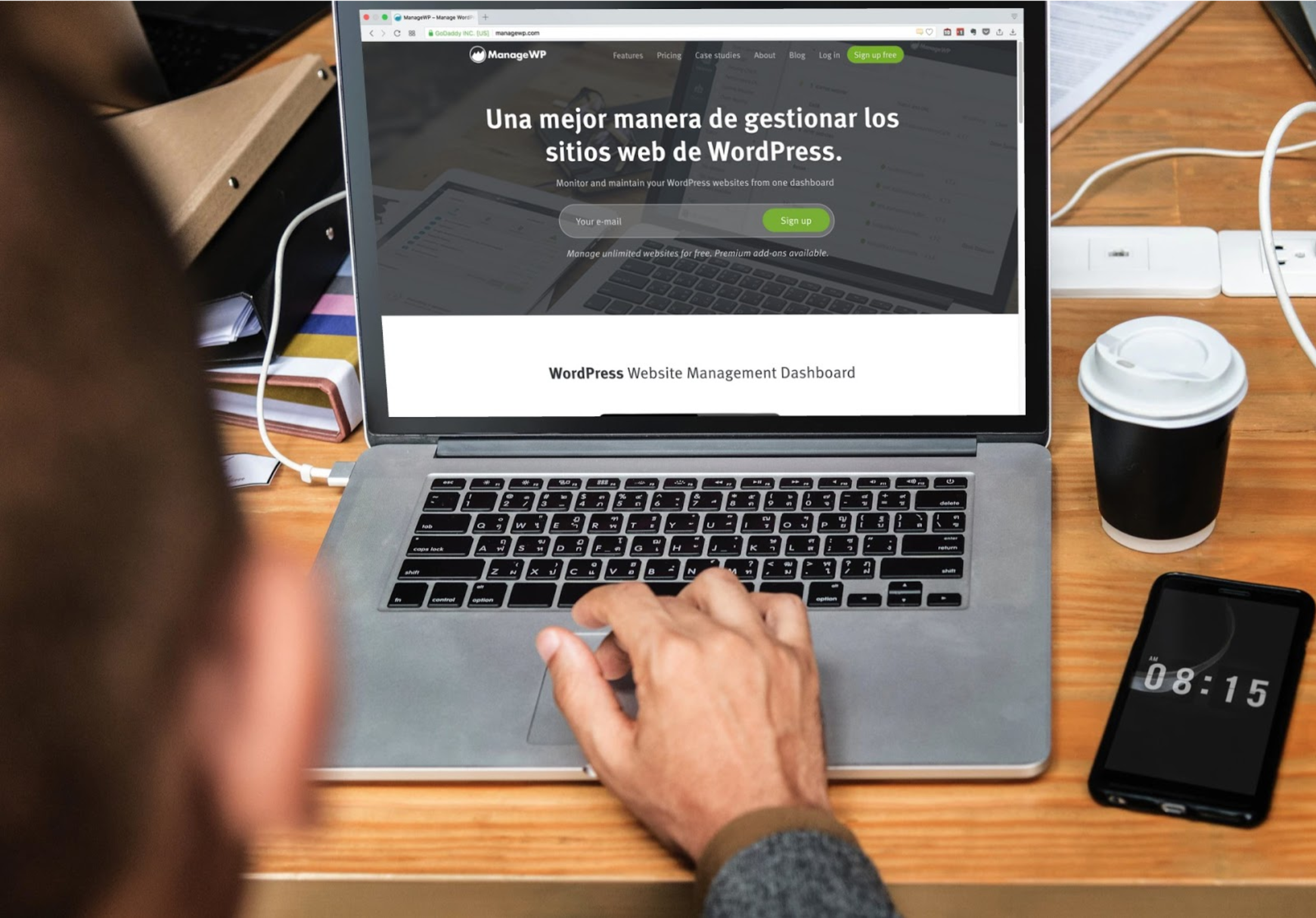 If you've already decided to translate your site, but you're still undecided as to which plugin is right for you, you're in the right place. In this post, we'll scan through some of the main benefits of translating your site with multi-language WordPress plugins, before checking out some of the most popular WordPress multi-language plugins on the market today. Then we'll walk through an installation to get you up and running in no time.
Why opt for a multi-language plugin?
1. Reach new audiences to convert more customers
Engaging new audiences is the essential ingredient for scaling your business. The starting point is identifying the best new market for your business, and which language this will require. A site audit (using Google Analytics, or your data tool of choice) can quickly reveal the location, language, and session duration/bounce-rate statistics for your site.
You may, for instance, quickly discover that a high proportion of site visitors from the U.S are actually browsing in Spanish, but leave shortly after arriving. Or you have a steady increase in visits and sales from Germany. This valuable site data shines a light on who you should be targeting in another language to help you scale your business.
Translations are rarely discussed as part of conversion rate optimization (CRO), but they have the potential for a much greater impact on sales than the vast majority of CRO work.
By speaking to potential customers in their own language and investing in the culture of that language, you invest in real relationships with customers and offer a much closer experience with your brand.
2. Higher visibility: Better Search Engine Optimisation (SEO)
Multilingual SEO can be a huge win for your site, bringing in dramatically more search clicks.
Your site visibility increases if a wider audience can find you – and localized SEO is the magic ingredient to achieve this. Not only will it increase your audience base and site domain authority (leading to higher site rankings), it can dramatically increase the visibility of your site.
And yes – more site traffic can also lead to higher conversions and more money in your pocket.
3. Drive more sales: Scale your business
Creating a multi-language WordPress site is a remarkably simple way to increase your sales for relatively little work; particularly if you use an automated plugin (which we'll explore shortly).
There are few other ways of increasing market opportunities for your WordPress site with such little effort.
4. Challenges for owners multi-language WordPress sites to bear in mind…
Multi-language setup requires a couple of considerations: if extra content such as PDFs is essential for running your site, you'll need to decide how much of these to translate, if any. And, if you're running a WooCommerce store, make sure your shipping, customs, and customer support can all handle inquiries in other languages.
Plugin options for your WordPress multilingual site: a rundown
Weglot translation plugin for WordPress
Weglot is one of the best-reviewed WordPress multi-language plugins. It supports 100+ languages, and offers out-the-box compatibility with any WordPress theme or plugin, including Yoast SEO, WooCommerce, and – well – ManageWP doesn't add text to the front-end of your site, but if it did Weglot would automatically translate it 🙂
You also get automatic translations with human editing, making for an easy-to-use and extremely efficient translation workflow. You also have the option to pay for a professional translator instead of doing these yourself.
Weglot is easy-to-use for your visitors, with each language placed into an automatically generated subdirectory – for example /es/ or /fr/ – and a language button (of your own choice) sat in the corner of the page, with hreflang tags added to the section of your site so Google instantly recognizes these.
You'll pay by tier, depending on your traffic, and the quantity of words and languages you need. The free tier adds one language with up to 2,000 translated words, and you can go all the way up to unlimited languages and 5,000,000 translated words (with a free trial available).
Weglot is a fantastic multi-language plugin. Make a start with the WordPress plugin here.
WPML WordPress Multilingual Plugin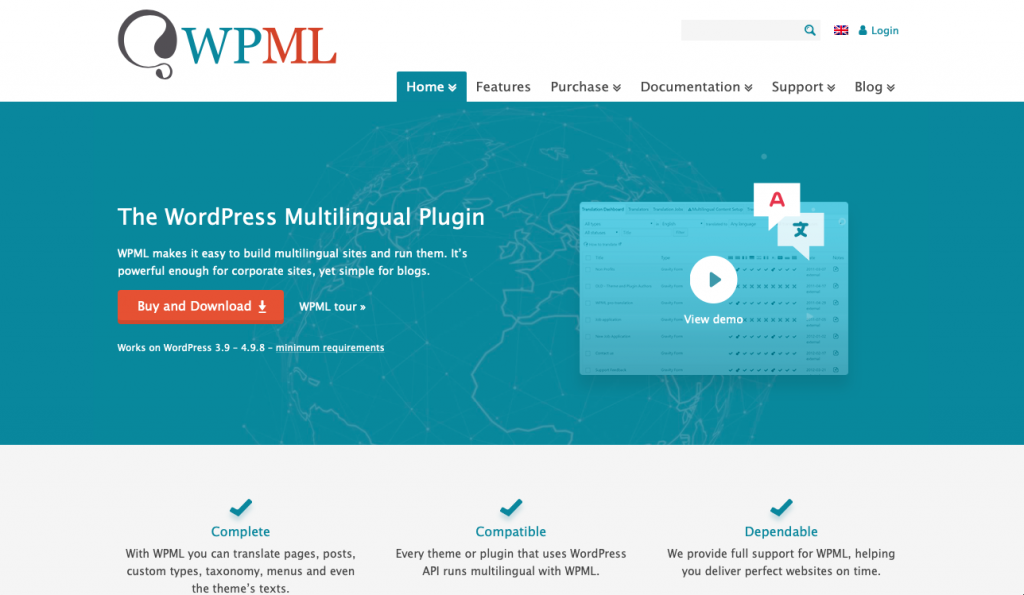 WPML is a veteran multilingual WordPress plugin, so it's used widely. It provides built-in support for 40 languages, but a big downside here is that it doesn't offer automated translations. It does provide a professional, human translation service like Weglot, but you won't find the efficiency of automatic translations here.
WPML offers online translation management and integrates with tools such as Poedit, a desktop translation app, to provide its translations. These tools both generate .po and .mo translation files which contain your translated text strings. You can use these to enter your translations or have a professional do them for you. These are then applied at the site-level, which requires your theme or plugins to specifically set compatibility with WPML.
WPML is available for a fixed annual price, which depends on your requirements. As you're hosting the translations yourself, tiers only add features and not word or visit restrictions.
Polylang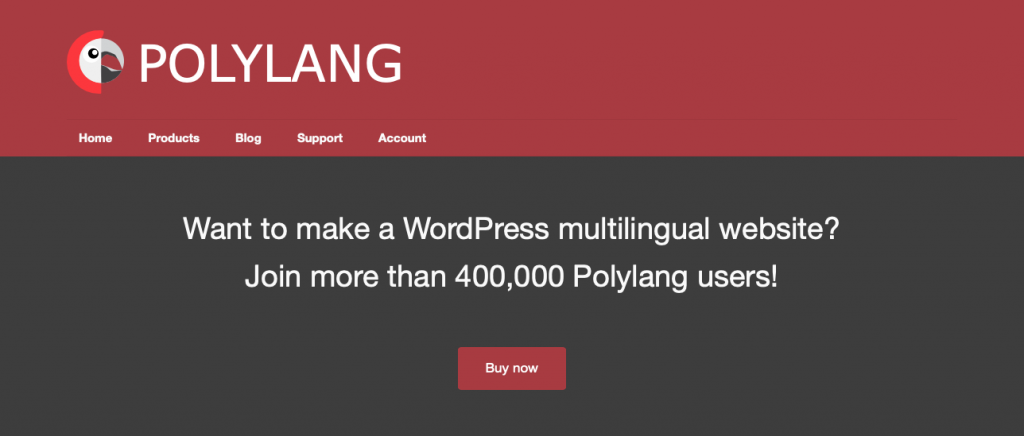 Polylang is a popular free and premium plugin for a WordPress multi-language website. Similarly to Weglot, with Polylang you can translate posts, pages, menus, and widgets, as well as translation for custom post types, taxonomies, widgets and navigation menus, etc. It also offers support for creating multilingual e-commerce stores with WooCommerce, as well as a premium add-on.
Polyang also offers a business version, which is available for €99 and gives users access to a premium support service. Upgrading to Polylang Pro provides access to additional features, including automated SEO translations, translated slugs, and perhaps most importantly, the premium support service. However, the price increases if you'd like to use the premium version with more than one domain, and it doesn't offer human translations, leaving users to source these themselves.
Available as both a free and premium plugin, Polylang presents a good choice for those starting on a budget on one site, but want the option of upgrading to a premium plugin once their project takes off.
Which plugin is right for you?
All of these plugins are popular and cater to different needs, so you should check which features you're likely to get the most value out of before going ahead.
Some require you to provide the translations, while others create machine translations. Some are solely manual or machine-based while others host translations on localized URL variations. Still, others use WordPress Multisite. No two plugins are completely alike, and there is a myriad of options for each and every site or business need.
If you have a small business, then a plugin designed for small businesses, lower word count "packages", or simple machine translations could suffice. On the other hand, if you already own a successful business with a large WordPress site, then you could well benefit from a multi-language plugin which offers full-service; including the support of a native, human translator to make sure each and every piece of website copy is crystal clear in the language(s) of choice. All plugins featured today are highly regarded, so whichever one you decide on, you'll be in safe hands.
Your store needs to remain a professional and trusted place to buy from, so using a plugin like Weglot's automatic translations as a start, on a language-by-language basis, and then getting these checked by a professional to ensure translations are of the highest, native quality, would be a really good workflow. Starting with just the one language keeps things simple.
Choose your WordPress multi-language setup
As you can probably tell, multi-language WordPress plugins all function differently – perhaps more so than other plugin categories.
To provide your site visitors and customers an outstanding experience in their native language, it's also well worth ensuring that your translations aren't just carbon-copy texts, copied and pasted from English to Portuguese, German or Mandarin, etc.
By harnessing multi-language WordPress plugins and choosing to communicate with potential customers in their own language, you are already investing in real human relationships to offer a much closer experience with your brand.
Here's a reminder of the plugin options for you:
Weglot for automatic translations with human editing, and compatibility with all WordPress themes and plugins.
WPML for the oldest WordPress multi-language plugin, with a classic string-based translation experience.
Polylang for a straightforward, automated-only solution.
Feel free to let us know your favorites in the comments below.