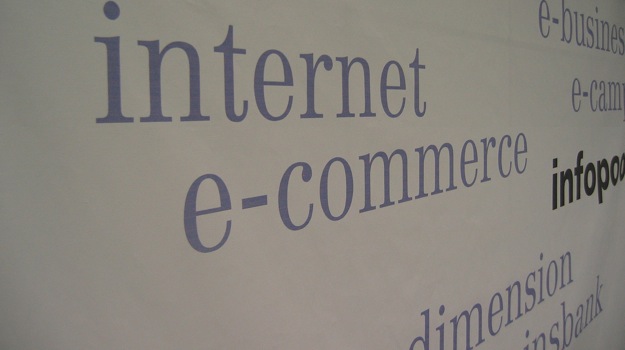 Are you starting a new eCommerce site on the WordPress platform? One of the best things about WordPress is that it's so versatile. You can use it to build all types of sites like forums, communities, magazines, directories, portfolios, FAQ sites, diaries, and much more. Today, I want to focus on Web stores, most commonly referred to as eCommerce (or e-Commerce) sites.
When using WordPress for an eCommerce site, you can sell multiple products on your site and even integrate a shopping cart. This is most commonly achieved by using various plugins like WooCommerce, Cart66, WP e-Commerce, and JigoShop – all of which you'll see mentioned below.
If you're starting a new eCommerce site on WordPress it can be a lot of work; depending on the WordPress theme that you choose to use, the process can be pretty intimidating as well. That's why today I want to focus on eCommerce themes for beginners.
Listed below are 6 excellent WordPress themes that are great for newbies just starting a Web store. These themes are easy to set up and customize, and include many useful features – some even provide in-depth guides to help you along the way. Here's a closer look at each one.
Abundance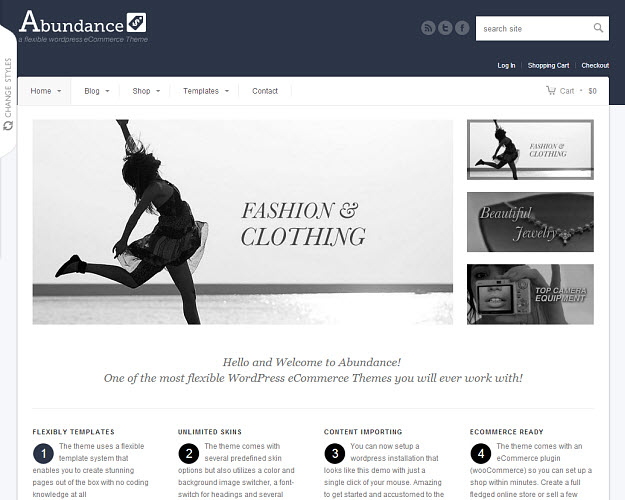 Whether you're a Web developer or have no experience at all, Abundance is just for you. It works with WooCommerce, which is a powerful WordPress plugins that adds extendable eCommerce features. You can easily change your site's color scheme, heading font, and layout from the easy-to-use options panel – accessible from the home page of your site.
As a beginner, you'll be presented with many convenient features that will make it easy to customize your eCommerce site. Abundance includes 5 types of slideshows, 16 skins, custom widgets, an integrated color picker (making it easy to customize your colors), an extensive user manual, a drag-and-drop layout builder, and much more.
Information | Demo | $55.00
Propulsion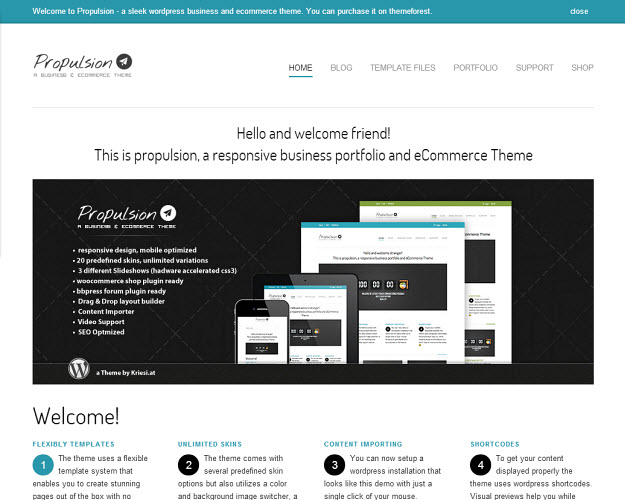 Propulsion is a responsive, SEO-optimized theme that can be used for a business, portfolio, or eCommerce site. Like Abundance (mentioned above) it works with WooCommerce, and can also be used with the WordPress bbPress forum plugin. You can change your color scheme right from the home page of your site; there are 21 predefined color schemes to choose from.
Additionally, you'll get 3 types of slideshows, font and color options, a page template builder, 4 post formats, custom widgets, an integrated color picker, an extensive user manual, contact form builder, and more. Propulsion includes everything you need for your eCommerce site, and more!
Information | Demo | $60.00
Stored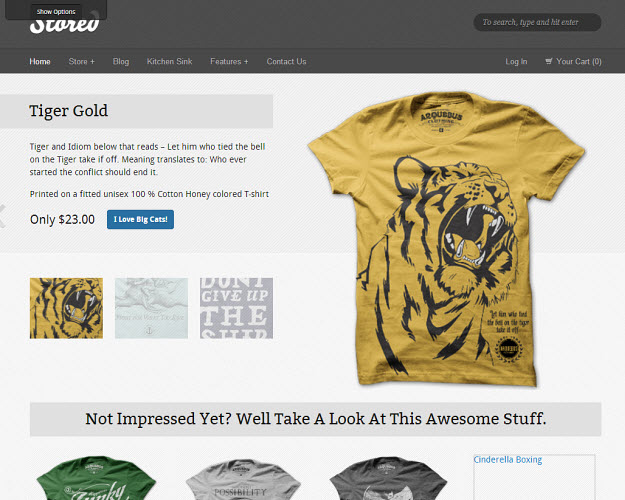 Stored works with the Cart66 eCommerce system for WordPress. It includes an "Affiliate Mode," which makes it easy "create products and link the Buy Now button to another website with your affiliate link." This feature is great for beginners since you simply copy-and-paste the button code wherever you wan. This theme includes light and dark color schemes, 6 color options for your buttons and accents, and instructions to help you along the way.
Along with this, Stored makes adding product images a snap. There's no shortcodes or plugins needed for this. You just upload your images to the associated post, and a lightbox gallery will be generated automatically. Talk about easy!
Information | Demo | $55.00
Aventador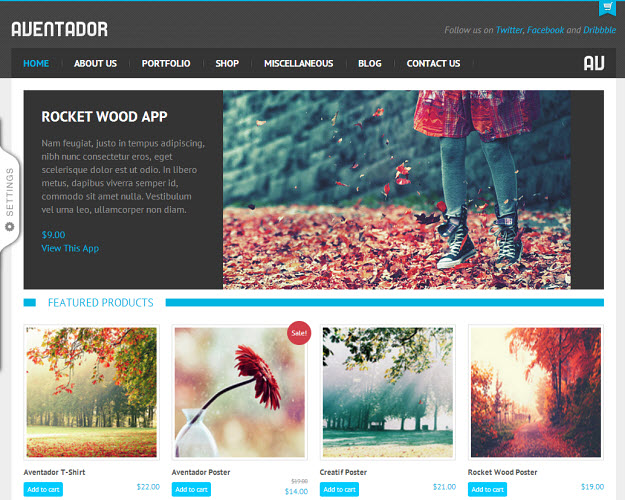 Aventador works with the Jigoshop eCommerce plugin for WordPress. Beginners will appreciate this minimal, yet beautiful eCommerce theme that's really easy to customize; it's also well documented with instructions to help you along the way.
On your home page, you'll find a convenient settings panel, which makes it easy to change the theme's skin; there are 7 skins to choose from. Aventador includes Fancybox support, 2 types of sliders, an options panel in the dashboard, Twitter integration, and sticky top navigation menu, 13 premade page templates and more.
Information | Demo | $55.00
Aventura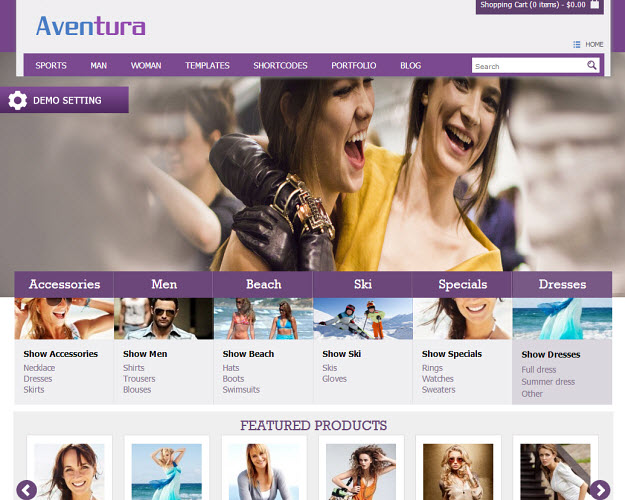 Aventura is a responsive, SEO-optimized theme that works with the WP e-Commerce plugin. The theme is clean, minimal, and includes many customization options. On the home page, there's a settings panel that lets you change the colors of your background, top menu, home page slider, and text.
Aventura includes 12 page templates, custom widgets, shortcodes and an easy-to-use admin panel. In the admin panel you can change your slider type, customize a featured products carousel (should you choose to use it), and even add advertisements – among other things. All of these great features make Aventura a great choice for beginners.
Information | Demo | $55.00
MayaShop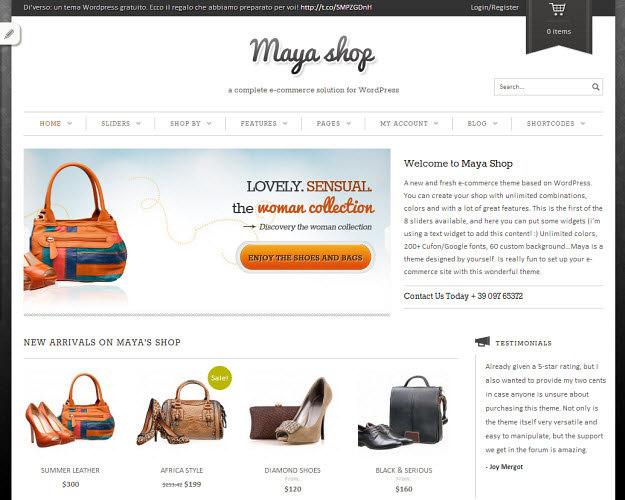 MayaShop is a responsive eCommerce theme that can be used with WooCommerce or JigoShop. The home page has a lot of customization options thanks to unlimited layouts, unlimited skins, widgets, shortcodes, 50+ custom backgrounds, 8 types of sliders, and more. With these options, you can really make your eCommerce site stand out – no matter how many others are using MayaShop.
The admin panel on the home page lets you change the layout theme, background image and pattern, and font colors and sizes. There are over 300 fonts to choose from and an unlimited combinations of colors to use. With the extensive admin panel on the backend, you can customize just about every aspect of your site and best of all, there are video tutorials to show you in detail how everything works.
Information | Demo | $60.00
What's Your Choice?
Do you already have an eCommerce site? If so, what theme are you using? If not, what theme do you plan on using?
Creative Commons image courtesy of Rakeman