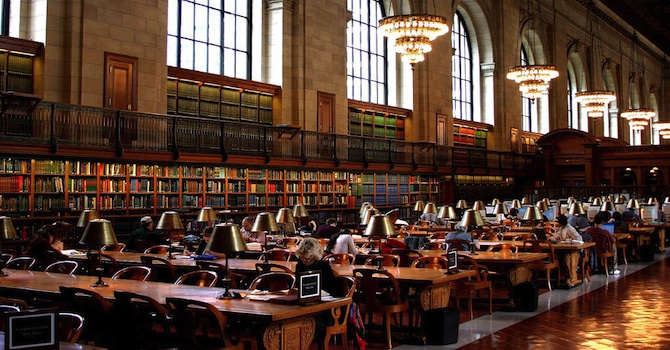 Over the past few months I have worked to make my blog more easily navigable. I've completely re-done my categories and tags, implemented a reliable related posts solution and generally sought to make the process from getting from one relevant page to another far easier. But I'm not done yet — my next job was to create a useful archives page.
In my opinion, archives pages on blogs are severely underrated (and neglected). In a way, not putting together a decent archives page demonstrates a lack of respect for your past evergreen content — or perhaps an assumption that your visitors will somehow easily be able to find archived posts through other means.
What a Useful Archives Page Isn't
Let's get one key point out of the way first — the worst kind of archives page is one that doesn't exist. If visitors don't have a centralized means of accessing all of your posts then I think you're missing out on a trick. Having said that, there are plenty of archive pages out there that are almost as useless as not having one at all.
One of the major issues with many archives pages is not actually the page itself but the underlying structure — i.e. categories and tags. If the blog's categories and tags haven't been carefully curated and organized then the archives page will not be of much help.
Let me give you an example of what I mean from one of my favorite blogs, Smart Passive Income: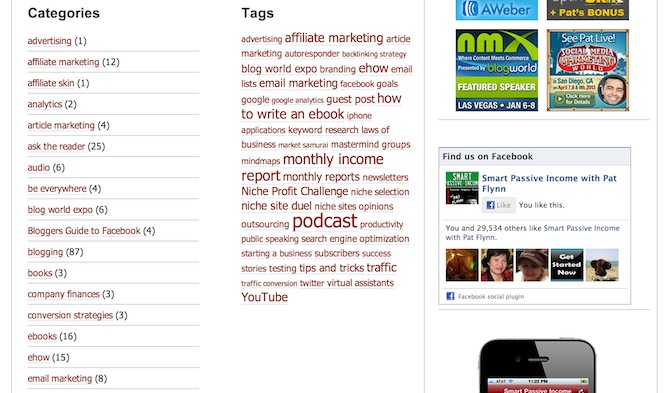 That categories list goes on for another two page scrolls by the way — a total of 61 categories. My blog has eight. The fact is that such a huge list of categories really cripples the archives page of being of any value to the visitor — they'll just be overwhelmed by the amount of choice. And that's not to mention the obscurity of some of the categories (ehow? audio? affiliate skin?).
The tags aren't much better. Some of them seem pretty useful, but a lot of them (such as "tips and tricks") offer little contextual relevance. I can also see that a lot of relevant posts on the site aren't tagged as they should be. Take the "market samurai" tag for instance, which offers up just two posts. I know for a fact that the blog has a lot more than two posts that feature the Market Samurai app, so any visitor who clicks on that tag isn't getting a complete resource.
What a Useful Archives Page Is
By demonstrating what makes a poor archives page, we can use deductive logic to figure out what a good one should look like. That's right — good category and tagging practices will go a long way towards creating an archives page that will be truly useful to the enduser.
But that's not all, and I want to go back to Smart Passive Income to highlight something that it does right — date-based archives: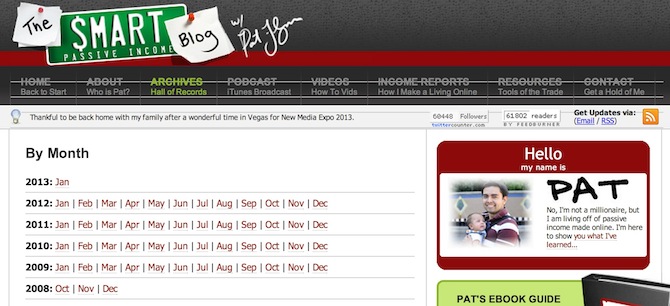 I think a lot of people don't see much value in offering up date-based archives, but I think they can form a useful part of any archives page for two reasons:
Die-hard fans of your blog can use them to go through every post (it happens!)
If someone is looking for a blog post that they know was published in a particular month/year, they can easily find it
In my opinion, date-based archives are the third and final piece in the puzzle alongside categories and tags. With these three elements you offer your visitors a complete means of navigating your blog with ease:
If they want to read up on a general topic they can browse your categories
If they want to know more about a specific topic they can browse your tags
If they want everything (or something specific) they can browse the date-based archives
My Archives Page
With all of the above said, I think it's about time I revealed my archives page: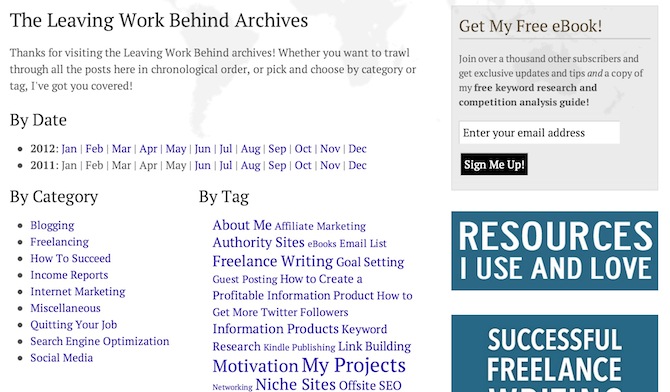 As you can see, I've got all three elements laid out in an easily accessible manner. I have spent a lot of time optimizing my taxonomies so that if someone does click on a category or tag, they are going to be presented with a complete list of relevant content. Nothing fancy — just a highly functional page that serves its purpose.
You can probably see that I took a lot of inspiration from the Smart Passive Income archives in terms of layout, but I removed the "Last 30 Posts" section (you can browse through recent posts on the homepage, so I see this as redundant) and offer up a far tidier list of categories and tags.
If you're not sure how I went about creating my Archives page and would like to create something similar, stay tuned for the the second part of this post in which I will reveal exactly how I put it all together.
What is Your Opinion on Archives Pages?
I'd love to know what you think — does your blog have an Archives page? If so, what does it look like (feel free to link), and if not, why not? Let us know in the comments section!
Photo Credit: Thomas Hawk