You asked, we delivered. A long waited ease of updating the plugins and themes from Envato market is integrated with ManageWP. You probably know Envato as the company behind ThemeForest and CodeCanyon, premium theme and plugin marketplaces.

The boring old flow
You all know what the flow was before, and how cumbersome it was. Install the theme/plugin on ManageWP. When there was an update, you had to go all the way to ThemeForest or CodeCanyon, download the zipped files of the update and head back over to install that on ManageWP again.
Whew, I was tired just from reading that, and you?
That's why we have a shiny new flow on our hands now, so that you don't get tired from all the traveling around the web, just to install one update.
The super awesome new flow
Remember when I said two paragraphs ago how tiring the old flow was? Now the only thing that might be tiring you out is all the extra time you get by not logging into Envato market every time you need to install an update.
From now on, you can just connect your Envato account on your ManageWP dashboard, under your profile settings, and that's it.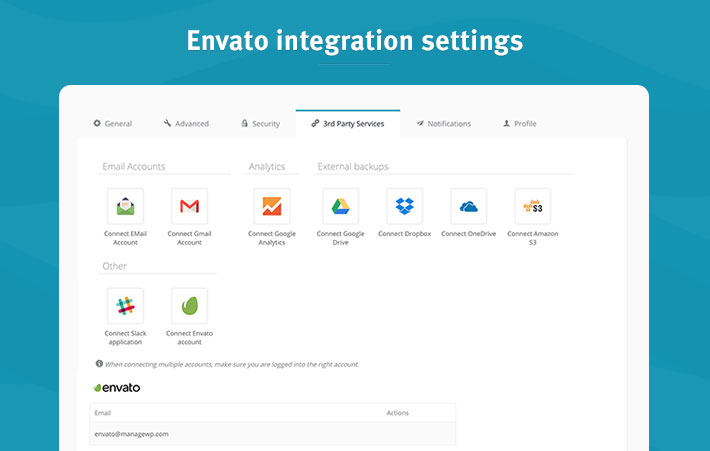 What we have done is to utilize their API, to allow you to connect the two accounts. Just like Dorothy, click your heels, and the updates will appear in the Updates widget of your websites.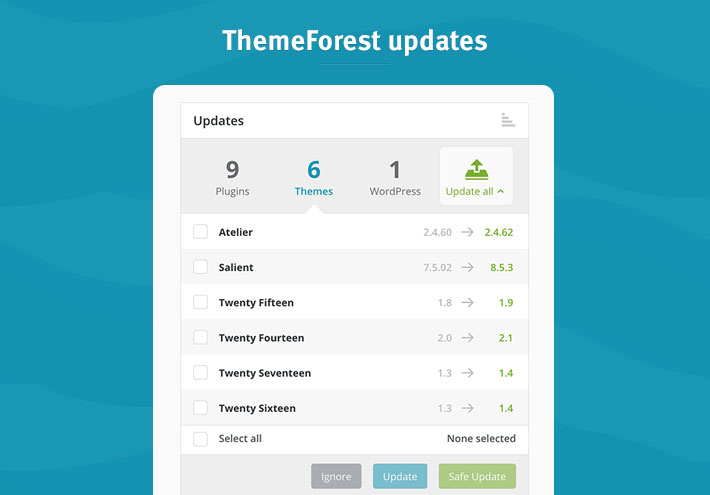 Oh, and one more thing: you can connect as many Envato accounts as you want.
I am not feeling it
Some of you might think that this doesn't save you a lot of time, but think about it like this.
Let's say you have a lot of plugins from CodeCanyon, or themes from ThemeForest. Imagine each update taking 1-3 minutes to download the files. Take into account having to log back into your ManageWP account, and well, the numbers add up. Significantly.
Why not use that time to watch an episode of your favorite TV-Show you haven't seen in a long time. Heck, you can binge watch the whole season.
Next steps
The suggestion bar is always open, and the bartender is always there to listen to you. If you want to throw your suggestion into the pool, please don't be afraid to do so. We want to hear your ideas, as they will surely make a fine cocktail.
P.S. Due to the question about connecting multiple accounts being popular (sorry for not covering that), know that you are able to connect as many Envato accounts as you want.
Here is a great explanation made by LaunchPress in the comments: "For anyone else who is having trouble with this: Signing in with different accounts at ThemeForest or CodeCanyon didn't seem to change what account was connecting with ManageWP – Instead, make sure you are signed in with the Envato account you'd like to connect here https://build.envato.com/my-apps/ before connecting ManageWP; that's the one that matters."