Working in web design and development is challenging. Project-based revenue means unpredictable cash flow and near impossible forecasting for most web agencies.
Our web design agency knew something had to be done to sure up our revenue streams. We were building websites for clients left and right, but not doing much to support them post-launch. This opened our eyes to an opportunity to both add value to the client while creating a recurring revenue stream for ourselves after launching a client's site: monthly service plans.
We set out to create service plans that supported our clients post-launch and empowered them to continue to grow through site updates, security, and maintenance.
First Attempt at Site Maintenance
Around five years ago, the only post-launch service we were offering clients was hosting.
And most of our clients were small, local businesses, meaning they were in no position to perform their own updates.
If they weren't keeping their site updated, and we weren't keeping their site updated, you can imagine the problems we ran into.
Sites would experience errors due to security issues. An outdated theme with an outdated plugin would often mean all kinds of styling mishaps. And without a sound system, it meant we would have to stop what we were doing to put out fires.
Long story short, we knew our clients needed regular website maintenance in addition to hosting: plugin updates, theme updates, backups, security checks, and performance checks. We also knew they should be paying for them. So we began to require all clients whose sites we were hosting to pay a monthly service plan for regular maintenance.
However, we had no process or system in place to accomplish our goal.
We were scrambling each month to get clients' sites updated, but we were still running into issues. And we had no way to keep up with which sites were using which plugins. A handful of haphazardly put together spreadsheets was not doing the trick.
In addition, it was tough to prioritize updates when we had new development projects starting every few weeks. Quite frankly, our 4-5 person web team didn't have the bandwidth to execute on required updates across 165+ websites.
We knew we needed to streamline maintenance.
Updates with ManageWP
We vetted some options and ultimately went with ManageWP. With ManageWP's all-in-one dashboard we're able to check for available updates and make them with the click of a button.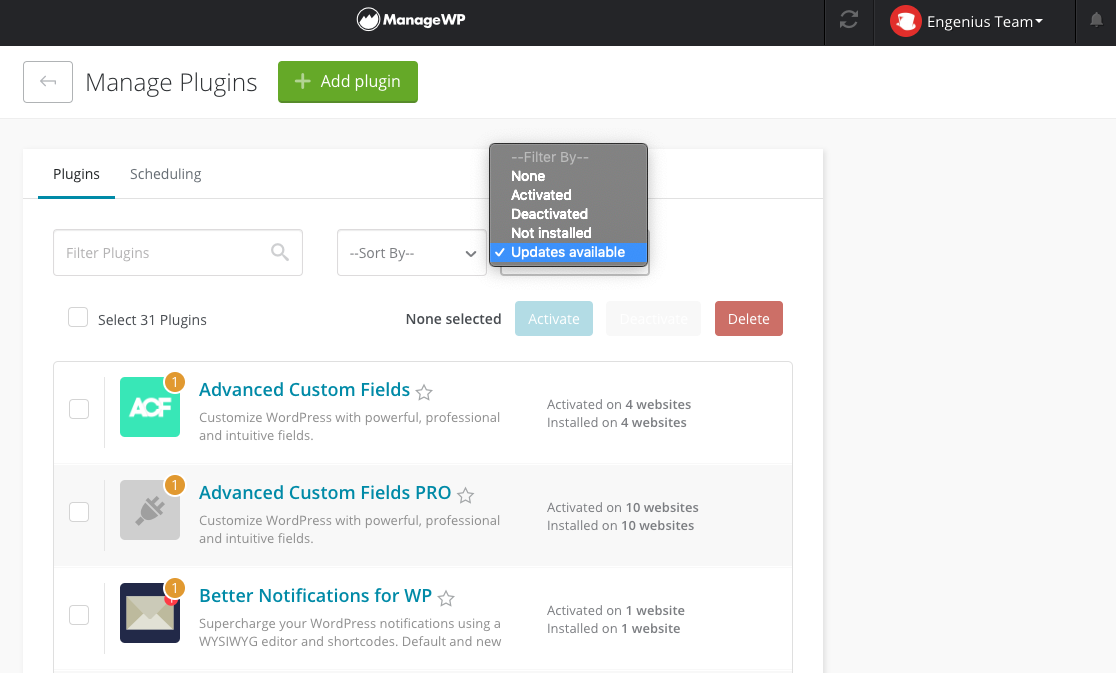 We know which themes are most in need of an update and can quickly take action on major updates.
We're able to easily identify security issues and know within moments exactly whose sites could be affected.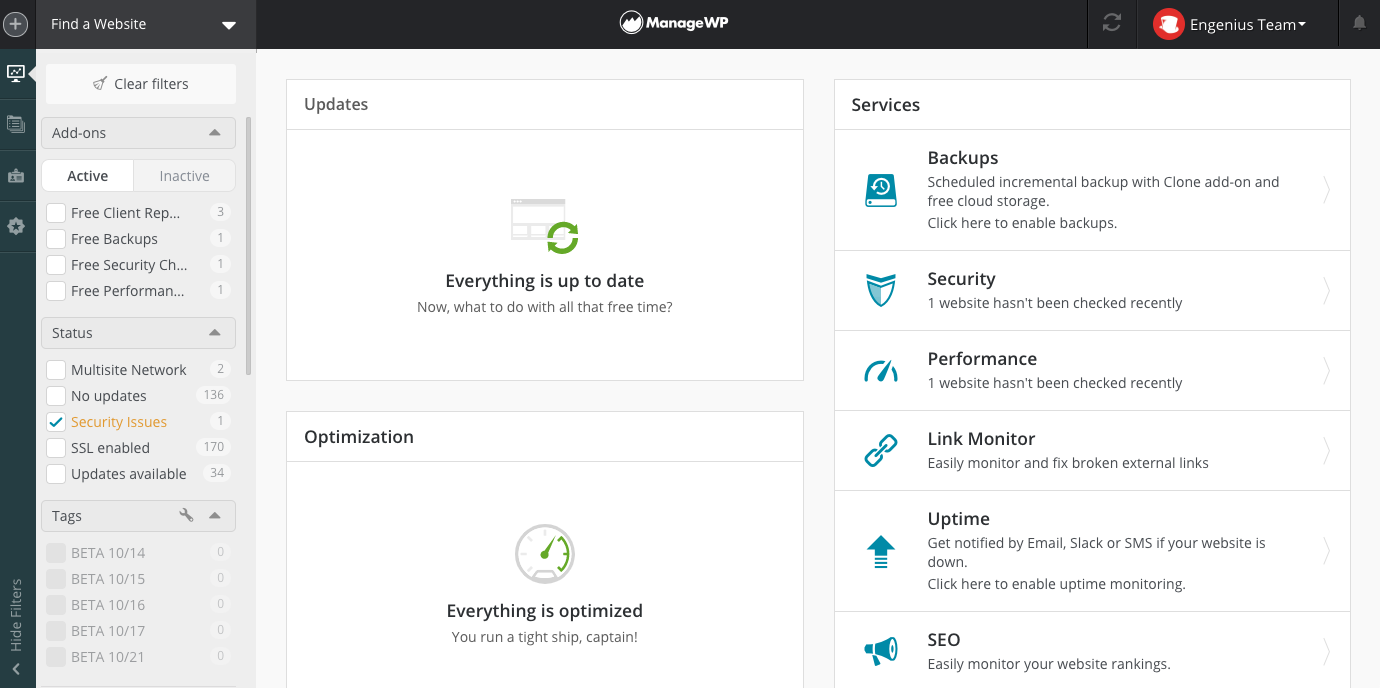 Not only are we able to make updates quickly, we now have an awesome, sortable database of all plugins and themes across all of our sites. We can quickly see which plugins are active, deactivated, not installed, and in need of updating.
What was taking us a sporadic 4-5 hours a week is now getting done in 30 minutes.
Scaling Service Plans
Saving time on maintenance means saving money on maintenance. With more bandwidth, we can take on more projects.
Time saved meant we had a little more bandwidth to support our clients and beef up our service plans. In addition to offering updates, backups, security, and performance checks, we began to package our service plans with a handful of other value-adds:
Domain Registration
DNS Management
Managed Hosting
Analytics and Reporting (a free ManageWP Add-On)
Uptime Monitoring ($1/site with ManageWP)
Search Analytics Reporting ($2/site with ManageWP)
Annual Hours for Content Updates
Annual Website Health Reports (in-depth reports on analytics, user behavior, and content strategy)
Annual Tune Ups (site updates to improve user flow, UX, etc…)
What was once a stressful, time-consuming hassle for our agency is now a massive opportunity for scalable recurring revenue.
These service plans are extremely valuable to our agency (and our bottom line). The recurring revenue gives us the freedom to take on the projects we want and turn down those that don't make sense for us. And the margin keeps us all happy.

Thanks to ManageWP, our web team has peace of mind, our clients are happy, and our agency is growing.
Editor note: Photo by Fikret tozak on Unsplash