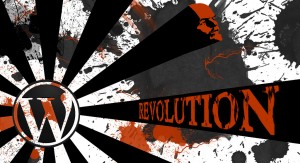 We live in an age where intuitiveness is the rule, rather than the exception. The late Steve Jobs, in his own inimitable way, demonstrated to the world how attention to detail and a fastidious obsession with usability can lead to game-changing product creation.
And at ManageWP, usability is the name of the game. Our product is designed with a key priority in mind – to save you time. In order to do that, we strive to make our platform as useable as possible.
Which is where the ManageWP dashboard comes in. We are working hard to make this your "base of operations". All of the most popular ManageWP features can be accessed directly from your dashboard. And with that in mind, you will save yourself a lot of time if you quickly familiarize yourself with it.
So let's take a look at each of the widgets on the ManageWP dashboard.
Right Now
This widget grants you access to many of the backend management features of all of your WordPress sites from one location.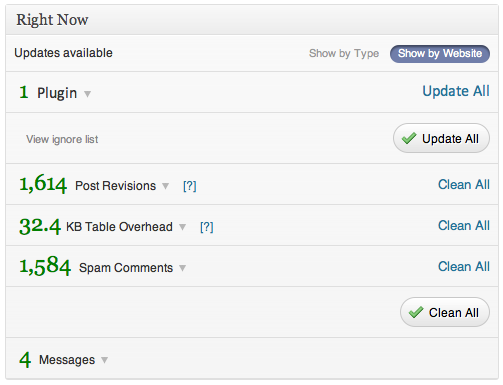 Above is an example of what your Right Now screen might look like. As you can see, there is plenty you can do from the dashboard:
One-click updates of all themes, plugins and WordPress itself
Delete old page/post revisions
Optimize your WordPress tables
Manage/delete spam comments
Read any messages from ManageWP
In terms of saving you an enormous amount of time, this should be your first stop when accessing your ManageWP dashboard. Just refresh your websites and take a moment to make sure everything is to your liking. We have talked previously about the importance of keeping your sites up to date – the "Right Now" widget allows you to do so with ease.
Recent Posts
Trying to keep track of posts across multiple WordPress sites can be a real pain. However, that doesn't have to be the case if you are a ManageWP user.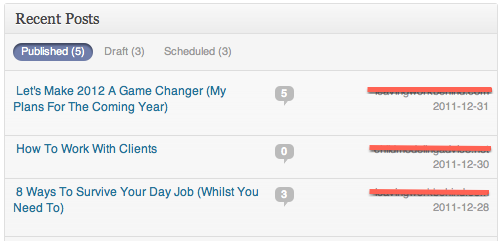 From your ManageWP dashboard, you can view posts by their type (published, draft and scheduled). They are displayed in reverse chronological order.
Recent Comments
This widget is pretty self-explanatory. No longer do you need to rely upon a swathe of email updates hitting your inbox, or head over to each site in order to deal with comments.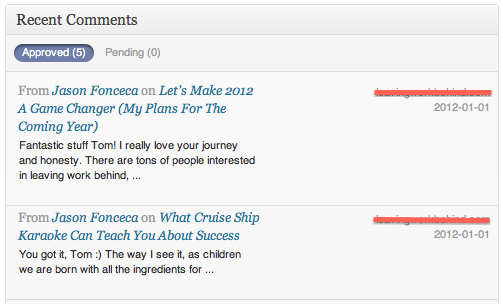 Just check out the recent comments when you hit your ManageWP dashboard. It will display all comments, from all of your sites, in reverse chronological order. And from this screen, you have all of the normal comments management functionality.
Pageview Statistics
If you are anything like me, you spend far too long dwelling on statistics. In an ideal world, we would save ourselves valuable time by analyzing our traffic numbers periodically (say on a monthly basis), whilst just keeping check on them on a day by day basis to make sure that nothing untoward is going on.
You can do that with Pageview Statistics. With the graph on your dashboard, you can see at a glance whether or not your traffic numbers stack up accordingly with previous days. By knowing that your site is still receiving a typical flow of traffic, you are free to get on with the rest of your day.
Backup Tasks
For those of you who have a healthy level of paranoia when it comes to backing up your WordPress sites, this dashboard widget is ideal.

At a glance, you can check that your scheduled backups have completed successfully. For instance, we can see the following from the above screenshot:
4 websites are currently scheduled for backup
There have recently been successful backups of 4 sites
The last scheduled run of "Test Backup" was on 01/01/12
And if anything doesn't look in order, you just need to hit "Edit" in order to gain access to the full backup management screen.
Search
Now this is a real timesaver. There isn't much to this widget, but that does not detract from its usefulness.

Essentially, the Search feature on the ManageWP dashboard allows you to search for anything across all of your sites.
The potential applications are endless. For instance, say you wanted to install a theme on a new site that you know you used in one of your other sites. Just type the name in the search box, select to search by themes, and the blog on which the theme is installed will display in the search results.
PHP Error Log & Uptime Monitoring
Best case scenario, these two widgets are on your dashboard for peace of mind only. If everything is well and good, you will see only this:


But if anything does happen to go wrong, you will quickly find out by keeping an eye on your ManageWP dashboard.
It's All About You!
Now is the time for you to make the difference and improve your usability experience with ManageWP. Sign up now and experience a way of managing WordPress that you never experienced before!
Creative Commons image courtesy of Tom Woodward