Quite some time ago as we started to build ManageWP Orion, we began our quest of making a clean visual identity that is unique and recognizable to the WordPress community. With those objectives in mind, we gave a personality to ManageWP that you encounter every day while managing your websites.
Why we consider this important?
In a digital sea full of plugins and solutions that help individual WordPress developers and agencies do their job, we try to stand out by having a strong brand and a good product presentation.
Good branding is more than just a fancy looking business card or signage in front of your office, it goes beyond visual – it's reflected in recognition, trust and loyalty of people along with the quality of the product. Visual presentation is there to connect all of these values into something unique. Let me show you how ManageWP visual identity evolved.
Logo
"There are three responses to a piece of design – yes, no, and WOW!
Wow is the one to aim for." – Milton Glaser

There's a time in every logo's life when it needs to get a minor makeover. It is almost not possible to stay on top with the same visual identity for years. Reasons for that are many: market and company itself grow, new competitors are coming, visual assets get outdated. Even though our logo has undergone a subtle transformation that is barely noticeable it has become stronger, better proportioned and consistent. At first, you might not realize how these changes are an improvement, but I invite you to take a closer look.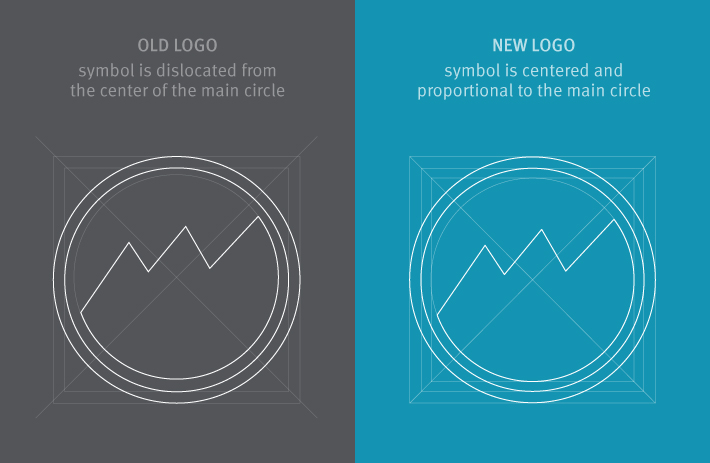 What we are trying to achieve is to keep our logo legible, and these changes made this possible. It may sound geeky and design(ish), but in the long run it is important how our logo is rendered on the web and print materials. Quality of the design depends on different aspects: fonts and SVG assets render differently in different browsers, and every print shop has its own different hardware for printing. So, it is important to pay attention to every detail.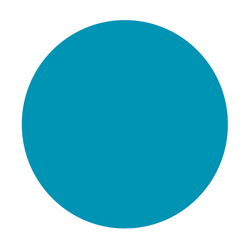 We have been working hard to take our brand to the next level, make general improvements and make it for our users. One thing led to another and after we created a flexible and functional logo, we also dug a little deeper. We chose more vibrant colors, created patterns, and introduced you to Manny the robot. But, that's not all, we brought to you a bit of magic inside the application itself. Those little details you see in a form of an empty state or micro-animation make using our app more engaging and humane.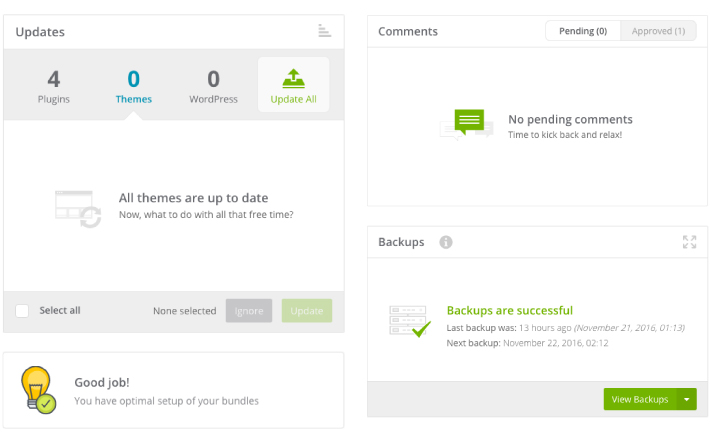 Colors
"Color is a matter of vibrations that reaches what is most general
and indefinable in nature: its inner power." – Paul Gaugin
Our color palette evolved together with the interface, and is still evolving, so that is why it goes hand in hand with the product UI, as well as with other branding material outside of the interface.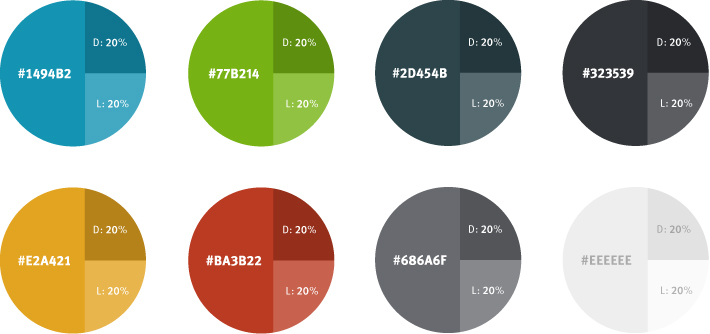 Every color we choose is there to suit different branding needs. In-app colors are chosen to signal different states like successes, errors, alerts and notifications, but also to distinguish different UI elements. We stick to our 2 palettes, that contain 8 basic colors with lighter and darker variations. The reason why we only use limited color variations is that it gives us more control on brand consistency.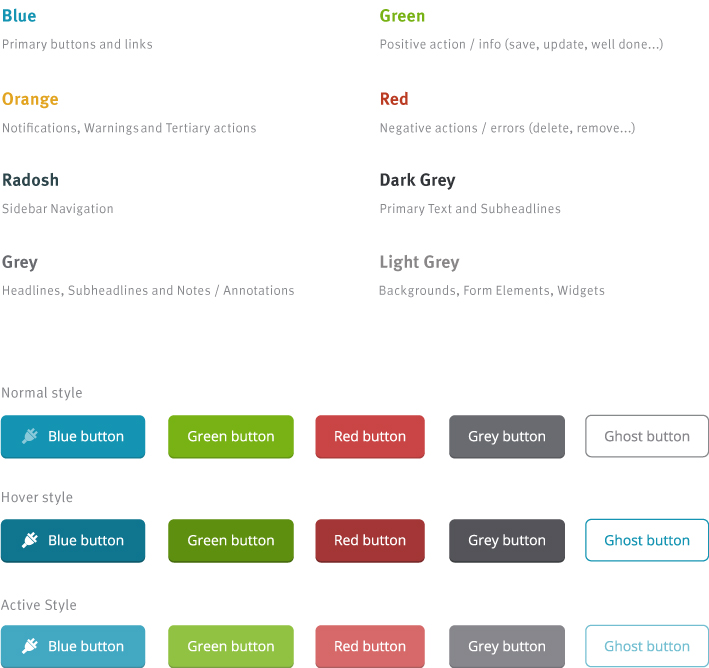 Remember how in early days ManageWP was just another dark blue and white app? Now, with the expanded color palette, ManageWP has strongly improved visual identity, which makes it not only more appealing, but easier to use.
Typography
"Typography is what language looks like." – Ellen Lupton
Communicating our thoughts and ideas is really important for us and the key to being different on the market, and we need a right typeface that can visually express our clear, informative and sometimes humorous messages. Simplicity is really hard to achieve, but we did our best and you may have noticed we don't use a lot of different fonts in our branding.
With consistent usage of typography we are trying to make familiarity with all the visual assets we're creating. Whether it's WordCamp stress balls, our team's t-shirts or a landing page promoting our awesome Backup system.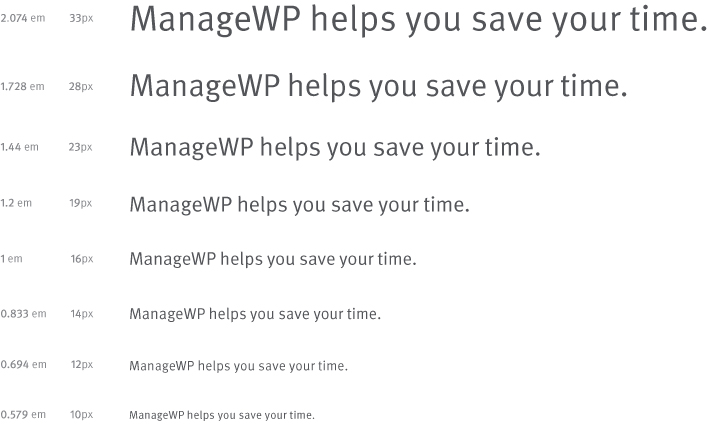 Meta Pro is our main branding typeface. Designed by a famous font designer Erik Spiekermann, Meta Pro is clean, cheery, and most importantly easy to read. All of its attributes perfectly fit our brand. It is also very important to have a font that looks well in all different sizes, and is applicable in different media. You can see in the example below how we pay special attention to the consistent usage of our fonts.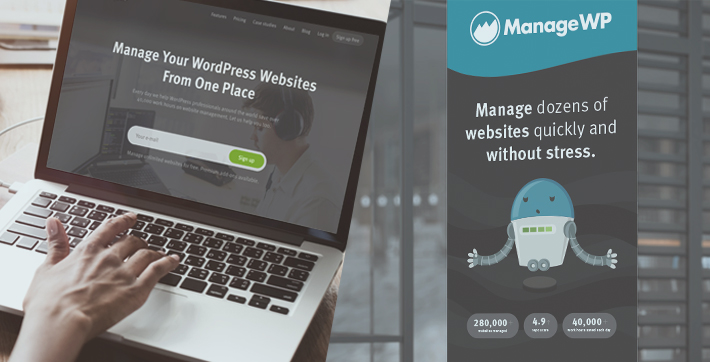 Patterns
"To understand is to perceive patterns." – Isaiah Berlin
Does the ManageWP logo remind you of a wave, statistics, mountains, or something else? We like to believe that waves are here to symbolize progress, movement and strength. All of these attributes are something we want to be recognized for with our audience.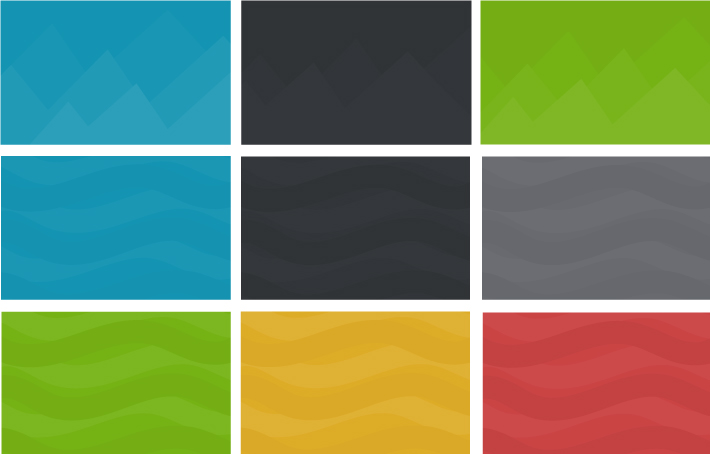 You can see these patterns in our stationary, swags, and of course on our website. Patterns are fun, a favorite branding element for designers. They are refreshing and bring life to other visual elements.
Mascot
"A mascot needs to stand for something, it has to have personality" – Don Carter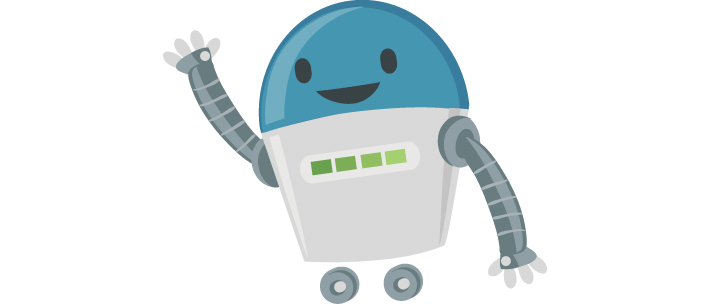 Let me introduce you to this little guy. This is Manny a sweet, charming robot. Actually, you probably already met? Of course you did, he's always there when you need him. You must have met during the ManageWP on-boarding process, or when he informs you about a new blog post, or maybe you saw him on stickers from WordCamps.
He started as a sketch on a paper exactly one year ago, and evolved into a lovable assistant he is today.
Manny is almost always happy…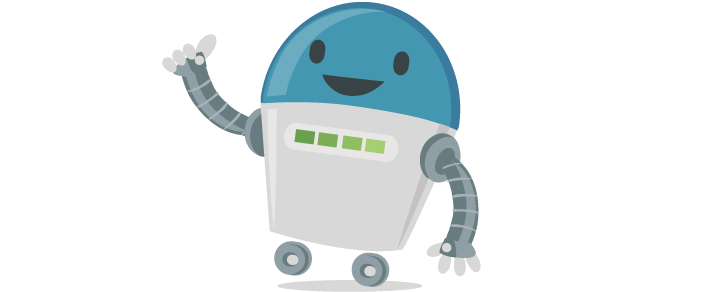 … he does extreme sports…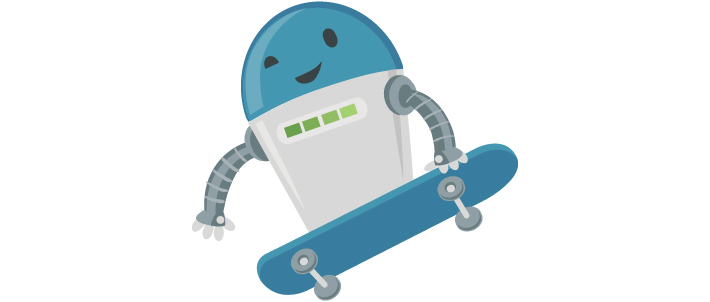 … meditating is his favorite…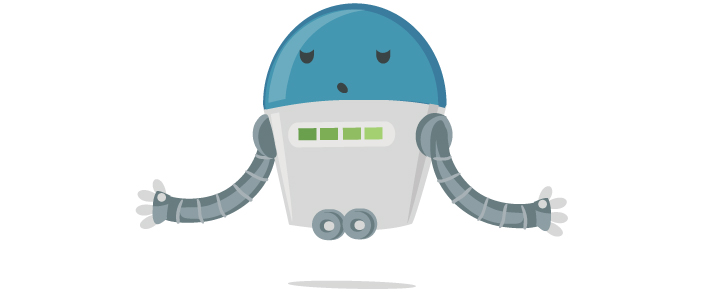 … but even he needs maintenance once in awhile.

Manny's charisma is so high that we have even bigger plans for him, but let's keep that a secret for now. 😉
Brand In Action
We worked hard the last few months in creating a ManageWP brand book. This for us is a set of guidelines to follow, with the aim of creating a brand book to visually represent the mission of our product. That is more efficient, time saving, enhanced WordPress website management.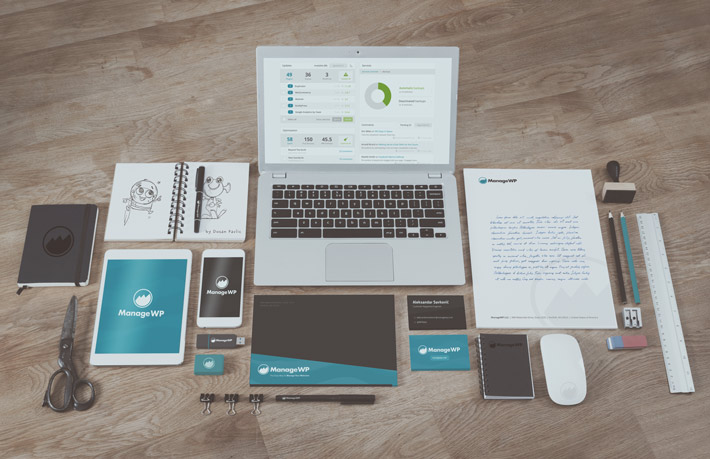 ManageWP presence is going to come to the fore even more in days to come. The most exciting thing to know is that our brand is never still, it's evolving and growing with each and every day. ManageWP is a solid brand, here to stay, and we hope you enjoy it.