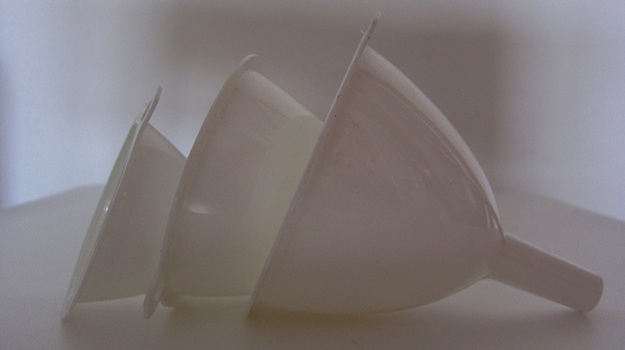 If there was only rule about conversion, it would be to engage with the prospect. That really encompasses the whole concept of marketing. If you are able to do something that elevates a prospect's level of interest above the norm, you're already half way towards a full conversion. And let's be honest – doing so is a challenge. In the modern age, people are constantly bombarded with information.
With that in mind, today we are going to explore the principles behind effectively "hooking" your prospect. No matter how well-crafted the rest of your conversion funnel is, it can only be as good as the top layer. It is a bit like the old saying that a chain is only as strong as its weakest link – but in this case, that link is the very first one in the chain.
Content
The internet is content driven. There is nothing particularly tangible about browsing from one webpage to another – the exchange from site to viewer (and vice versa) is entirely informational. Therefore, a good conversion strategy must craft and present information in as appealing a manner as possible. When it comes to blogging, if the end goal is to convert the viewer, the path leading to that conversion must be packed with engaging content that is presented in a highly desirable manner.
And that is the problem with a huge number of WordPress blogs out there – presentation. If you care to look at most blogs, you are likely to find a fundamental failure being repeated time and time again. The best way to highlight this failure is visually: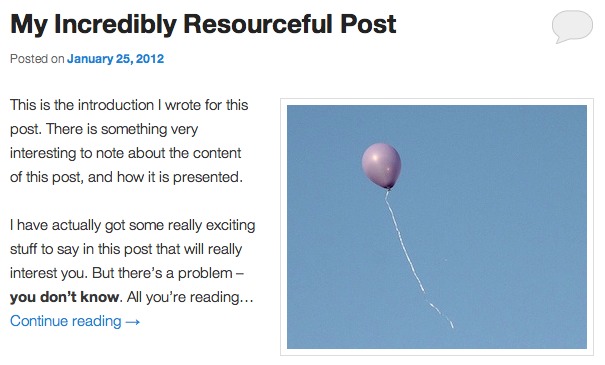 The above, as you can no doubt see, is a blog post excerpt. By default, WordPress cuts off an excerpt after 55 words. Let's consider the above screenshot as an example of what not to do. The title may be enticing, but you're a pretty disinterested reader. What is the excerpt telling you?
Absolutely nothing – that's what. Unless you have a burning desire to read everything this blog's author produces, you are going to lose interest in this post pretty quickly.
Engagement 101 – Begin with the Start
When it comes to writing the "perfect" blog post, that you can get people to read from the beginning all the way through to the end, logic dictates that you must begin with the first sentence. You should make that sentence so captivating that the reader will have no choice but to continue reading. Then you repeat the process for each subsequent sentence until you reach the end of the post.
That process must be effectively adopted for your excerpt. We want your excerpt to be so well-crafted, so teasing, as to conjure up that "burning desire" mentioned earlier.
What About Showing The Full Post?
Displaying your most recent post in full is only good for one type of visitor – those who have been before. Unless your most recent post is the best damned post you have ever published, you want to give new visitors options. Far better for them to see two or three carefully-crafted post excerpts above the fold, than just one post. Give them several options to be drawn to, not just one!
As for your repeat visitors, they will happily expend an extra click to read your newest post in full.
The Solution
The solution to providing a great post excerpt is within the content of the post itself. We are not proposing that you write up a 100 word summary for your post to display as an excerpt. Writing a great excerpt will actually force you into writing better posts.
One of our favorite exponents of post excerpts is Derek Halpern of Social Triggers – a site that focuses solely on the art of conversion. Take a look at an excerpt from one of his most recent posts, featured on the home page: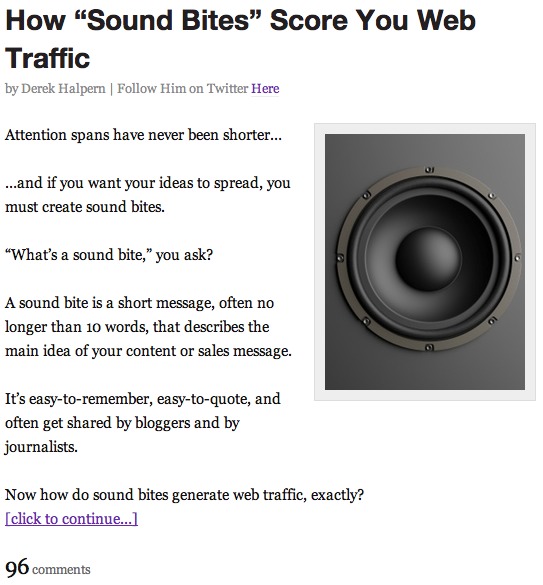 Derek has done a great job of incorporating an intriguing excerpt into the body of the post himself. If you take a moment to examine the excerpt, you will see a structure emerge, that can be broken down into three parts. Let's take a look at them.
1. Outline the Problem / Create Curiosity
First of all, you need to either demonstrate to your reader that there is a problem, or create immediate curiosity. Either way, they must feel compelled to read on. Here are some examples from Derek's blog:
"How can you charge what you're worth and get it?
"I've been quietly working on a HUGE project and today is the day I tell you all about it."
"There's one obstacle that plagues every entrepreneur."
The first sentence must "hook" the visitor.
2. Introduce (or Hint Towards) the Solution / Resolution
Once you have established that there is a problem, or whipped up curiosity, you must make the reader understand how you are going to address the issue at hand. Here are three examples again from Derek's blog, that follow on from the three listed above:
"You could slap a price on your product (or service) and hope for the best…or you can take matters into your own hands, and watch customers LINE UP to buy your products."
"Smart entrepreneurs who want to use the web to attract leads and make sales must UNDERSTAND human behavior to thrive in today's overcrowded market place."
"It's known as "the fear of uncertainty."
The reader's curiosity was piqued with the first sentence – now they can see that the post provides value relating to the topic at hand.
3. End with a Call To Action (CTA)
Now that the reader is primed, you must give them that last push – by finishing your excerpt with a Call To Action. Web surfers are notoriously impatient and unfocused – do not be afraid to tell them what they should do next.
Let's take a look at three more corresponding examples from Derek's blog:
"Just click play to listen to the training. It's free."
"Watch this short video to learn all about it."
"How can you fix it? Keep reading."
Whilst a CTA is usually recommended, there are times when it is not practical to the wording of your excerpt. If that is the case, you need to finish your excerpt with a clear message that the answer to whatever you have primed the reader for is in the content of the post. This is typically done by asking a question – if you ask a question at the end of your excerpt, there is a clear implication that the answer is in your post.
The formula is simple, yet highly effective. Furthermore, when you see it written down on paper, it is blindingly obvious. Engage the user, explain what they will gain from the time spent reading your content, then tell them what to do.
How to Use Excerpts on Your WordPress Blog
Fortunately, featuring excerpts on your blog is a piece of cake. If you head to your Visual Editor, you will see this button in the toolbar:

All you need to do is craft your excerpt, then click this button wherever you would like it to finish. WordPress will insert a graphic into your Visual Editor to show you where the excerpt will be cut off:

That is it! Any text placed before that tag will display on your excerpt. When visitors now hit your homepage, they will be presented with highly-engaging excerpts that will be difficult to ignore.
Creative Commons images courtesy of Manchester-Monkey and 24oranges.nl