Managing websites on behalf of clients is a complex, time consuming, and essential task that comes with lot of responsibility. But doing it remotely with ManageWP to automate these tasks saves you time and provides you with additional layer of security. Our latest update makes this simpler and gives you more control than ever before.
With our latest ManageWP branding feature update, you have additional options to customize the messages that your clients see; restrict, edit, and delete plugins and themes; and create a more secure place for your clients to work in. Additionally, if your clients need any support from you directly, we have new functionality that makes this possible as well.
Read on to get all the details on these new features.
New placement in ManageWP admin tools section!

Branding options, now as a fully customizable feature, has been moved from the settings page to its own dedicated page in Tools section for easier access and control.
Customize the management message with your own company branding!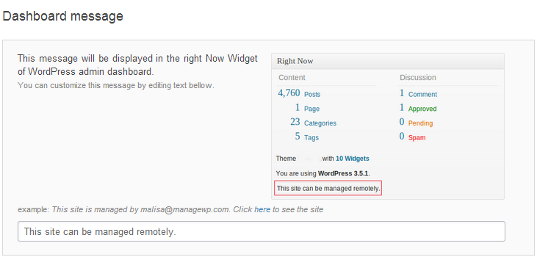 In addition to the the existing option to customize the Worker plugin name and author info in the plugins page, now you have an option to customize the management information in the main overview screen. You can use this option to inform your client that their websites are managed by your company, or anything else that you find important to bring to your clients' attention.
Create a secure place for your clients to work in!

You can now disable all plugin and theme changes for your client website by turning on the disable option in your branding page. Use this as a way to prevent unwanted changes by users who are logging in directly to their WordPress dashboard, and restrict these actions only to ManageWP and your control.
Offer support to your clients!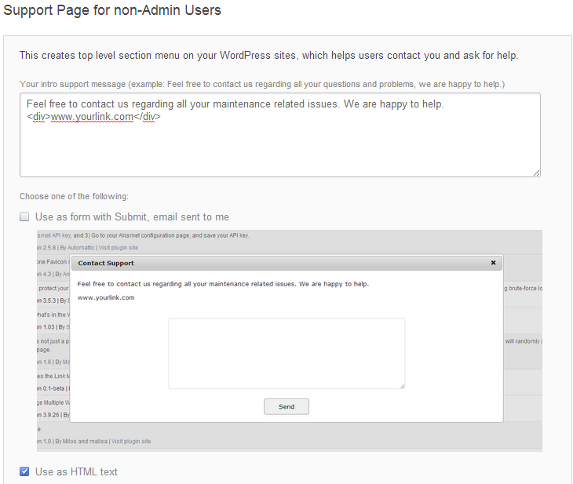 Finally if there's anything that your clients need to ask of you, or if your clients need any kind of assistance, we've created an option for you to embed a simple and flexible contact form to keep your clients in contact with you.
Other improvements
Apart from branding feature improvement and lot of back-end technical improvements, we've worked a lot on improving other things as well. Now you can:
Bulk manage biographical info of users

Better restore backups while keeping the old files and tasks
We hope you enjoy these new features