We have some exciting news to announce today: The ManageWP app for iOS and Android is back in the App Store and Google Play Store!
We're pretty stoked about the whole thing here, but before we dive into its many awesome features, you're probably wondering what I mean by "back" in the app stores.
Allow me to explain.
Out With the Old, In With the New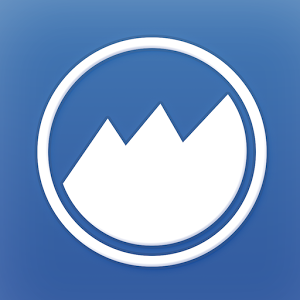 No, you haven't gone crazy. There used to be a ManageWP app available.
But to be honest, it just wasn't as functional as we wanted it to be. Sure – it offered access to every single feature you could get on the desktop version, but therein laid the issue.
After much testing and research, our dev team realized that the fact that the old app gave users access to all the same features as the desktop dashboard was the reason it didn't work properly.
You see, it kept coming up with errors. It wasn't intuitive. And many issues that users wanted to troubleshoot just couldn't be addressed within the app.
Basically, it wasn't living up to the reputation ManageWP has crafted over the years of being abundantly useful and easy to use.
We could do better.
The Brand New ManageWP App 
After the team figured out what was wrong with the previous incarnation of the ManageWP app, they set to work on building something better. And boy, did they deliver!
The app is a streamlined version of the desktop dash, offering only the most essential tools and resources you'd need to effectively manage your sites on-the-go. The features include:
Updates: You can easily update WordPress Core, plugins, and the themes on your sites from within the app with just a few taps.
Backup: Quickly perform backups that have been scheduled for your sites by clicking a single button. You can also view your past backups in case you aren't sure if you've completed one recently. You can't set new backups or perform one-time backups, but you can keep on top of regularly scheduled maintenance with the app.
Comments: Manage comments from anywhere! Mark any unapproved comments as approved, spam, or trash whenever the need arises.
Analytics: Check out your ManageWP page view stats and the Google Analytics for your whole website. Really great for impressing a potential client at a conference or event.
WP-Admin Access: Just one tap will give you access to your WordPress dashboard. Simple and straightforward, just how we like it.
You do need to be an active user of the ManageWP.com service to make use of this app, so if you haven't already done so, you'll want to setup an account on our site first.
Screenshots
Check out some screenshots of the app in action: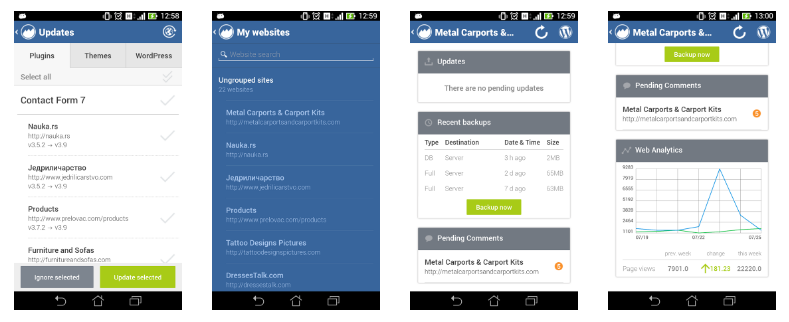 Additional Specs
In case you're curious before you get to downloading, the app is:
Compatible with iOS and Android-operating devices
Requires iOS 7.0 or later / Android 2.2 and up
Compatible with iPhone, iPad, and iPod touch
What Are You Waiting For?!
Developing an app for ManageWP has been a learning experience. And while things might not have gotten started out on the right foot, it's all coming together now. And I, for one, couldn't be happier with the result.
Have you downloaded the new and improved app yet? If so, what do you think? We'd love to hear your feedback!