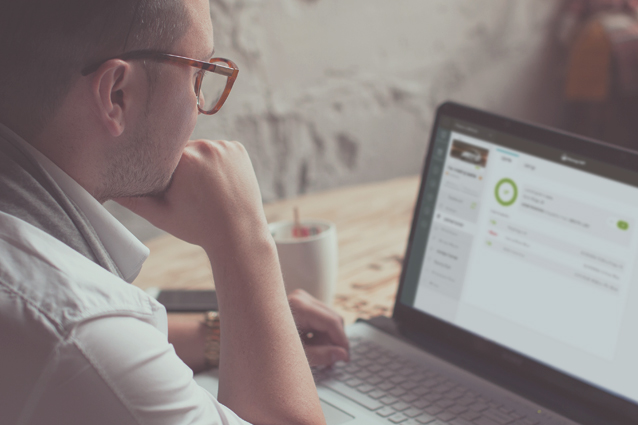 Server crash. White screen of death. 500 error. Defaced website. You know, just another day of WordPress website maintenance.
"Knowing is half the battle" is what G.I. Joe taught me when I was a kid. When your WordPress website is down, you're losing visitors. Losing revenue. The worst thing that could happen is that you're going about your day, blissfully unaware of it. You might notice after a few days, when you realize that the contact form emails aren't coming through. Maybe you'll notice it as a slump in the sales report.
Or, as some of you probably experienced, your client will call you at 3AM to scream at you because it's Black Friday and you just cost him $2,000 in lost sales.
Websites go down, and in most cases you can't do anything about it. What you can do is be prepared. Be the first to know when your website is down, have a plan, and fix the problem before anyone else notices. If it's a client's website and you can't do anything about it (e.g. hosting infrastructure is down), notify them before they find out on their own. Remember – they pay you to be on top of these things.
To do this, you need the right set of tools. This is why we built the Uptime Monitor for Orion.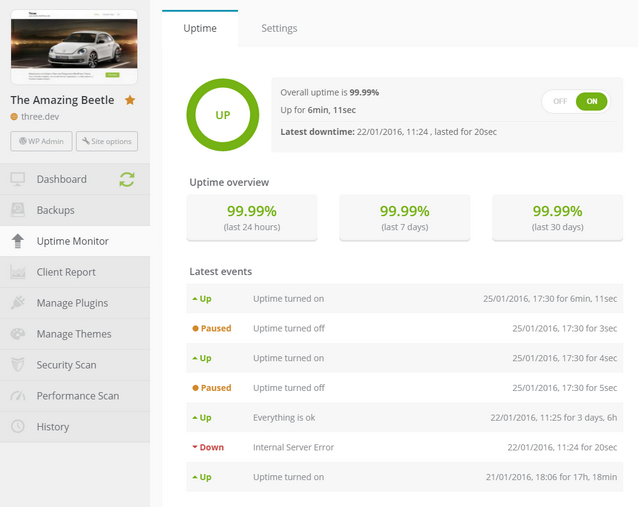 ManageWP Orion Uptime Monitor
Orion keeps an eye on your websites, so you won't have to. The process is pretty straightforward:
Add a website to the uptime monitor list.
Choose how you want to be notified.
Relax. Or chillax, if you're Jeff Bridges.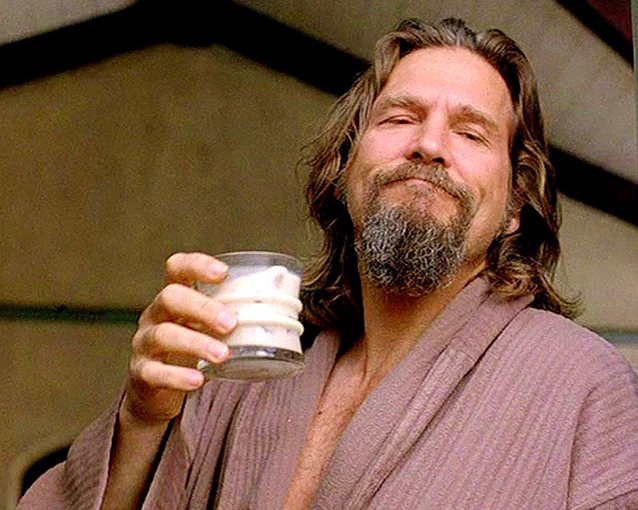 The Dude abides.
Every minute the system will check your websites. If it doesn't get the expected response, it'll keep trying a couple more times to confirm that the site is down. At that moment a notification is sent to you, telling you which website is down, and the error response we're getting. Another notification will be sent once the website comes back online, to confirm that the universe is once again in balance.
The notification part is handled in two ways:
Email: Delivered to your virtual doorstep as soon as we notice something.
SMS: If response time is important, go for this option.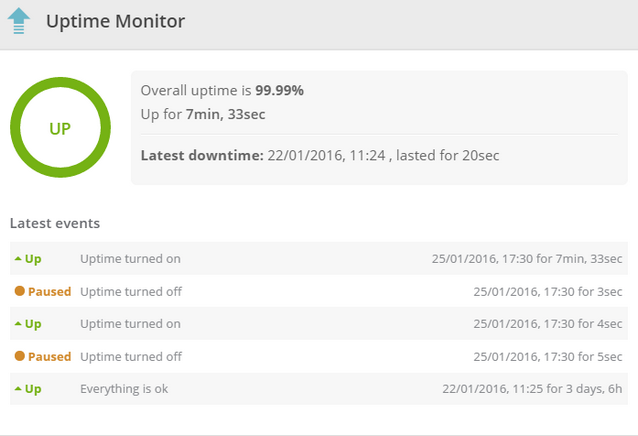 Improvements Over the Classic ManageWP
We've given this tool a lot of love.
Improved Notification For Your Clients
In the Classic version you were able to choose the email notification destination for all websites on your account. A lot of you had multiple clients, and asked for a way to notify particular clients about particular websites. We listened.
Each website now has the option of adding an additional email. In case that website (and only that website) is down, you and that particular client will get an email notification.
Improved Logging
We're really big on logging everything in Orion, so why should Uptime Monitor be any different? Instead of simple up/down event log, we're keeping track of the uptime percentage, response delay, even the individual checks.
All of this is important, of course, for one reason…
Client Report Integration
Clients love charts, and they love being dazzled. Add the Uptime section to the Client Report, and dazzle them.
Like other Client Report integrations, this feature is not available right away. As soon as we have extra time on our hands, we'll get it implemented. Thanks for understanding!
Smart Notifications
A client of ours had 35 websites on the same server. The server went down at 2:30 AM. It came back up at 2:47 AM. She received 70 text messages. Understandably, she was not happy.
That's why we created a system that detects multiple notifications in a short time span, and merges them into a single notification.
60-second Interval
The Classic dashboard runs checks every 5 minutes. With smart notifications and improved logging, it made sense to bump up the uptime check interval to 60 seconds, and give your clients even more details about their websites.
Trying the Orion Uptime Monitor
All Trial, Standard, Professional and Business users are able to use this tool freely. Please note that the Orion monitor is separate from the Classic monitor – if you use both for your website, you'll get two notifications.
This tool will remain free until the Classic dashboard gets phased out in 1-2 months.
If you have an idea how to further improve this tool, tell us about it in the comment section. Thanks for helping us make ManageWP better!