Today we are introducing a wealth of new features including the support for sub-users. A sub-user in your account will have limited access to your selected websites and are suitable if you have writers or other blog staff and you do not want to give them full control.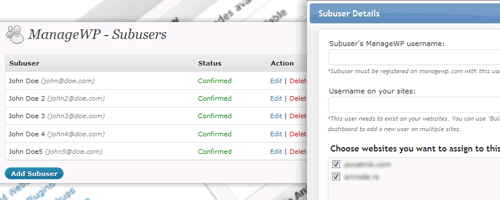 Here is how it works.
You will see a new item 'Account' in the top navigation menu, which will open subuser management.
Subuser is defined by their ManageWP login (they will need to register and send you their username) and with the user on your blog they will use.
For now, subusers will only be able to use the remote dashboard to login into your sites, and what are they able to do in your blog is restricted with the user role you give them. You can use the new 'Bulk add users' tool to add a new user on all of your sites that your subuser will use.
New 250 websites limit accounts
We have opened access to new accounts with 250 sites limit. If you'd like to get one just email vladimir@managewp.com.
WordPress 3.2 requirement checking
With WordPress 3.2 due to release soon we also have a new messages part in the main dashboard that will show you most important messages. For now we are checking if your site is ready to be upgraded to WordPress 3.2 which requires PHP 5.2.4 and MySQL 5.0.
Better Multisite support
With this release we also have better WordPress multisite support.
Here is how to manage you Multisite network with ManageWP.
Setup your WP Multisite network, as described here
Install and activate ManageWP Worker plugin on your network, with network admin privileges. If you want to manage your root domain website, switch from network to site admin and there install and activate worker plugin.
Add at least one administrator privileged user for each of your subdomains.
Add your network websites to your ManageWP dashboard panel, using their administrator username.
Manage your network websites.
Other
There are a few more enhancements like
'Select all' feature for bulk posting
Featured image support for bulk posting
Reload button on the dashboard (on the top of the Right now widget) will now refresh information about available updates
Fixed a problem with the  import tool
Fixed a problem when remote dashboard would not work for some servers
Coming up in the next version: Backups to Amazon S3, Dropbox and FTP of your choice.