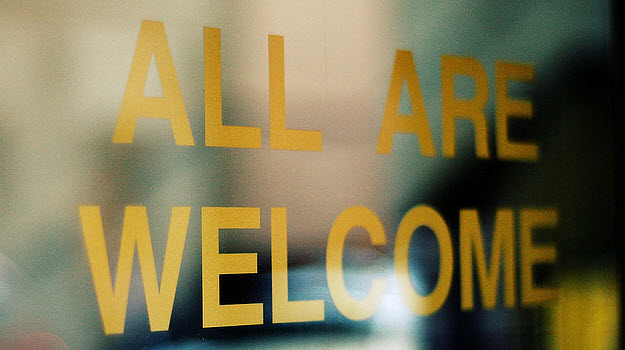 Do you accept guest posts on your blog? If so, are you happy with the process that you're using to accept and publish posts? Do you wish the process was even easier? Lucky for you, finding and publishing guest posts can be easier with a new plugin from MyBlogGuest.
On the other hand, if you're not accepting guest posts maybe it's about time that you start! Not only are guest posts great for filling in the gaps where you don't have time or don't feel like blogging, but publishing them can also help out other bloggers.
The MyBlogGuest plugin can be a godsend for those just getting into the guest posting scene as well. It's conveniently in your blog admin area and makes finding and publishing guest posts a breeze.
What is MyBlogGuest?
So why is this plugin so amazing? If you're unfamiliar with MyBlogGuest, here's a brief introduction. MyBlogGuest is a community for guest bloggers promoting their articles and bloggers seeking to publish guest posts on their blogs.
Guest bloggers can publish their articles to a public gallery on MyBlogGuest and receive offers from bloggers who are interested in publishing them. The author can then accept or reject the offer and move on from there.
Additionally, with a PRO membership authors can send their articles directly to the admin area of any blog set up in MyBlogGuest's system. Blog owners would have to set up a Guest Author account and enter the login credentials for that account. This gives MyBlogGuest permission to post articles as drafts to the blog.
MyBlogGuest

Before the Plugin

I've been a member of MyBlogGuest since 2010, so I'm no stranger to the tedious process it can take to find and publish blog posts through them.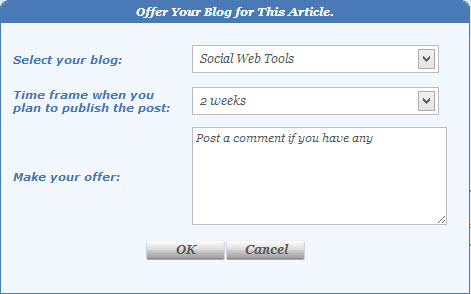 Before the plugin you would go through the following process:
Go to the MyBlogGuest website and click on Articles Gallery.
Look through pages of articles in the gallery; you can view all at once or sort them by category.
Find articles that interest you and send an offer including: which blog you'd like to publish it on, the time frame for when you plan to publish and a short comment. (

i.e.

This sounds like a great fit for my blog. I would love to publish it.)
Sit back and wait for your offer to either be accepted or rejected.
If accepted, you then must go back to the MyBlogGuest website, get the HTML code for the article and paste it into your blog editor.
Many times images are not included, so you'll need to add these along with tags, categories, etc.
As you can see, the process can be time-consuming – especially if you've sent out many offers.
MyBlogGuest

After the Plugin

Now that there is a WordPress plugin for MyBlogGuest, the process is a bit easier. No longer do you have to log into the MyBlogGuest website; everything is done from your blog's dashboard.

First, you'll need to install the plugin, which is only available from the MyBlogGuest website. It's not available in the WordPress.org plugin directory because there is a unique authorization process involved for each blog.
Installing the Plugin
This means that you'll need a MyBlogGuest account, if you don't already have one. Next, go to My Menu in the top navigation and scroll down to "Add / Edit Sites & Tags." For each blog that you've added to MyBlogGuest, you'll see a WordPress icon at the far right. You'll need to click on this to download the WordPress plugin for your blog.

After that you must upload the plugin to your dashboard (in zip format) and activate it.
Activation and Setup
Once activated, there will be a new menu in your dashboard called MyBlogGuest. There are four sub-menus underneath: find articles, article offers, articles given to me and initial setup. I'm sure you can see what MyBlogGuest has done here; they've added a mini version of the Articles Gallery to your blog dashboard.
Your blog's information should already be filled in under the Initial Setup section. You'll just need to log into your MyBlogGuest account to get your API Secret, which will complete the authorization process for your blog.
Finding Articles
By default, the plugin displays articles related to the category of your blog, but you can also switch categories and even search for articles by keyword(s).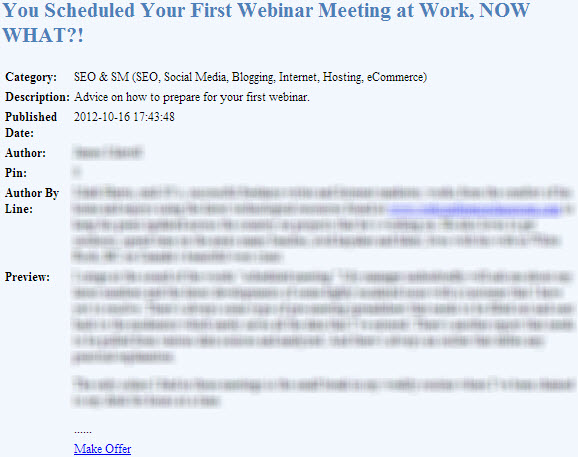 When you find an article that interests you, you can see a preview and make an offer. You'll still have to sit back and wait for it to be accepted (or rejected). However, the publication part is where the process differs the most.
Publishing Articles
If the author accepts your offer, you will see a notification (in red) at the top of your blog's dashboard (below the header). You can click on the link given to go to the "Pending Publication" section. From there click on "Import to drafts" to automatically create a new post containing the article – no more copy and paste.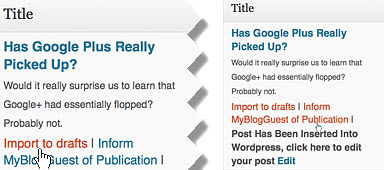 Then you can edit as needed and publish or schedule it. You'll also need to click a link to inform the author of the permalink and publication date.
Is the MyBlogGuest Plugin for You?
As you can see, the MyBlogGuest plugin will not only save you time but also helps to provide quality content for your blog. It also eliminates the middle man and allows you to do everything needed from your blog dashboard. It doesn't get much easier than this.
The MyBlogGuest is great for anyone who accepts blog posts on their blog and wants to find quality articles in minutes. It's also great for those who don't accept blog posts yet but want to get started quickly. Lastly, it's great for bloggers that want to promote their websites and/or articles and get published on relevant blogs.
No matter your reason for wanting to use guest posts, this plugin delivers and is extremely useful for both finding and publishing guest articles.
Are you a member of MyBlogGuest? What do you think of the guest posting process through MyBlogGuest before the plugin versus after?
Creative Commons image courtesy of B Tal