We all want tools that are reliable at the best of times. But when you're a developer with lots of projects on the go, they are invaluable. Especially when time is of the essence thanks to tight deadlines. One of these tools is a reliable custom search for your WordPress websites.
An advanced custom website will need a search. Therefore, web developers will want a flexible and reusable solution which easily builds the exact search your clients will want for every website.
Why you need a custom search
WordPress comes with its own default search but it is incredibly limited, especially if you're building custom WordPress websites with lots of content.
WordPress allows you to add a default search bar widget anywhere on your website. But the problem is that it doesn't always give you the results you are looking for. Which, admittedly, is a slight problem when it comes to a search.
Luckily, there's a simple solution. A robust custom search will provide you with multiple filters so you can narrow down your results until you find exactly what you are looking for. Not only that, but a strong search solution lets you display your results exactly how you want while giving you complete freedom to customize how it looks.
What you need in a custom search
A robust WordPress custom search will provide you with a number of important additional features that will make the experience of visiting your website far more enjoyable for your users.
Multiple search filters
When you are searching for a product you will generally have in mind the features you want from it. For example, if you're searching for a house to buy you will have an idea of your budget, the number of bedrooms and the location, among many other categories.
Multiple features enables you to narrow down your results by inputting your requirements. So you can easily find the best 3 bedroom flat in Los Angeles within your price range.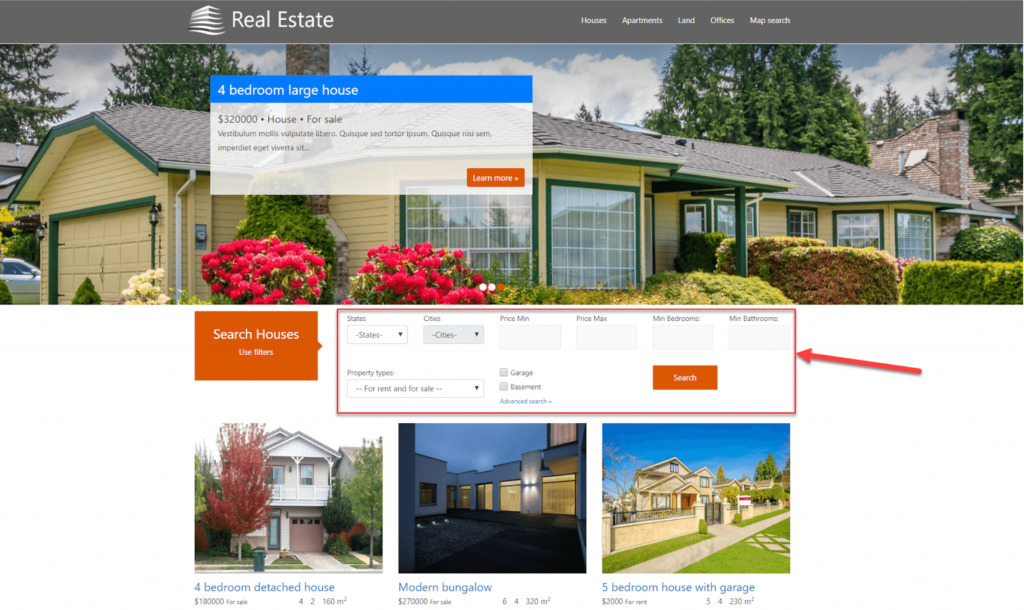 A powerful search algorithm
If your site has a lot of content then you will want a powerful search algorithm that will be able to refine your search to provide you even more relevant results.
For example, fuzzy matching will display results even if they do not match exactly what you searched.
AJAX updates
As you enter your search you might input details which will give you different results. AJAX updates will adapt your results on-the-fly so you can see exactly how different filters change them.
For example, if you're searching for a house to buy you might want to toggle between the number of bedrooms to see what options appear. AJAX updates will save you time as you will not need to hit "Enter" each time to see the results.
The best custom search plugins on WordPress
There are a number of great options for extending the default WordPress search. Below are three of the best.

Toolset Search helps you to build a complete custom search and to design it exactly how you would want it. The best part is that you don't need any complex PHP.
In fact, coding beginners will have no problem at all building a search while experienced developers will love how quickly they can add a complex feature to each of their websites.
Some of Toolset Search's features include:
The ability to search through all types of content
Multiple filters including text, checkboxes and numbers
Complete control over how your search results look – design them as a grid, a list on maps or any other style you can think of
AJAX updates to change your results on the fly
Pagination for your results so that they don't appear as one long list
Filter results on a map by distance or from your current location
Sort your results based on filters
Search using quotes, ON and AND queries
Toolset Search also offers a Custom Types Training Course which will teach you step-by-step how to build your search as well as other features such as custom post types. Or you can check out the documentation on how to build a custom search.

Relevanssi is another great option if you're looking for a search solution that will give you even more accurate results. It is also one of the most popular with more than 100,000 installations.
One of Relevanssi's greatest selling points is its fuzzy matching which means it will display results even if there's only a partial match.
Relevanssi offers two versions – a free and premium one – for you to choose from.
The free version comes with the following features among others:
Search results sorted by relevance
Results matching just one search terms or all of the words
Search for phrases with quotes
Highlight search terms in documents so users can find the most relevant section
Search comments, tags, categories and custom fields
WPML support for translations
Advanced filtering for search results
The premium version also provides some interesting add-ons:
Improved spelling correction for "Did you mean" suggestions
Indexing attachment content
Search and index user profiles
Assign weights to any post types and taxonomies
Assign extra weight to new posts
Let the user choose between AND and OR searches
Export and import settings

SearchWP is a premium plugin that is fairly easy to install while also adding many important features.
SearchWP utilizes keyword stemming instead of exact matches so that you do not need to rely on exact matches to get the right results for you.
Some of the other features include:
Multiple search engines which you can configure with individual settings to meet your needs
PDF and Office document indexing
The ability to search everything including product details, custom fields, content and much more
Integration with plugins including WooCommerce, bbPress and WP Job Manager
Customize how results are ranked using SearchWP's algorithm
Conclusion
Now that you know why you need a custom search and the best tools for it, it's time for you to try it out yourself.
Do you have any questions about creating a custom search? Let us know in the comments below!
Image credit: Photo by Thom Holmes on Unsplash.