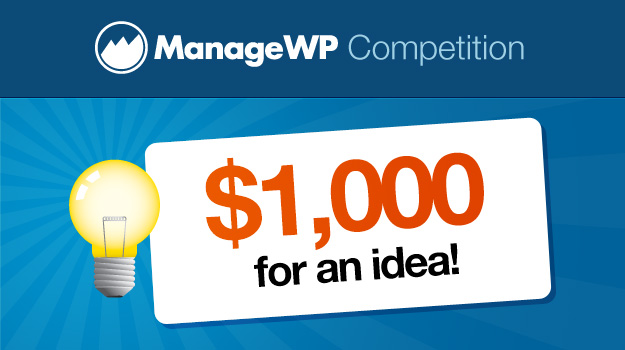 A huge number of the features we have added to ManageWP since its inception have been suggested by you – the user.
Our approach to development and our appreciation of our dedicated and loyal user community underpins the competition that we are officially launching today, which I am extremely excited to announce…
$1,000 for an Idea
You're not reading that wrong folks – we are going to give one of you a thousand bucks, and all we want in return is a simple idea. To be more specific, an idea for a new feature that we can implement in ManageWP.
It's this simple – we care a great deal about making a better product with each new update we release, so we'll happily hand someone $1,000 for a great idea. And we know that you guys are certainly not short of them.
Not only is this your opportunity to make ManageWP a better tool for all of us, you can also get paid a hefty sum for your efforts. The competition really is that simple – $1,000 for the best idea, no strings attached.
How to Submit Your Suggestions
In order to submit a feature suggestion as part of this competition, the first thing you need to do is create a ManageWP account, if you do not already have one (don't worry it's completely free to do so). Once you are a registered user, you will be able to submit your suggestions via the ManageWP dashboard.
Please note that a maximum of three feature suggestions are allowed per person, so please think long and hard before making your submissions.
You are welcome to join in the fun in the comments section below, but please note that feature suggestions made via the comments section will not be counted. Again, only suggestions made via the ManageWP dashboard will be considered.
What Are You Waiting For?
The competition will be open until midnight on Saturday 11th August. Until then, you can take as long as you like in thinking up the best possible feature suggestions and submitting them to us.
The winner will be picked personally by ManageWP's founder Vladimir Prelovac, and will be announced here on the ManageWP blog on the 13th of August.
Good luck!