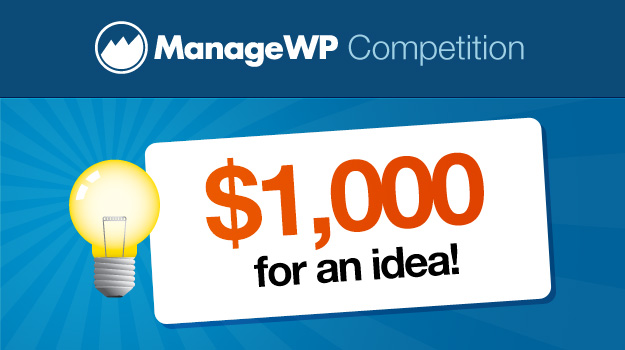 Well folks – it's all over.
It was just a short few days ago that we launched our $1,000 for an Idea competition, in which we tasked you with creating some great new feature ideas for ManageWP. And now the competition is closed.
One thing has become clear – you guys aren't short of great ideas! Of course, we never doubted you – given that ManageWP's current feature set is built largely upon user suggestions, we knew that you would come up with some stellar ideas.
You Help Build ManageWP
ManageWP wouldn't be the tool it is today without your invaluable help and input.
A comment from the original competition post really says it all:
My idea to implement comments management is already there, I asked this to the support and the next week it was alive!
If someone sends us a good idea, we're going to include it. No lengthy decision-making process – we'll just go straight ahead and put it on the list for implementation.
This competition represents one way in which we would like to say thank you for all of your support to date – both in using the product, and helping us to make it better.
Looking Forward to the Lucky Winner
And that makes it all the more exciting that we are going to give one of the competition entrants $1,000 for their idea.
As of midnight on Saturday 11th August, the competition has been closed. Our team are now busy trawling through the plethora of suggestions submitted by ManageWP users.
The ultimate winner will be picked personally by our CEO, Vladimir Prelovac. Not only are we excited about announcing the winner, but we can't wait to implement the new features in ManageWP itself!
Regardless of the result, we would like to extend our thanks to each and every person who has taken the time to submit a feature suggestion – either as part of this competition, or at any other time. We salute you!
Stay tuned for the announcement of the winner on Monday, 20th August!