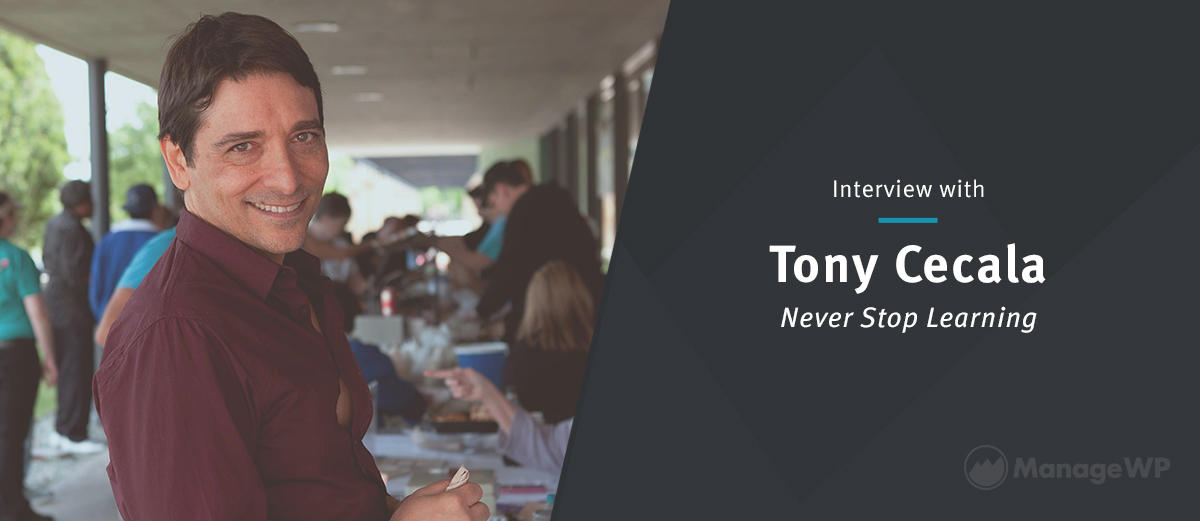 It is not often in your career, while aspiring to become a marketing professional, that you get to have a sit down and casual chat with a leading Digital Marketing Consultant, Tony Cecala. Tony also happens to be a long standing ManageWP customer. This interview will touch on Tony's experience with ManageWP and WordPress, he gives us valuable advice on business tools, on improving your soft skills and facing clients.
Tony is a Licensed Avatar® Master, works at Speakeasy Digital Marketing and has promoted holistic medicine for over 20 years. I feel that it's important to tell you all that Tony's can do attitude and positive outlook is contagious. If after reading this interview you go home feeling cheerful, then I will feel like I did a good job in putting Tony's energy into words.
So, here is how the interview went.
Me: You have two masters and doctorate in psychology, you then went on in a slightly different direction …
Tony (laughing): Yes I did, I know that it's not a natural transition. Having studied psychology and taking an interest in people, a logical step would be getting into user interface design. I just didn't find it as rewarding as I expected. I found marketing more interesting and challenging.
Me: … Yes, well I think the best people stumble through life, tell me how did you stumble upon ManageWP?  
Tony: Yes, exactly I stumbled, it's all about knowing who writes good plugins and who is a known author in the WordPress world. Vladimir Prelovac always had a great reputation, he was a sure source of quality, so when he launched ManageWP I tried it and never looked back.
Me: Okay, so tell us in three words what is ManageWP to you?
Tony: Magical Time Machine!
Me: Haha yes well we do like to be called magical! But really, what is your favourite feature?
Tony: ManageWP is a time saver that's for sure. It gives a great overview of what's happening on my sites. I can update plugins with one click and the great thing is I can test the update first on less important sites (personal one), before I update it for my clients. It's also useful when Yoast creates another 0.1 update…
Me: It's the practical time saver that you enjoy about ManageWP.
Tony: Yes, in reality you guys don't have a killer feature. ManageWP as a whole is the killer feature that saves me a lot of time daily.
Me: A little birdie tells me that you like to socialise in the world of WordPress, tell us about Dallas/Fort Worth WordPress Meetup?
Tony: Pizza, lots of pizza and drinks. It's both fun and informative. Sometimes we dress in costume—I once dressed as a Ninja! It's great because of the talented people that attend, the atmosphere is always upbeat and we love to share knowledge. It's fantastic for new users because they get to meet advanced users and exchange ideas.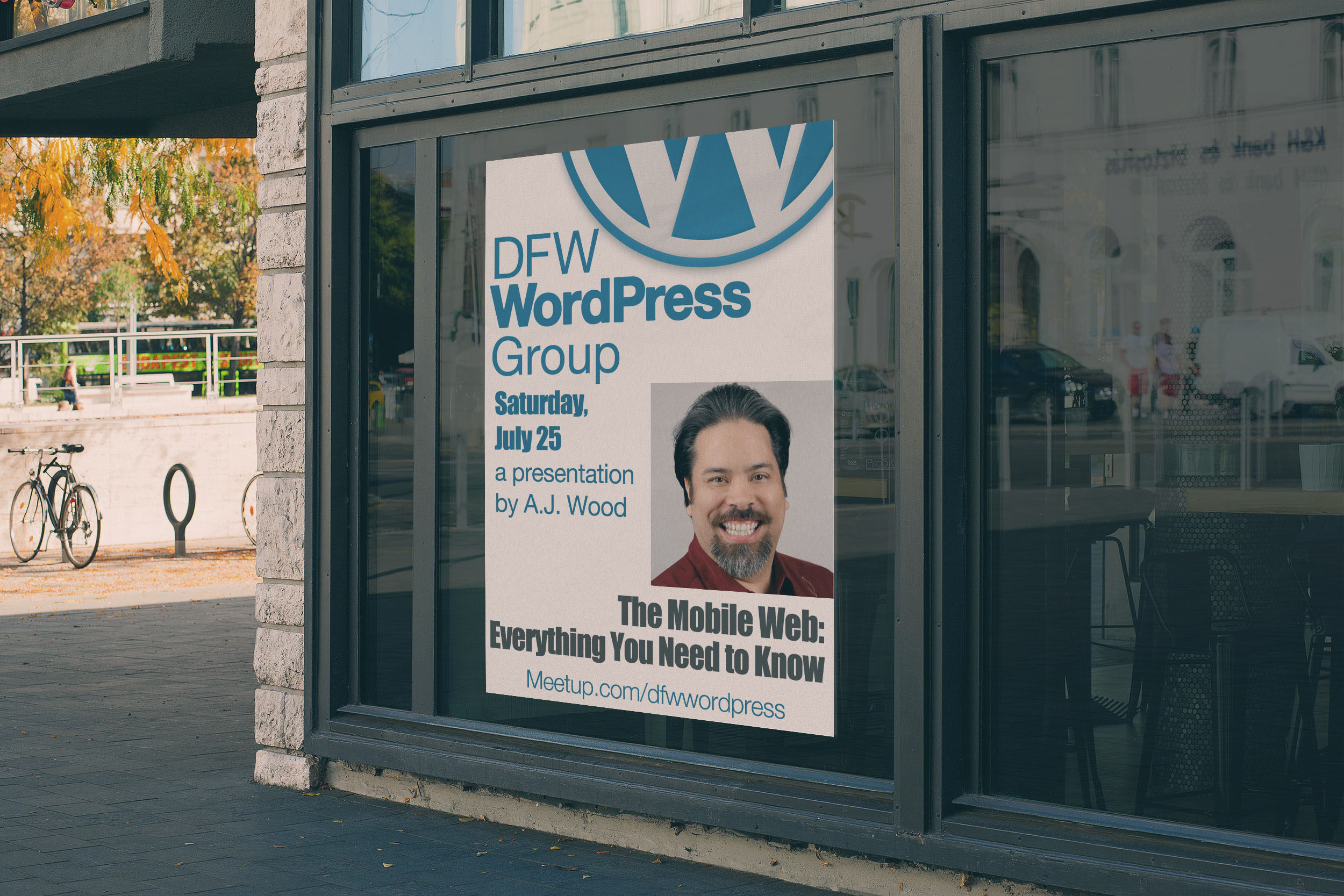 Me:  Pizza sounds great! I hear lots of WordPress professionals are struggling with soft skills?
Tony: The problem is people think WordPress is easy, you know I often describe it as Microsoft Word for the Web. When you go deeper, you can easily get into trouble. It can happen that you can't get your head above water, so you really need to up your game.
Me: Yes, well I struggle with way more basic skills, so I can only imagine. So, what can be done?
Tony: I think it's just a matter of educating people to use it, like with any other thing. I teach WordPress at different levels. I have organised WordPress 101, this is an introduction, 102 that deals more with understanding CSS, 103 focuses on PHP and 104 doesn't exist yet, but that would be writing themes and plugins.
Me: I see now how much you need to learn to be a WordPress professional. Apart from jumping in, what's a common mistake most people make?
Tony:  Hmmm, I think working with an unfamiliar theme. Find a theme foundation that you like and learn it, that way you can apply it to multiple sites. What I mean by a theme foundation is that you stick to themes developed by the same theme foundry, for example StudioPress or Elegant Themes, that way you get to know the backbone (code) of the theme and you will be able to play around with it more.
Me:  A lot of WordPress developers are watching their step when it comes to website maintenance. How do you deal with this?
Tony: Frame it. When it comes to software systems, you need to frame everything and manage expectations. This is particularly important when talking to your clients about maintenance fees, explain that if you want a good website that works at all times, you need to invest money in maintaining it. You need to explain to your clients that professional website maintenance is a good ROI.
Me: How do you pick the right tools for your business?
Tony: I follow in the footsteps of talented successful people – I use what they use! All am gonna say is that Mashable wrote W3 Total Cache …
Me: Before we wrap up, any words of wisdom?
Tony: Never stop learning, the key to being a great WordPress professional is realising that it requires ongoing learning. Any smart person knows how much they don't know!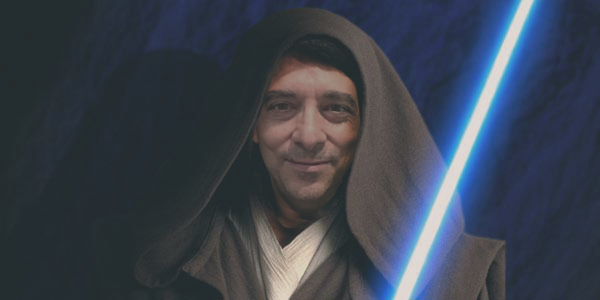 Me: I wanted to ask you, would you play 21 questions with me? (except we will make it 5)
Tony: Sure!
Me: What's your favourite food?
Tony: Vodka
Me: What's your spirit animal?
Tony: Pikachu
Me: What's your guilty pleasure?
Tony: Sleeping in
Me: What's your favourite holiday destination?
Tony: My imagination
Me: If you could invent anything for the future, what would it be?
Tony: World Peace
If there is anything I recommend you take home from this interview, it's knowing that vodka is a type of food, that pitching website maintenance is just a matter of proper framing and that you should never stop learning and testing yourself in the world of WordPress.