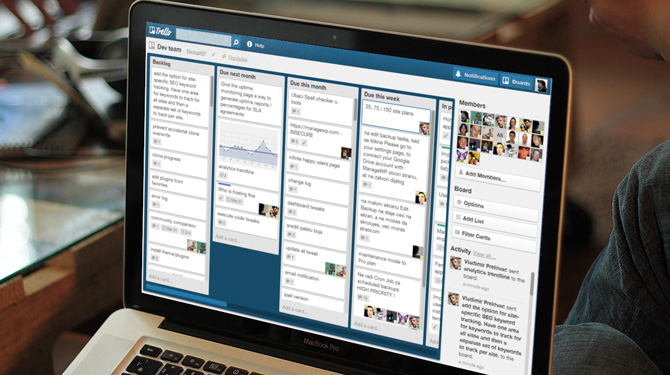 ManageWP consists of fair number of teams: development, design, marketing, sales, product, mobile, quality assurance, support, and operations. At this moment all of our teams have one thing in common — they use Trello. I can't say that we have mastered this free tool (yet!), but I can't imagine us functioning without it.
What I am particularly proud of is that Trello has completely removed the need for a project manager in the development team. In this post I am going to show you how we've done that.
The Development Board Process
The development board is at the heart of all development that takes place at ManageWP. The way we organise things borrows a lot from the concepts of development introduced by Menlo Innovations.
Here is a breakdown of our process:
Backlog: This is basically the entire wish list for the project. It contains all features that we ever want to see. It can become huge and currently hold about 4-5 months of work.
Due Next Month: Selected items that we will work on in the next month. It's handy for the developers to see what's coming. The product team moves items here from the backlog.
Due This month: This contains everything that we will be working on this month. We try to clear all the cards that end up here every month. Sometimes developers will pick items from here and move them to Due This Week if they finish things before the schedule.
Due This week: Cards to be done this week. Developers take items from here and start working on them at their own discretion. In order for this to work they need to know the product well from the end user perspective (more about this later).
In Progress: When a developer starts working on a task, they move it here so everybody else knows. If there were multiple people assigned on a card the other developer can work on something else. Or if somebody sees a card they'd like to participate on, they can join in.
Done: When moving the card to the Done list, the developer is basically saying "I am finished." This is where quality assurance takes over.
Accepted: If everything is in order, quality assurance will move the card to Accepted. This means that it is ready to deploy.
Rejected: Quality assurance can reject a Done card as well. The developer will then take it back and fix whatever was gives as a cause for rejection on the card.
Deployed (By Week): All Accepted items that went live go here for future reference.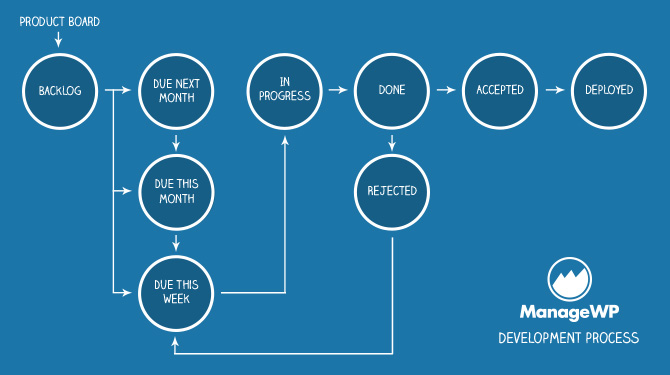 Weekly Project Lead
Every week another developer becomes the project lead (by rotation). The duties of the project lead consist of:
Sorting new feature/bug requests coming through email and entering them into Trello.
Selecting cards to move from Due This Month to Due This Week (often with the help of the Product team).
New bugs always go to Due This Week (we have a zero bug policy) and get worked on first. We place them on the top of the list.
We always clear smaller and easier items first so we can get rolling before we hit the tougher tasks.
Getting To Know Your Product
The approach I have outlined above gives great freedom to the developer as they get to pick the items they will work on every day. In order for this to work, the developers need to know the product inside and out so they can base their decision on what they think will benefit the user most.
To keep everyone informed we hold regular weekly meetings where we talk about our product, users, and the user experience. Also, everyone has access to all user statistics so they can track the impact of new features to the business.
Conclusion
With this structure we became incredibly productive in a short space of time. All developers are directly involved in the process and have a much better understanding of the product. In fact this system works better than what we had with a dedicated project manager! A true win/win situation.
What do you think of Trello? Have you used it, or are you interested in using it? What do you think of the system we have in place for managing the ongoing development of ManageWP? Share your thoughts with us in the comments section!