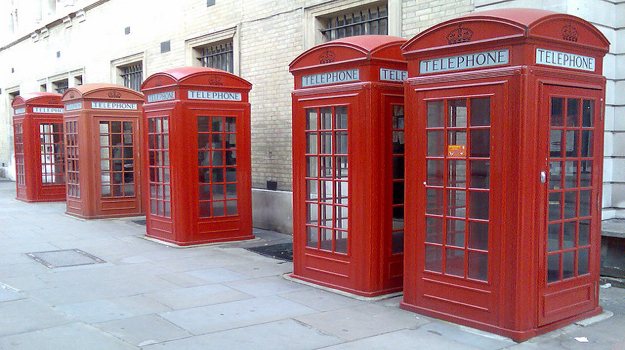 Do you have a contact page on your blog? I know it sounds like a ridiculous question, but I've come across many blogs that don't have a contact page at all; it's really surprising. Of course we all know that without a contact page or at least some type of contact information on your blog, no one can contact you. You'll miss out on important feedback, suggestions, questions, potential clients and much more.
Needless to say, a contact page is one of the most import parts of a blog. Not only that, but the information you have on that page is even more important. Many blogs only have a form on their contact page, but what about other useful information like a phone number or physical address?
Contact pages with just a general form and no other type of information can be boring and uninformative. Plus, some people are old school and would rather give you a call or visit your place of business (if you have one), instead of sending an email. Oh and let's not forget there are still some people out there that don't use email at all.
So it's settled, you need a unique contact page that's useful and informative. Here are 5 plugins to get you going in the right direction.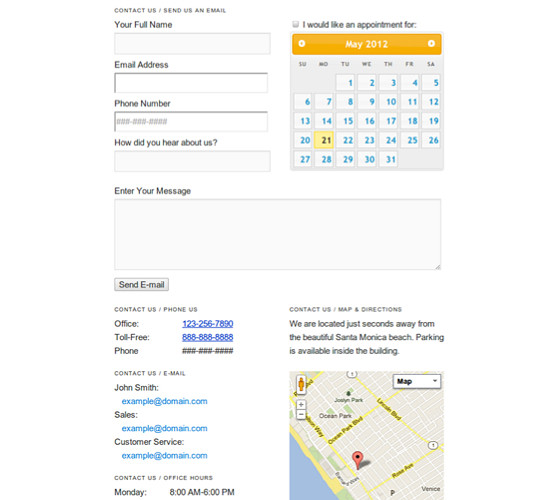 BigContact is a sophisticated tool that is great for consultants, businesses, and anyone else with clients. Along with a contact form, you can display phone numbers, email addresses, office hours, a Google map with directions, and a scheduling calendar for appointments.
You can mix and match components and rearrange them to create the perfect contact page that suits your needs. Another great feature is that you can display the phone section or map in a blog post. Spam filtering is included in the contact form, so you won't need any additional plugins.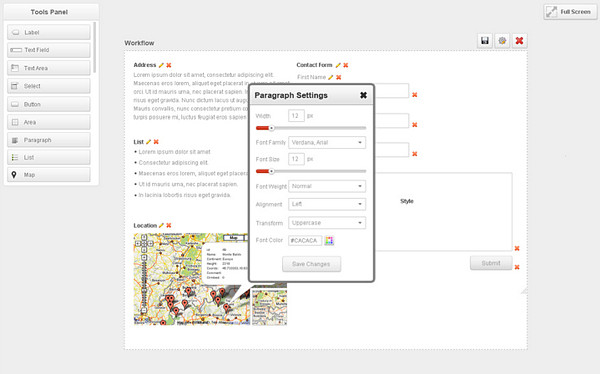 Contact Us Page Builder provides an advanced drag-and-drop interface for building forms of all types, including contact forms. If you're looking to truly personalize your contact form, this plugin gives you the most flexibility and control; you can thoroughly customize just above every form field including the social sharing buttons, labels, and text areas.
This means that you can change the widths, heights, borders, colors, font types, font sizes and much more. Additionally, you can add lists, paragraphs, and a Google map anywhere else on the page along with your contact form. The Pro version gives you even more features like social sharing, PayPal integration and CAPTCHA. If you have a small business or a large corporation, the Contact Page Designer Pro version may just be worth it.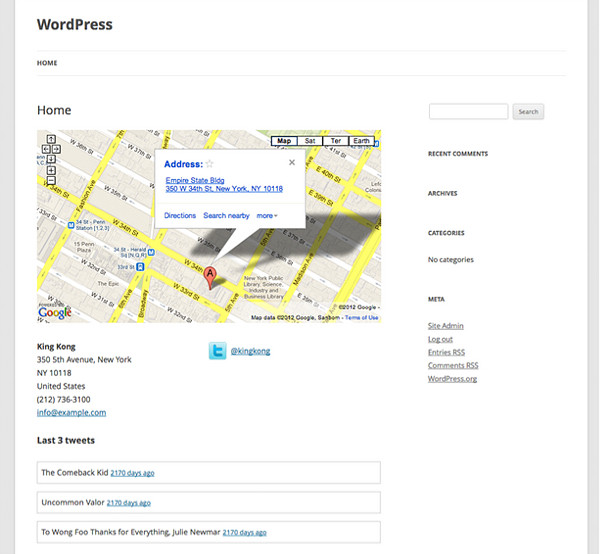 Although the name of this plugin is a bit cliché, Contact Page is pretty useful; it's almost like a simplified version of BigContact (mentioned above). You can display your latest tweets, add a Google map, insert links to your social media accounts (Twitter, Facebook, LinkedIn), and add your email and phone number.
The downside to this plugin is that it doesn't include a contact form. Its main purpose is to add important contact information so that you can be contacted via other methods. However, if you still want a form, you can easily use an additional contact form plugin and then insert both shortcodes (for this plugin and the contact form) into the same page.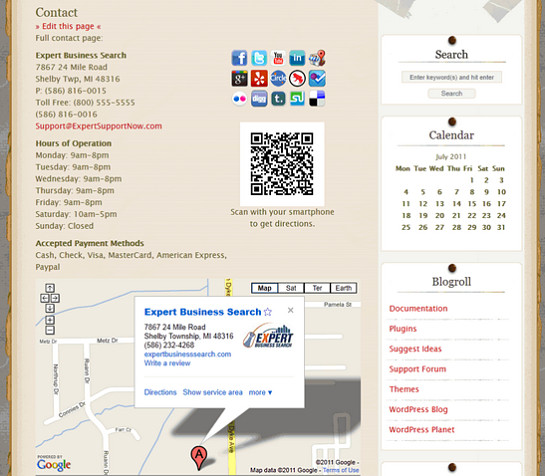 Local Search SEO Contact Page is much like Contact Page (above), but a bit more advanced. You can include your business name and address in hCard/vCard format. Along with that you can add your phone numbers, hours of operations, payment methods accepted, social media icons with links to your profiles, a Google map and even a QR code.
The QR code can be used to give directions (via geocode) or for an email address, phone number, or any other custom link. This is an extremely useful feature to have since QR codes can be scanned by mobile devices. This means that you can get your info to visitors and potential clients much quicker; they can scan the code to immediately bring up your information. Talk about convenient.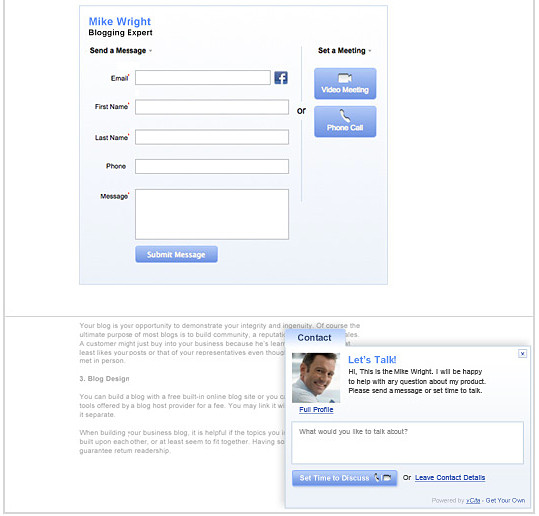 Contact Form by vCita is a must for those looking to generate leads from their blog. At first glance vCita's simple contact form may not be as unique as the rest on this list, but it offers a few things that the others do not. For starters, users can connect their Facebook account and pull their information (name, email, phone) into the form from there.
There's also a "set a meeting" section, which lets you add buttons for a video meeting and phone call. This means that users can contact you immediately, right from your contact page. The online appointment scheduler is also great because it synchronizes with your calendar and shows your availability. Users can schedule an appointment right on your website and chat with you live if you're available.
Looking to customize other pages? Read about theme customizer, customizing login page, or WordPress frameworks
Care To Share?
What do you use on your contact page? Do you have a simple contact form or are you using something a little more advanced? Feel free to share in the comments.
Creative Commons image courtesy of markhillary