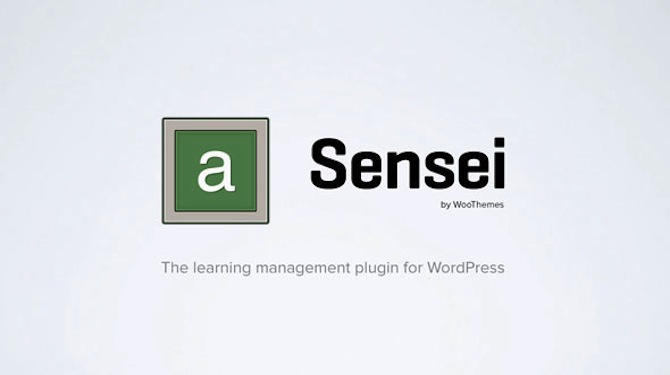 I love WooThemes. They make great products, their customer support is excellent and they've got style. My own blog runs on their extremely popular Canvas theme framework and they are the one and only theme shop I turn to when in search of a premium theme.
With that in mind I tend to keep my eyes open for any new themes and plugins that WooThemes release, which brings me to the topic of this post: a learning management plugin by WooThemes called Sensei. It promises to make the creation of an online learning resource simple. But the question is, does it deliver?
An Introduction to Sensei
Let's see what WooThemes has to say to describe Sensei's capabilities:
Teaching coursework has never been easier, all within WordPress. With the Sensei plugin you can create courses, write lessons, and add quizzes. Set lesson and course pre-requisites, allow user registration and even charge for your course content using WooCommerce if you want.
If you want a more visual representation of Sensei's capabilities, check out this video courtesy of WooThemes:
Sensei represents everything that I love about WordPress — near-limitless extensibility. It wasn't so long ago that purists would scoff at the notion of WordPress being anything more than just a blogging platform, but Sensei is just another example in a long line of plugins that can turn a simple blog into something far more functional.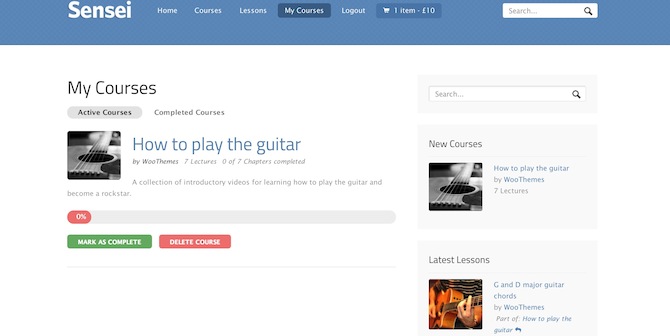 Speaking of functional…
Functionality
WooThemes understands how plugins should be separated from themes and as such Sensei is designed to integrate seamlessly with whatever theme you are using (as opposed to taking over). Having said that it has been designed to work particularly well with the Definition theme (seen above) so you might consider purchasing that alongside Sensei.
In terms of infrastructure, Sensei enables you to create courses that are made up of individual lessons. The whole process is very familiar as lessons are actually just a custom post type: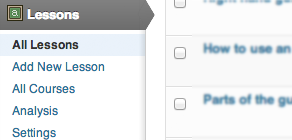 But that's not all. You can create quizzes to accompany your lessons and enforce a particular pass mark in order for your students to progress to the next lesson. In this way you can exert a level of control over your student's learning but also gamify the whole experience, making it far more interactive and rewarding. In terms of setting your course apart from competitors', Sensei could certainly give you a cutting edge.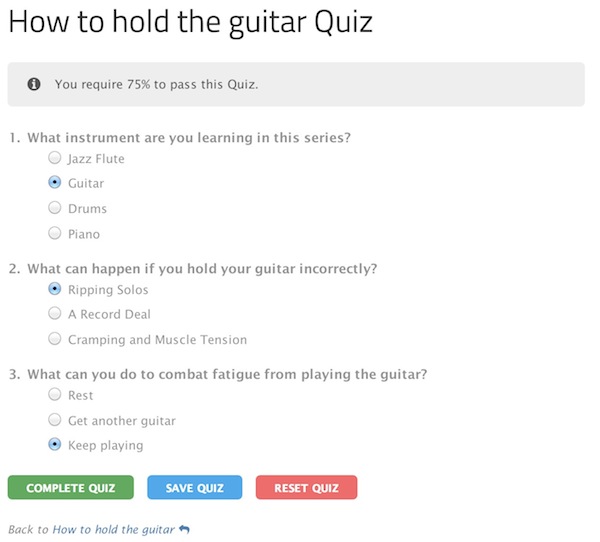 It is important to note that Sensei is not a membership or eCommerce plugin and offers no such functionality as standard. It has however been designed to operate in tandem with WooCommerce so that you can charge for your courses and lessons.
Cost
At the time of writing Sensei is available at three different price points:
$79 (single site licence)

$129 (five sites)
$279 (unlimited sites)
I would imagine that most people interested in this plugin will be looking to utilize it on a commercial website, hence its premium price tag (to match the premium functionality). In all reality, if you're looking to build a site that will turn over thousands or tens of thousands and beyond, Sensei's price tag seems reasonable.
Fit for Purpose
Creating a learning resource is something that has been on my radar for a while and having had a good tinker with Sensei I know that I would choose it for my own site.
To be quite honest with you I have not come across another WordPress plugin that offers the same breadth and quality of functionality and features and doubt one will be coming along any time soon. I know I can rely upon WooThemes for top quality support down the line, so Sensei would most certainly be my choice.
I'd love to know what you think so please don't be shy — let us know in the comments section below!