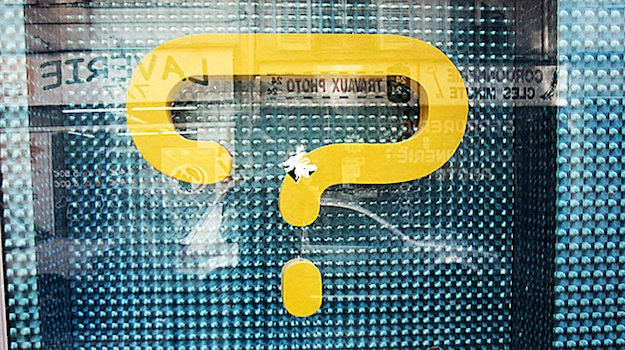 If you have been blogging for any length of time you will understand the importance of your about page.
You only need to observe your own habits to understand why. If you come across a blog that you find interesting, it is only natural to want to know more about the blog itself. After all, reading one post does not typically reveal all there is to know about a blog. Furthermore, you want to know more about the person (or people) behind it. All of this is backed up by the fact that your about page is one of the most visited pages on your blog.
Therefore, it represents one of the key opportunities you have to turn a visitor into a subscriber. For many visitors it is the second page they will see (after your home page or a post page), and you want to make sure that it is not their last. With that in mind, today I want to give you some fundamental tips to help make your about page a real asset to your blog.
Focus on What You Can Offer
You might expect that an about page should lead with an autobiography of some sort. And in certain cases that is advisable (like for personal blogs). But for many blogs, the first section of your about page should focus on how your blog can benefit the reader.
You want to tell the reader a little bit about the blog framed in the context of how it can help them. Because let's face it — that's what most people are interested in. New visitors to your blog have no emotional attachment to you or your blog — they know nothing about either. They don't want the "fluff" — they want to know why they are here. It may sound rather cynical, but it is the reality.
Here's a screenshot from my blog's about page to give you an example of what I mean:

As you can see, the potential benefit is made loud and clear up front — people who are interested in quitting their job and building their own online business will likely read on. And since they are my target audience, my about page is doing its job.
And when it comes to benefits, you should be specific — you should state exactly who the blog is for and what it can do for them. Although a number of visitors will be disinterested by this approach, the people who count — your target audience — will be far more engaged as a result.
About You
It doesn't matter if you are running a personal blog or a business blog — it should have some personality. Therefore, you should not be afraid to reveal at least a little bit about yourself personally. People will connect far more readily with someone that they can picture in their mind's eye — you can make that easier by building up an image for them.
I am not saying that you should reveal your life story in your about page — quite the opposite actually. What you should do is synopsize yourself in a manner that is contextually relevant to the subject matter of your blog. I would recommend that you write no more than 3-4 paragraphs, then link to a more complete story if people want to read on. In fact, I have taken this one step further on my own about page by linking to a few different posts that reveal more about me personally:

By keeping it relatively brief on my about page but giving the option for further reading, I am catering to both those who only want to know the bare essentials, and those who would like to know more.
Interlink
One of the best methods you can use to keep people on your blog is to interlink effectively — i.e. place links to posts within the content on your blog. This shouldn't just be confined to posts though — you should try to include a few links within your about page.
After all, remember that this will be one of the most visited pages on your blog. If you include links to interesting and relevant posts on it, people will be far more likely to delve further into your content.
In fact, I would go as far to say that you should consider writing a few posts that would tie in with your about page. You want any link you place within your about page to be natural, so if that means you write posts that reveal more about yourself or the central message of the blog, so be it.
Include a Call to Action
If you do not include a direct call to action on your about page, you are probably missing out on a raft of conversions. Assuming that your primary objective is to get people to sign up to your newsletter, you should include a sign up form within the content of your about page.
On my blog I include this form directly after my "About Leaving Work Behind" section: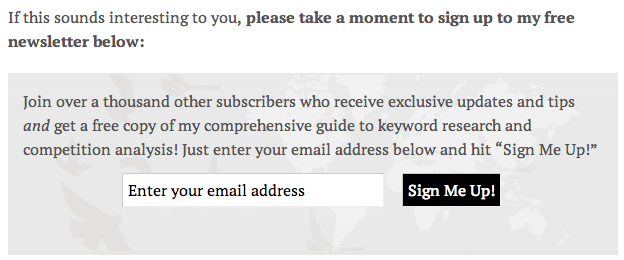 This is the ideal point at which to attempt to convert someone. If they have clicked onto your about page it is clear that they have some interest in your blog. If they have read through your about page then that interest is even more apparent. So why not give them an opportunity to subscribe?
Keep it Simple!
The primary job of your about page is to further inform the reader and compel those amongst your target audience to read more (and hopefully subscribe). You do this by clearly communicating the benefits that your blog has to offer in a relatively concise manner.
Your about page shouldn't be an essay — more an easy-to-digest summarization of why your content is worth reading. It should act as a hub of sorts, from which people can delve further into your blog with ease (due to your effective interlinking). Don't forget to optimize your contact page too.
I'd love to see some examples of your own about pages. Please feel free to link to them in the comments section!
Creative Commons image courtesy of coccu