Vacation season is over and your clients are rested and ready with their questions. It's good to be up to speed and have the answers they need before you take your sunglasses off. Being on top of your game during those lazy summer months was not easy. Luckily, you had the essential ManageWP tool – The List!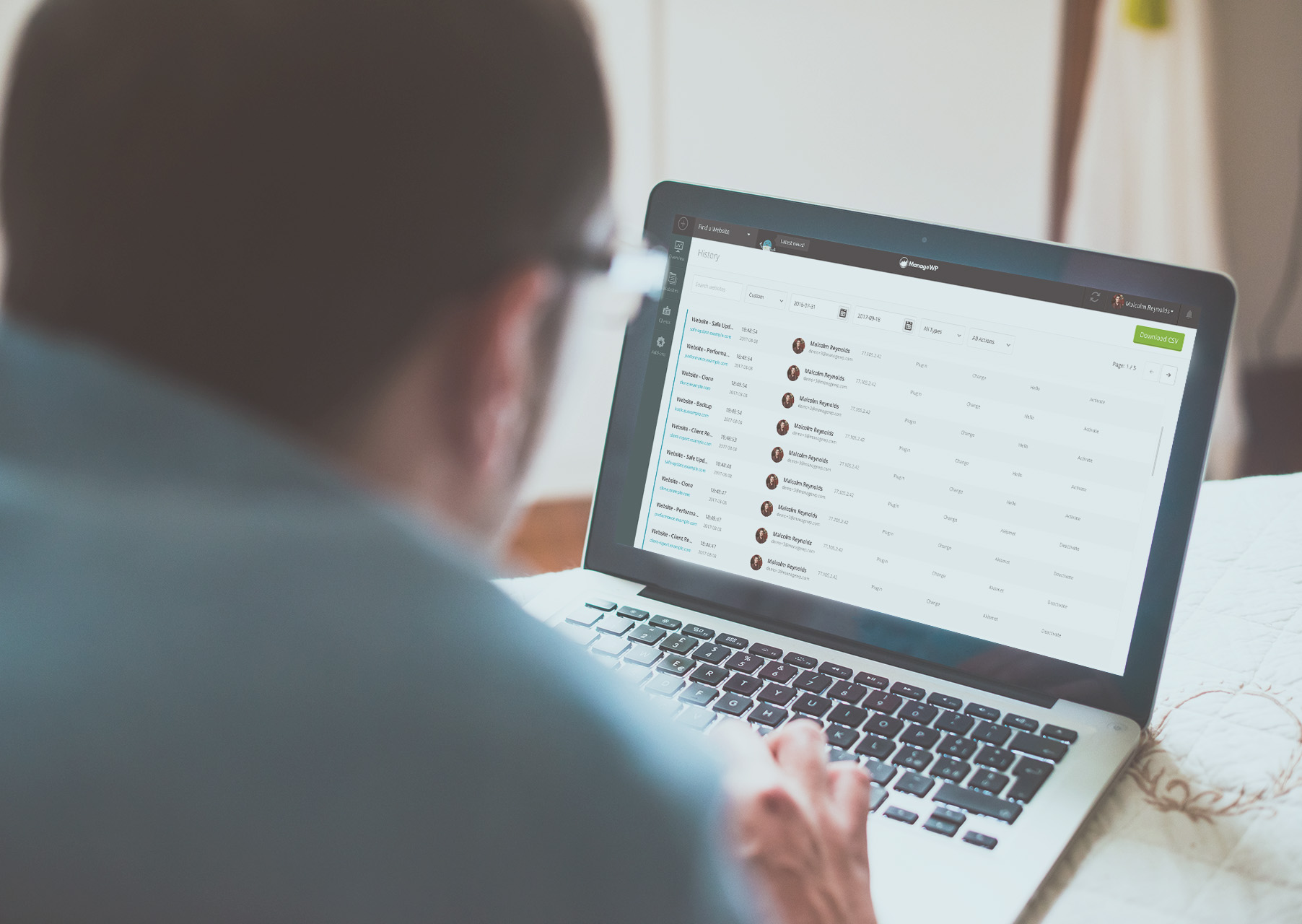 While you were enjoying your summer, we logged everything that was happening on your ManageWP account. With the List, you know exactly what you did and when you did it. But, first thing's first – why do we love lists so much? It's easy, they are familiar.
Lists are so simple
Lists provide us with instant knowledge on any topic
Lists go straight to the point, no questions asked
Lists provide us with choices
Lists provide that amazing feeling of accomplishment when we cross something off of them
and, give us something to disagree with of course…
A list of possibilities… (pun intended)
Examples of how to use the History tool
General Dashboard History of your actions in ManageWP (for all sites) is two clicks away at all times. It holds the information you need. Click on your login details in the upper right-hand corner and go to the History tab.
All you need to do is ask the right set of questions, and we'll get you the list. Filter out different actions performed in different sections of ManageWP and the world is your oyster.
I want the list of all websites I ever added to ManageWP? No Problem.. Would you like the list of websites added in the last 7 days as well? Done.

First, adjust the timeframe, and set your filters. The first filter you will set is Website, and then choose the action you want to filter out:
Add,
Reconnect,
Remove,
Pause,
Resume,
Change or
Scan.
I am not sure which websites I optimized in the last month or so? 
Easy-peasy. Set your filters to WordPress and Optimize, and you'll get the list you need.

Do you want the list of all the Manual backups you created in the last 30 days?  Check. The list goes on… (see what I did there)

How to get a list of all websites connected to ManageWP?
Our History tool provides endless possibilities and it's easily the one that's been underestimated the most. I know most of you use this tool to get the list of websites that are currently connected to  ManageWP. We haven't made this easy for you have we?
So far what you have been doing is exporting two different lists (and manually cross-referenced them):
The list of all websites you ever added to ManageWP
The list of all websites ever removed from ManageWP
We want to make this easier for you, but you need to help us find the right way. Saving you time and eliminating tedious tasks from your daily workflow is our mission, what we believe in. So far getting the list of all websites you currently have in ManageWP has been all but timesaving and easy.
We believe this can be done in a single click and we prepared a couple of possible solutions for you.
Would you like to have a single button that says "Export all my websites" somewhere in your Overview screen, or, you'd prefer to have this as a separate filter in our History Tool? I know you are aware of the power you have over shaping our Roadmap – don't be afraid to use it. Let us know what YOU think the best place for The Ultimate List is.
Leave a comment below or go over to Twitter and vote.