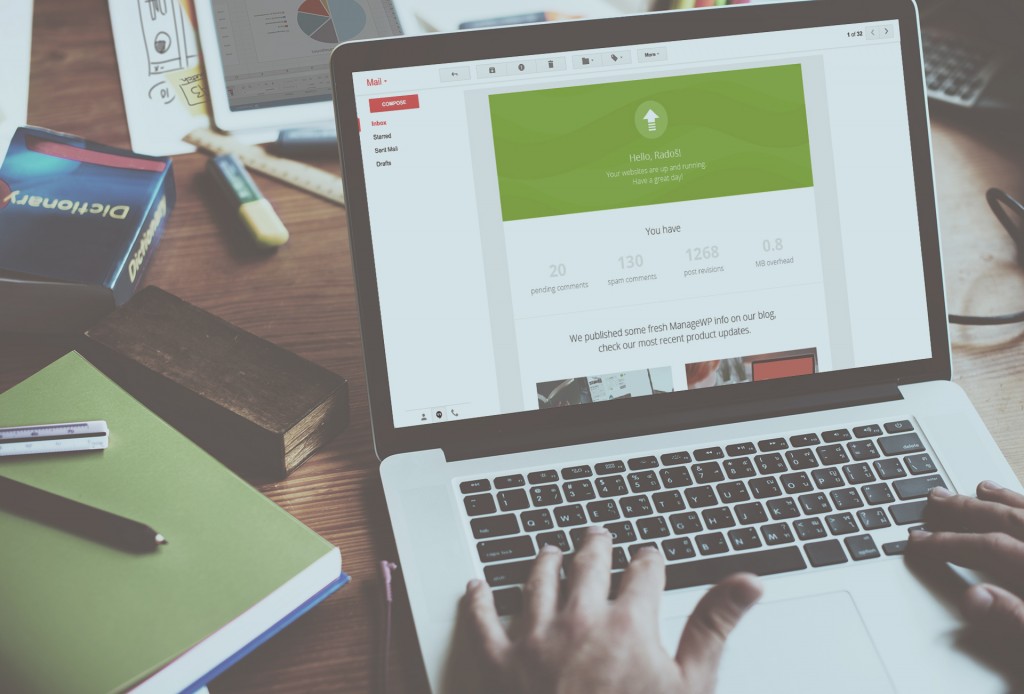 I know that you all must be excited about July 12, and you have been waiting patiently, but it's just around the corner now.
Before that, we have the final features to release – Product Digest and Event Notifications!
Product Digest
Product Digests are a great way of keeping yourself, and your collaborators informed on all the things that are happening with your websites. Think of it as your own Client Report. Instead of having to log in to your dashboard, you can check your website's status on your email with the new Product Digest.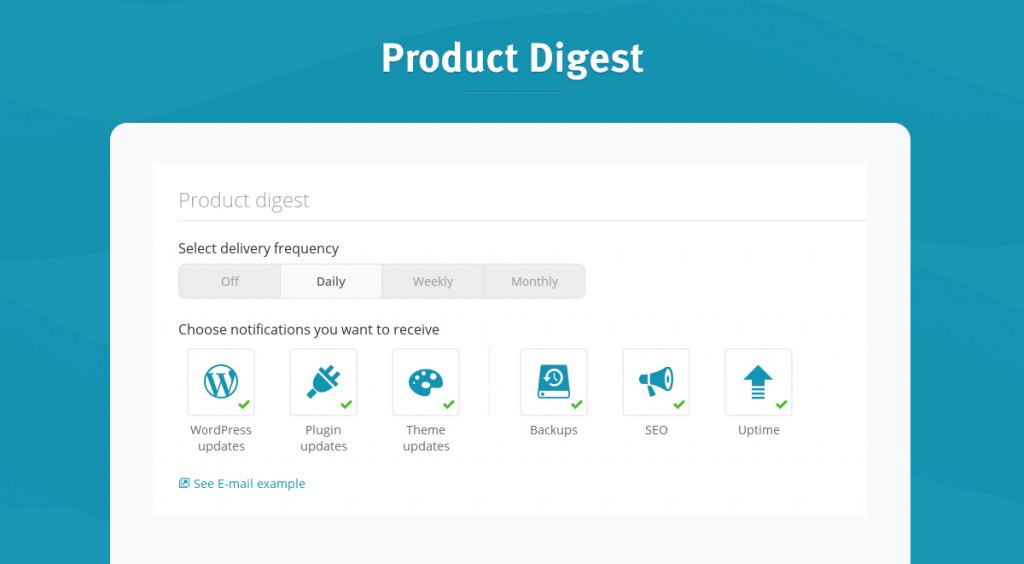 Setting Up Your Product Digest
To get to the Product Digest, you go to your name in the top right corner, settings, and click on notifications. There you will see the option for Product Digest.
You can select what you wish to include in your Product Digest, by checking the features, just like with Client Reports. There is also a preview button, that let's you preview your digest before sending it.
You can choose to set up how often you receive the Product Digests. You have the option of receiving them daily, weekly, or monthly. The daily digests get sent out at the same time every day, 7am in your time zone. The weekly are always sent out on Mondays, also at 7am, and monthly, on the 1st of each month, again at 7am.
Admin and Collaborator
You, as the admin, can choose how you wish to set up your Product Digest, when it gets sent out and what you want to include. You can not set up the same for your Collaborator, they have to set up their own Product Digest. The reason behind this, is because we appreciate that everyone works in different ways, some people prefer to receive emails everyday, while others like a weekly summary of everything that has happened. Also, bear in mind you and your Collaborator might not want to include all of the same features.
Event Notifications
Event Notifications differ slightly, as they inform you of certain events, rather than summarising everything up. We have created them for two crucial events, your Backups and Uptime.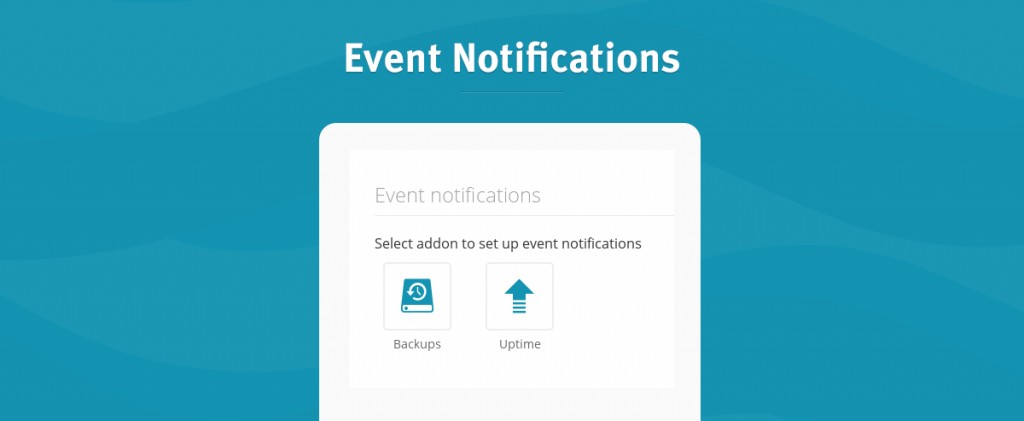 Setting Up Event Notifications
There are two types of settings for Event Notifications, firstly you can adjust your global settings, and also individual custom website settings.
Global Setting
To adjust the global settings, you can find Event Notifications the same way as with Product Digest, click on your name, settings, email notifications, and there under Product Digest, you will find Event Notifications.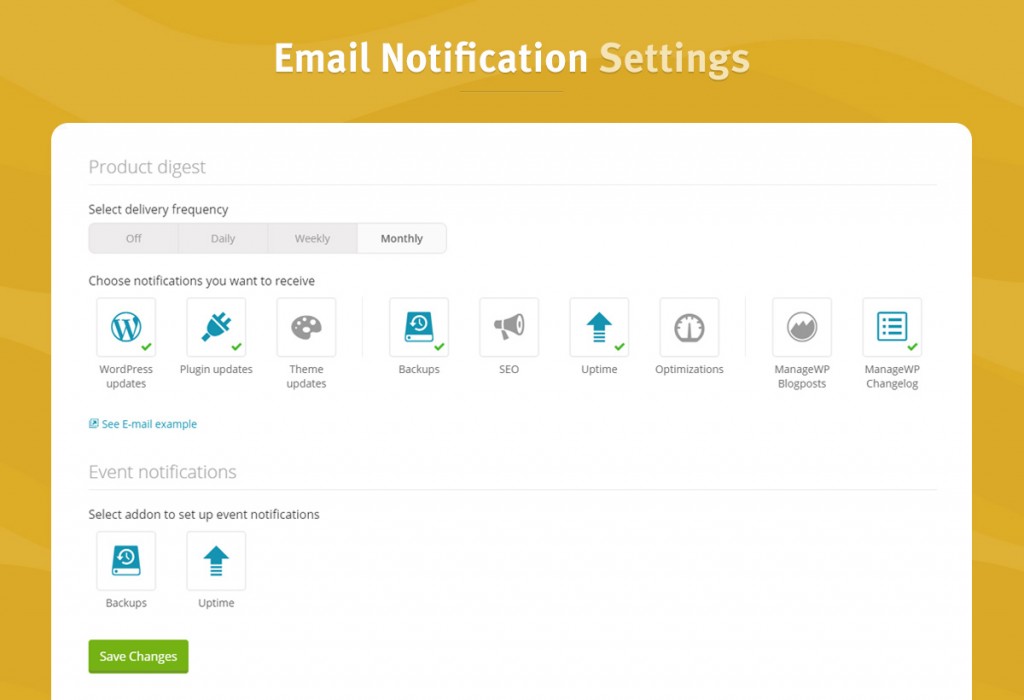 This is what the Email Notification Settings look like. 
For Backup Event Notifications, you can choose to have them on or off, and you will be informed via email. If a backup is unsuccessful you will receive an email that day at 9pm (in your time zone), notifying you about the issue. You can set them up for Admin, Collaborators, and Clients. 
For Uptime Event Notifications, you can choose to have them on or off, and you can choose if you want to be informed via email, you can set email up for Admin, Collaborators, and Clients. Additionally you can select one SMS number that will be notified in case your website goes down.
In the tabs you will see the option of choosing Additional Emails and SMS. This is where you can select which emails you would like to send the report to, and what SMS number.
You can select any of the email settings for individual Clients or Collaborators.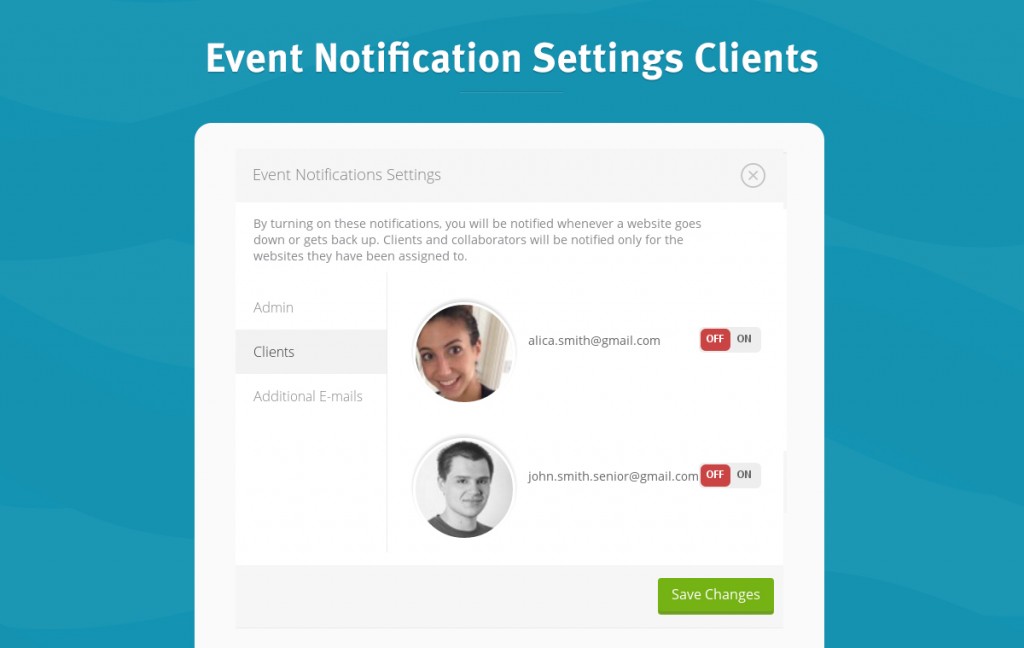 Single Website Setting
In order to set up your Event Notifications for single websites, you need to click on the website. Then select the feature you want to set up, Backup or Uptime, there find settings, and you will be able to access Event Notifications for that website. You will find the option there to use global settings, or you can set up custom settings.
Here is what it looks like for Backup.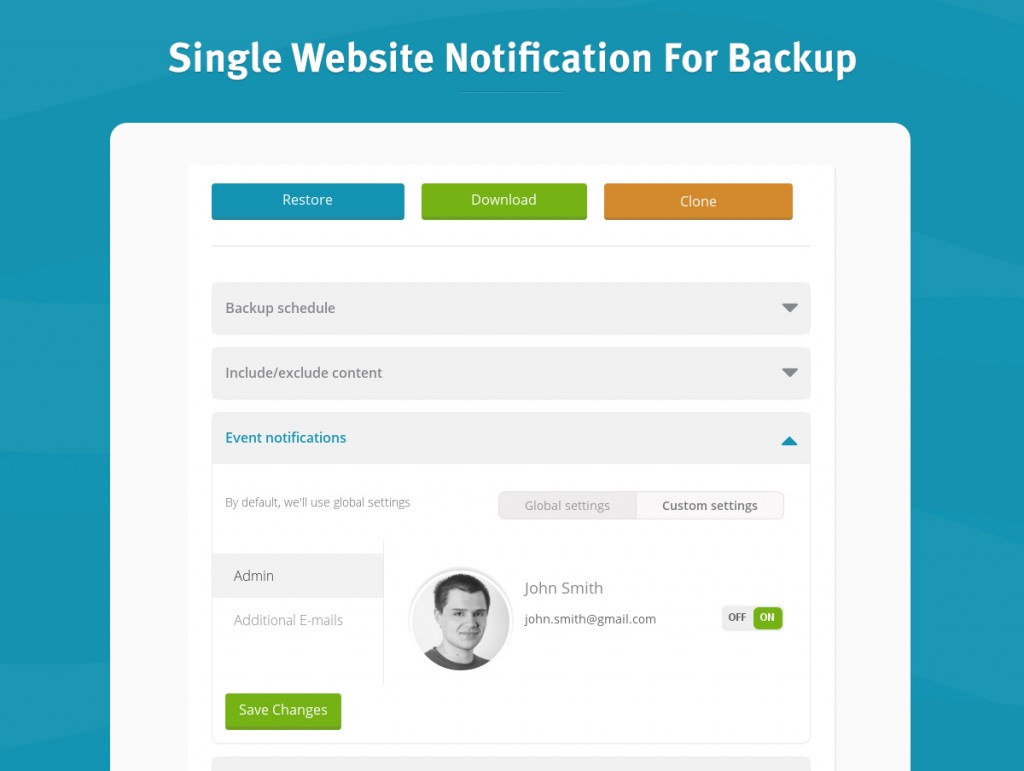 Here is how to do it for Uptime Monitor.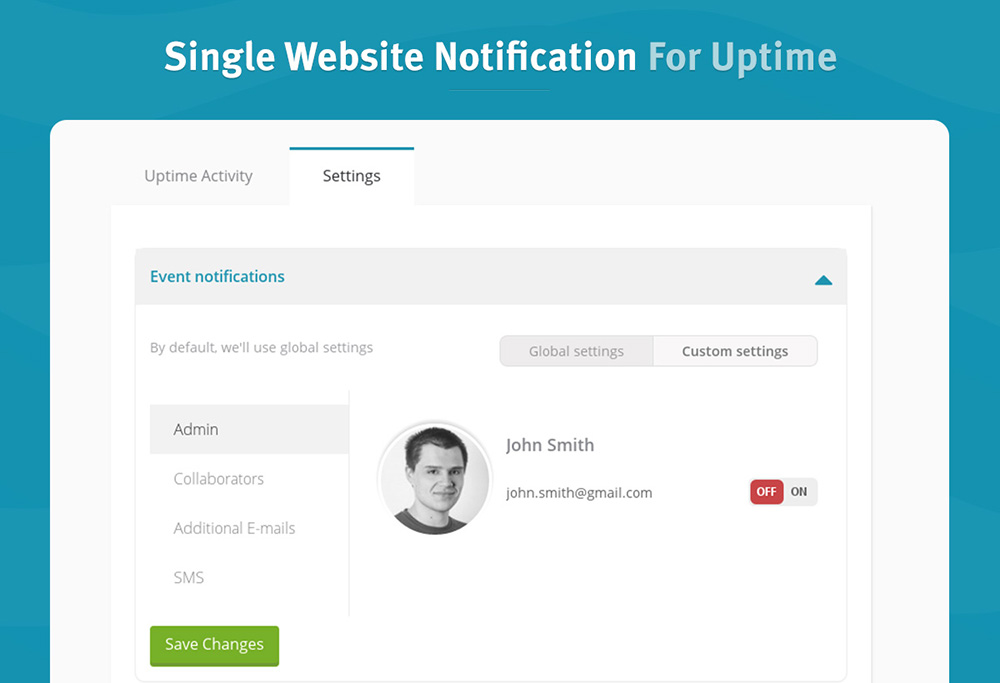 Additional Emails And SMS
Additional Email is a new feature that we have added in the spirit of Event Notifications. You can enter emails, that you want the Event Notifications to be sent to. For example, if you have two emails that you use regularly, but only one is registered with ManageWP, you might want to get notified on both, and this feature allows you to have that option.
We have also included additional SMS option only for Uptime Monitoring. This means that in custom settings for individual websites you can choose a different number for the notifications, which means your client can directly receive an SMS if their website goes down.
In order to enter the information above, you need to go to your name in the top right corner, settings, and click on profile. Underneath the login and personal information, you will find the options to enter additional email and sms for notifications.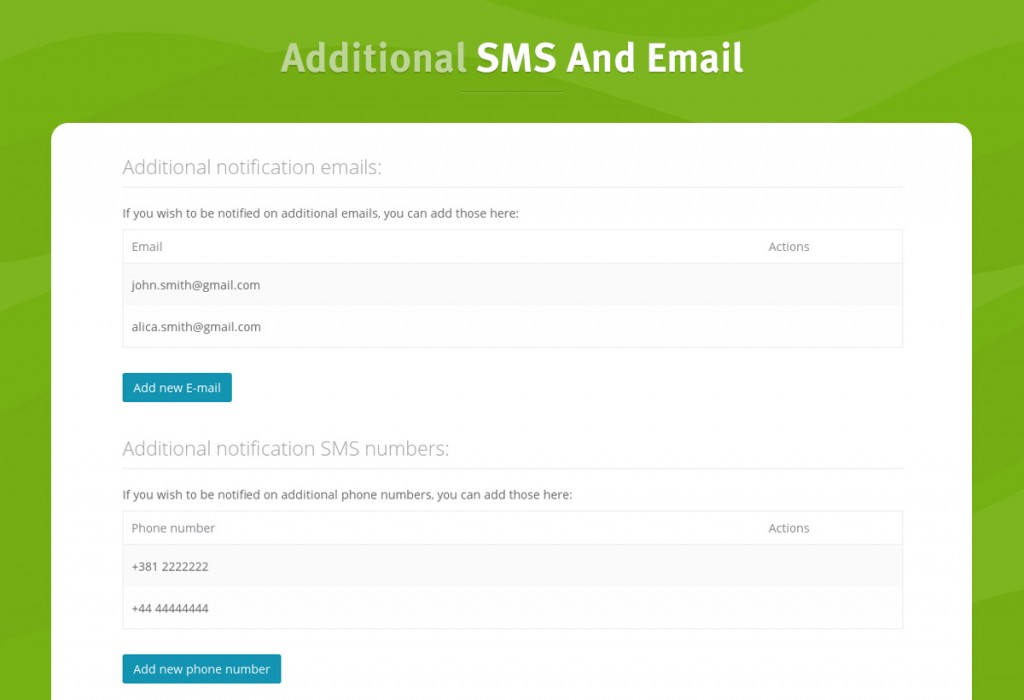 That's it Folks!
All of the features are now officially out! Try out Event Notifications and Product Digests, and be sure that you won't miss anything that's happening on your websites.
The first step in solving a problem is to recognise that it does exist.
With our new features the moment there is a problem with your websites, you will be the first to know. There is not much left to be said, apart from July 12, you are only 5 days away!