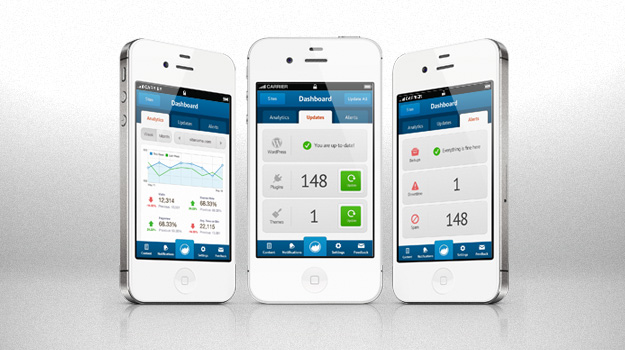 As you will know if you are a regular reader of our blog and/or a ManageWP customer, we are constantly striving to provide the best possible service that we can. Our method for doing so is quite simple — we endeavor to provide you with what you want.
We take your suggestions very seriously, which is why we have spent an awful lot of time working on our mobile app for iOS and Android. We think that it represents the greatest innovation in WordPress management since the introduction of ManageWP itself and we know that you wanted it.
In this post I want to reveal some of the awesome features of the ManageWP WordPress iOS/Android app by taking you through a typical "management session". Additionally (and perhaps more importantly), I will be appealing for you to give us your feedback so that we can make the app even better for you.
If You Haven't Got the ManageWP App Yet…
Let's get the most important thing out of way first — if you are a smartphone owner and ManageWP user but haven't yet checked out the app, now is the time to do so! Download the iOS version by clicking this button:

Or download the Android version by clicking this button:

Now that you're set up to ManageWP multiple WordPress websites from your phone, wherever you are, let me show you some of the awesome stuff you can do with the ManageWP app!
Instant Updates
Just by opening the app and hitting the "Refresh" button, I am almost immediately presented with any pending updates: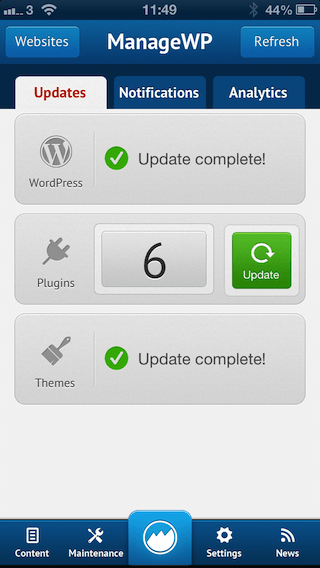 As you can see I have six plugin updates available. By clicking on the number I can get additional details, such as which sites need upgrading and what specific plugin upgrades are due: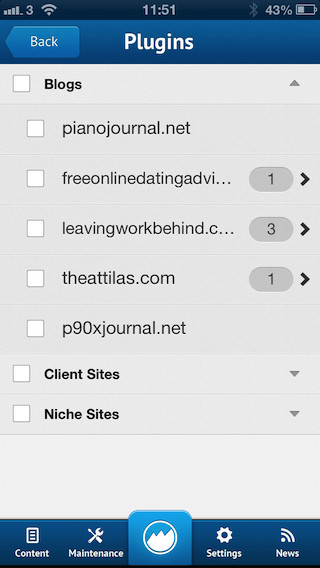 To update the plugins all I have to do is hit the "Update" button.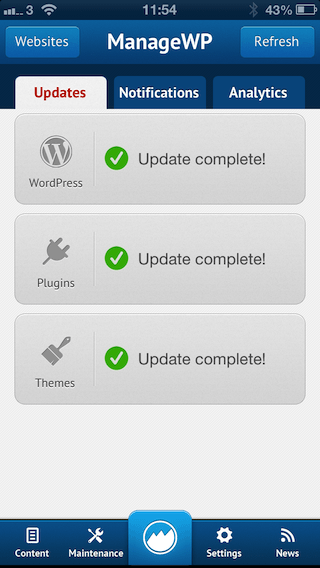 Hey presto! Job done.
Additional Maintenance Features
But that's not all — I can also check out important data such as backups on file, downtime and spam: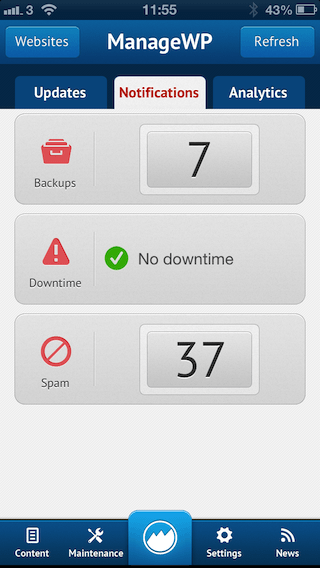 And even analytics data at a glance: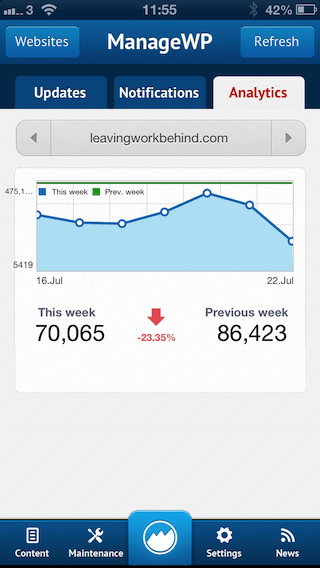 If I want to get rid of database overhead and spam I can do so via the Maintenance screen. Check out how easy it is to remove database overhead from all of the sites on my ManageWP account in one: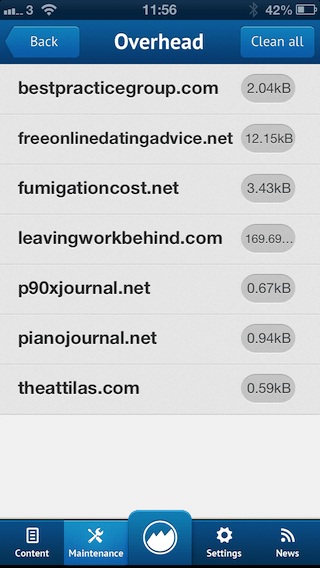 Posts/Comments Management
Managing posts and comments across all of your WordPress sites is a piece of cake with the ManageWP WordPress iOS/Android app. Just access the "Content" section via the bottom menu and you'll be presented with immediate access to posts (recently published, draft and schedule)…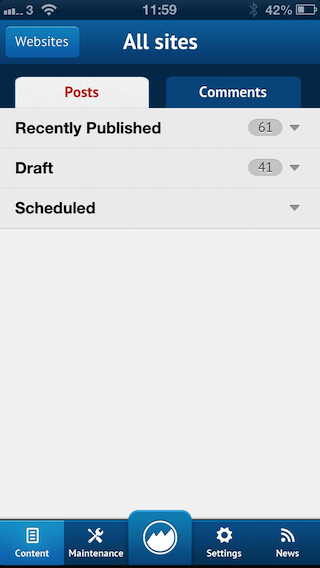 …and comments (approved and pending):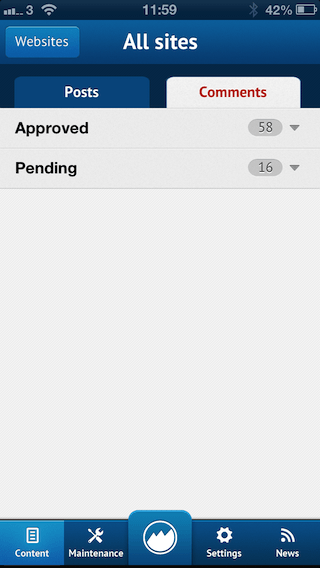 Select individual posts and mark them as spam: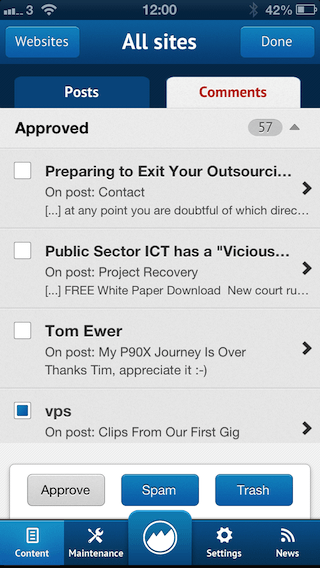 You can even Publish draft posts: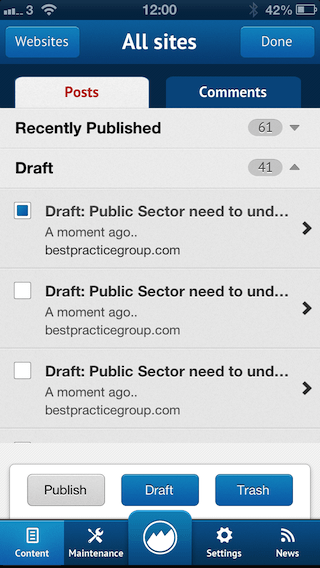 Not to Mention…
Although the above features are compelling enough to use the ManageWP app, there is even more functionality available that I have not mentioned. For instance, we're particularly proud of the direct WordPress dashboard access feature which we revealed back in January — surely the easiest way to access any of your WordPress dashboards on your smartphone!
There are other features too but I wouldn't want to spoil all of the surprises for you. And better yet, we are constantly working on making the app even better for you. That is where we need your help.
Our Most Important Feature
Despite all of the above, I'd be the first to admit that the ManageWP WordPress iOS/Android app isn't as good as it could be (yet). Personally, I'd like to see more analytics information and the ability to create new post drafts directly from the app. You may well have similar thoughts and we want to hear from you!
Perhaps the most important feature of the app is the "Submit Feedback" option within the Settings screen. This enables you to submit feedback to us directly from the app, which we can use to make a better tool for you in the future.
So please, take a moment to submit your feedback, either via the app itself or in the comments section below. Either way, we'd love to hear from you!