ManageWP link multiple accounts
ManageWP offers you the possibility of having multiple ManageWP accounts, all connected via a single Dashboard.
Let's say you wish to allow an employee full access to your websites managed by ManageWP, but you do not wish for them to have a paid subscription. ManageWP provides you with a perfect solution for this!
Apart from adding an employee as a Sub-User to your account, you could use ManageWP to link their account to yours!
On the other hand, if you, for example, wish to have 10 domains managed under Professional plan, and 5 domains managed under the Standard (or any other) plan, you would be able to link those accounts, and switch between them with a click of a button!
In order to link accounts, hover over your username at the top right corner of your ManageWP Dashboard and go to Add Account.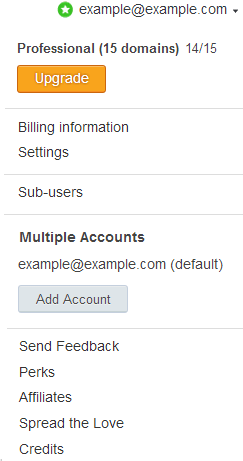 Afterwards, all you need to do is insert the username and password of the ManageWP account you wish to link to your main account.
And that is it! You have linked your accounts! All it takes to do now in order to transfer between those accounts is one click of a button, on the desired account username!