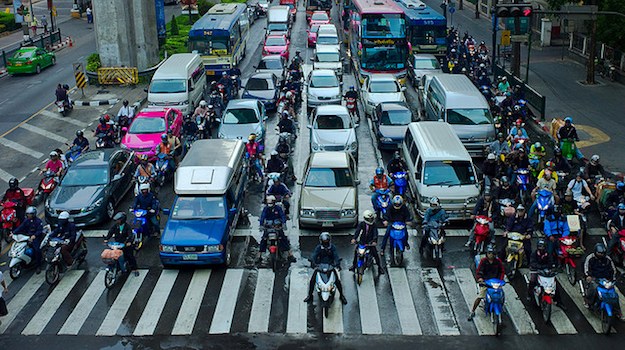 If you are a regular reader of the ManageWP blog, you will know that we are big on social media. Whilst there is no doubting the dominance of Facebook in terms of its market share, Twitter represents an opportunity boost traffic like no other.
Most social media "experts" will tell you that effective social media marketing is an art, rather than a science. But here's the secret when it comes to Twitter – it is the only social network for which you can use quasi-scientific methods to boost your followers, and by extension, your blog's exposure.
Here is the (admittedly oversimplified) step by step process to boosting traffic to your blog via Twitter:
Increase your number of followers
Tweet links to your posts
When you distill the process down to its most basic form, that is it. There are of course plenty of nuances – for instance, you won't be popular for long if all you do is tweet your own posts. To become a respected authority on Twitter, you will need to provide links to a wide variety of resources. But in a nutshell, more followers equals more traffic to your blog.

With that in mind, there are two key questions to address:
How do I get more followers?
How do I maximize traffic to my blog via my tweets?
Today, we have a list of 5 resources that you can use to address those two questions.
Step 1 – Finding Followers
It is a well-known fact that a percentage of people that you follow will follow you back. That percentage will vary based upon a number of factors, but we are concerned with just one – relevance.
In trying to build your own follower base, you must make sure that you are targeting people who are relevant to your blog's niche – i.e. people who will be interested in your content. Following 100 people per day in the gardening niche, when your blog is about cars, is not going to produce results.
So how do you go about finding relevant followers? There are plenty of resources available, but today we are covering three of the best.
If you have been using Twitter for a while, you will be following most of the big players in your niche. But if you are not, you should be. Finding these guys is a piece of cake with We Follow. Just select a category or type in a search query, and related Twitter users will be displayed by order of influence, or followers. Take this search for SEO as an example: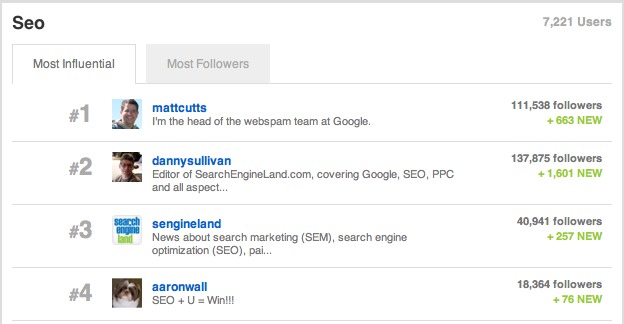 If your blog focuses on SEO, It is a safe assumption that the followers of these guys will also potentially be interested in your content. So all you need to do is manually follow them. It is likely that a healthy percentage (somewhere between 20-40%, based upon our research) will follow you back.
Another way of finding likeminded people is to perform searches on Twitter. Say you were in the gardening niche. You might choose to search for tweets that include the keyword "gardening". But forget using Twitter search then manually adding followers – ManageFlitter can save you a whole lot of time.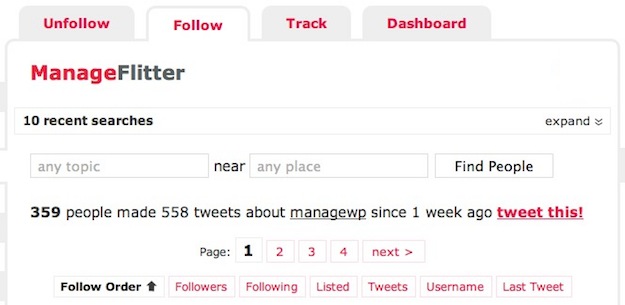 Just sign up for the service – the majority of its functionality is free to use. Hit the "Follow" tab at the top of the page and enter your search term. ManageFlitter will present you a list of all Twitter users who have recently posted a tweet featuring your chosen keyword. You can then add these users with just a few clicks by hitting "Quick Edit", selecting the users, and then hitting "Follow":

The other invaluable tool that ManageFlitter offers is the ability to unfollow those who are not following you. This is something that you will need to do on a regular basis, because once you get to 2,000 followers, Twitter will only allow you to follow more people if the number of people following you is higher.
Just Tweet It is a growing directory of Twitter users, sorted by category. So if your blog is in the social media niche, you just need to click on the relevant category and start following the people who are listed.
As far as we are aware, there is no way of mass-adding Twitter users with this service, so it is somewhat time-consuming. However, it does offer you a tailored list of likeminded Twitter users, which can't be a bad thing. Also, you should consider registering yourself in the directory to boost your chances of being followed.
A Quick Word About Mass-Adding
Twitter frowns upon those who add and remove too many Twitter users on a regular basis. However, there is far too much paranoia amongst many of those who fear that mass-adding and mass-removal is a death trap.
Twitter is looking to penalize people who use Twitter as a method of spamming people. If you are providing value by offering insightful tweets, and links both to your blog and others', you are unlikely to be penalized. As a best practice, we recommend that you add and remove no more than 200 people per day. It is of course up to you to decide how conservative or speculative you want to be.
Step Two – Tweeting For Traffic
Twitter offers huge potential for anyone looking to boost traffic to their blog. And although you can start sending traffic to your blog from Twitter today by throwing up a few tweets here and there, a more deliberate strategy will result in a far better result. Here are the two  tools you need to in order to maximize Twitter traffic to your blog.
Tweriod's concept is both simple, but extremely useful. Sign up to the free service, and in a short space of time, Tweriod will analyze your followers' most recent tweets to find out when they are active. Using that data, it will provide you with a graph showing the optimum times to tweet.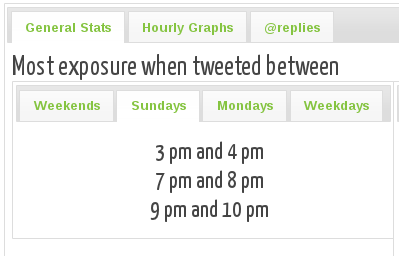 Based upon our research, there can be a 50% swing in the number of Twitter users online, depending on what time of day it is. This means that you can reach twice as many people if you tweet at the right times.
But who wants to wait for the optimum time to tweet, right? Well, there is absolutely no need to with Buffer. This free service (with extra feature available with a monthly subscription) allows you to "buffer" your tweets, based upon times that you set.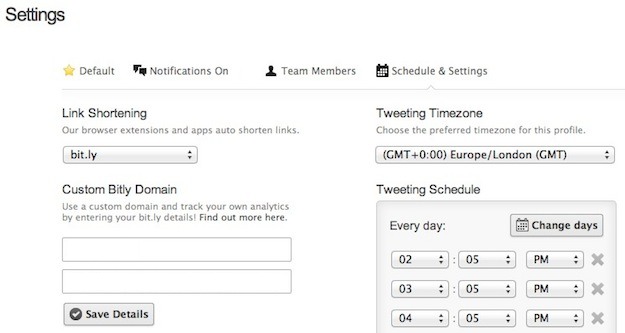 Tweriod and Buffer combine beautifully to allow you always tweet at peak times. Simply decide upon the number of times you would like to tweet on a daily basis, determine which times are best using Tweriod, then set your Buffer accordingly.
Is That All There Is To It?
The fact is, social media is more of an art than a science. However, Twitter's format as a social network gives us a unique opportunity to stack the odds in our favor through methodical processes.
Although we can say a lot more about good Twitter strategy (and I am sure that we will in the future), the basic nuts and bolts are all contained within this article. Attract more followers, tweet links to your blog at optimum times, and the traffic will flow.
Do you use any of the tools above, or will you be doing so now? What are your experiences with finding more followers and tweeting at optimum times? Let us know in the comments section!
Creative Commons image courtesy of null0