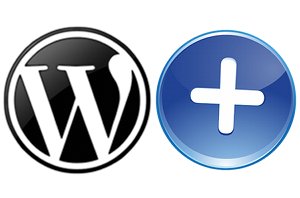 It's time for part 2 of our "features that should come as standard in WordPress" series! If you caught the first installment, you'll know how to boost the power of the WordPress text editor, as well as customize and monitor your site's search engine, amongst other things.
If those tips were enough to whet your appetite, we have another 4 for you this time around. Enjoy!
1. RSS Feed Image Alignment
This is a problem that you may not have even noticed, but was a real bugbear of mine before I found a solution.
If you float images to the right or left of text on any webpage in your WordPress site, any CSS alignment you set will be removed in RSS feeds. The end result is that articles in RSS readers do not display as you intend them to be seen.
The solution is simple with Align RSS Images. The plugin restores all of your image alignment automatically – all you have to do is install and activate it.
2. Navigation Page Exclusion
There can be many reasons for wanting to create pages that shouldn't display in your site's navigation bar. Personally, I wanted to create some newsletter-specific pages.
Regardless of the reason, WordPress does not offer you the option to exclude pages from the navigation bar. As the theme of this series dictates, your savior comes in the form of a plugin – Exclude Pages From Navigation. Once it is installed and activated, there will be an additional checkbox in your "Add New Page" screen.

Simply un-check the box, and a link to the page will not appear in the navigation bar. Simple!
3. Widget Exclusion
Sometimes, you don't want a particular widget to display on all of your webpages. For instance, you might have a welcome message in your sidebar that you only want to display on your homepage. WordPress does not offer you a means of doing so.
However, Widget Logic does. Similar to Exclude Pages From Navigation, this plugin inserts a little option into your widget screen: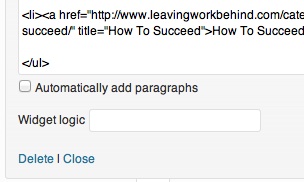 All you need to do is use WordPress' conditional tags to set when the widget in question should appear. For instance, if you wanted the widget to appear on the front page only, you would put "! is_front_page()" in the field pictured above.
4. Category/Tag Merging
Categories and tags can get out of hand very quickly, and a regrettable necessity for any diligent web developer is the occasional management of them. This usually means the merging of multiple taxonomies – for instance, it is all too easy to find that you have multiple tags with the same meaning, such as "blue widgets", "Blue Widgets" and "widgets (blue)".
If you take a moment to install Term Management Tools, your category and tag management will be a lot easier. Merging taxonomies becomes very simple: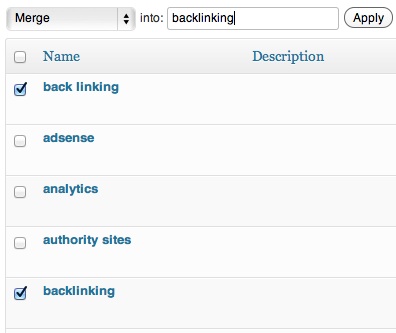 This plugin works best when combined with Quick Page/Post Redirect, which was covered in the previous post. After all, you wouldn't want to cause any 404 errors, would you?
So there's another 4 plugins for you that I know are particularly useful to a lot of WordPress users. Although WordPress does have its shortcomings, WordPress is, without question, the world's greatest content management system.