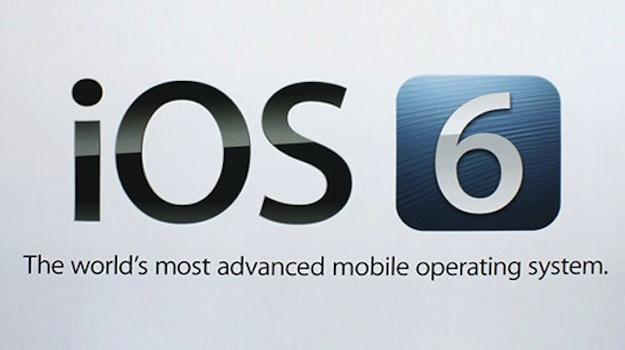 A few weeks ago I wrote a post on Mac apps I use for WordPress publishing. Since we have just released the awesome (if I do say so myself) ManageWP iOS app, I thought that it would be timely to publish a roundup of the top iOS apps for WordPress bloggers.
Whilst the iOS platform is not well-served in terms of apps that are specific to WordPress (with the official WordPress app and our own offering being the only two), there are still a few apps out there that you can use to boost your mobile blogging efficiency.
Let's take a look!
It makes sense to start with the official WordPress app. It received a major facelift in August which has made it a far more viable option for creating and editing content on the move: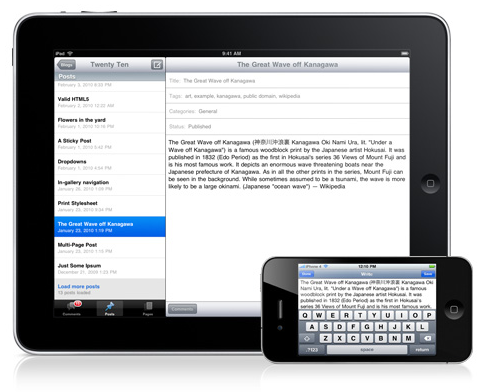 With the WordPress iOS app you can:
Create and edit posts
Add images and videos
Moderate, edit and reply to comments
Share your location when publishing posts
Analytics (with Jetpack installed)
It also gives you direct access to your desktop dashboard, should you need to carry out more advanced tasks.
I'll be honest with you — the iPad experience is far superior to the iPhone/iPod. Whilst the app offers the same level of functionality across all platforms, the iPad's size really lends itself well to the depth of functionality on offer.
Having said that, the WordPress iOS app is pretty damn slick regardless — if you own an iOS device, you should have it.
Whilst Evernote is by no means a "blogging" app, I find it absolutely invaluable as a blogger. It is where I store all post ideas for the blogs that I write for. Each blog gets its own folder and each post idea gets its own note.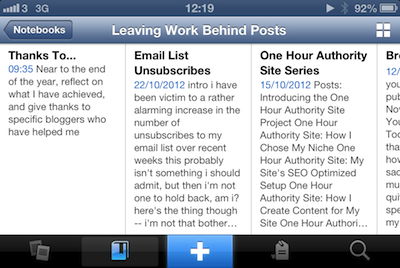 One of the main reasons I use Evernote for this is because I can add and edit content from anywhere. I tend to get a lot of ideas when I am away from my laptop — whether it be on a train or in bed — but I always have my trusty iPhone with me.
Evernote syncs your data via the cloud, so any pearls of wisdom you make a note of on the road will be ready for you when you get home. Its absolutely invaluable for me as a blogger.
If you're not a fan of the WordPress iOS app's post screen and are in search of a superior alternative, you will almost certainly like Blogsy:
This app boasts WordPress integration, drag and drop editing, and a plethora of formatting options: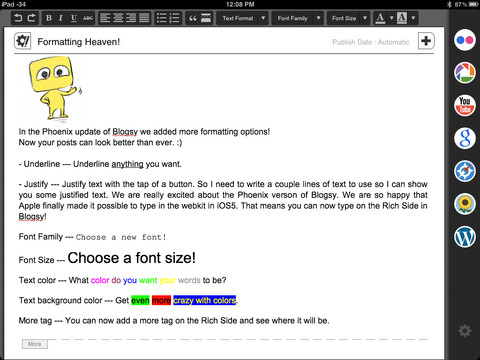 Because of the depth of functionality, Blogsy is an iPad only app. To be fair, you would struggle to get anything done with this app on an iPhone — there's just too much going on.
Blogsy's advanced features do come at a cost — at the time of writing it will set you back $4.99. Hardly a hefty price to pay if you are in look of a mobile blogging solution.
If you like the look of Blogsy but need something for your iPhone or iPod, BlogPress is the next best thing: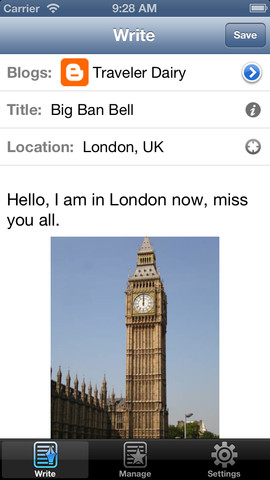 Whilst it isn't as feature packed as its iPad-only bigger brother, it offers a simple solution for those blogging from smaller devices. The interface is simple and intuitive, and if BlogPress delivers on your needs, it is also available for the iPad.
What Apps Do You Use for WordPress Blogging?
As I alluded to at the beginning of this post, blogging apps are pretty rare. As WordPress users we have pretty slim pickings. Having said that, an embarrassment of choice is not always a good thing — the above apps (along with the ManageWP app of course) are all I need in order to run my WordPress blog on the go.
But what about you — what apps do you use to help you with your blogging? Anything that I haven't mentioned above? Let us know in the comments section!