You want more subscribers to your blog. That is ultimately what it comes down to.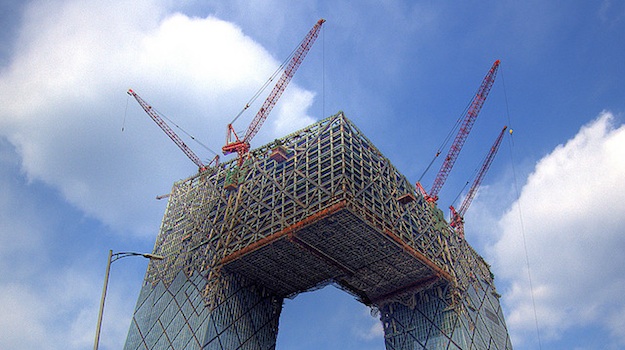 You want more subscribers to your blog. That is ultimately what it comes down to.
You may already be savvy enough to understand that popular metrics such as visitors, bounce rate, and time on site aren't the most appropriate markers of a successful blog – subscribers are. However, you may also be frustrated by your apparent inability to build a sizable email list.
It's likely through no fault of your own. In past months I have trawled through a mire of endless misinformation, looking for the basic steps required to effectively build an email list. All I ascertained in that time was that list building is apparently extremely complicated.
It is only recently that I have come to understand how straightforward list building can be for bloggers. Now it's your turn.
The Solution is the Problem
It has been demonstrated time and time again that email subscribers are the highest quality form of lead when it comes to blogging. They are the most invested, and the most eager to buy. Facebook fans, Twitter followers and RSS subscribers pale in comparison.
The problem is that list building is viewed by many as a complex and nuanced process, bordering on an art form. You get RSS subscribers by sticking up a link, then sitting back and waiting. Facebook and Twitter followers are borne out of social interaction (which can actually be a whole lot of fun). But when it comes to list building, you apparently have to follow a complex and arcane strategy.
I am here to tell you that list building can be easy.
The work put into building an email list adheres to the Pareto Principle – 20% of the work you put in will produce 80% of the results. Get the basics right and you'll be set. Unless you have a huge amount of traffic coming to your site, spending any more time on increasing conversion rates will simply not be worth the investment.
So instead of focusing on the minutiae of list building, let's focus on the reasons why everything you know about list building is wrong, and the simple and fundamental adjustments you can make to start building a quality email list today.
1. Signups Should be Your Primary Concern
Here is a simple fundamental of blog design – nothing should get in the way of your email list signups. I cannot stress that enough. Your primary aim should be to convert visitors into email subscribers. Whilst you should accommodate the people who will never sign up to your email list (as they are of value too, albeit far less), doing so must not detract from your primary focus. Blogs that make a huge deal out of their social media networks at the expense of their email list are making a huge mistake.
Take a look at Think Traffic, which re-launched with a brand new design just a couple of days ago: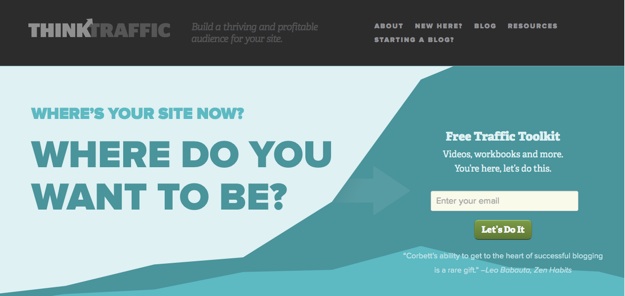 I am willing to bet that this design does a fantastic job at converting visitors into email subscribers, and that is largely down to the fact that visitors have little else to do above the fold than sign up.
Don't be afraid to scare a few people off by making email list signup a big deal on your blog. Such people were probably never likely to be of value to you anyway. There is nothing wrong with a little ruthlessness, so long as you are working passionately to provide value to your true fans.
In practical terms, place signup forms in the following places at a bare minimum:
Above the fold on your homepage
In your sidebar
At the bottom of your posts
In your About page
In terms of alternative and/or additional placements, just bear this in mind – at any point on your site where a visitor is likely to be engaged with your content, they should be presented with the opportunity to sign up.
2. You Don't Need to Create Something for Your List
It seems like every blogger out there will tell you that you need to create an incentive for your list in the form of an eBook, video course, or some other kind of information product.
Here's the problem – doing so takes time. A lot of time. I personally spent 20+ hours creating a keyword research guide for my own blog. Was it successful? Yes. Did people like it? Yes. Do I still offer it as an incentive to join my email list? No.
Why? Because I don't want people to join my email list to get a free product. I want them to join my email list because my blog resonates with them and leaves them wanting more. Most bloggers are utterly obsessed with the number of subscribers, but the quality of your subscribers is actually far more important. You don't want freebie grabbers on your list – you want people who are genuinely engaged with what you have to offer.
Furthermore, we're focusing on quick and easy steps to building your list. Spending weeks putting a free product together is neither quick, nor easy.
You may be skeptical – I understand. Maybe this will convince you: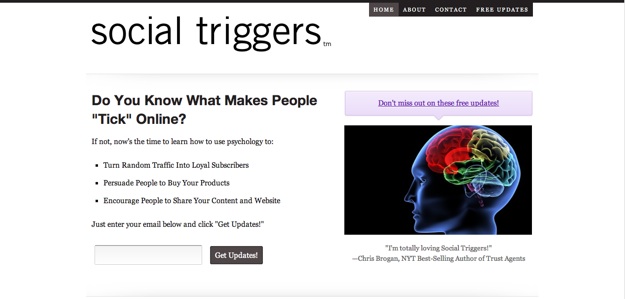 That is Social Triggers – an enormously popular marketing blog, with thousands and thousands of email subscribers. They're not subscribing in expectation of a free product – they are subscribing because what is promised aligns with what they want. Derek Halpern does a great job of advertising what his blog has to offer, and that is all you really need to do.
The only people you want on your list are those who are interested in your content. When it comes to advertising your email list, clearly and concisely state what your blog's unique selling point(s) are, and your target audience will sign up. It's that simple.
3. You Don't Need an Autoresponder
The problem with autoresponders is that most bloggers think that they need to have one. I certainly did – in fact, I launched two completely separate autoresponder series to the same list over the past 12 months.
Now I don't have one at all (with exception to my welcome email). Why? Because I am a blogger, not an email marketer. My best content should be on my blog – not in email form. My list gets to find out as soon as I produce new content on my blog, and they get to read it along with everyone else.
Ultimately, people care far more about how valuable the content they read is, as opposed to whether or not other people are getting it. Whilst it is true that you can potentially improve conversion rates by promoting the concept of scarcity – "join my list to get stuff you won't find elsewhere! – is the time it takes to produce that content worth the theoretical return? I say no. Having a split content focus between your blog and your email list is messy, complicated, and unnecessary.
4. You Must Engage
Bloggers are often mistaken in thinking that building an email list is a passive affair, but that is a fatal misunderstanding. Sure – you're not going to converse with every single subscriber on your list, but you absolutely do want to engage with each and every one of your potential evangelists.
By evangelists I mean the people who will go out of their way to promote your blog on your behalf. Such people are extremely beneficial to have on your side, but for the most part they do not simply appear – you have to "develop" them. That is where engagement comes in.
Here's a very simple trick – in the welcome email you send out to new subscribers, ask them to get in touch with you. Ask them to explain what they are struggling with. Ask them a pertinent question of some kind. Here's what I send out in my welcome email: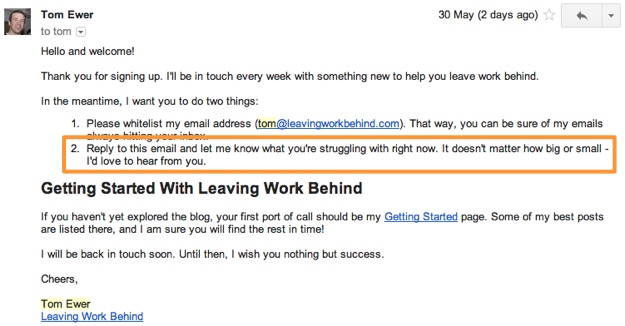 The people who reach out to you after your welcome email are the most engaged. Not only have they signed up to your list, but they have taken the time to email you. They're your future evangelists. Engage with them, and you will reap the benefits.
5. The Key is in Referral Quality
Many bloggers make the mistake of thinking that low conversion rates are down to poor onsite optimization, but that is not always the case. You could have the most beautiful design in the world, but if you are attracting visitors that have no interest in your subject matter, your conversion rates will be woeful.
This is one of the reasons why the number of visitors to your blog isn't particularly relevant – the quality of your visitors is. You should be looking to attract the most relevant and pre-engaged visitors that you possibly can. This is why guest posting is such an effective form of blog promotion – most people who click through to your site from a guest post are already half way towards making the decision to subscribe.
If you have prominent signup forms on your site, don't go into optimization overdrive in an attempt to improve your conversion rates. Keep it simple, focus on the benefits of signing up in your copy, then move onto increasing the number of quality referrals to your site.
Remember – you don't want any old subscriber to join your list – you want highly targeted people. A subscriber is only of worth if they are actually interested in what you have to offer.
Keep it Simple
Creating a successful blog is often made out to be so complicated, but the basic fundamentals are remarkably straightforward:
Have a clear message
Know who you are targeting
Create great content for your target audience
Drive quality traffic to your site
Make the benefits of signing up clear
Make sure that they do not miss out on the opportunity
Engage with your future evangelists
How effectively you cultivate your email list has a huge impact on the success of your blog. If you focus on the above principles, you will be able to build a quality list in a fraction of the time it would have taken you if you had followed conventional wisdom.
Creative Commons image courtesy of Jakob Montrasio