Email is definitely not perfect and is one of the rare modern technologies that has not progressed much since it's inception.
I spend a lot of time every day in my Gmail account. Often I spent more time with email than with my family. That is definitely not good and luckily I was able to find a few tricks that help me cut the time spent with email. Using these simple tweaks you can save 3-4 hours of your time every week. All of these tips work with Gmail.
Gmail Labs Tweaks
You can find these tweaks under Gmail Settings, under the Labs tab. There are a lot of gems here and I will cover those I think help the most.
1. Auto Advance
Automatically shows the next conversation instead of your inbox after you delete, archive, or mute a conversation. Saves tremendous amounts of time when browsing through inbox.
2. Canned Responses
Save and then send your common messages using a button next to the compose form. When you often send similar emails this makes a huge difference in the amount of time it takes to write an email.
3. Default 'Reply to All'
Make 'Reply to all' your default option for responding to emails. This is usually what you want to do when the email includes several people.
4. Send & Archive
Adds a button to the compose form that lets you send a reply message and archive the email conversation in a single action. Clever and powerful tweak.
5. Undo Send
Stop messages from being sent for a few seconds after hitting the send button. This is by far my favorite tweak. It saved me millions of times. With the latest version you can specify how many seconds you can have the Undo option available before the message is finally sent.
Rapportive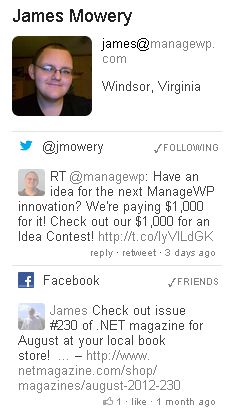 This brilliant browser add-on is available for free at rapportive.com and works in both Chrome and Firefox.
It gives you all information about the person you are communicating with it. You can also check their social media profiles and updates and connect to them directly. One option I check often is the direct link to their LinkedIn profile.
One area this truly shines in is for customer support or business development emails where you instantly  get a much better feeling of the person and their 'space'.
Rapportive is definitely an example of much needed email innovation.
Filter Messages
Unwanted messages in your inbox represent one of the biggest time wasters. Gmail already does a pretty good job at controlling spam, but how about messages you get from your own sources like reports that you don't need?
Next time when you receive such a message, remember to use Gmail's "Filter message like these" feature. This will allow you to create a quick filter with the sender email and perhaps subject of the email and instruct it to mark this and any further similar messages  as read, skipping the inbox.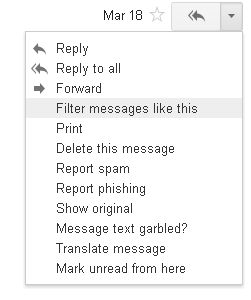 I hope you enjoyed these tweaks and if there is anything else that you use please share it in the comments.