Let's start with an obvious statement – comments are extremely important to most bloggers. They provide social proof, increase reader engagement, and if nothing else are a whole lot of fun. There is nothing quite like the feeling of sparking a healthy debate on your own blog.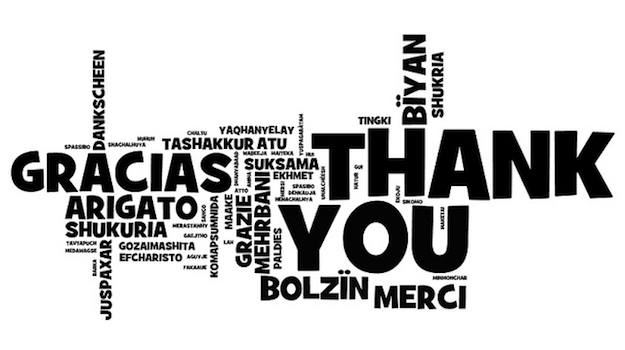 Let's start with an obvious statement – comments are extremely important to most bloggers. They provide social proof, increase reader engagement, and if nothing else are a whole lot of fun. There is nothing quite like the feeling of sparking a healthy debate on your own blog.
In fact, commenting is seen by many new bloggers as a major yardstick of success. Comments represent validation – proof that your content is being read and enjoyed.
But a lot of bloggers don't recognize that commenting is evolving at a rapid pace. With the explosion in popularity of social media over the past few years, conversation has started to spread out over multiple platforms. Many of your readers would rather share their thoughts with their own audience (i.e. their followers) than with just the readers of your blog.
This is both a blessing and a curse – those who are willing to spread the word should be coveted, but their propensity to take the conversation away from your post may leave your comment count looking rather modest.
If You Can't Beat Them, Join Them
Most experienced bloggers will anecdotally argue that commenting isn't as popular as it once was. We would argue quite the opposite – commenting is perhaps more prevalent now than it ever has been. It's just that the conversations are taking place over multiple mediums.
The evolution of blog commenting represents a huge opportunity for savvy bloggers. Rather than bemoaning the low comment counts on your blog posts, you should embrace the conversations that are taking place all over the web, and seek a way to consolidate them wherever possible.
Your readers will ultimately decide how they want to share and discuss your content – it is up to you to accommodate their desires as best as possible. Doing so effectively can lead to all of the things a blogger loves – increased engagement, more traffic, and more readers.
Your Options
There is a problem when it comes to implementing a system that will maximize the potential of your blog comments – there is far too much choice. This leads to analysis paralysis – you are more likely to make the wrong choice out of frustration, or even no choice at all.
So we need to narrow down that selection in order to make an educated decision. First, we should consider who we are choosing the system for. There are essentially two groups of people we want to target:
Your "typical" blog commenters – i.e. those who have commented in the past. They are more interested in commenting on your post than sharing their thoughts on social media outposts. You do not want to alienate this group.
Fresh blood – those who might typically mention or discuss your posts via social media outlets who can be drawn into the conversation on your posts, and followers of those people.
If you consider the above two groups, you can quickly determine a set of criteria:
Multiple login options (Facebook, Twitter, anonymous, etc)
Full social integration between Facebook/Twitter and comments
Simple and intuitive notification system
Realtime comments stream
Whilst there is an abundance of choice, two pack leaders emerge when you apply the above criteria to the available options – Disqus and Livefyre. And from those two, we believe the clear winner is Livefyre: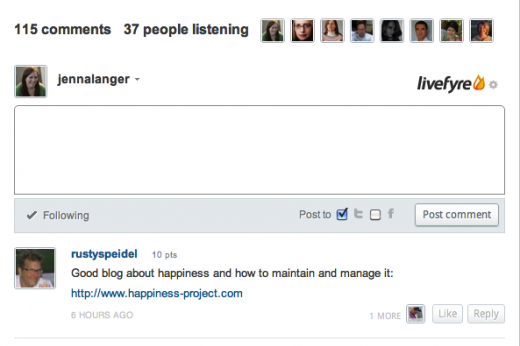 But don't just take our word for it – popular opinion appears to be on our side. Just google "Livefyre vs. Disqus" and see where the majority of conclusions lie.
How Livefyre Changes Commenting
If you are not familiar with Livefyre, here is a rundown of the key features:
Simple subscription and notifications system
Realtime commenting
Mobile commenting
User profiles
3rd party account sign in
Post comments to Facebook and Twitter
Pull related comments from Facebook and Twitter into your posts
Realtime spam protection
Tag commenters and Facebook/Twitter profiles
And if that doesn't convince you, here is a select list of online blogs that use the system: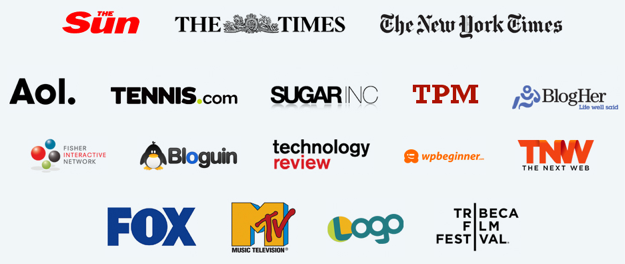 Livefyre essentially acts as a hub for all interaction relating to your blog posts. Anyone can sign in via a number of methods. You can invite people into the conversation through tagging. The system will automatically pull in conversations from 3rd party content sources and add them to the comments stream. Commenters can easily keep up to date with the conversation via notifications. And last but certainly not least, highly effective spam protection prevents your comments stream from being polluted.
Time For Change
If your blog has been subsisting on the standard WordPress comments system, it is time for a change. Even if you feel like Livefyre would be a step too far for you, there is plenty you can do to make the most of what you already have (stay tuned for more on that in next week's Quick Tip Tuesday post).
But in our humble opinion, Livefyre combines everything you need with which to maximize the benefits you can get from comments on your blog posts. You are really only limited by your imagination – promote your posts by mentioning thought-provoking comments on Twitter, tag people to bring them into the conversation, start a conversation on Facebook that will automatically be replicated in the comments stream…the list goes on.
Over To You
Before we turn this over to our own comments section for your thoughts, we should of course address the fact that we are currently using the Facebook comments system. It is something we are working on, but we tend to get rather wrapped up in trying to produce awesome new ManageWP features, so please bear with us!
With that said, tell us – what do you think of blog commenting? Do you share our opinion on how it has evolved? If you don't use Livefyre, are you planning on doing so? If not, why?
Creative Commons images courtesy of Mario Sundar and woodleywonderworks