When you're a website owner, the importance of consistently backing up your site cannot be understated. However, when you're a WordPress agency with dozens or even hundreds of sites to manage, this task becomes even more crucial and complex.
Fortunately, there are several solutions that you can use to safely and securely back up your entire portfolio of WordPress websites. From using a third-party service to installing a plugin, there are a few options you can choose from depending on your specific needs.
In this post, we'll start by discussing why website backups are important and why your needs are slightly different as a WordPress agency. Then, we'll explain some of the methods you can use to back up your portfolio of WordPress sites. Let's get started!
The importance of creating site backups
There are a wide variety of risks plaguing websites today. From accidental mishaps to targeted security breaches, the thought of something happening to one of your websites can be frightening. However, having a proper plan in place to protect your data and files can help minimize the damage if and when something does go wrong.
This is an important maintenance task for any website owner. However, it's especially crucial when you're an agency that manages a large number of sites for your clients. The last situation you want to find yourself in is watching all of your hard work disappear, or your reputation get hurt.
One of the best steps you can take as a WordPress agency is to back up your portfolio of websites regularly. Doing so ensures that you'll always have safe and updated versions of the sites to restore.
Whether it's due to human error or hacker activity, there's always a chance that something could happen to your WordPress sites. Not only can this result in your users being unable to access essential data and information, but it can also lead to issues such as loss of revenue and business.
The good news is that there are multiple methods you can use to back up your portfolio of WordPress sites. The best one to use will depend on a handful of factors, such as the number of sites you have and your budget.
How to back up your entire portfolio of WordPress websites (3 Ways)
Now that we've discussed why backing up your sites is so important, it's time to look at how you can go about it. Below are three methods you can use to back up your portfolio of WordPress sites.
1. Manually back up your websites
The first solution you can use to back up your WordPress sites is to do so manually. The upside to this approach is that you don't have to rely on a third-party tool or service, and you have a very high level of control over the entire process.
On the other hand, creating manual site backups can be a time-consuming process as well as a tedious one. Depending on the number of sites you have, this may take up unnecessary time and effort. Plus, there's also a risk that you forget to do it consistently.
That said, it can be a solid strategy if you can commit to performing backups on a set schedule. To manually back up your website, you will need to use a File Transfer Protocol (FTP) client such as FileZilla: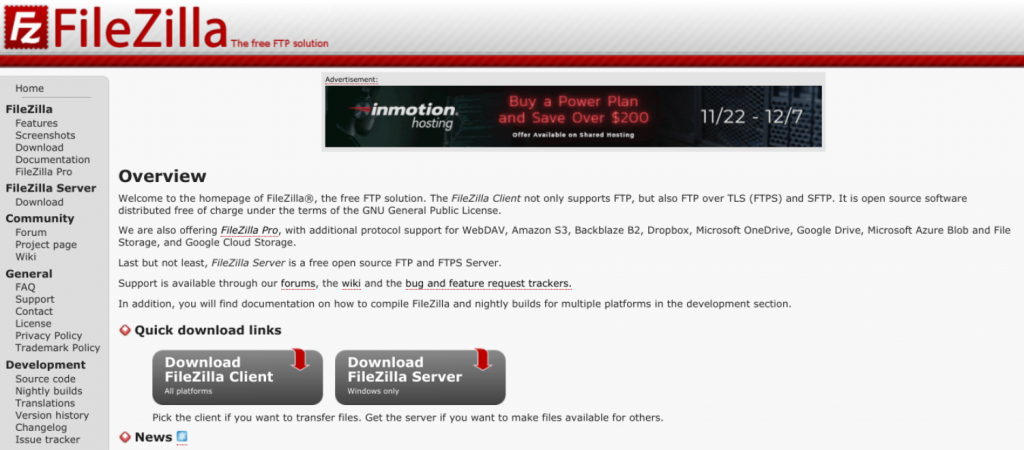 The next steps involve connecting to your server to download your site files. Once you're done, you can choose where to store your backups.
2. Install a backup plugin
Another popular and effective method is to use a backup plugin. This strategy can save you a lot of time and frustration over the manual approach. There are also a wide variety of tools to choose from.
One of the most reliable backup plugins is UpdraftPlus:

With this freemium tool, you can schedule your site backups and choose from a variety of platforms to store them. This includes Google Cloud Storage, Amazon S3, and Dropbox.
However, the obvious downside to this method is that it requires you to install a plugin, which isn't always ideal. For example, the more plugins you have, the more potential security vulnerabilities hackers can use to exploit your site.
If you're not interested in manually backing up your site and want to avoid installing a third-party extension, don't worry. There's a third option that you can use.
3. Use a service such as ManageWP
The third method (and the one we strongly recommend) involves using a professional service such as our ManageWP Backup feature. Our tool enables you to quickly and easily create automated site backups without installing a plugin.
You can establish a schedule for the backups, then enjoy the peace of mind that comes with not having to worry about handling them yourself. The backups are incremental, run off-site, and include a one-click restore feature: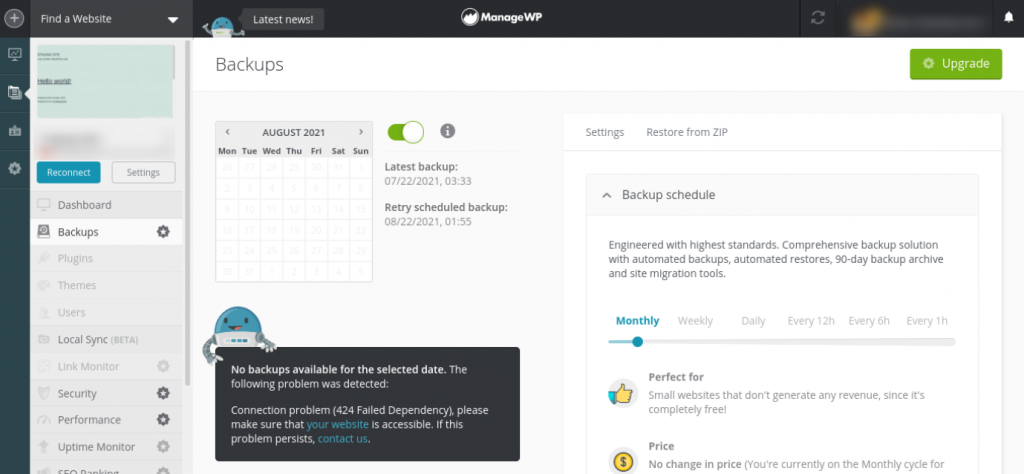 Our backup service is also offered in both a free and premium version. If you opt for the paid add-on, you get even more advanced features, including:
Cloning and migration
On-demand site backups
Option to download backups to your computer
Multisite network support
The premium backup tool starts at $2 per month. However, as an agency, you can purchase our bundle option for just $75 per month for up to 100 websites. You can get started by signing up for a free ManageWP account!
Conclusion
Maintaining a regular backup schedule is one of the most essential WordPress website management tasks. This is especially true when you're an agency tasked with managing a portfolio of sites for your clients. Therefore, it's crucial that you have a reliable backup strategy.
As we discussed in this post, when it comes to backing up your WordPress sites, you have three main options:
Manually back up your sites, which gives you a lot of control but can be a time-consuming process.
Install a reliable plugin, like UpdraftPlus, and schedule your backups.
Use a professional service such as our ManageWP Backup feature, which is ideal for creating automatic site backups.
Do you have any questions about backing up your portfolio of WordPress sites? Let us know in the comments section below!
Image Credit: Pexels