If funds are flooding into your WordPress agency, then you're off to a good start. However, simply generating revenue isn't enough – you'll also need to manage your cash flow.
Fortunately, there are ways to ensure that your profits are translating into a positive cash flow. By following some simple steps, you should be able to have enough funds on-hand to invest in your WordPress agency and grow your business.
In this post, we'll take a closer look at cash flow and how it can impact your business. We'll then share three tips for placing your agency in a strong financial position. Let's get started!
An introduction to negative and positive cash flow
Cash flow refers to the movement of money in and out of your business. Companies typically use cash flow to cover their day-to-day operating costs. For example, you might use these funds to pay your staff or contractors.
Although they're related, cash flow is a bit different from your income and profit, as these follow accrual accounting principles. This means income and profit typically match revenue to when you delivered the related products and services. In this way, your net income and earnings can be different from your cash flow.
A positive cash flow indicates that, after deducting all of your expenses, more money is coming into your business than going out. You might use this cash reserve to grow your WordPress agency. For instance, you could launch a new marketing campaign, upgrade your software, or hire more staff.
By contrast, if you spend more money than you make within a specific time period, you'll probably wind up with a negative cash flow. This indicates an imbalance between your expenditures and your income.
There are some scenarios where a negative cash flow is almost inevitable. For instance, launching a new product, opening a second office, or starting an entirely new business all require a significant upfront investment. Even with lots of hard work and effort, it may take time to generate enough cash to offset your initial input. This can result in a negative cash flow.
Why cash flow is important
As an agency owner, it's vital that you learn how to manage your cash flow. Even if you have enough funds to cover your expenses, a negative cash flow makes it more difficult to invest in activities that could potentially grow your WordPress agency.
This financial issue doesn't just impact you as a business owner. There may be third parties who have a financial interest in your agency, such as shareholders or investors. Without a positive cash flow, you may struggle to provide a good Return On Investment (ROI) to these people. This can damage your relationships and make it more difficult to secure financial investments in the future.
When facing a negative cash flow, many businesses fall into the trap of cutting their marketing and advertising budgets. While this can help slash your operating expenditure in the short-term, it could potentially stunt your company's growth and lead to serious long-term financial implications. Thus, it's important that you find an effective way to manage your money without putting your agency's future at risk.
3 ways to improve your WordPress agency's cash flow
Cash flow woes have the potential to completely derail your WordPress agency. Let's look at the three things you can do to ensure that you have plenty of funds left over to grow your business and help your agency reach its full potential.
1. Reduce your churn rate
Churn is the rate at which clients stop doing business with your agency. For example, a customer may fail to renew their contract or requests a refund.
According to Harvard Business School, you can boost your profits by up to 95 percent simply by reducing your churn rate by as little as 5 percent. Thus, this strategy is worth exploring.
When a client sees that you're delivering tangible benefits month after month, they're less likely to abandon your agency. This is where client reports come in. By opting for a tool such as ManageWP, you can generate comprehensive reports that clearly demonstrate the value you provide to your customers: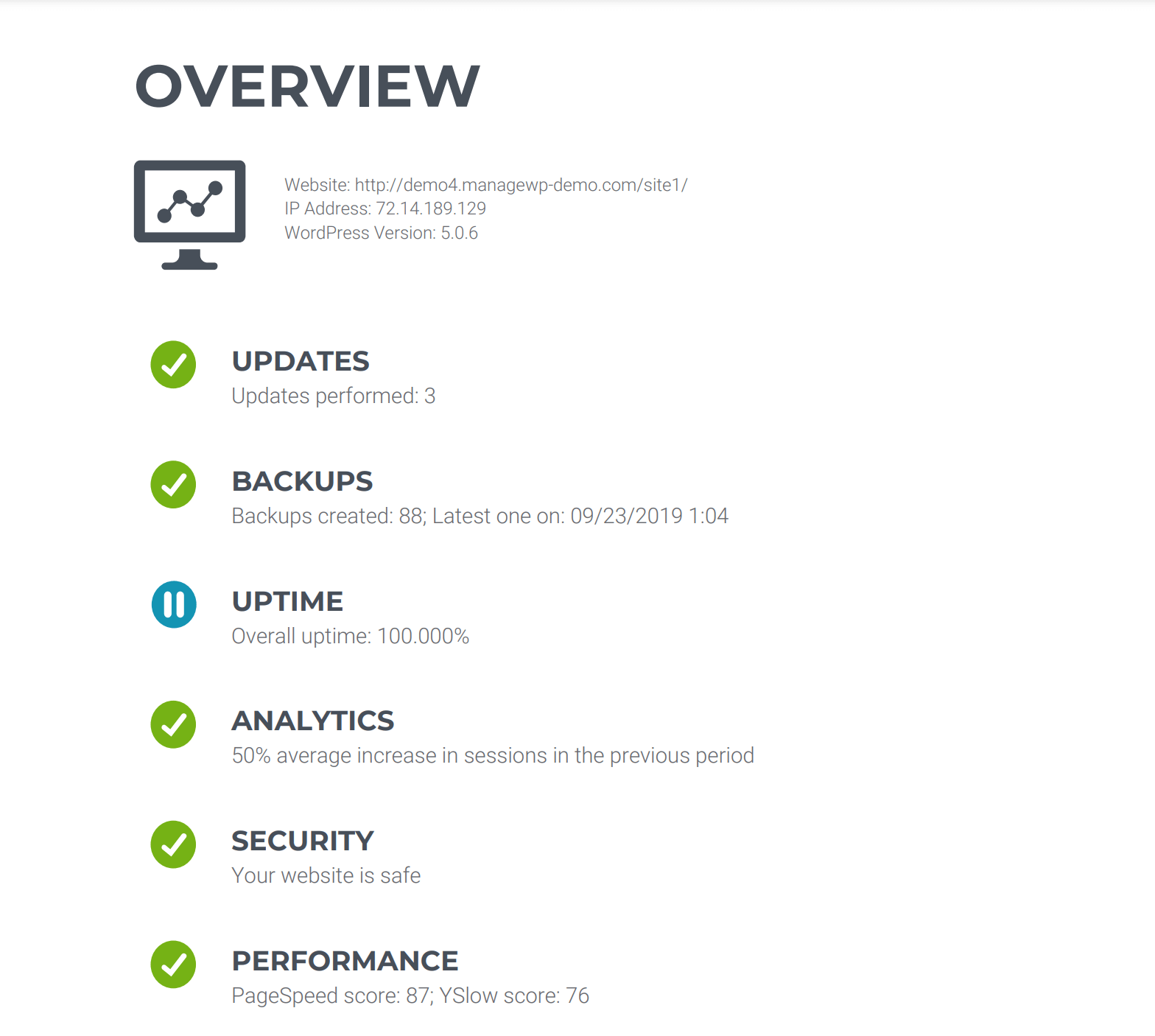 The quality of your customer service can also determine whether a client sticks with you or starts shopping around for an alternative. Interestingly, studies suggest that almost 70 percent of churn occurs due to poor service, and 91 percent of unhappy clients leave without making a complaint.
To keep your cash flow healthy, it's wise to take a proactive approach and ask your clients for their feedback. Many agencies use mail automation software to create a series of follow-up surveys: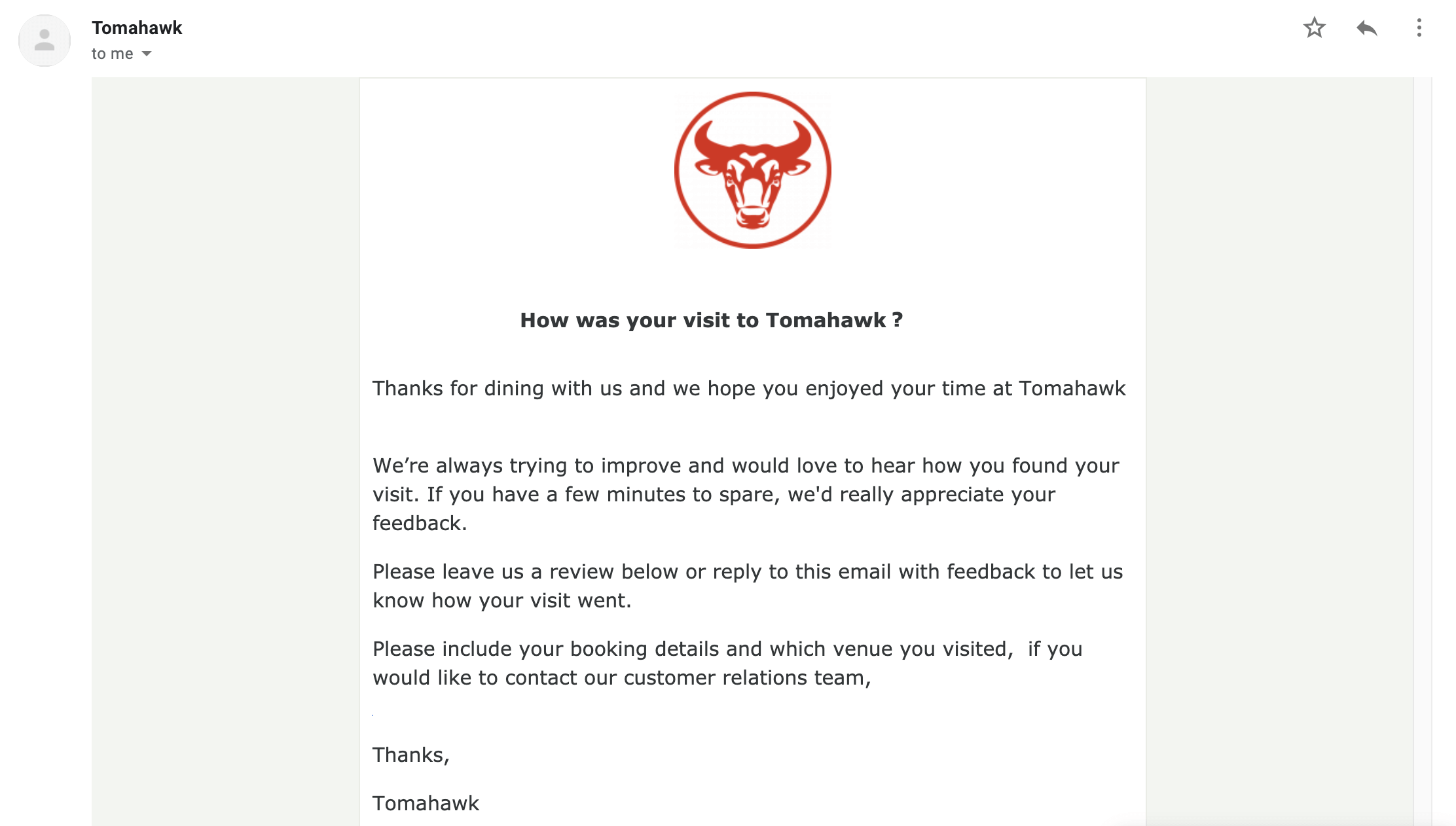 You might even offer an incentive for providing feedback, such as a discount, voucher, or entry into a prize draw. This can be useful for encouraging reluctant customers to open up and share their thoughts.
2. Upsell to your existing clients
Lifetime Customer Value (LCV) is the net profit contributed over your entire relationship with a client. Increasing this metric will mean more funds and a stronger cash flow.
One way to boost LCV is to create an upsell strategy. Selling to existing customers is typically easier than converting new prospects, as there's a pre-existing relationship and a level of brand awareness. In this case, upselling doesn't require a huge amount of additional money or effort, which is great news for your cash flow.
Brick-and-mortar stores often place related products together in an attempt to upsell. As a WordPress agency, you most likely promote your services online. However, you can still apply this technique. For example, you can group related services together on your product page.
Even better, you might bundle your services into a package deal. Everyone loves a bargain, so offering a bulk discount may be the key to selling multiple services with every transaction.
Upselling doesn't necessarily have to mean more work. By taking advantage of scheduling and automating, you may be able to sell additional services without increasing your workload. This can help you deliver a high ROI, which is perfect for balancing your cash flow.
3. Consider changing your pricing and payment cycles
If you're struggling with maintaining a healthy cash flow, then your pricing may be to blame. You may be charging your clients too little, which is resulting in a poor ROI. Alternatively, your prices may a bit too high, which can hamper your ability to attract new customers.
Thus, it's vital that you strike a balance between keeping your pricing competitive and being fairly compensated. To so this, you may need to spend some time exploring your finances and analyzing the market, particularly your closest competitors.
If you do decide to adjust your prices, then we recommend erring on the side of caution. A dramatic increase may put off your clients. Meanwhile, a huge discount may result in a sudden boost in sales but a poor ROI. It may also devalue the perceived value of your services, which will make it difficult to justify future price increases.
Additionally, you may want to consider your payment cycles. You can use incentives to push new customers towards the payment plans that promise the greatest benefits to your cash flow.
For example, if you've crunched the numbers and require a quick injection of funds, then you might offer a discount on your monthly plans for a limited time only. This can attract a large number of new clients and deliver the boost you need to re-balance your cash flow.
Conclusion
If your WordPress agency is going to survive, then you'll need to balance the money coming in with the money going out. In fact, if you can master your cash flow, you may be able to invest your funds into growing your business in order to generate more revenue.
Let's quickly recap three tips for setting up a positive cash flow:
Reduce your churn rate.
Upsell to your existing customers.
Consider changing your pricing and payment cycles.
Do you have any questions about how to improve your WordPress agency's cash flow? Let us know in the comments section below!
Image credit: Unsplash.