The secret to connecting with clients via social media in a more meaningful and mutually beneficial way? Follow and implement these tips to get on the right track with it!
Now, this is the updated version of an article that Will Morris wrote back in 2019 and, just like anything in life, this too needed an upgrade, so here goes 😊 Adding fresh and most helpful advice onto his original tips below.
You probably already know that social media can be a useful tool for helping companies grow. The problem lies in figuring out how you can use it to build meaningful connections and find more prospects for your development business. Where do you even start?
The good news is that there are easy strategies you can use to leverage social media as a networking tool. You can take advantage of social platforms to strengthen your relationships with existing clients, as well as to attract prospective ones.
In this post, we'll discuss how social media can be a powerful tool that helps you grow your WordPress development business. Then we'll provide you with four key tips you can use to connect with current and prospective clients on social media. Let's get started!
How social media can help grow your development business
Your WordPress website is a valuable marketing tool. However, it can only take you so far in terms of attracting new clients.
Incorporating social media into your marketing strategy can help you expand your reach and boost your brand's visibility. In addition to promoting your business, it can also be a useful platform for communicating with both current and future clients.
In fact, social media can help you grow your development business in many different ways. This includes:
Providing fast customer service and support
Building customer networks for generating feedback and discussions
Developing simplified, direct lines of communication
Boosting Search Engine Optimization (SEO) and driving traffic to your site
Improving your brand image and establishing authority and customer trust
In addition to elevating the discoverability of your brand, using social media can help strengthen your relationships with clients. After all, many people conduct research about a brand or business online before deciding to work with it.
If a potential client visits your social channels and sees your business interacting with followers and providing relevant, valuable content, that can enhance their first impression of your brand. Therefore, a strong social media presence is a key way to bring in new business.
4 tips for connecting with current and prospective clients via social media
Now that you understand some of the many ways social media can help grow your development business, it's time to learn how to use it properly. Let's take a look at four tips you can implement to connect with current and prospective clients.
1. Choose the social networks that your target audience is most active on
There are many social networks that you can join to connect with clients. However, trying to incorporate all of them into your marketing strategy can be a waste of time. Instead, it's better to focus on the select few platforms that are likely to generate the most results.
To do this, it's important to identify the social channels your target audience is most active on.
In order to know where they are, you need to know them well. And by well, I mean really well. Not just their demographics, but also preferences, interests, motivations, and pain points. This information will help you create a content strategy that resonates with them.
Conduct thorough research on your target audience. Create buyer personas that represent your ideal clients. Use tools like surveys, social media analytics, and customer feedback to gather insights. As you learn more, refine your personas to keep them accurate. Additionally, you can use tools such as BuzzSumo to research which platforms receive the highest engagement with specific types of users: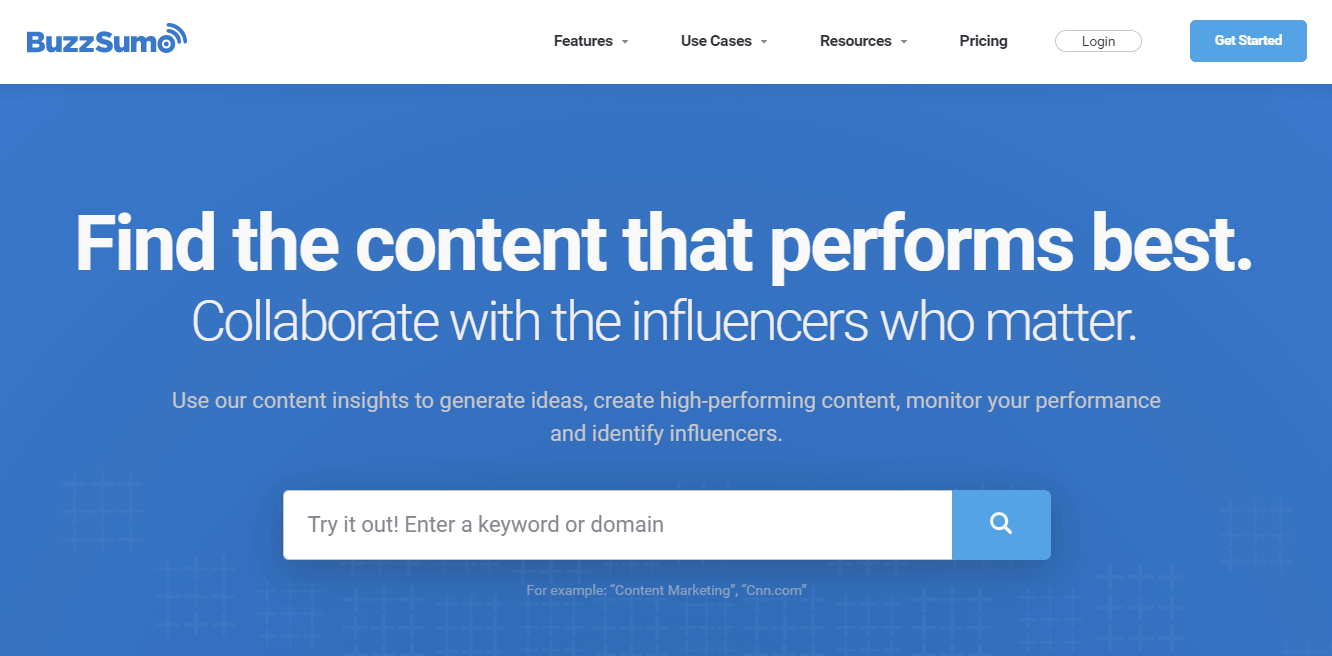 BuzzSumo offers insight into high-performing content and audience engagement. It can help you narrow down the platforms where your social content is most likely to help you develop quality leads. Additionally, it can be beneficial for generating content ideas.
To use this tool, enter a keyword phrase you're trying to target. Let's say you want to analyze the performance of content related to "WordPress development":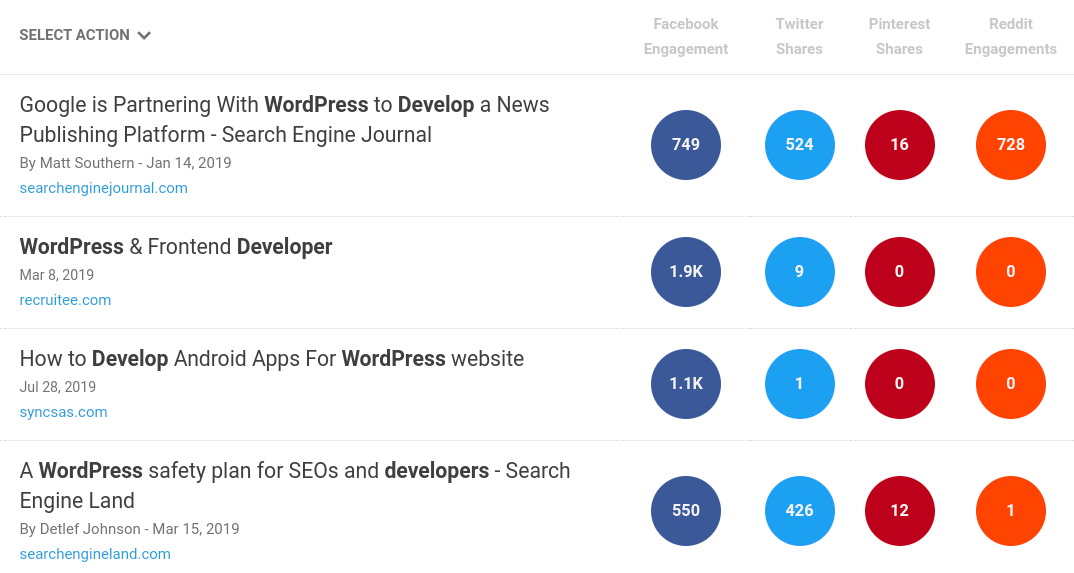 From this quick search, you can see that the top-performing articles on this topic get the most engagement on Facebook, followed by Twitter. On the other hand, these articles produce very few shares on Pinterest.
You can also use this tool to search by your domain name. The analysis will show you which pieces of content on your site perform the best, and on what platforms.
Once you identify the social networks your target audience is most active on, you can focus on developing a strategy for those channels. This is more efficient and productive than trying to establish a presence on dead-end networks.
2. Create social media content that is unique, relevant, and engaging
To build meaningful relationships with your clients on social media, it's important to create and share valuable content. But what exactly is valuable content? Valuable content is content that educates, entertains, solves problems, or meets the needs of your audience. It positions you as an authority in your field and encourages people to follow and engage with you.
Identify common pain points or questions your audience has and develop content that directly addresses these issues. For instance, if you're a WordPress developer, create content on what exactly you do to upscale your client's online presence through a safe and reliable website. Or, if you're a fitness coach, create videos on proper workout techniques or blog posts about healthy recipes. Aim to provide actionable takeaways from each piece of content.
The whole point of valuable content is to be unique, relevant, and engaging to your target audience and attract them to your brand. This includes not just informative blog posts you talk about on your social media channels, but also how-to guides, videos, infographics, and more. Address their problems and provide solutions.
There are a number of ways you can do this. For example, you can share blog posts that address common questions and concerns: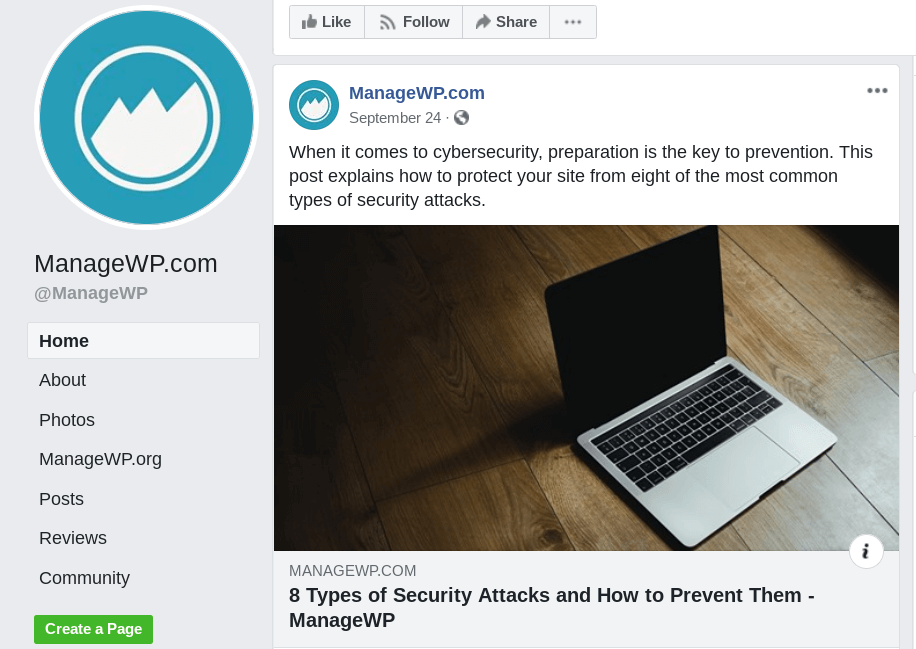 You can also use social media content to establish credibility and authority. Positioning yourself as an expert and demonstrating your knowledge and skills can increase trust.
Finally, you might consider sharing case studies and customer success stories. This helps to humanize your brand, and highlights the benefits of your services to prospects.
3. Post to your social channels on a regular basis
When it comes to social media content, consistency is key. Posting on a regular basis lets your followers know what to expect, as well as when to expect it. This can help increase trust as well as readership. Furthermore, consistency builds credibility and keeps your audience engaged.
It's one thing to say you're going to post frequently. However, sticking to this commitment can be challenging. As you get busy with your development projects, it's easy to let social media fall by the wayside.
To hold yourself accountable and prevent this from happening, it's helpful to create a social media schedule
and a content calendar outlining what and when you'll post. Decide on a posting frequency that suits your resources and the audience's expectations. Utilize scheduling tools to automate posts if needed. Consistency doesn't mean daily posting; it means setting a sustainable rhythm you can maintain.
You can do this by using a tool such as CoSchedule: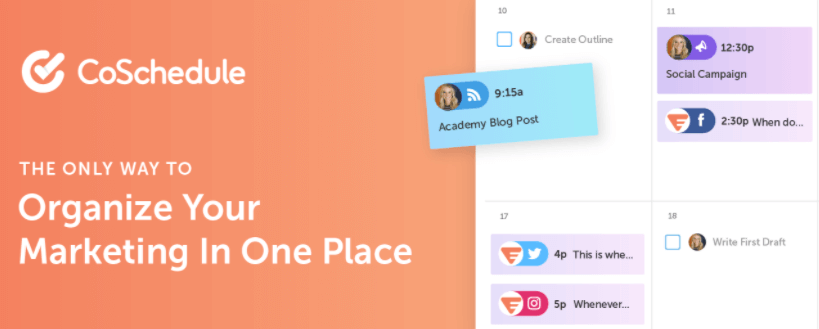 This free WordPress plugin includes a cross-functional calendar that unifies your content and social workflow. You can create, schedule, and publish posts directly from your dashboard: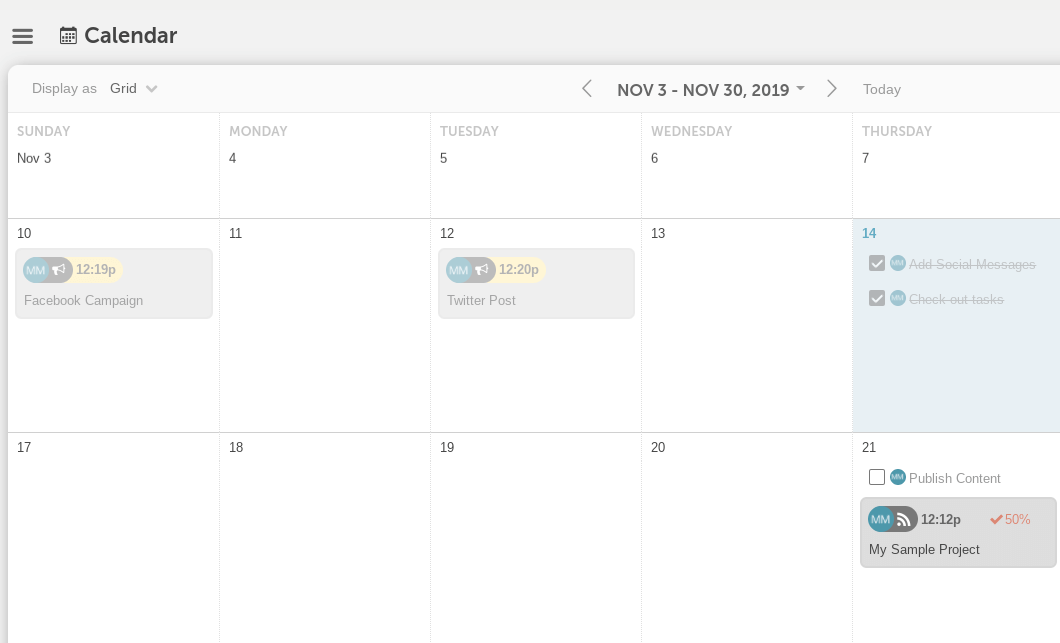 The only thing you need to get started is a CoSchedule account, which you can sign up for via the website. Once you create an account and start your first calendar, the plugin will enable you to automatically integrate it with your website.
4. Start and participate in discussions within your social community
Participating in social media discussions is an effective way to boost engagement and interactions. As an active participant in the social media community, you can build meaningful connections that can lead to new clients.
Interact with your audience authentically, genuinely, and truthfully. Respond to comments, messages, and mentions promptly. Show your brand's personality and be approachable. Authentic engagement means interacting with your audience in a genuine, human way. It builds trust and fosters a sense of community around your brand.
Don't just put our emojis or jargon phrases out there. Respond to comments with personalized replies, showing appreciation for their input. Pose questions in your posts to encourage conversations. Share behind-the-scenes glimpses of your work or personal experiences. If criticism arises, respond professionally and seek solutions.
In addition to joining existing discussions, you might also consider starting your own group. For example, you can create a Facebook group to offer a platform for customer feedback and support, gain new insights from followers, and develop an open dialogue: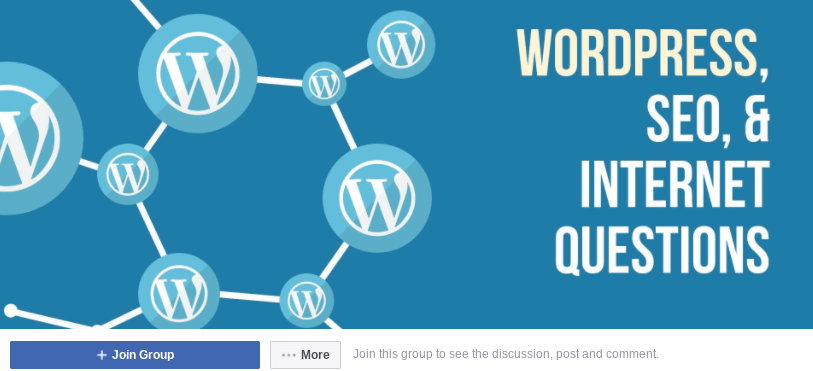 You can also use social media as a customer service tool. Quickly responding to questions and comments showcases your commitment to your existing clients, which can help paint you in a positive light to new prospects as well.
# Bonus tip: Incorporate SEO Copywriting on your Social Media Posts
SEO copywriting for social media involves creating content that not only engages your audience but also incorporates relevant keywords and strategies to improve its visibility on social media. This ensures that your posts reach a wider audience and attract users actively searching for topics related to your business on social.
When creating content for your social media channels, use SEO techniques. Include relevant keywords in your copy, image alt-tag (yes, Instagram has it!) to improve search visibility.
Start by identifying keywords related to your industry, products, or services. Think about what your target audience might be searching for. Use tools like Google Keyword Planner and Ubersuggest to help you discover relevant keywords.
Natural Keyword Integration. Incorporate your chosen keywords naturally into your social media posts. Avoid overloading your content with keywords; instead, focus on maintaining readability and delivering valuable information.
Compelling Captions and Headlines. Craft attention-grabbing captions and headlines that include your target keywords. Make them enticing and reflective of the content you're sharing.
Quick side note, SEO copywriting for social media is about finding a balance between optimizing for search engines and creating content that resonates with your audience.
Conclusion
Your clients are the lifeblood of your development business, so it's important to build meaningful relationships with them. When used correctly, social media can be an effective tool that helps strengthen your client connections and even create new ones.
As we discussed in this article, here are four tips for using social media to connect with clients:
Choose the social networks that your target audience is most active on.
Post to your social channels on a regular basis.
Create social media content that is unique, relevant, and engaging.
Start and participate in discussions within your social community.
Do you have any questions about connecting with past and potential clients on social media? Let us know in the comments section below!
Image credit: Pexels.