As an online business, it's important to establish your brand as reliable and trustworthy. However, finding opportunities to do so can be challenging. It's one thing to make claims about your credibility, and another to actually prove it.
Your website is often the first impression potential customers have of your business. It also presents the perfect opportunity to demonstrate your trustworthiness. Of course, anyone can create a website and publish content. To gain a loyal following and convert visitors into customers, you'll need to establish and exhibit credibility as well.
Fortunately, there are multiple strategies you can use to build audience trust through your WordPress site. In this article, we'll share five of the best tips you can use. Let's jump right in!
Why building trust with your site's users is important
As the saying goes, you only have one chance to make a first impression. When it comes to web design, you need to be especially quick. Research has found that it only takes a fraction of a second for your website visitors to form an opinion about your company. More importantly, 88% of customers won't return to a website after a bad experience.
Building trust with your audience is critical, because once you have it, you'll increase the likelihood of engagement with your brand. Whatever your marketing goals are, whether it's getting visitors to sign up to an email list, increasing sales, or growing your readership, achieving them starts with demonstrating trustworthiness.
There are many factors that influence credibility, including the appearance and design of your website, its functionality, and how well it performs. If a visitor has difficulty navigating your site, experiences slow loading times, comes across a broken link, notices spelling errors, or simply perceives your site's design as being unprofessional, they aren't likely to stay.
How to build trust with your WordPress site's users (5 key tips)
Fortunately, there are some effective methods you can use to build trust with your WordPress site's users. These five techniques will take a little time to implement, but can pay off dramatically over the long term.
1. Eliminate spam
Nothing can turn a visitor away from a website faster than being bombarded with aggressive and spammy pop-up ads. Therefore, it's best to avoid displaying any spammy ads on your site, and keep opt-in offers to a minimum. While you certainly want to make sure your Calls to Action (CTAs) are visible, they don't need to be full-page pop-ups that hinder access to your website's content.
Another way your site may lose credibility is if visitors notice too much spam in the comments sections of your blog posts. Of course, you may not want to disable comments entirely, because they can help boost engagement and start a dialogue between you and your audience. Plus, websites with comments sections can appear more trustworthy, because they demonstrate transparency and provide feedback from real audience members.
If comments are completely unrelated to the relevant post or are offensive in nature, however, they're spam and they need to go. Not only can spam comments turn away readers, but they can also hurt search engines' perception of your website.
To eliminate and filter spam comments on your WordPress site, click on Settings > Discussion in your WordPress dashboard. Under the Other comments settings, you will have a few options to choose from:

Checking the right boxes here can make an email, name, and/or account a requirement before commenting. These are actions that slow down and often deter spammers.
Under Comment Moderation, you also have the ability to filter out comments that have a certain number of links:

This can help reduce comments that are posted simply to add spammy links to your site.
2. Maintain high uptime and performance
Trustworthy websites consistently perform and function well. For example, your site's loading time plays an important role in whether users stay and interact with your content or contribute to your bounce rate.
Even small changes to site performance can make a big difference to visitor retention. For example, increasing the loading speed of your site from 8 to 2 seconds can cause an increase in the conversion rate of visitors to customers by almost 75%.
However, where do you start with improving your site's performance? There are both server and content-related factors to consider. First, you can check your site's performance by using tools such as GTmetrix:

This solution enables you to run a performance test on your WordPress site. It offers insight into what parts of the server may be slowing it down and need correction. For instance, you may need to optimize your content, minify the site's HTML, or leverage browser caching.
Here at ManageWP, we also provide useful tools for monitoring and improving site performance. Our Uptime Monitor feature automatically sends you a notification whenever your website goes down, so you're able to fix it immediately. It also tracks uptime percentages, response delays, and so on.
In addition, the Performance Check feature enables you to see what's happening with your website's performance and what factors are affecting it: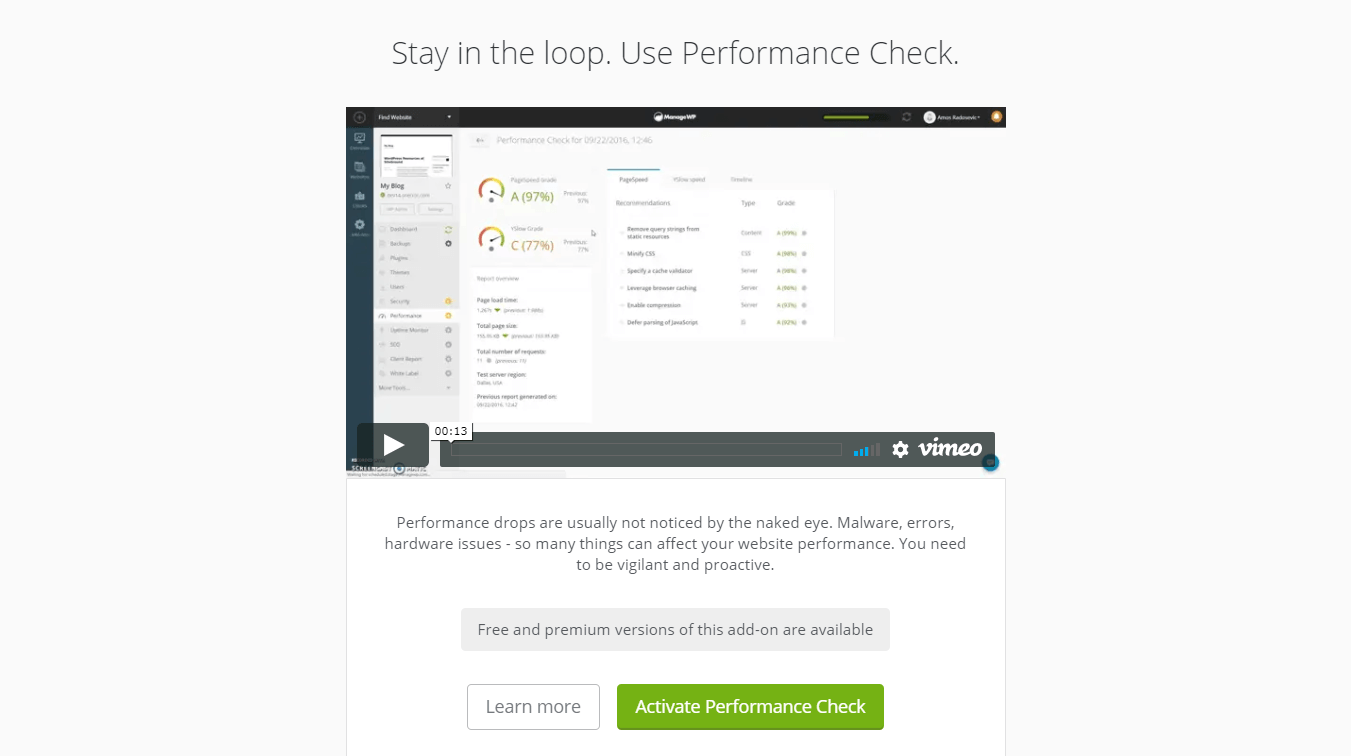 By constantly running performance checks on your WordPress site, you can maintain its uptime and optimize performance to make it more trustworthy.
3. Fix broken links
Periodically updating your site's content and design is a smart idea. If you remove a page and forget to take out the links back to it, however, you'll end up with one or more broken links. Users who visit your website, click on a link, and are met with a 404 or error page aren't going to think of your site as very credible.
To remove or replace broken links throughout your WordPress site, you need to know where they are. A useful tool for doing this is our own Link Monitor feature: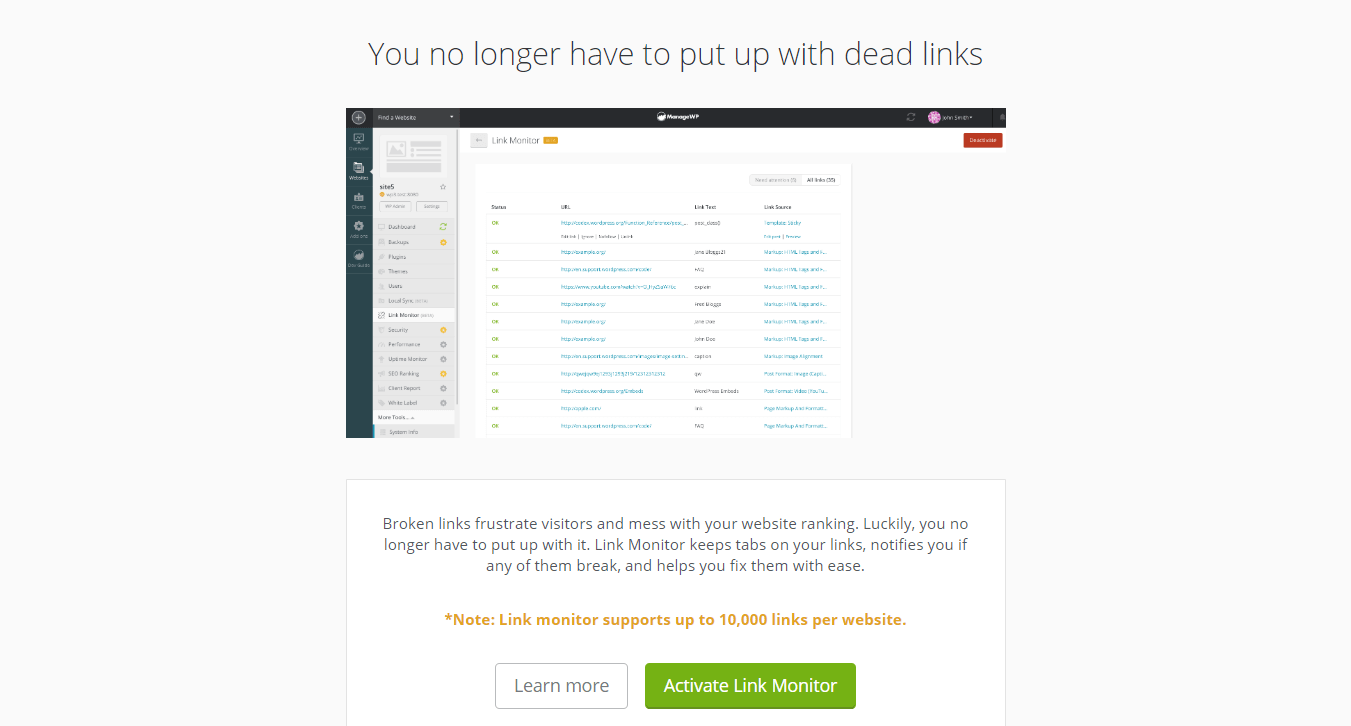 This ManageWP tool runs a daily performance check on your site's links, and enables you to manage the broken or unresponsive ones directly in your dashboard. That way, you can identify and deal with any problem links quickly.
4. Implement strong security measures
A trustworthy website is one that is safe and secure for its users. Sites that appear to have weak security won't make visitors feel confident handing their personal contact or payment information over. Implementing strong security measures is important for all businesses, especially e-commerce websites.
Displaying the logos and symbols of credible security companies such as Norton or McAfee can help demonstrate to visitors that you take site security seriously. You can also increase trust by displaying the logos of the payment methods you accept.
Another security measure that can build credibility is adding a Secure Sockets Layer (SSL) certificate to your WordPress site. Seeing the padlock icon in their browsers will let visitors know that your site is trustworthy:

When it comes to protecting against malware and hackers, it's also important to keep your WordPress site up to date. ManageWP's Safe Updates feature enables you to update all of your sites directly in your dashboard, with just the click of a button: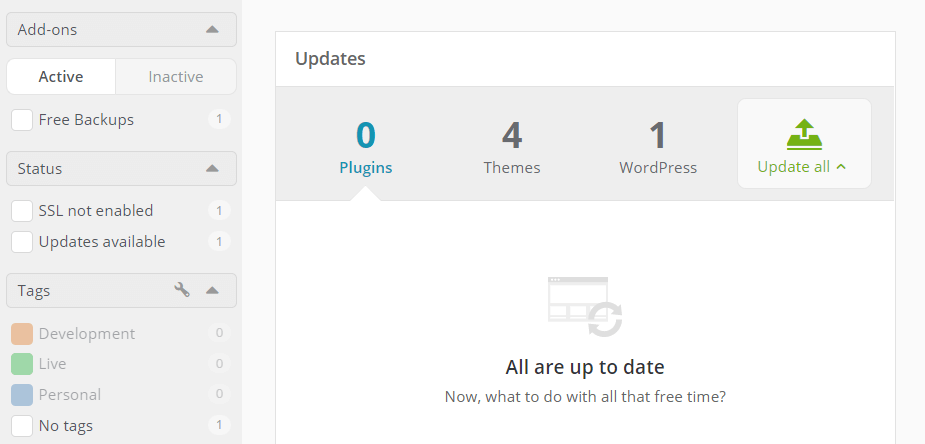 It also automatically creates restore points before performing updates. Therefore, if something goes wrong with an update, you can instantly restore the site to its previous version.
5. Display customer reviews
If you want to show visitors that you have a trustworthy website, why not let previous users or customers share their stories and experiences? Displaying customer reviews humanizes your brand. It also shows potential customers that other people have purchased a product or service from you, and that your site is legitimate.
In fact, researchers have found that almost 95% of consumers read online reviews before purchasing a product. What's more, making reviews visible on your site can boost conversion rates by 270%. Not only can displaying reviews on your site build trust with your visitors, therefore, but it also increases the likelihood of conversions.
To add customer reviews to your website, you can choose from one of the many WordPress plugin options. One of the most popular tools is WP Customer Reviews: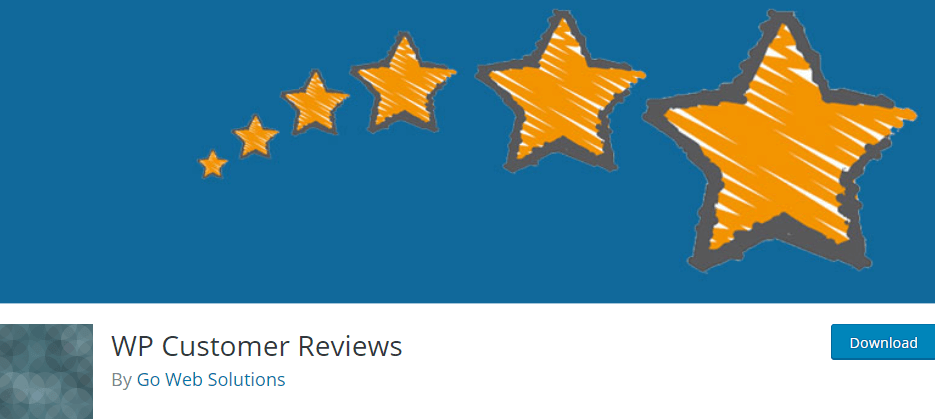 This plugin enables you to create a page on your website to gather reviews and testimonials. That way, new visitors can easily find and explore these crucial trust markers.
Conclusion
It takes less than a second for customers to form an opinion about your company based on your website. Everything from your site's design and appearance to its security and loading times determines whether it comes across as trustworthy. Therefore, building trust with your site's users requires a multi-faceted strategy.
As we've discussed, there are five simple steps you can take to build trust with your WordPress site's users:
Eliminating spam comments.
Maintaining high uptime and performance.
Fixing broken links.
Implementing strong security measures.
Displaying customer reviews.
What are some of the strategies you use to build trust with your WordPress site's users? Let us know in the comments section below!
Image credit: Unsplash.
Excerpt:
If you want your website to succeed at its goals, you'll need to make sure it comes across as trustworthy. If visitors don't think they can trust your site, they aren't likely to interact with it or make purchases. Fortunately, there are several easy techniques you can use to enhance your site's credibility – in this post we'll explore five of the best strategies!