As the largest open source Content Management System (CMS) in the world, WordPress offers nearly endless opportunities for developers. The trick to starting a WordPress development business is figuring out how to make your work profitable.
Whether you're a WordPress professional working for an agency or a freelance developer, there are many ways you can help your business be more successful. The key is recognizing opportunities to grow and take proactive measures to expand your client base and offers.
In this post, we'll discuss five ways you can make your WordPress development business more profitable. Let's dive in!
1. Conduct a financial audit and decrease expenses
When it comes to managing a business, proper bookkeeping and accounting practices are essential. Making sure your financial records, invoices, and expenses are updated and accurate can prevent unnecessary errors and lost revenue.
A smart way to keep this information organized is to use an accounting program such as FreshBooks: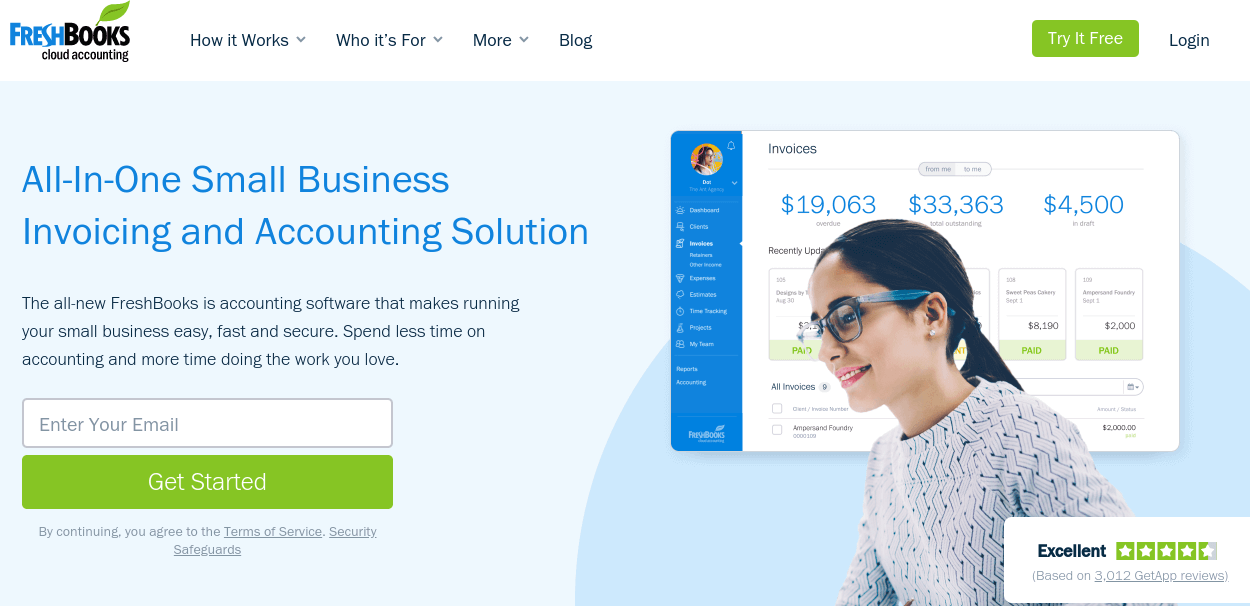 FreshBooks is a cloud-based software that lets you automate and streamline accounting and invoicing tasks. It also includes a helpful time-tracking feature, which you can use to get a better idea of billable hours spent on client projects. It's free to signup for an account and you can cancel anytime.
If you want to find opportunities to minimize costs, you might also consider conducting a financial audit. Put simply, this process is a way to assess your accounting statements, documentation, and business practices to:
Look for errors and misstatements.
Provide reasonable assurance.
Identify opportunities for improvement.
Ensure compliance with regulatory agencies.
An audit isn't a guarantee that you will catch any or all errors. However, it is a practical starting point for getting an overview of your business's current financial position.
While you could perform an internal audit yourself, we recommend hiring a third-party auditing or accounting firm. Professionals who are well-versed in this process may provide a more accurate and thorough investigation.
2. Offer maintenance service packages to generate additional income
If you want to make your WordPress development business more profitable, it's important to look for ways to add value to your services. One way to do so is by offering maintenance packages.
Maintenance services involve running WordPress updates, creating regular backups, and troubleshooting common issues to improve site speed and security. However, you could also incorporate additional tasks such as link monitoring, Search Engine Optimization (SEO), and analytics and reporting.
There are a handful of benefits to offering maintenance service packages to clients. First, it's an effective way to build a recurring revenue stream. The tasks involved often require very little investment of money or time, especially when you have tools such as ManageWP to help automate some of them.
Maintenance packages can also help establish trust with your customers. If your clients recognize the value of your services, they may be more likely to recommend you to others.
To get started, identify important services for client sites that you don't currently offer. You may consider researching competitors and other developers in the WordPress community to generate ideas for structuring packages: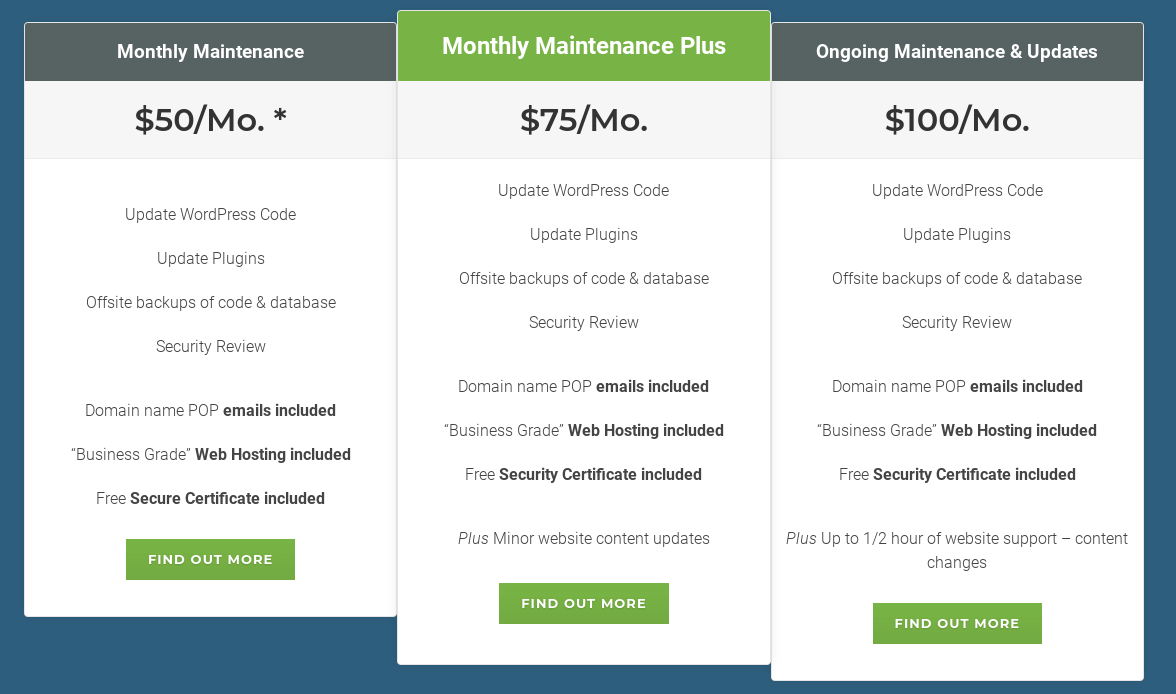 You may also consider offering a discount to existing customers. To increase the likelihood of new clients opting into an ongoing service, it's best to communicate from the start the importance of proper site maintenance.
3. Make professional growth an ongoing process
In any profession, there's always room for growth. One way you can improve your WordPress development business is by focusing on your professional education.
Making small, daily investments in your learning as a developer can significantly expand your expertise. Not only can this enable you to increase your rates, but it can also broaden the services you're capable of offering and therefore attract more clients.
There are plenty of affordable and, in some cases, free resources you can use to learn new WordPress development skills. Of course, the recommended methods will depend on your specific goals.
You may consider taking online courses on platforms such as Lynda or Udemy: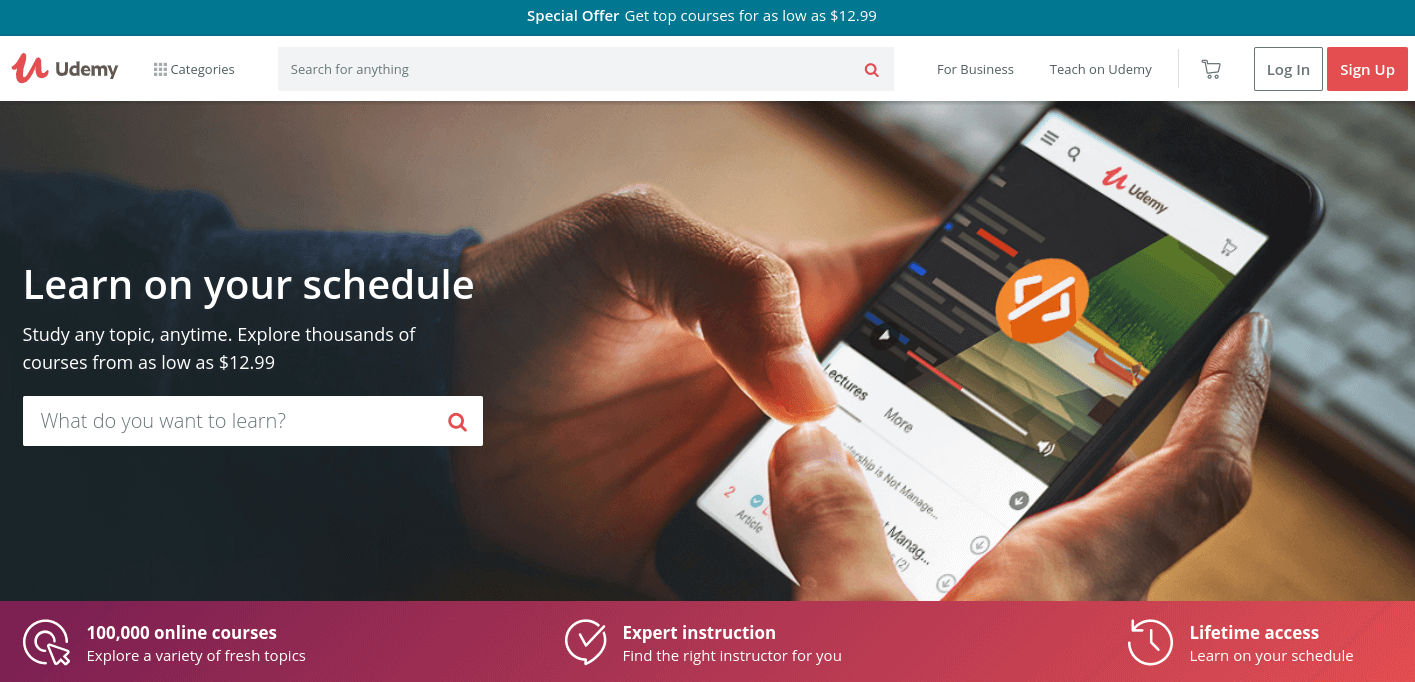 In addition to web design and development classes, these platforms have many resources for enhancing your business management skills. Topics covered range from finance and sales to entrepreneurship and project management.
Although it may be outside your comfort zone, taking courses in skills you're unfamiliar with can be worth pursuing. This approach can help you fill gaps in your knowledge to make your business more profitable in the long run.
To further harness the power of self-improvement and professional development, consider subscribing to podcasts. For example, WPGears has brief episodes on subjects related to development, marketing, and more. It doesn't require a significant time commitment, yet it can help keep you updated on industry news and trends.
4. Start a blog to demonstrate your authority
As a WordPress developer, you have a specific set of skills and level of experience that can be useful to other people. However, it's not just your business services that offer the opportunity to demonstrate your knowledge.
Adding a blog to your website is an effective strategy establishing authority within the WordPress community. It can also help you expand your reach to target and attract new clients and projects: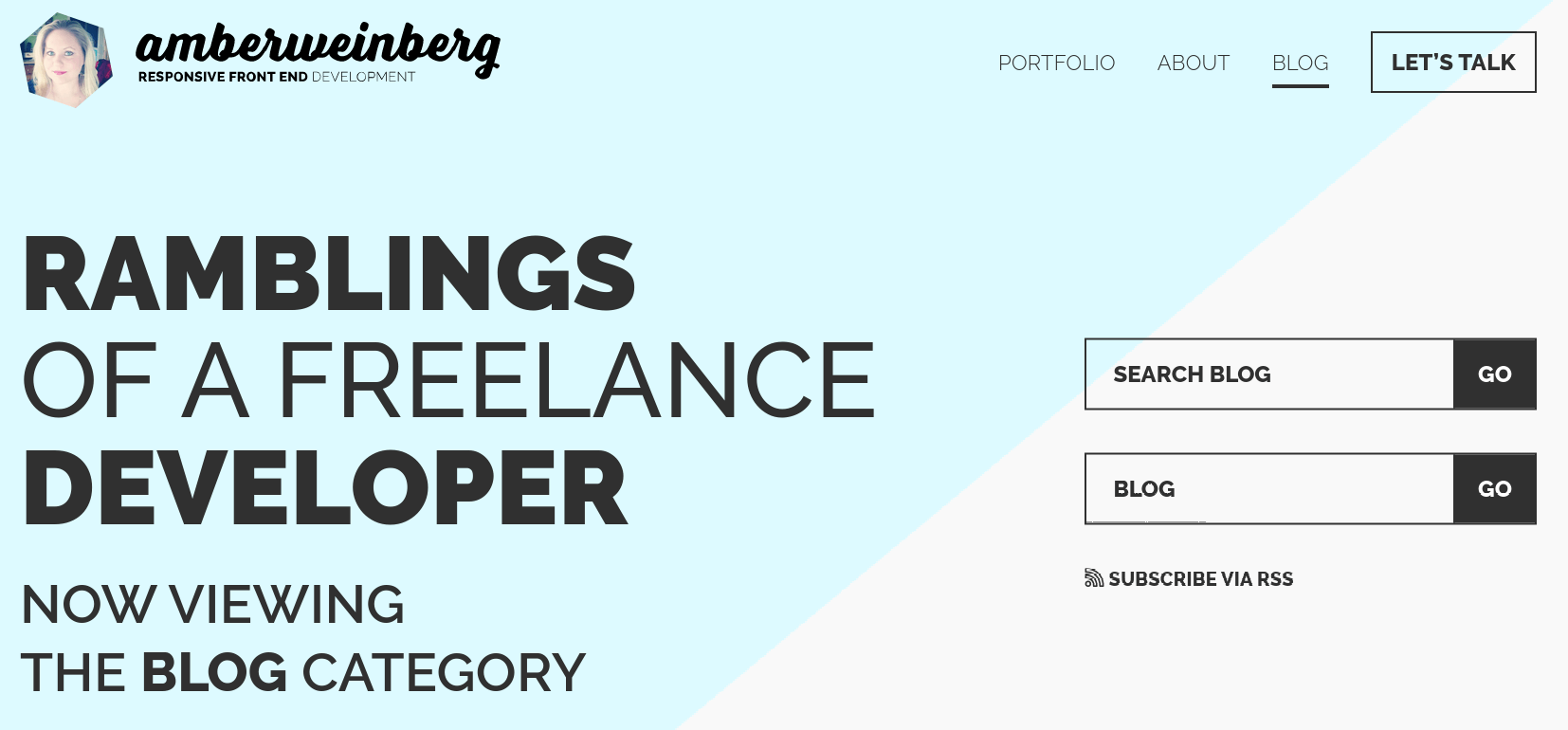 For example, you might blog about the essential factors to look for when hiring a web developer. If someone searching that phrase comes across your post, they may then consider using your services as well.
The main purpose of your site is to generate leads. It's easier to do this when you have a favorable ranking in the search engines. A blog is one of the best ways to improve your site's SEO and provide meaningful content to your audience.
Another way a blog can help make your WordPress development business more profitable is through monetization. There are a handful of methods to consider, with popular ones including affiliate marketing, advertisements, and selling your own e-books or online courses.
5. Use automation to maximize productivity
As we discussed earlier, tracking your working hours and keeping a close eye on your finances is critical for a successful business. Time is money, and wasting it on tasks that could otherwise be automated hinders your business' profits.
Investing in tools that can carry out basic responsibilities can help maximize productivity. For example, when you signup for a free account with ManageWP, you'll get access to dozens of features that can streamline business and maintenance tasks: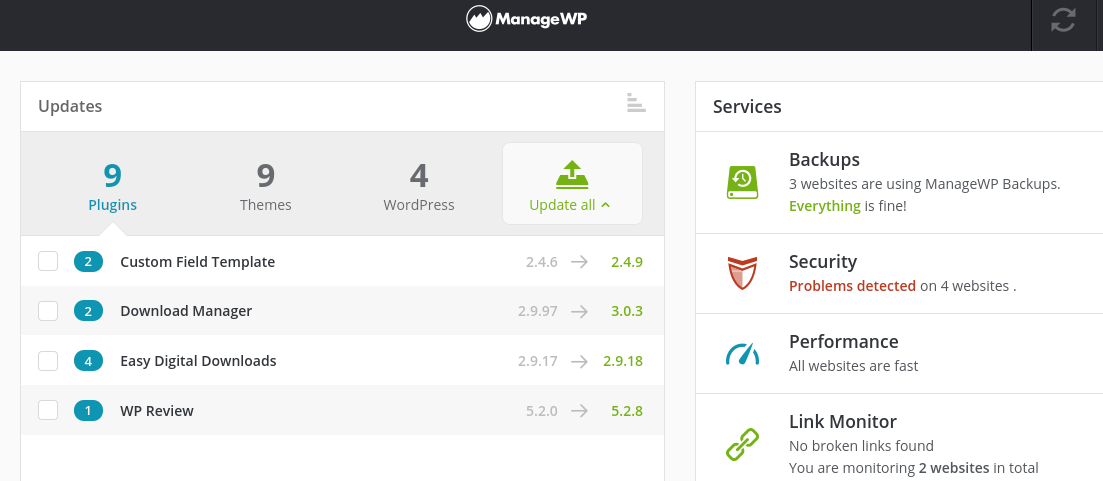 Our platform includes features to make managing multiple client sites and projects a breeze. Some that you may find particularly helpful for improving your customers' experiences through automation include:
Client Reports: Regular updates regarding the status of their sites will help clients stay informed and demonstrate the value of your services.
Backups: By setting an automated backup schedule, you won't have to worry about what to do if a client's site is compromised.
Uptime Monitoring: Downtime is money lost, so keeping an eye on how often clients' sites become unavailable could help them – and by extension you – boost profits.
Performance Checks: Conducting regular performance audits can help you better your client sites' SEO and User Experience (UX) to obtain higher conversion rates.
Link Monitor: Broken links interrupt users and make it harder for them to use your clients' sites, so finding and repairing them quickly is key.
These are just a few of the ManageWP features that can help automate your workflow and, in turn, boost your business' revenue. Plus, you'll be able to complete all these tasks for your clients from one dashboard, saving you from having to log in and out of different sites.
Conclusion
As a WordPress developer, your skills are in high demand. Unfortunately, simply starting a business doesn't guarantee it will be a lucrative one. In order to increase profits and set a foundation for long-term growth, it's important to establish a clear, actionable plan.
In this article, we discussed five ways you can make your WordPress development business more profitable:
Conduct a financial audit and decrease expenses.
Offer maintenance service packages to generate additional income.
Make professional growth an ongoing process.
Start a blog to demonstrate your authority.
Use automation to maximize productivity.
Do you have any questions about increasing the profitability of your WordPress development business? Let us know in the comments section below!
Image credit: Pexels.