As a developer, you have a lot on your plate. The thought of handling WordPress maintenance for your clients on top of your regular projects may seem intimidating. If you're overwhelmed with work, it can be hard to imagine how you'd even find the time.
However, there are actually many benefits to offering maintenance packages for your clients. First and foremost, it can be a reliable source of revenue. If you play your cards right, you can easily boost your profits and your client retention rate by adding maintenance services to your menu.
In this post, we'll discuss what types of tasks might be included in your WordPress maintenance services. Then we'll explore three key considerations if you're a developer thinking about expanding your business in this way. Let's get started!
What's involved in offering long-term maintenance services?
If you're reading this article, you're probably pretty familiar with website maintenance best practices. However, this term may take on different meanings in the context of offering services to your clients.
Across the board, you can expect WordPress maintenance to encompass a few basic tasks:
Running updates for WordPress core, themes, and plugins
Creating regular backups and arranging for proper storage
Troubleshooting common errors to maximize uptime
However, there are several additional tasks you may want to include in your maintenance services. For instance, many clients seeking assistance with website maintenance need help managing WordPress security.
Search Engine Optimization (SEO)-related concerns also come up frequently. This might include on-page SEO, backlink monitoring, or even tracking results via Google Analytics. In addition, high-end WordPress maintenance packages may include content creation or updates.
As you can see, 'WordPress maintenance' covers a broad scope of services. What the term ultimately means for you will depend on what you're willing and able to provide, as well as your specific clients' expectations and needs.
Should you offer long-term maintenance services as a WordPress developer? (3 factors to consider)
Choosing to offer WordPress maintenance to your clients can be a big commitment. Before you go rushing off to update your services – or decide that maintaining clients' sites is too hard – there are several pros and cons to consider.
1. Diversifying your income streams can hold you over during dry spells
One of the most difficult aspects of working as a developer is that the demand for work ebbs and flows. From month to month and even week to week, there's often little indication of how many new clients and projects will come in.
This can lead to dry spells where you're strapped for cash. The best way to avoid this situation is to diversify your income streams. That way, when big projects are few and far between, you still have at least some money coming in to support your business.
Since maintenance services are ongoing in nature, they can be much more reliable than typical development work. If you often find yourself living off your savings while scrambling to find new clients, offering to maintain sites you've already built can help alleviate some of the pressure.
2. Ongoing maintenance services can be a drain on your time and resources
On the other hand, the biggest drawback to taking on maintenance services is that it eats up time you could otherwise spend on developing projects. This may decrease the number of new clients you're able to take on, and keep you from doing the work you're most passionate about.
With that said, many basic maintenance tasks are easily automated. For instance, with ManageWP, you can streamline your workflow by automating updates and backups. Our platform also enables you to log in and out of multiple sites from a single dashboard: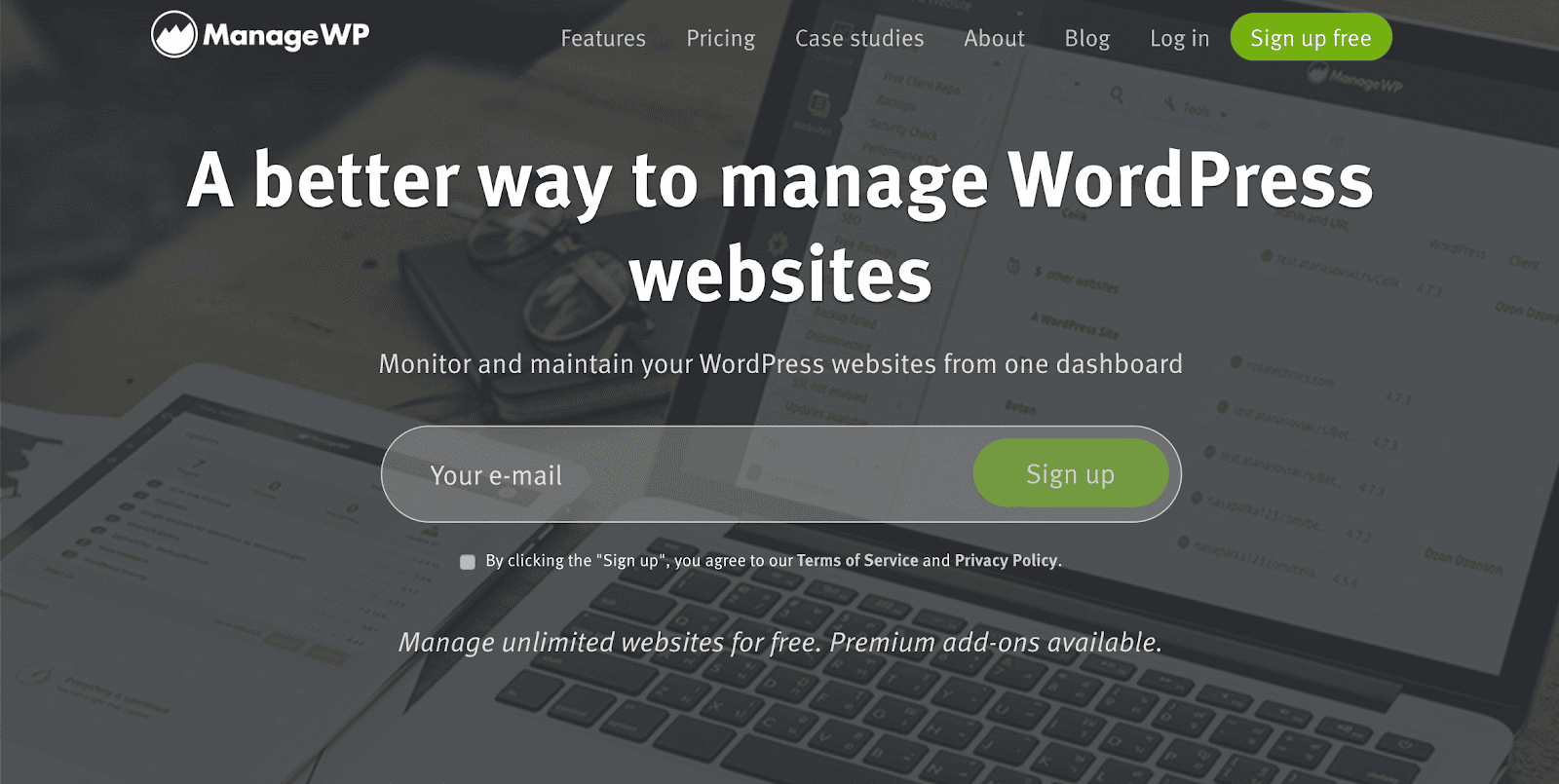 In addition, you can outsource some of the work to services such as 24×7 WP Support, WP Buffs, Maintain, WP Site Care, Engenius or others . This solution can help you and your clients troubleshoot a variety of WordPress errors, and more easily handle a wide range of SEO-related tasks.
Automating and outsourcing maintenance can make offering these services a lot more cost-effective for you. At the same time, you'll be providing your clients with everything they need to keep their sites running smoothly.
3. All-inclusive services can lead to higher client retention rates
Sourcing clients is one of the most important aspects of web development. Without new leads, you can't keep the projects coming and remain in business. However, finding new gigs is also time-consuming, and doesn't pay. It's essentially work you have to do for free.
Staying in touch with previous clients by handling their website maintenance helps you get more work with less effort, through client retention. Since you're already speaking on a regular basis, your clients will be more likely to come to you if they're interested in a new feature or rebranding.
Plus, offering all-in-one development and maintenance services can make you more competitive in your field.
Clients will likely appreciate the convenience of 'one-stop shopping' for their website needs, and choose your combined services over hiring multiple professionals.
Conclusion
Taking on more work on top of your regular development responsibilities is a big decision. However, if you're strategic about how you offer and manage WordPress maintenance services for your clients, you can experience a wide range of benefits.
There are three key factors to consider when deciding whether or not to provide maintenance services to your clients:
Diversifying your income streams can hold you over during dry spells.
Ongoing maintenance services can be a drain on your time and resources (although automating and outsourcing can help).
All-inclusive services can lead to higher client retention rates.
Do you have any questions about offering maintenance services as a WordPress developer? Let us know in the comments section below!
Image credit: Pxhere.