Creating a monthly maintenance plan for your WordPress sites requires organizing the tasks you perform on a daily, weekly, monthly, and yearly basis into a few main categories; Backups, WordPress Core Updates, Plugin Maintenance ,Theme Maintenance, Overall Site Health and Content Health.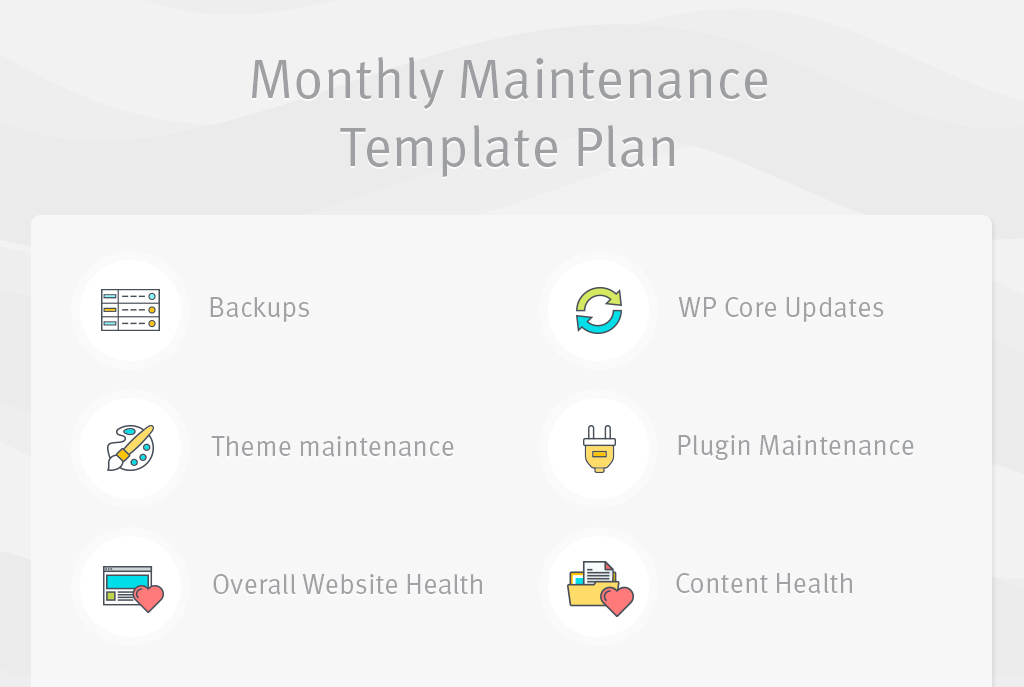 It should be noted this guide is merely a basic template. Use your own experience as a WordPress developer and take the tasks you or your team performs on a regular basis into consideration to make this plan your own.
WordPress Backups
WordPress backups should be performed on a regular basis. Daily is optimal. Weekly is good, but monthly is the longest you should wait to backup a site. Fortunately, ManageWP allows you to offer daily incremental backups as a service to clients without you having to manually back up each and every site you manage.
Suggested Frequency Options: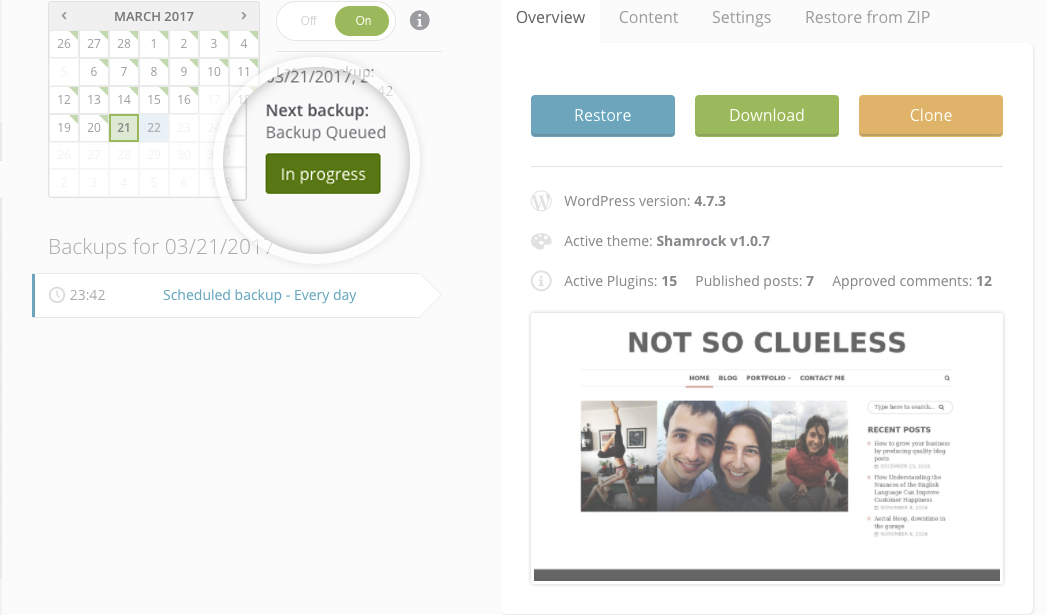 WordPress Core Updates
Updates are difficult to fit into a predefined schedule, especially WordPress core updates. WordPress core updates have happened infrequently in the past. However, they have been getting more and more frequent in the past couple of years, so it may be a good idea for you to designate one day out of the month to check for and apply WordPress updates to all of the sites you manage.
An exception to this rule would be if you or your company applies WordPress core updates immediately after they're released.
Suggested Frequency Options:
Plugin Maintenance
WordPress plugin maintenance generally involves two components:
Plugin Updates
Plugin Audit
Plugin Updates
WordPress suggests checking for and applying updates to plugins every 3 to 6 months. However, as a WordPress developer, you likely realize how poor this advice can be for WordPress sites that must function properly on a daily basis.
Feel free to use your experience as a WordPress developer to define your own schedule for plugin updates. Since there is not always a WordPress core update to apply, you may want to combine your WordPress core update check day with your plugin update check day.
Suggested Frequency Options:
Plugin Audit
This maintenance task is a little different than simply checking for and installing plugin updates, and it's not something you'll add to your calendar every month out of the year.
The first thing this audit involves is ensuring there are no unused plugins installed and activated on any of the sites you manage. Some clients may get into the habit of trying out new features without your consent, features that involve installing new plugins and forgetting to deactivate and uninstall them afterward.
You should also make note of which plugins haven't received updates in a while. Unupdated plugins face the risk becoming unsupported, which can create security risks. Help your client find a suitable replacement if you discover an unsupported plugin.
On that same note, you should also keep a watchful eye on plugin quality and see if there are better plugins out there if a particular plugin performs poorly consistently over time. For example, the official Disqus plugin has a poor reputation for being buggy and outright broken, so a developer took it upon himself to develop his own, bug-free version of this plugin for the community to use.
The last part of this audit involves reviewing the Plugins directory folder to ensure any plugin you or your client has uninstalled completely uninstalled itself.
Suggested Frequency Options:
Theme Maintenance
Your schedule and tasks for theme updates should look nearly identical to the schedule and tasks you perform for plugin updates. This means you should check for new theme updates using the same schedule you use to check for plugin updates, assuming you're using a theme from a third-party developer.
Suggested Frequency Options for Theme Updates:
Theme Audit
This is another area where you should use your experience as a developer to determine the tasks you perform and frequency you use to conduct theme audits.
This, similar to a plugin audit, involves checking to make sure there are no unused themes installed the site and that at least one default theme exists in case a site experiences issues with the main theme.
If you're using your own theme, this also means going over your template files and stylesheets to ensure everything is in order and that your code is still validated. If you're using a third-party theme, ensure the developer is keeping up with the code, has not added bloated code, and is still offering support.
Suggested Frequency Options:
Feel free to use your own development schedule if you're using your own theme or styles on the sites you manage.
Overall Site Health
If you're using ManageWP, you know it comes with a Vulnerability Updates feature that alerts you of vulnerable plugin, theme, and WordPress core files. It also allows you to monitor uptime performance.
Suggested Frequency Options for Monitoring Vulnerabilities:
ManageWP also comes with a Security Check feature that allows you to conduct malware scans at any time. You can even enable 24/7 security monitoring with the premium version.
Suggested Frequency Options for Security Monitoring:
Once a Day
Several Times a Day
24/7
The last thing to consider is the overall performance of a site, meaning its page load time, its optimization scores as well as the size of it. ManageWP includes this feature as well as with Performance Scan, which you can schedule with the premium version.
Suggested Frequency Options for Site Performance:
Content Health
These maintenance tasks may require you to work alongside your client a lot more than the other tasks do. They have less to do with WordPress development, but they should still be considered.
They include checking for 404 errors or broken links and ensuring your client optimizes their 404 page.
Suggested Frequency Options:
You should also work with your client to see if they have any media items they're not using and to see if they have any blog posts they can combine or any posts that contain outdated content. This is called a "content audit."
You may also want to keep an eye on their SEO rankings. After all, their success is your success. Learn more in Why SEO is Essential for Business.
Suggestion Frequency Options:
Your Turn
This post covered general maintenance tasks that may differ from the maintenance tasks you or your team performs. What would you add to your own schedule? What would you leave out?
Let us know in the comments below.