Your website is an integral part of your business. It's essential for it to not only be optimally designed, but properly managed. Unfortunately, like many site owners, you may not feel you're equipped to handle WordPress maintenance on your own.
Covering the wide range of tasks involved in your site's upkeep is time-consuming and sometimes challenging. In some cases, third-party WordPress maintenance services are the best bet for keeping your website secure and performing at peak levels.
In this article, we'll discuss the importance of WordPress maintenance and what it involves. Then we'll discuss three key factors to consider when deciding if outsourcing is a wise choice for you, as well as a few tips for selecting a provider. Let's get started!
What is WordPress website maintenance?
WordPress maintenance involves a variety of tasks related to keeping your site in a secure, working condition. This includes:
Plugin, theme, and Core updates
Security fixes
Malware scanning
Database optimization
WordPress maintenance influences everything from your site's Search Engine Optimization (SEO) and User Experience (UX) to its speed and security. Considering how many aspects of your site they affect, if these responsibilities are not adequately and appropriately handled, you run the risk of encountering into a whole host of issues.
For example, you may experience compatibility errors due to outdated plugins that cause certain elements or even your entire site to break. There's also the threat of security vulnerabilities and unexpected downtime.
Put simply, WordPress website maintenance is too important to ignore. The next step is figuring out which method to adopt in order to manage it.
One way to go about it is to work with your hosting provider. Some offer a variety of maintenance tasks as part of their regular plans: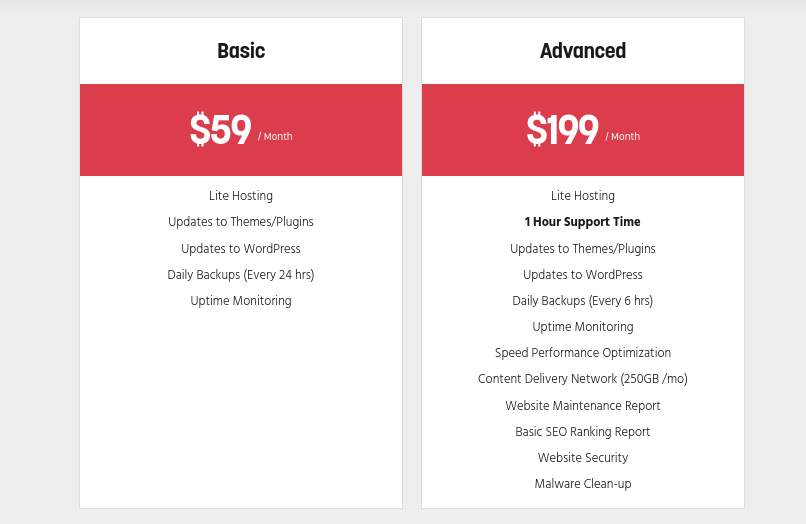 Unfortunately, since most of these companies don't focus primarily on maintenance, they may not cover all the tasks you need to need to address.
Another route is to maintain your site on your own with help from WordPress plugins. While there are many that can supplement and streamline key tasks, it's not recommended to lean solely on these extensions as they aren't always reliable.
A final option is to outsource your WordPress site maintenance to a third-party provider. While this will be an added expense, the peace of mind you get in return is often well worth the investment.
Should you outsource your WordPress maintenance? (3 key factors to consider)
Unless you are an experienced WordPress professional or have a background in web development, you may feel overwhelmed at the thought of maintaining your website on your own. While it's not impossible, it's also not the best route for everyone. Here are three key factors to think about when deciding if you want to outsource these tasks.
1. Professionals have the experience needed to adequately handle WordPress maintenance
No one knows your business like you do. You've probably spent a great deal of time building expertise in your market and fine-tuning your brand.
However, just because you're the expert when it comes to your company, doesn't mean you're the one best suited to handle its website. Your customers probably come to you because of your skills and expertise in your field. Similarly, WordPress professionals are well-versed in your site maintenance needs.
WordPress specialists who understand the industry's best practices can carry out maintenance tasks efficiently and effectively. Outsourcing to a professional can increase the likelihood that critical tasks will be handled properly.
If you try to wing it and handle everything on your own, you may run into issues that require a greater investment of time and energy than if you had hired a professional from the start. Instead of searching for troubleshooting guides online, you can let your maintenance specialist put their expertise to work.
It's important to keep in mind that it's not just being able to identify an issue with your site that is crucial. It's also having the knowledge and capability to implement the proper solution in order to fix the problem.
For example, a plugin can notify you if malware is detected on your site. However, if this happens, would you know how to go about removing it?
The same applies to backing-up and restoring your site in the event it breaks. Having experienced professionals handling these matters eliminates the need to worry about the ever-growing list of potential problems.
2. Your time will be better spent on other critical aspects of your business
As we discussed above, there's a lot of work that goes into WordPress maintenance. It covers many different areas, including performance optimization, SEO, security, and several other responsibilities. This makes it incredibly time-consuming.
When it really comes down to it, WordPress maintenance in itself can be a full-time job. In fact, for some people it is. If you're already working hard to manage and promote your business, trying to make time to take proper care of your site may simply be too difficult.
Put simply, third-party professionals can get maintenance tasks done faster and with more efficiency than you would most likely be able to when trying to handle it on your own. Instead of attempting to carve out the time to learn the ins-and-outs of WordPress and maintenance, your energy could be better spent focusing on other critical areas of your business.
Outsourcing WordPress maintenance can free you up to better serve your customers. You'll also have more time and energy to put toward generating leads, building out new marketing campaigns, increasing sales and promotions, or whatever other projects you want to take on.
In some cases, this may help you offset the expense of a maintenance service, too. You can work on increasing your company's revenue to cover the cost. Of course, if your budget simply won't cover the fees to begin with, that's something to consider, too.
3. It can decrease stress and save you from having to deal with tedious tasks
Running a business is not easy. You probably have a lot of things on our plate each day. Having the option to outsource your maintenance tasks takes some of the pressure off of you and puts it on someone else.
Just as you likely wouldn't ask your accountant to manage a social media campaign, it's important to make sure you're putting your energy towards areas where you can have the greatest positive impact and produce the biggest returns. If you're not bogging yourself down with WordPress maintenance, there's less of a chance that you'll end up experiencing burnout.
When you're unfamiliar with certain aspects of running your business, there's little point in trying to saddle yourself with the pressure of figuring it out. This is especially true when there are plenty of capable professionals who would be happy to take the care of those tasks for you.
Plus, some of the responsibilities involved with WordPress maintenance can be very repetitive and boring. Outsourcing tasks such as creating backups and running updates means you can enjoy your work a little more.
Tips for choosing a WordPress maintenance service
If you do make the decision to outsource your WordPress maintenance, the next step is choosing a provider. There are many to decide between, each with their pros and cons.
Of course, the best WordPress maintenance service provider for your site depends on your specific needs. There are a variety of factors to consider, including the type of website you have, the level of support you need, and your budget.
Before you choose a provider, we recommend making a list of the tasks that you feel are the most important to the upkeep of your site. For example, if you have a large, complex website, it's essential to perform daily backups.
Similarly, if you have an e-commerce site that deals with customers' personal data and payment information, security is a major concern. Therefore, making sure your maintenance plan includes malware scanning and vulnerability checks is key.
It helps to understand your specific needs before you begin your search. That way, you'll be able to weed out the companies that don't meet those requirements relatively early in the process.
Conclusion
Unless you're a web professional, chances are WordPress maintenance isn't your specialty or even a priority – and that's okay. However, given the impact it has on your site's security and performance, if you're not handling it, it's imperative someone else is.
As we discussed in this article, there are things to think about when deciding whether to outsource your WordPress maintenance to a third party, including:
Professionals have the experience to adequately handle WordPress maintenance.
Your time will be better spent on other critical aspects of your business.
It can decrease stress and save you from having to deal with tedious tasks.
Do you have any questions about outsourcing WordPress maintenance? Let us know in the comments section below!
Image credit: Pexels.