As a WordPress developer, your job is to create beautifully designed and high-functioning sites for your clients. However, a website is only as successful as it is properly maintained after launching.
Offering website maintenance services benefits both you and your clients. For you, it provides a predictable revenue stream. At the same time, it increases the value of your services by making it easier for clients to ensure their sites remain secure and perform optimally.
In this post, we'll discuss the benefits of offering website maintenance and what it encompasses. Then, we'll share some helpful tips and guidance on how to launch your new services. Let's get started!
The Benefits of Offering WordPress Maintenance Services to Clients
You already know the importance of keeping sites properly maintained. From fixing broken links and monitoring security to updating themes and plugins, the performance of a site hinges upon regular upkeep. These are tasks you're likely well-versed in. Your clients, however, may not be.
There are many benefits to offering website maintenance services to your WordPress clients. First, it ensures that the site you worked so hard to create continues to perform as it should. This minimizes the risk of something breaking due to improper upkeep, lightening your customer support requests.
Website maintenance services also provide an additional source of income. They enable you to carve out a steady, predictable, and reliable stream of work. If your clients are happy with these services, it can also lead to additional opportunities for work through references.
Finally, many WordPress maintenance tasks can be automated. This means you can add multiple clients' sites to your workload without a huge increase in the time and energy required to do your job well.
How to Offer Website Maintenance Services to Clients (5 Key Tips)
Deciding to offer maintenance services to clients is just the tip of the iceberg. There are several other choices to consider before launching your new offer. Below are five tips for making your future maintenance service proposals successful.
1. Decide which tasks to include in your maintenance plans
Maintenance packages can vary widely between providers. In order to make sure you and your clients are on the same page, you'll need to explicitly state what you're offering.
Some popular WordPress website maintenance services include:
Core WordPress updates
Theme and plugin updates
Website backups
Security monitoring
However, if you want to take your website maintenance services to the next level, you may consider add-ons such as Search Engine Optimization (SEO), analytics reports, and content updates. These tasks are less commonly found in maintenance packages, and therefore can help differentiate you from competitors.
To decide which services to include, consider what your clients need most as well as what will be easiest for you to incorporate into your current workflow. You'll also want to assess opportunities for automation.
For example, signing up for a free ManageWP account enables you to streamline many WordPress maintenance tasks for multiple sites: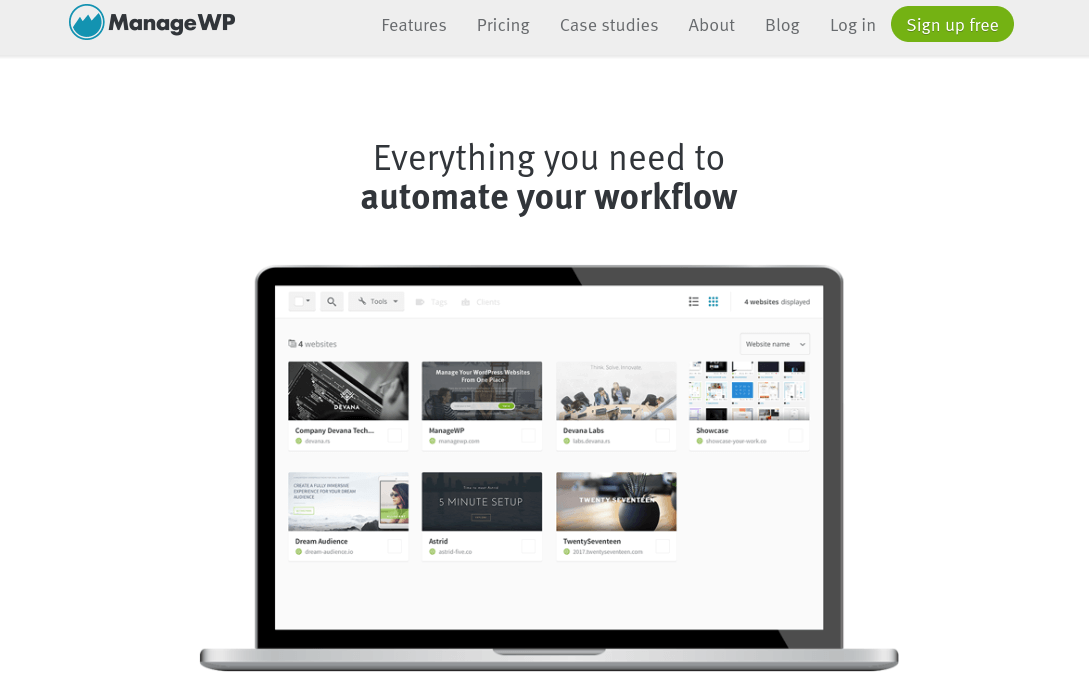 You'll gain access to our collection of both free and premium add-ons, such as Sucuri security scans, automated backups, Safe Updates, and more. You can then monitor and manage multiple client sites from one dashboard.
2. Make sure your clients are clear on the importance of site maintenance
As a WordPress developer, you know the risks that come with poor site maintenance. However, you can't assume the same of your clients.
Some customers may perceive WordPress maintenance as unnecessary. They could be more focused on keeping their costs low and dismiss the idea of spending money to maintain their sites.
However, your clients will be more likely to subscribe to your services if they understand what they're risking if they don't. Communicating the importance of proper maintenance from the beginning of a client project can be helpful.
For example, you could include a section in your project contract requiring clients' signatures to opt-out of your maintenance plan. This small step could give them enough pause to reconsider the seriousness of it.
To do this, you can use a contract creation tool such as ContractSafe: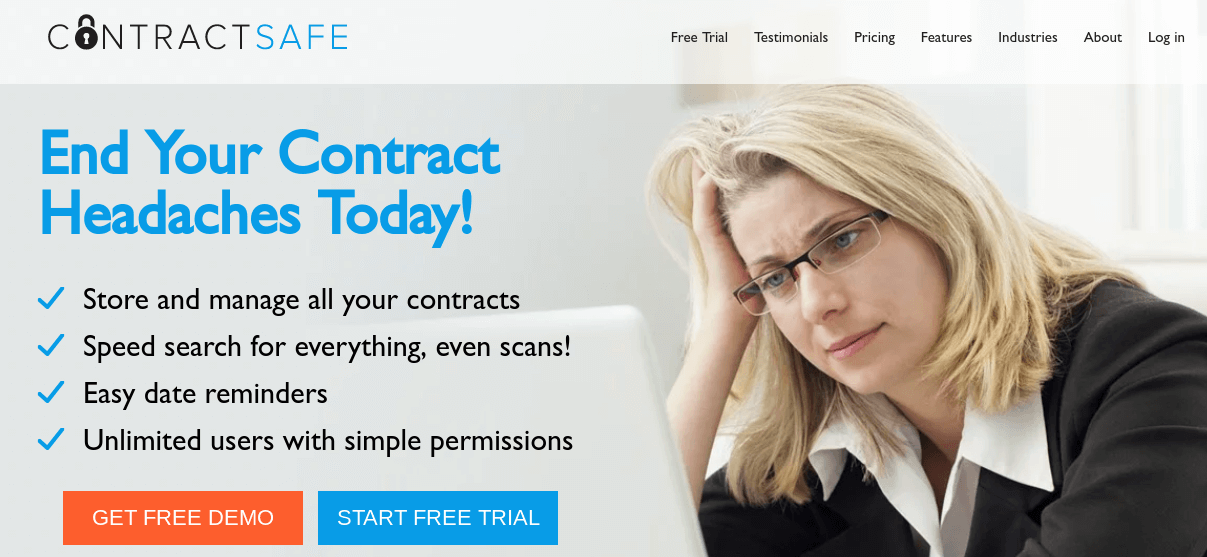 This contract management platform helps you create, customize, and store client contracts in one place. It also includes a reminder feature, which could be useful for alerting you when a contract is about to expire.
3. Choose wording and terminology that's easy to understand
Web development terminology is like a second language to you. However, it's important to remember that it can be confusing to your clients.
Therefore, when proposing a website maintenance service plan to your clients, it's more effective to speak in layman's terms so they can clearly understand the advantages. There's no need to get highly technical or complicated with your proposal.
Often, you can simplify the language by boiling it down to each task's basic purpose. Instead of calling it a maintenance package, you may consider labels such as 'Website Care Plan' or 'Support and Protection Plan.' Just this minor tweak helps inform the client what they're paying more for.
Consider this example from the GoDaddy website: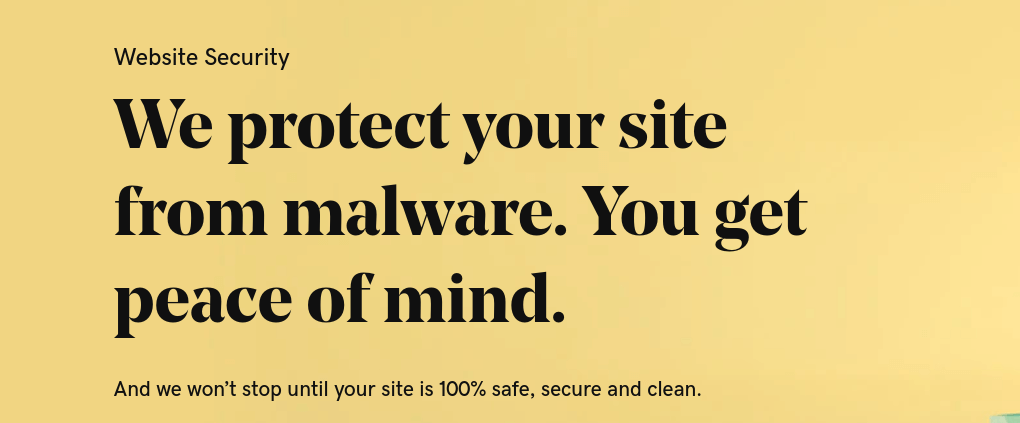 In two brief sentences, they explain what the service is and how it helps the client. Similarly, when writing your proposal, focus on the wording you use to describe the benefits of your services.
4. Customize pitching strategies for both new and existing customers
It may be necessary to approach new and existing customers in slightly different manners when offering to maintain their sites. To make your proposals a success, it's best to create a strategy for each type of client.
As we mentioned earlier, you can easily add your maintenance services to your existing contract. It's also wise to mention them on your website so leads can see that you offer comprehensive development and maintenance packages.
To reach existing customers, you might run an email campaign announcing your new services. As you may already know, MailChimp is a popular email marketing platform for WordPress users that can help with this task:
Make sure to include an easy opt-in Call To Action (CTA) in this email so clients can quickly sign up.
Pitching former clients may require a more personalized approach. While you can still use email to reach out to them, you may also want to include an offer for a free month of services or consultation. This lowers the risk factor and maybe enough to persuade them to revisit your working relationship.
5. Calculate the costs for your clients
When it comes to business, time is money. You can use this school of thought to your advantage when pitching to your clients. For example, you might provide an estimate of how much clients would end up having to pay if they lost their website due to improper maintenance.
Tools such as iTheme's Content Replacement Calculator can help with this: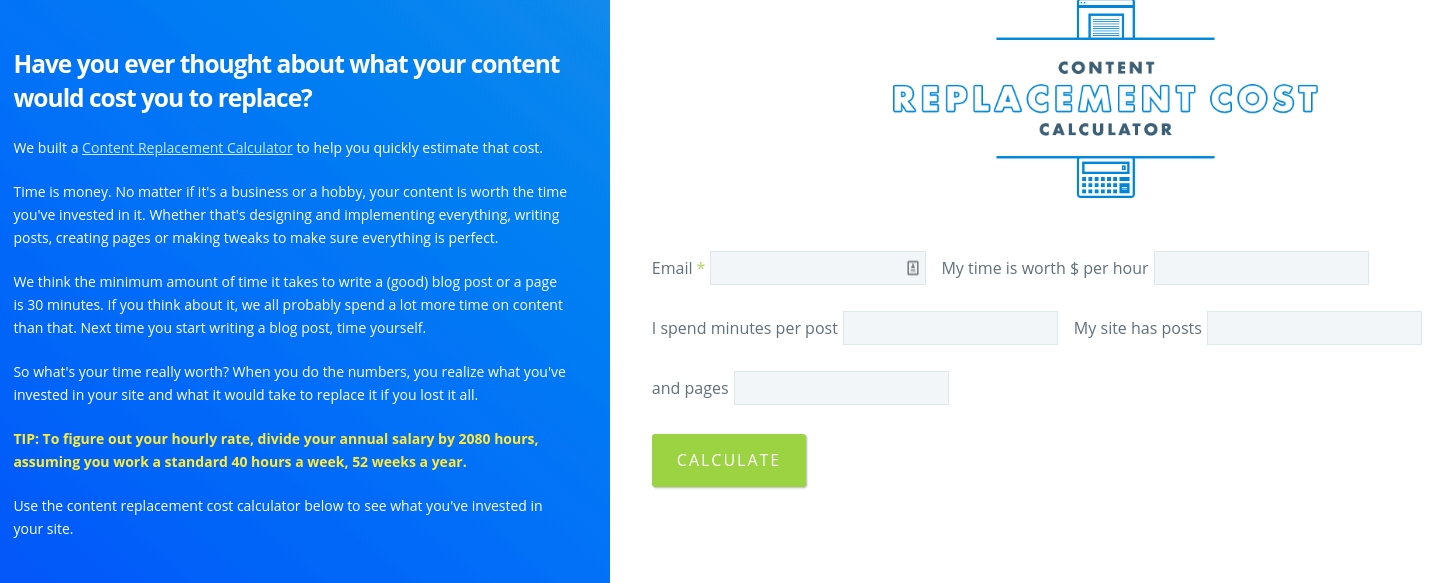 You can also explain to them that Do-It-Yourself (DIY) maintenance costs can quickly add up. Therefore, choosing a package that takes care of all their concerns for a reasonable monthly fee is a smart financial move.
When creating your pricing structure, it's also important to set fees that fairly cover the time you'll realistically spend maintaining clients' sites. You don't want to spend hours working for peanuts, but you don't want to overcharge clients either.
Tiered pricing is a useful strategy for landing more clients, too. It enables those on tight budgets to focus on the basics, while clients with more spending capacity can take advantage of your upgraded plans. Using a template as a reference can help keep you organized and on track.
Conclusion
Without proper maintenance, your clients' sites may suffer from lowered security or performance. Offering to keep up websites after you've built them can provide you with an additional income stream while also protecting clients' investments.
To make your website maintenance service proposals as successful as possible you can:
Decide which maintenance tasks to offer and automate them with ManageWP.
Make sure you clearly communicate to clients the importance of site maintenance.
Explain maintenance services in terms your clients understand.
Customize pitching strategies for both new and existing customers.
Calculate and communicate the costs of maintenance to your clients.
Do you have any questions about offering website maintenance services to clients? Let us know in the comments section below!
Image Credit: Pexels.