Your website is one of the biggest investments you can make for your business. However, the expenses don't stop once it's up and running. Although WordPress is a free Content Management System (CMS), there are other maintenance costs to consider such as hosting, security, and upgrades.
That said, knowing what costs are associated with creating and maintaining a WordPress website can help you effectively plan and budget. Understanding these expenses now can help prevent unnecessary surprises down the line.
In this post, we'll break down the various costs associated with WordPress. We'll also provide some handy features and tools you can use to save time and money. Let's get started!
Why it's worth it to invest in your website
WordPress is a free CMS. By only paying for your domain and low-tier hosting, you could technically get your site started for well under $100. However, when it comes to services and products such as hosting, plugins, and themes, the cheapest options aren't always the best. As with most things, a low price tag often correlates with low quality.
Premium plugins and themes come with advanced features that provide more flexibility and customization. This can help you build a more functional, professional-looking site that serves your users' needs.
Similarly, a cheap hosting plan could compromise your site's performance. Higher tier hosting plans, on the other hand, offer advantages such as higher bandwidth, faster response times, and more storage.
Additionally, cutting corners when it comes to security features could lead to serious problems down the line. Infrequent backups could result in lost data, and a lack of malware scans could enable hackers to infiltrate your site undetected, causing costly damage.
Just because you can create a website for cheap doesn't mean you should. As such, if you have serious aspirations for your website, WordPress isn't 'free'. Investing in your site will provide a higher quality, more secure experience for your users, and therefore better results for you.
The cost of maintaining a WordPress website (5 key factors)
By putting money into your website, you're giving your business a better chance of success. Below, we've explored three key WordPress website expenses to consider.
1. Monthly or annual fees for hosting
The hosting plan you choose is one of the most important decisions you'll make when creating your WordPress site. The server your host provides is where all your site's files are stored. It affects how well your site handles surges in traffic and requests from multiple connections.
There are several different types of hosting plans available for a wide range of prices. You can find shared hosting for as little as $3 per month or less, and dedicated servers that cost hundreds per month.
In order to get the most bang for your buck, it's important to consider the needs of your site, both now and in the future. For example, a personal blog and a popular e-commerce site are going to have different requirements for managing their traffic levels.
GoDaddy offers Basic WordPress hosting for as low as $5 per month. However, this plan has limitations. It's intended for a single website with less than 25,000 monthly visitors, that requires no more than 10 GB of storage: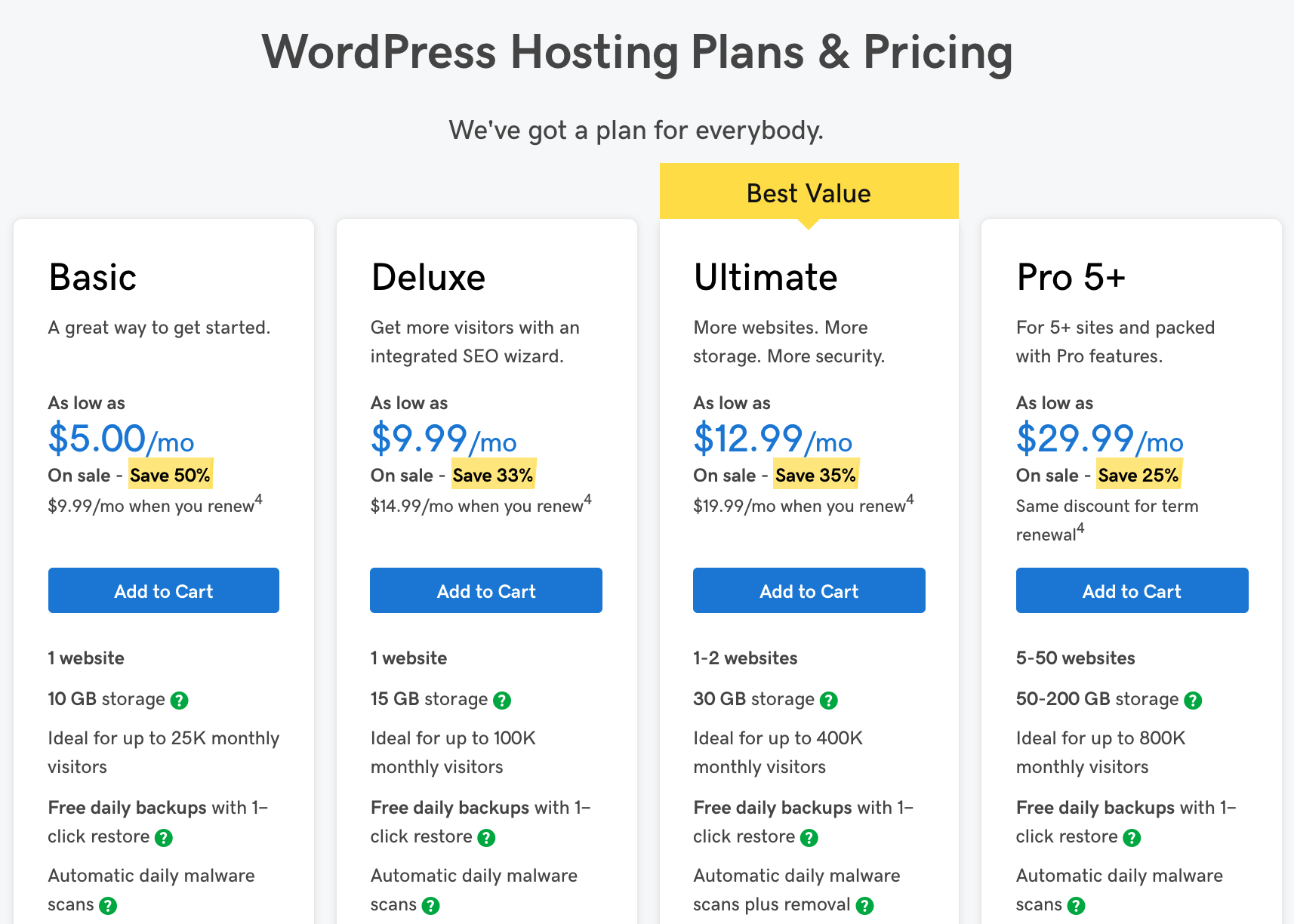 The Ultimate package, on the other hand, starts at $12.99 per month, includes 30 GB of storage, and can handle 400,000 monthly visitors. This plan triples your storage, manages eight times as much traffic without impacting performance and offers free SSL certificate included with your website.
And in case you are planing to launch a more complex website requiring a more powerful setup – Business hosting is the way to go. For only $19.99, Business Hosting delivers the same power and performance as a Virtual Private Server (VPS) without the pain of server administration.
2. Domain cost
Another ongoing cost you'll need to consider is your domain name registration. This is typically an annual fee, although some companies (including GoDaddy) offer longer registration periods.
Typically, domain names range from $2 to $20 per year. Popular top-level domains such as .com are usually on the more expensive end of that spectrum.
An easy way to save is to choose a hosting plan that includes a free domain for the first year.
Estimated cost for a moderately sized WordPress site: $60 per year.
3. Investing in security monitoring and backups
The importance of investing in proper security and backup measures for your WordPress website cannot be understated. According to a 2018 IBM study, the global average cost of a data breach is $3.86 million. Retrieving stolen records may require as much as $150 per record.
What you save using free or cheap security and backup plans you may end up spending in repair and recovery fees. By investing in high-quality security services upfront, you may spare yourself the cost of cleaning up after an attack, as well as damage to your reputation.
Sucuri offers advanced WordPress security packages starting at $199.99 per year. However, there are other cost-effective ways to add additional layers of protection to your WordPress site. By signing up for a ManageWP account, users gain access to our free Security Checks add-on, which is powered by Sucuri.
This tool runs security scans directly from your ManageWP dashboard: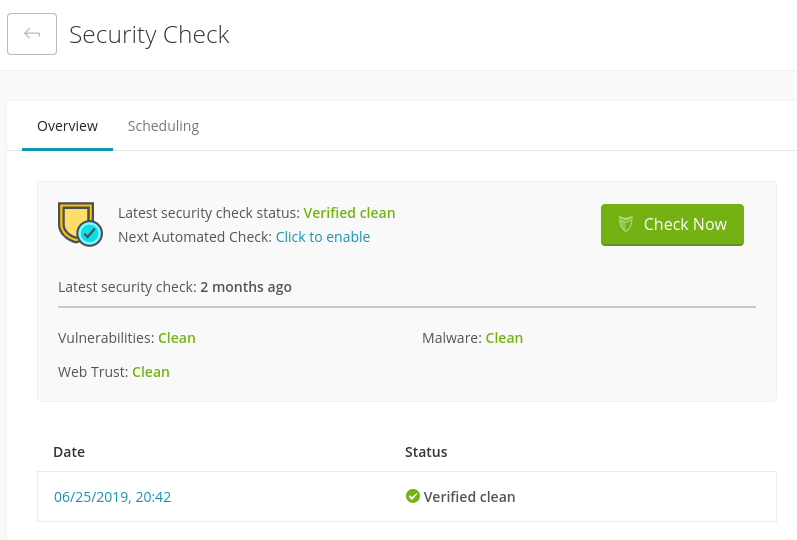 It detects malware and notifies you if and when your site is blacklisted. The premium version is just $1 per month per website. It includes  automated security checks, although it doesn't offer malware removal services.
ManageWP users can also safely schedule monthly, weekly, or nearly real-time backups for $2 per month per site. Our add-ons make it easy to filter and delete spam comments and perform vulnerability updates to further enhance your site security too.
Estimated cost of preventative security measures for a single site: $36 per year with ManageWP.
4. Accessing advanced features with premium themes and plugins
As we mentioned earlier, there are thousands of free WordPress themes and plugins. However, if you want more sophisticated features and design options, you're going to have to invest some money in these elements.
The median cost of a premium WordPress theme is a one-time purchase price of $59. Assuming you don't find yourself doing a lot of re-designing or re-branding, that's not bad.
The price of premium plugins varies more widely depending on the developer, the type of plugin, and the pricing method. Some plugins offer one-time purchase options, while others operate on a Software as a Service (SaaS) model and require monthly or annual subscriptions.
Of course, how much you spend per year will also depend on the number of premium plugins you install. If you only need one or two, your costs will be much lower than a site that uses ten or more.
Here's a breakdown of the pricing for the premium versions of some of the most popular WordPress plugins:
Additionally, many plugins offer 'enterprise' plans for developers. While expensive initially, these subscriptions enable you to use your license on multiple (often unlimited) sites, saving you money in the long run.
Estimated premium theme cost: $59.
Estimated premium plugin cost for a single, moderately sized site: $300 per year for five to six premium plugins.
5. Website maintenance
If you want a high-end, professional site, you don't stop paying for WordPress once it's up and running. You need to keep your WordPress installation up to date and protected once new security and maintenance releases come out.
But will a busy business owner have time to update their plugins and WordPress theme so the website doesn't sit vulnerable to hackers? Sifting through and deleting spam comments? Or do all those small fixes and updates to website content?
Rather than paying once a huge sum of money when website goes down it makes sense for website owners to have it looked after on a regular basis by experts for a lot less.
And here is where ManageWP comes in. Managing multiple WordPress websites for different clients would involve keeping tons of different login details and manually logging in to each installation just to check for updates. With ManageWP, you are able to automate most of those tasks and with flexible per add-on pricing, you'll be able to customize your services to each client individually.
Conclusion
As we discussed in this article, WordPress maintenance costs vary widely. However, according to our estimates, you can expect to be able to run a moderately sized website for around $381 per year (plus a one-time cost of $59 for a premium theme). Using the free and low-cost tools our platform provides will help save you money as well as time.
Do you have questions about WordPress maintenance costs or how you can save with ManageWP? Have you recently set up a WordPress Maintenance service? How did you organize your services and pricing? Let us know in the comments section below!
Image credit: Pexels.