By offering maintenance services to your clients, you open the door to an opportunity for attracting more clients – and the chance to increase your income. In this article, we'll share the results of our 2019 WordPress Maintenance Survey, along with insights on how to improve your own services!
There are a wide variety of specialties available to WordPress professionals, including development, design, marketing, content creation, and more. However, the narrower the scope of your services is, the more limited your pool of potential clients becomes.
In this article, we'll share the results of our 2019 WordPress Maintenance Survey. As promised, we'll include concrete data on the website maintenance services our users offer, and discuss some key takeaways from the survey's results. Here we go!
Offering website maintenance to clients
Once again, we've surveyed ManageWP users on the website maintenance services they offer to clients. A total of 2,374 WordPress professionals participated, 487 of which came from Pro Sites. This is a huge increase in participation since our 2016 website maintenance survey!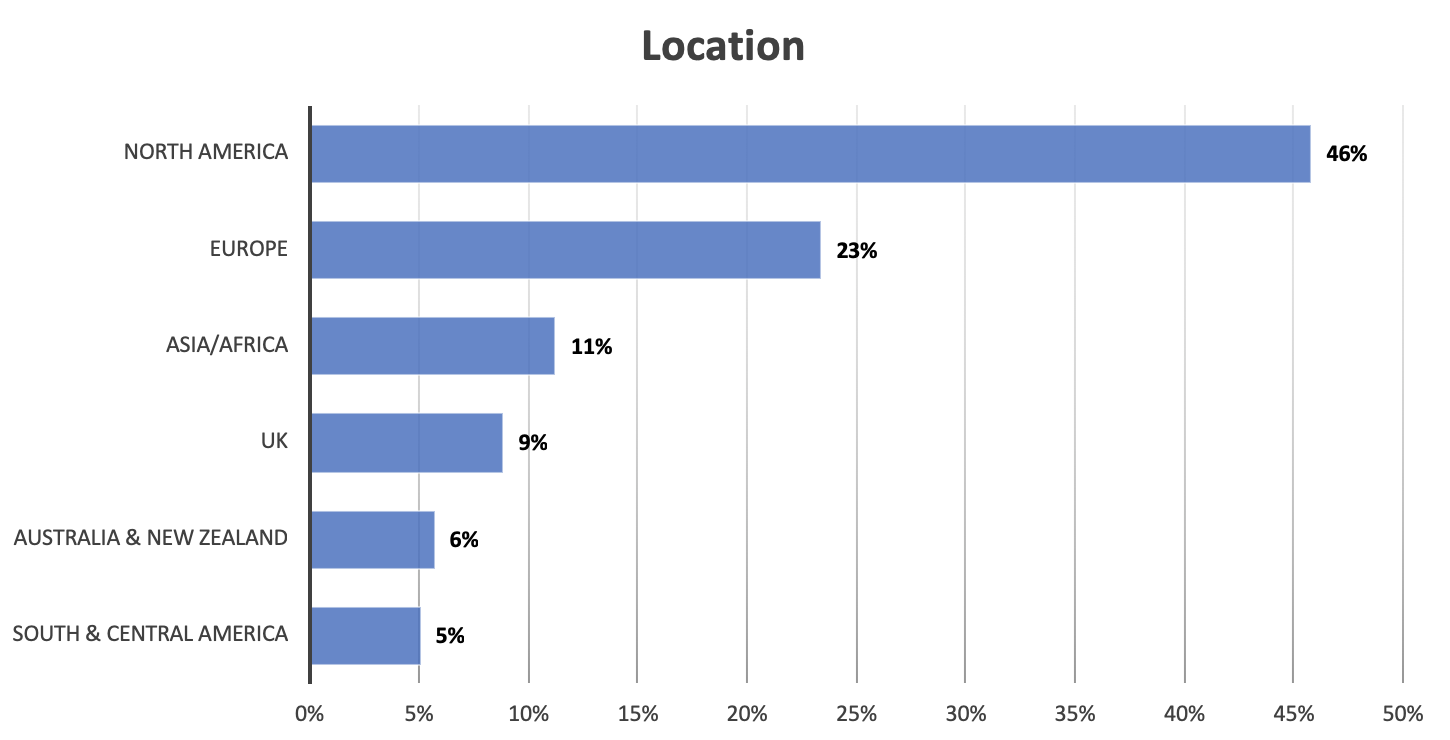 Most of survey participants were from North America (46%), with another 23% from Europe (31% if we include the UK) and the rest coming from all over the globe (from over 100 different countries in fact).
Over 80% of participants would refer to themselves as either a "web developer", "web designer" or "web professional":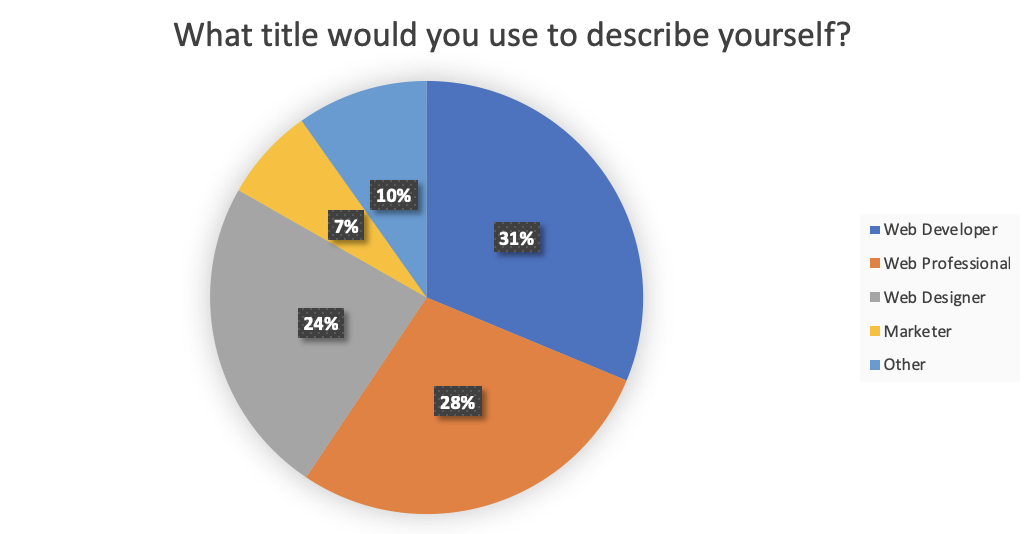 One of the most significant pieces of information we found is that 95% of our users offer website maintenance services to their clients. This just goes to show how popular these services are: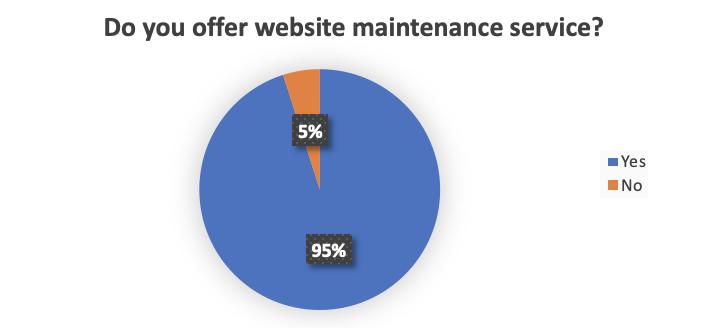 Finally, it's important to note that 27% of our survey's participants offer only one pricing tier for their maintenance services: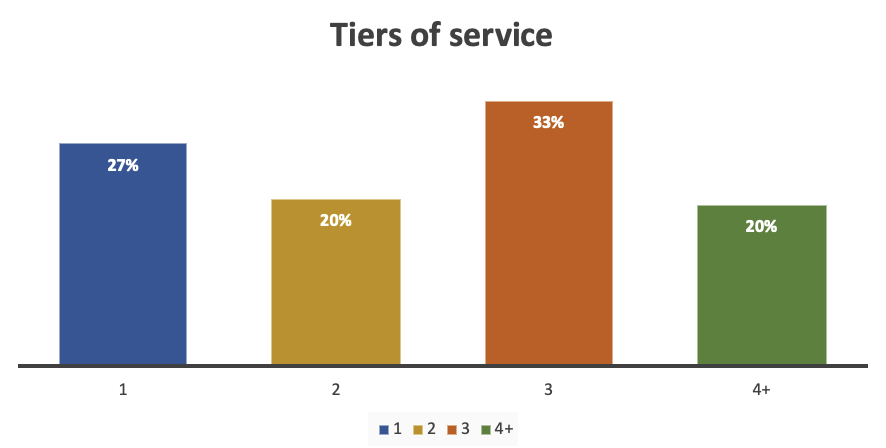 The results that follow will help to explain why this finding is important. However, in short, it means that more than a quarter of our customers aren't using the best pricing method available for promoting their services.
Factors influencing single tier website maintenance offers
Let's talk more about the decision to offer one or multiple tiers of service. We asked the participants who offer a single tier to tell us how much they charge for their services:
Monthly fee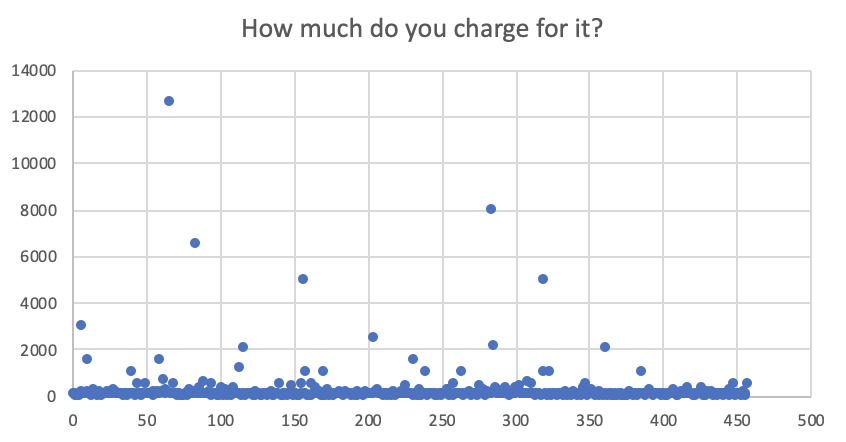 There were some significant outliers in the data, so we calculated both the average and median fees as well: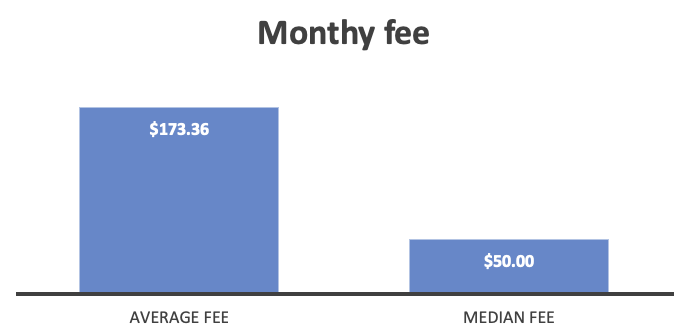 As you can see from this chart, most of our participants who offer only one tier charge about $50 per month.
However, a few charge significantly more, making the average more than triple the median.
The location of our participants' clients was also factored in: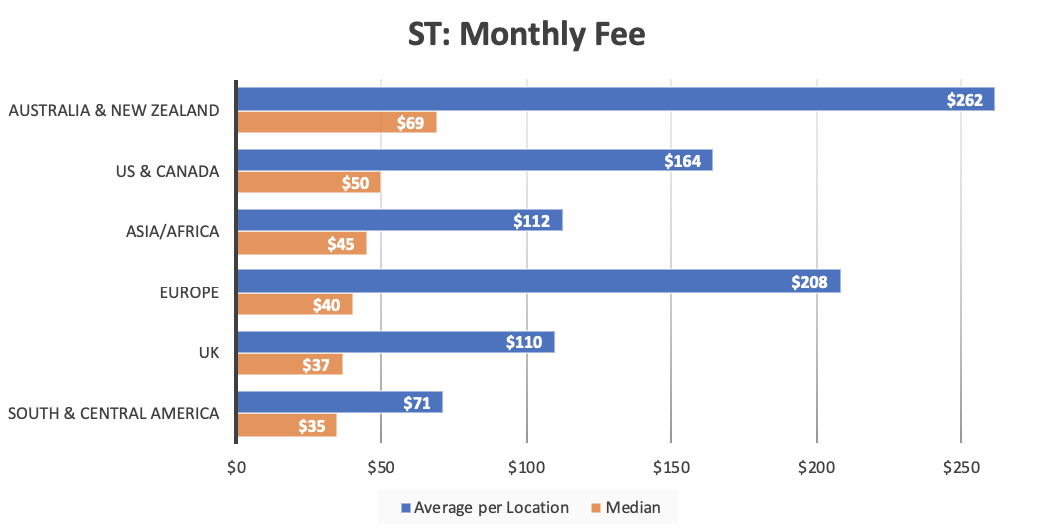 Since the single tier monthly fees vary greatly, they significantly impact average figures. We will focus on determining the median as a more reliable measure for comparisons.
Clients
We were also surprised to see that website maintenance tends to be more expensive in Australia and New Zealand. This is despite the fact that most of our participants' clients reside in North America: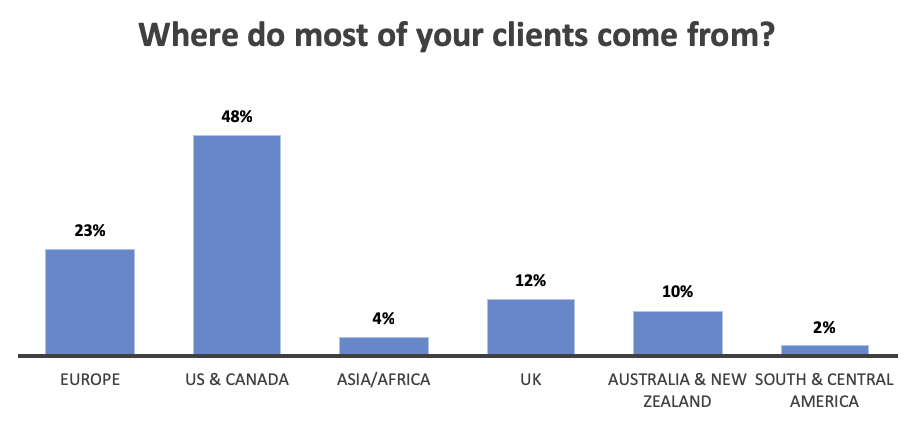 Finally, we examined the number of clients these participants have, and what services they offer: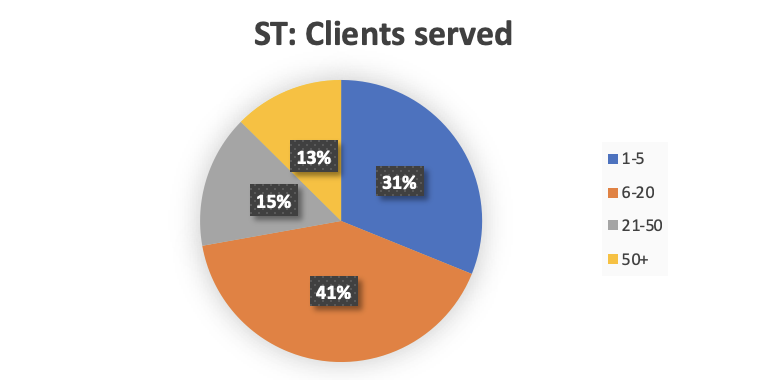 As you can see, almost three-quarters of those who offer only one tier of services have 20 clients or fewer. Most of those serve between six and 20 clients.
Services
When looking at the services offered by these participants, we noticed a huge opportunity that's commonly missed:
Updates and backups are by far the most popular services offered. However, if you compare this chart with the one below, you'll see that many rare services – such as social media management – are worth much more: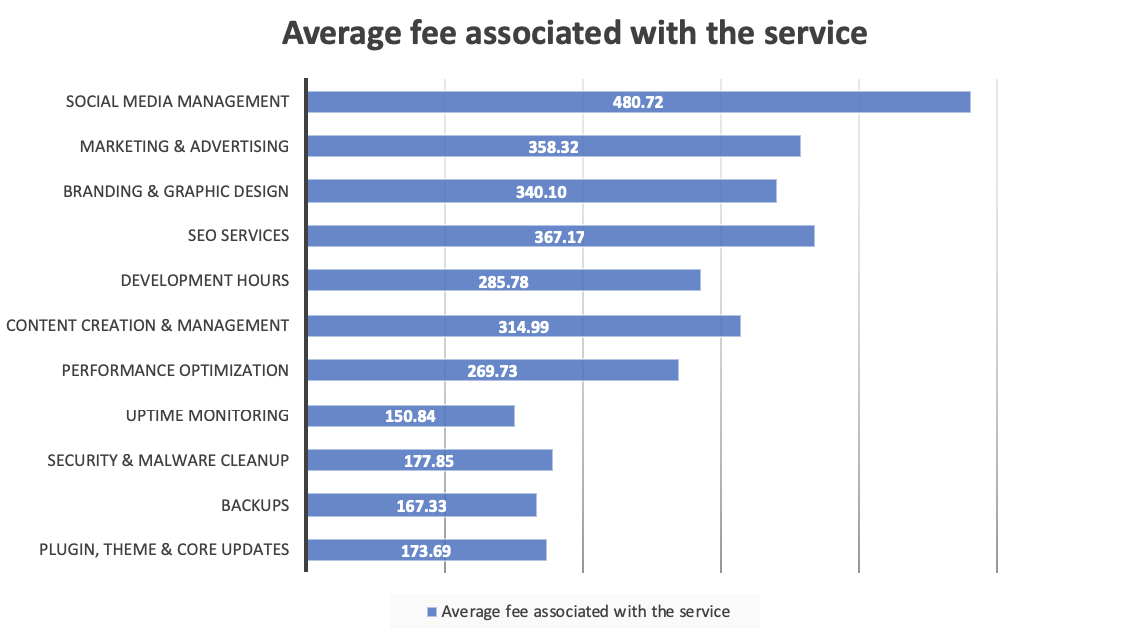 To be completely clear, graph above shows how specific services raise the average monthly fee if they are included in the package.
Tapping into markets for social media management and SEO services could enable these participants to raise their prices and improve their income.
Managing multiple website maintenance service tiers
Tiers
For participants who offer multiple service tiers, we started by asking how many options they make available to clients: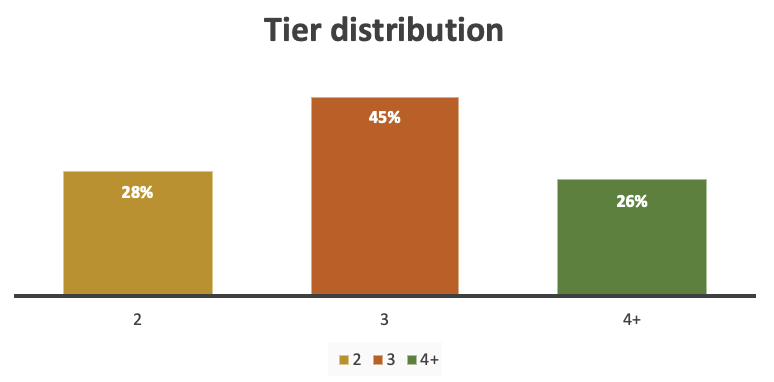 Just under half offer three tiers, which in our experience is a strong pricing strategy.
Monthly fee
We also compared the average fees associated with participants' lowest and highest tiers: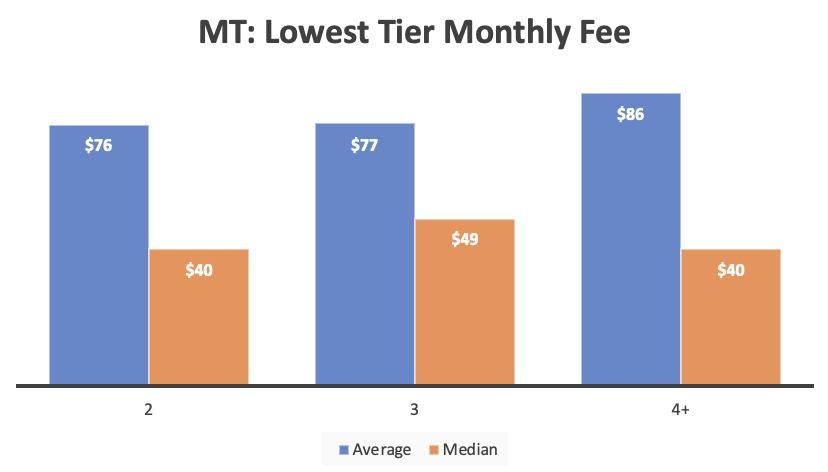 The fees associated with participants' lowest tiers didn't change much based on the number of tiers offered. The costs for the highest tiers varied a lot more widely, however: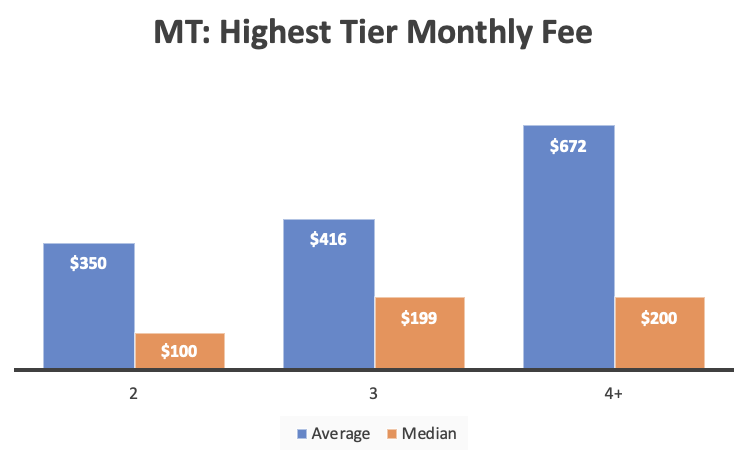 Here, we can see that the fees increase as the number of tiers grows. From this information, it's easy to conclude that the more tiers you offer clients, the easier it is to up-sell them to a more valuable service.
We also looked at the median fees based on client location: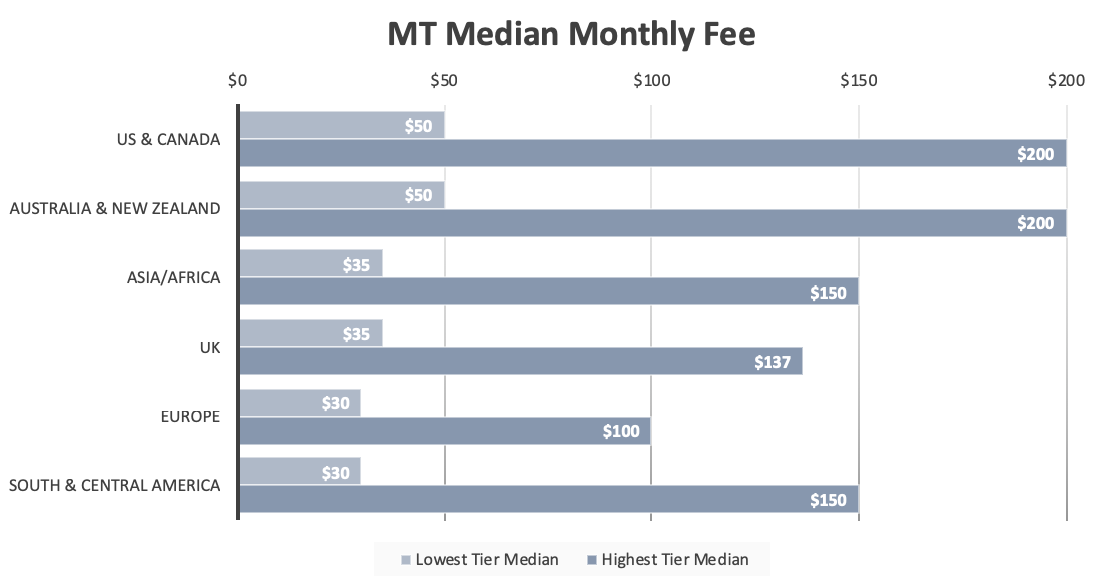 While Oceania and North America are still the most lucrative locations, Europe's average fee drops significantly when compared to single-tier services.
Results for monthly fees in Asia/Africa, South and Central America should be taken with 'a grain of salt' due to the low number of answers.
Clients
Additionally, we took note of how many clients each participant served, and compared the results to those gathered from the participants who offered only one tier: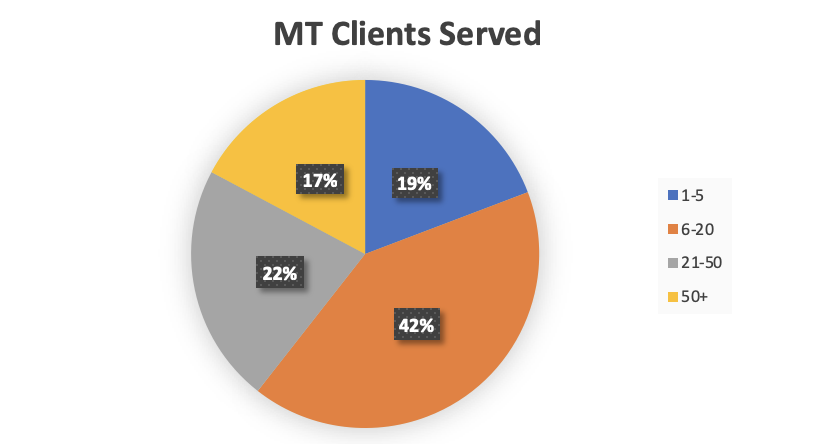 42% of those offering multiple tiers of service have between six and 20 clients, which is almost identical to the results for single tier services. However, the portion of participants with only one to five clients drops by a significant 12%, meaning that those who offer multiple tiers are more likely to have over 20 clients.
Services
Finally, we once again compared services offered to the average fees associated with those services. Just as with the single-tier offers, lower tiers tend to miss out on the chance to charge for services such as social media management and marketing:
Lowest tier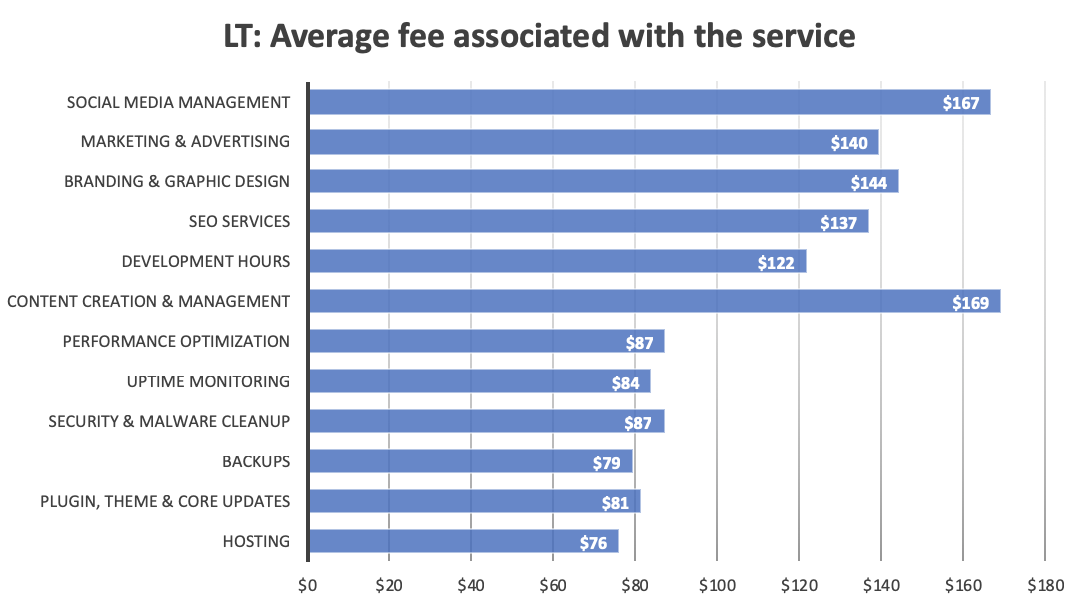 Highest tier
The higher tiers, however, are more likely to offer these rarer services: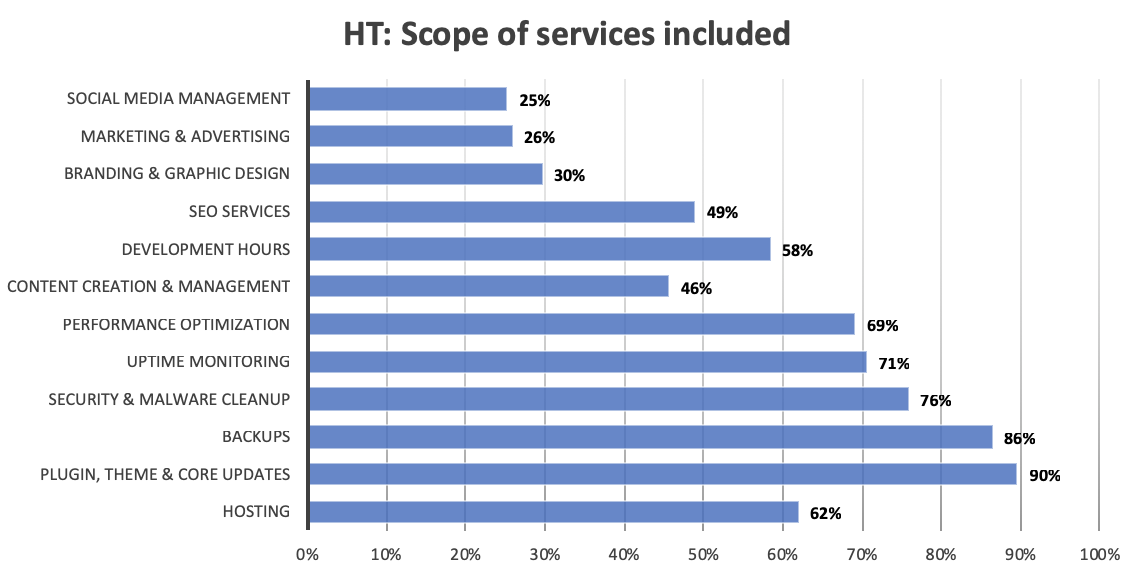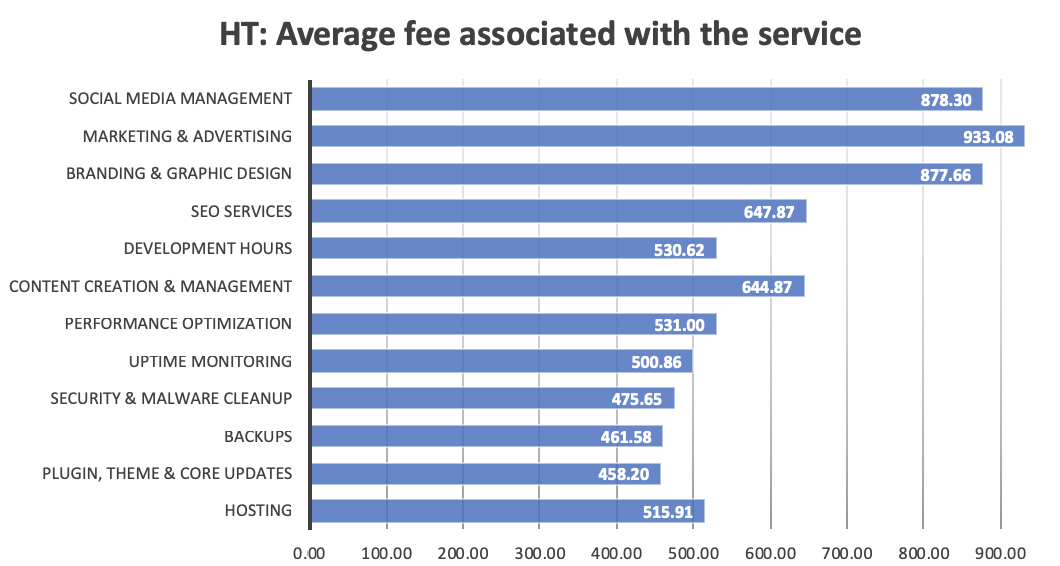 As you can see from all of these results, those who offer multiple service tiers tend to be better equipped to generate greater income. That's because they serve more clients, charge higher fees, and have the ability to up-sell more lucrative tiers.
3 Key Takeaways for those offering website maintenance services
Data is important, but what matters most is how you use it. With that in mind, let's look at some key takeaways from our 2019 WordPress Website Maintenance Survey, which you can apply to your own services.
1. Providing website maintenance to clients is profitable
As we saw at the beginning of this article, 95% of our survey's participants offer website maintenance services. Therefore, if you don't offer to maintain clients' sites in some way, your business will be less competitive. You're also likely to miss out on opportunities for highly-profitable work.
Let's imagine that you offer a typical single-tier maintenance service. You'll probably have 6-20 clients, and charge about $50 per month. That's an additional $300-$1,000 per month in your bank account. If you offer three tiers, have 6-20 clients evenly distributed throughout them, and charge $49, $99, and $199 per month for each tier, you could bring in $694-$2,330 per month.
Plus, the more services you offer, the larger your pool of potential clients is. Offering uncommon services such as social media management could make your business more desirable.
2. Offering multiple service tiers is a smart strategy
As you can see from the example above, offering multiple tiers could easily double your income from maintenance services. This is in part due to the three-pronged pricing technique.
This technique demonstrates that, by offering multiple tiers, you can encourage customers to spend more to get more. You can also convince customers in the lower tiers to upgrade, as you gain their trust and loyalty over time.
In addition, don't forget that more customers are attracted to multi-tier services. Plus, average lowest-tier fees are usually comparable to single-tier fees. This means you can still make more by offering multiple tiers, even if very few customers choose your more expensive packages.
3. Automating maintenance helps you earn more with minimal effort
If you've been looking over the data we've shared and think it's intriguing, but you don't have time to take on website maintenance, there's good news. Maintaining your clients' sites will take almost no time at all if you automate key maintenance tasks.
With ManageWP, you can automate almost all of that work for both yourself and your clients. The ManageWP dashboard enables you to manage all of your sites at once, making updates and backups a breeze. You can also monitor performance, SEO, security, and comments.
You can also find tools to automate social media management, which as we've shown is a key under-served market you may want to target. Plugins such as Blog2Social can schedule blog and social posts for you. You could also look into platforms such as Hootsuite, which schedules posts, provides analytics, and helps curate content.
Wrapping Up
As our survey results demonstrate, website maintenance is still a highly-profitable service WordPress professionals can offer. For ManageWP users, the benefits of providing maintenance services to clients are even greater, as you can easily automate many of the tasks associated with maintaining a site.
Our 2019 WordPress Website Maintenance Survey also shows that offering multiple tiers is still the best way to go when it comes to pricing your services. Pairing this technique with the features we offer can help you make more money, with minimal effort required.
Do you have any questions about offering WordPress website maintenance services? Let us know in the comments section below!
Image credit: Pexels.