Anyone who's not a snake oil salesman will tell you there's no magic formula when it comes to Search Engine Optimization (SEO). If you want to get to the top of the Search Engine Results Pages (SERPs) and stay there, you need to be on board with the latest SEO trends and best practices. Let's talk about how to do that!
Knowing what the latest trends in SEO are will enable you to adjust accordingly, and remain a step ahead of the competition. The good news is that SEO fundamentals tend not to change too much, so you won't need to rebuild your strategy from the ground up every time Google puts out an update.
In this article, we'll give you a brief crash course on SEO and its history. Then we'll dive into four of the most recent trends in SEO, and discuss how you can adjust to them. Let's get to work!
A Brief History of SEO
Search engines take a lot of criteria into consideration to determine when and where to show your website on results pages. What most savvy website owners do is learn about those factors, and then look for ways to rank more highly by optimizing their content and structure (hence the term 'SEO').
SEO has been around since the dawn of search engines. As the web keeps growing and search engines become more sophisticated, however, the way we tackle SEO changes. Once 'crawlers' entered into the picture and search engines began to rely mostly on algorithms, SEO became essential for the organic growth of just about any site.
Simply put, if your website relies on search engines for a majority of its traffic, then you need to take SEO into account. The problem is that search engine algorithms are constantly evolving. That means there isn't a magic set of rules that will guarantee you lots of organic traffic. Instead, you need to focus on timeless best practices, and do your best to keep up with new developments in the field.
4 Recent SEO Trends (And How to Harness Them)
Before we dive into the latest trends, it's important to get an accurate picture of how your website is currently doing in terms of SEO. To do that, you'll need access to analytics, which is easy with our SEO Ranking feature. With it, you can keep an eye on how your website is ranking, and even monitor the competition. That will make it easier to adapt to the following key trends.
1. Prioritize Mobile Optimization
It shouldn't come as a surprise that mobile traffic has long since surpassed its desktop counterpart. In other words, most of the people who visit your website will probably do so from their phones.
A lot of websites were built with a desktop-first approach, which means they may not be optimized to provide a strong mobile experience. That's a problem, because a poor user experience on mobiles can translate to a high bounce rate. In addition, mobile connections may not be as stable, which means you need to ensure that your site is properly optimized for performance.
Both of those factors can impact your SEO, which means you need to take mobile optimization seriously if you want to get attention from search engines. There are a lot of things you can do to make your website more mobile-friendly, including:
Make sure your site is fully responsive.
Test your website using multiple devices, to ensure that it works perfectly across all of them.
Optimize your website to improve its loading times.
If you want to go a step further, you can even try implementing Google's Accelerated Mobile Pages, which can help with both mobile performance and SEO.
2. Optimize Your Content for Voice Searches
The way we look things up on mobile devices is often quite different from how we do so on desktops or laptops. Let's say, for example, that you get a craving for sushi, so you decide to look up what's nearby.
If you're on a computer, you'll probably jump over to Google and type in something like "best sushi places". However, if you're on a phone, you're more likely to use a voice search and ask something along the lines of "what are the best sushi places near me?":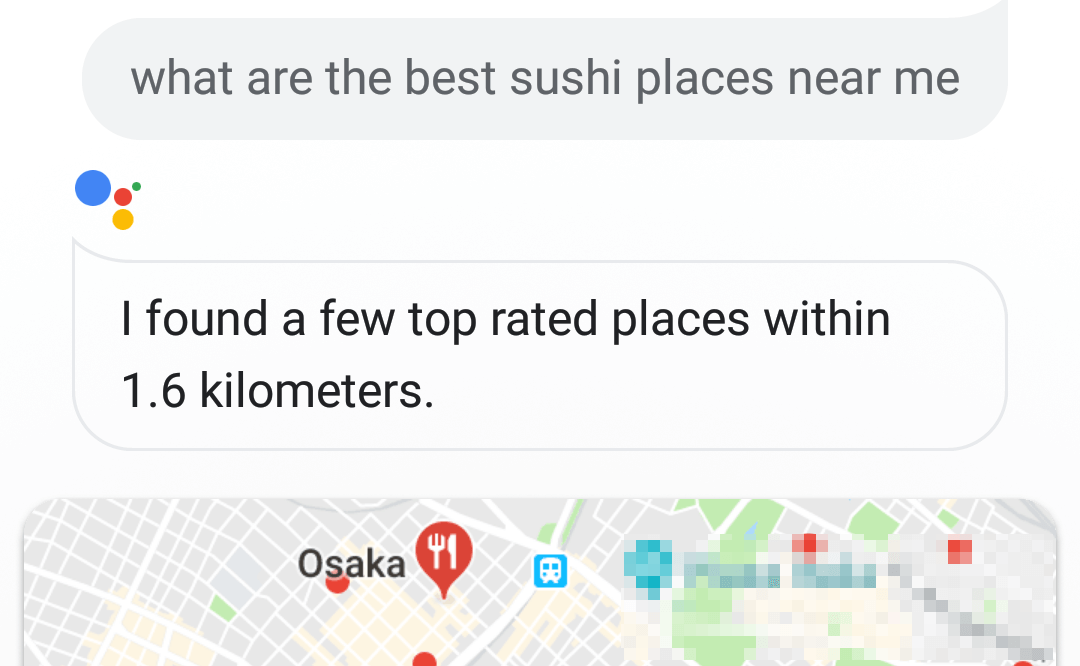 As you may know, search engines rely heavily on keywords to determine when to show your pages. When it comes to voice searches, we're more likely to use long-form keywords and ask full questions. This means that if you only optimize your content for "best sushi places," you may be missing out on some traffic.
It's expected that by 2020, half of all online searches will be voice-based. That means it can be smart to start including long-form keywords within your SEO strategy, to adjust for that shift. This is particularly important for businesses with a local presence, since users are more likely to use mobile devices to look for nearby locations.
3. Add Structured Data Markup to Your Content
These days, search engines do a pretty good job of determining what is relevant content and what isn't. To do that, they rely on a complex system of keywords and other criteria. However, it still doesn't hurt to give them as much information as possible about your site's content, so they have a better understanding of it.
There are a lot of ways you can do this, such as by using relevant titles and subheadings, adding alt tags to your images, using tags, putting together informative meta descriptions, and more. However, if you want to go a step further, you can also add structured data to your content.
Structured data markup is a language you can use to include more information for search engines about what your content involves. Let's say, for example, that you write and publish a product review. With structured data markup, you can tell search engines that it's a review, and even include a star rating.
Search engines, in turn, can use this data to display 'rich snippets', which are search results that contain all that extra information:

There are many types of structured data that you can add to your content, ranging from articles to recipes, online products, and more. With WordPress, you also get access to a lot of tools that make adding this markup easier, such as Schema Pro.
4. Optimize Your Content for Google Answer Boxes
Sometimes, when you ask Google a simple question, you'll see the answer right within the SERPs in an 'answer box' format: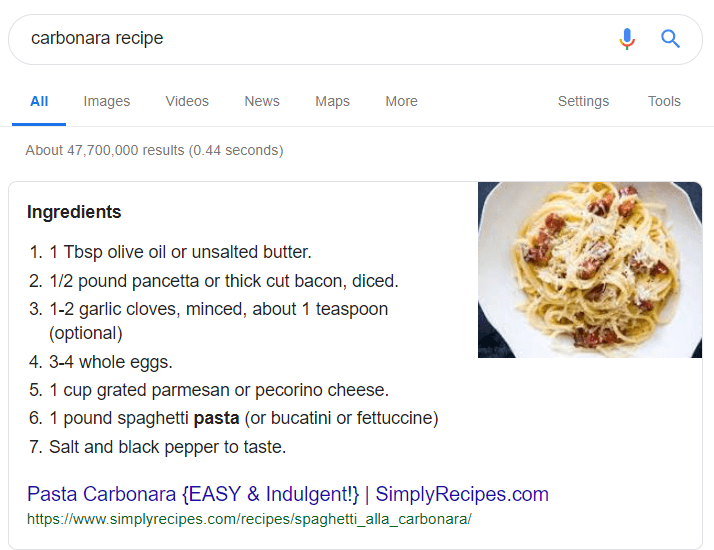 Answer boxes tell searchers: "Hey, here's what you were looking for, so you don't need to check out any other sources". In fact, having one of your pages show up within a Google answer box can increase click-through rates by up to 32%. The problem is that you can't just ask Google to feature your content within its answer boxes.
However, you can optimize your content to increase your chances. First, it's important to understand that not all types of content are a good fit for answer boxes. As the name implies, they most often appear when the searcher's query is a question. In addition, they only show up when it's a question Google is 'confident' it can answer.
That means most complex queries are out of the question. For example, asking Google what the shelf life of uranium is will yield an answer box, since it's a question with a simple numerical answer: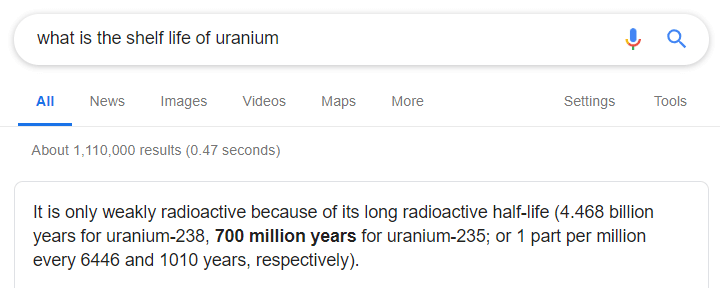 Asking "what is the meaning of life", on the other hand, naturally won't result in an answer box.
If you're confident that your content is a good fit for answer boxes, you can increase your chances of it showing up that way by following three simple steps:
Make sure that you clearly and concisely answer the question.
Whenever possible, break down your response using lists (search engines love lists).
Optimize your meta description, so it's clear that you'll provide an answer within the article.
Remember, you're probably competing with a lot of other websites for the same answer boxes. So you need to bring your best to beat out the competition.
Conclusion
Search engines are constantly updating their algorithms, to deliver better results and to prevent people from 'gaming' the system. Knowing what the latest trends are can give you a leg up on the competition, and enable you to overtake them in the SERPs.
If you want to keep your edge, here are some ways you can adjust to the latest SEO trends (after assessing your site's current optimization):
Prioritize mobile-friendly design.
Optimize your content for voice searches.
Add structured data markup to your content.
Design some of your content for Google Answer Boxes.
Do you have any questions about these trends in SEO? Let's talk about them in the comments section below!
Image credit: Public Domain Pictures.